Charlie Kaufman's movies are more interested in asking questions than in answering them; their best riddles are ones that can't be solved. There's no reason why the 7th½ floor of an office building leads to the inside of John Malkovich's head. It just does. But Kaufman's Anomalisa, which was released on home video this week, explains itself fully if you watch it closely, although that doesn't make the movie any easier to shake. And there's one particular moment at the end of the film—one that's easy to miss the first time around—that beautifully ties together the meaning of the movie as a whole.
One of the most unsettling things about Anomalisa, which Kaufman wrote and co-directed with Duke Johnson, is that it's so difficult to pin down what's real and what's only real in the mind of the protagonist The movie takes place almost entirely at Cincinnati's fictional Fregoli Hotel, where customer-service expert Michael Stone (voiced by David Thewlis) has come to give a lecture inspired by his most recent book, How Can I Help You? Everything feels slightly off right from the beginning, not least because Kaufman and Johnson made the movie as stop-motion animation, with figures whose textures are at times uncannily lifelike. On the ride from the airport, Michael's cab driver aggressively talks up the city's main attractions, notably its famous chili and its zoo, which he helpfully informs his passenger is "zoo-sized," his insistence quickly turning from civic boosterism to hostile insistence.
It only gets stranger from there. In the bar, Michael meets Lisa and Emily, fans of his book who have driven for hours to attend his seminar. Lisa, who's voiced by Jennifer Jason Leigh, is shy and hesitant, Emily outgoing and flirtatious, but Michael is drawn to Lisa, because there's something … different about her. It's around then that you notice, if you haven't already, that Emily, the cab driver, the hotel's bartender, and its bellboys—everyone, in fact, except Michael and Lisa—looks an awful lot alike, and they sound pretty similar, too. In fact, they have identical faces—literally cast from the same mold—and they're all voiced by actor Tom Noonan. Their clothes and their hair are different, and Noonan gives the women's voices a falsetto tinge, but for all intents and purposes, there are only two individuals in the movie's world. Everyone else is a copy.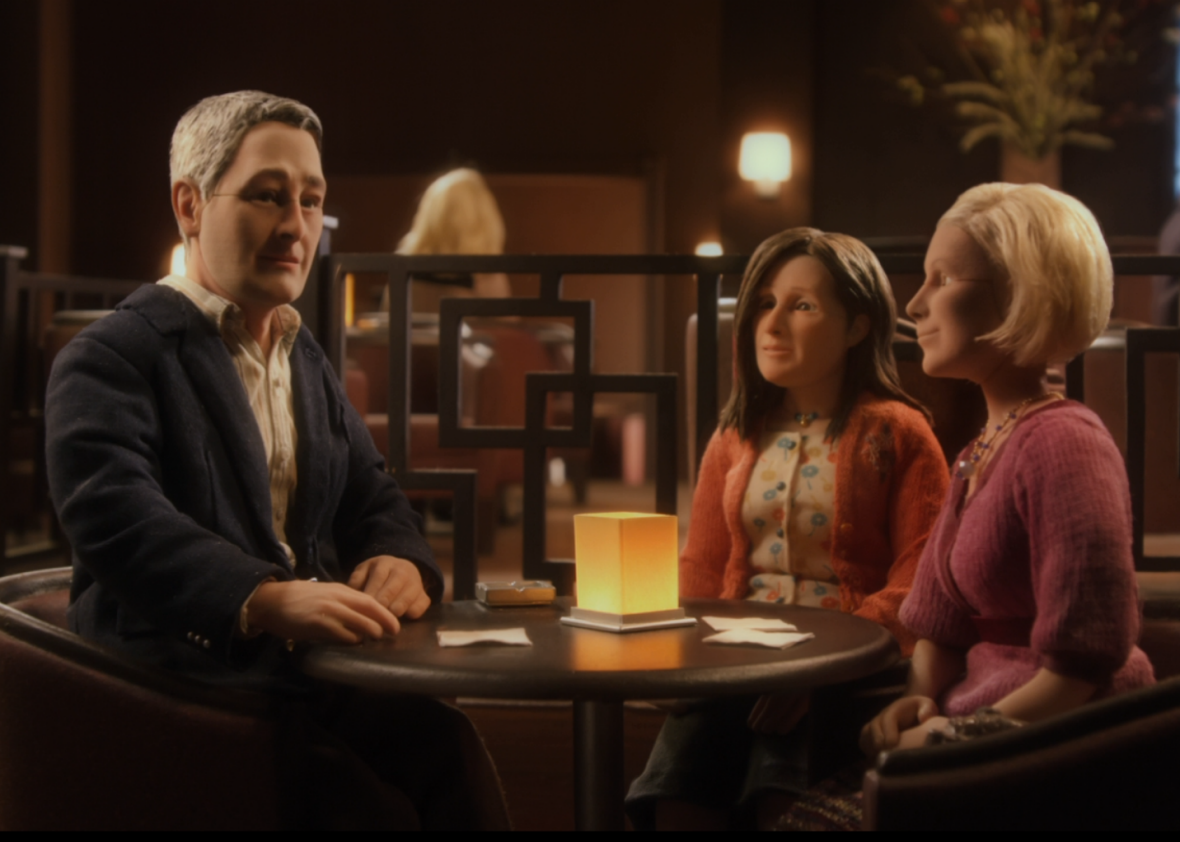 Unless you majored in abnormal psychology, you probably won't realize the first time through that the hotel where Michael is staying takes its name from the "Fregoli delusion," a psychological condition where people come to believe that those around them are actually other people in disguise. (The condition takes its name from a famous Italian impressionist of the Victorian era.) Kaufman even wrote the original script, which was performed as a live radio play during the George Bush era, under the pseudonym Francis Fregoli. It's not the first time he's employed the name of a rare psychosis in his work: Caden Cotard, the protagonist of Synecdoche, New York, was named for the Cotard delusion, in which a living person believes he is, in fact, dead. But Anomalisa is more closely wedded to its mental disorder, which also serves as a metaphor for the dehumanizing alienation of modern life. (Or is it just business travel?)
Midway through the film, after he and Lisa have had sex—in a scene whose explicitness is both unnerving and, well, a little bit hot—Michael has a terrifying dream. The movie has never hidden from us the seams on the puppet's faces where their laser-printed expressions are snapped on and off, but as he's looking in the mirror, Michael's face actually falls off, an event as horrifying as anything in a David Cronenberg movie. He's summoned to the basement, where he has a tense conversation with the hotel manager, and as he flees through an office full of workers with identical faces, he realizes they all share the same mind as well: Humanity has become the Borg, and he's the only individual left. When he makes his way back up to his room, it's too late. Lisa's distinctive face is gone as well.
Then Michael goes home to his wife and family, and in the last shot, we see Lisa speeding down the highway in the passenger seat of a convertible, her one-of-a-kind face bathed by the sun. But then, something else happens, so quickly it's easy to miss. Lisa looks toward the driver's side, and the focus shifts toward the driver, who's previously been only a blur in the background. She looks toward Lisa, and we see that it's her friend, Emily, but once again, there's something off. Emily has a new face, one we've never seen before. Her own face.
This Emily doesn't look drastically different, just enough for us to question what we're seeing, not so much that we can make a definitive judgment in the three seconds her face is in focus. Even after studying the shot, I had to check with Rosa Tran, one of the film's producers, to make sure. She wrote back, "Good eye."
In one sense, that final shot is an escape hatch, releasing us from the prison of Michael's mind. (It's the only scene in which he's not present.) It's definitive proof that everything that comes before has been shown from Michael's delusional point of view, though we surely already knew it. And its purpose isn't to let us off the hook, resting comfortably in the knowledge that everything was a dream. It's still possible that we could end up like Michael, or already have, disappearing into ourselves, so divorced from other people we can't even tell them apart. But the ending tells us that the world isn't like that, even if some of us are. Without that ending, Anomalisa would be cynical instead of a cautionary tale, a defeat instead of a warning. There are moments when we can see people for who they are, but sometimes they arrive without warning and leave just as suddenly, and if we're not watching closely, we might not even know we missed them.