Everyone's talking about Billboard! From Britney Spears' performance to Kesha's somber Bob Dylan cover to the glamorous Las Vegas afternoon red carpet outside T-Mobile Arena, the 2016 Billboard Music Awards have captured our hearts. But the biggest surprises of music's third-biggest night weren't on ABC—they were in the pages of the magazine that started it all: Billboard. Or, as it was known on Nov. 1, 1894, Billboard Advertising: A Monthly Resume of All That Is New, Bright, and Interesting on the Boards. We've picked the five most outrageous moments in the very first issue of Cincinnati, Ohio's hottest trade journal for bill posters, carnival barkers, and State Fair secretaries—let us know in the comments if we missed your favorite!
There Was Really Only One Choice For the First Cover Model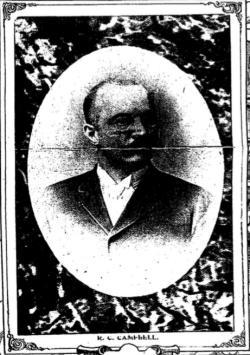 Landing a Billboard cover is has always been the highlight of any career, and the first issue was no different. It's a mutually beneficial arrangement: The cover model instantly moves from "star" to "superstar" while magazines fly off the racks. In November of 1894, there was only one man whose face was guaranteed to move copies: Mr. R.C. Campbell. Puck, Harpers, the American Bee Journal: many tried to land the steely visage of the famous president and general manager of the American Advertising and Bill Posting Company. Campbell turned them down flat. But Billboard succeeded where even the "oldest bee-paper in America" failed, and, with Campbell's handlebar mustache luring in readers, the magazine was off to a roaring start.
Billboard's Celebrity Profiles Have Always Given Readers the Inside Dirt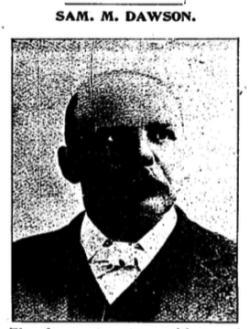 am M. Dawson, whose walrus-mustachioed face was "known from Maine to California," undoubtedly fired his publicist after Billboard's no-holds-barred profile. They did give his story a happy ending: lasting success as the advertising agent of Heuck's Opera House in Cincinnati, Ohio. Dawson must have assumed some subjects were off-limits when he granted their reporters access: his embarrassing early association with the Barnum Show, his regrettable engagement with the notorious Thatcher, Primrose & West's Minstrels, the summer he spent touring Canada with Howe's Circus. But it's all there, and it's all very much "on the record," proving that from its very first issue, Billboard was unafraid to let its readers into the seamy side of the "board trade."
Billboard Was a Pioneer in Native Advertising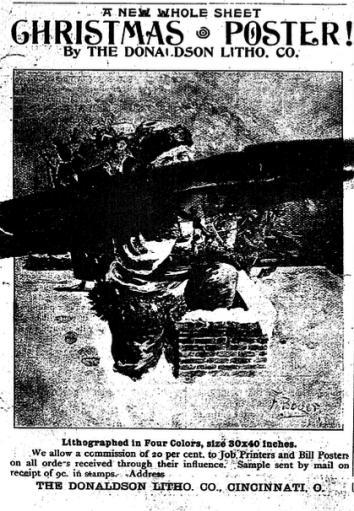 Billboard may have launched a new Branded Content Group in 2015, but the idea is hardly alien to the magazine—only natural for a company whose first instinct on seeing the wall between advertising and editorial was to plaster it with one-sheets. Their very first issue features a quarter-page ad for the Donaldson Litho. Co., offering a four-color Christmas poster. It also features an "answers to correspondents" section hyping the Donaldson Guide and a news story about the "holiday trade" urging readers to order Donaldson's holiday poster. Less generous advertisers like the Helleberg Photo-Graving Co., the Winterburn Show Printing Co., and Hennegan & Co. Poster Printers are suspiciously missing from Billboard's reporting—and when's the last time you heard anyone talk about them?
Where Others Saw Hardship, Billboard Saw Opportunity

As we all know, 1894 was a disastrous time to try to make money running a fair. The prior year, Chicago's World's Columbian Exposition had wiped the field clean, killing off smaller operators as efficiently as H.H. Holmes. But even in a business environment Billboard acknowledged was a "cold and chilling frost of most pronounced severity and depressing effect," the new magazine specifically set out to be "especially valuable to Secretaries of Fairs." From San Francisco to Brockton, Massachusetts, Billboard dedicated itself to providing in-depth coverage of everything to do with all types of fairs, while still being the best source of information on the bill-posting industry. It carries on its dual mission to this day.
The h in Pittsburgh Apparently Stands for "Horse Carcasses"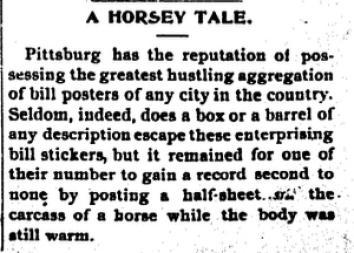 Technically, there was no h in Pittsburgh from 1891 to 1911. But this Billboard scoop speaks for itself.