This piece is excerpted from The Only Rule Is It Has to Work: Our Wild Experiment Building a New Kind of Baseball Team by Ben Lindbergh and Sam Miller, published by Henry Holt and Co. In the summer of 2015, Lindbergh and Miller took over the baseball operations department of an independent-league team, the Sonoma Stompers, putting their sabermetric beliefs to the test with actual professional players. They signed some of those players sight unseen, analyzing college statistics in search of promising performers who'd been passed over in the Major League Baseball draft. One of those "spreadsheet" signees was right-handed pitcher Sean Conroy.
When he left his hometown of Clifton Park, New York, to spend the summer with the Sonoma Stompers, in response to a phone call from a stranger who had sorted a spreadsheet and seen his name near the top, Sean Conroy wasn't worried about making his first-ever trip to California, or being away from his family for longer than ever before, or whether he'd have trouble retiring professional hitters. Nor did he lose sleep over an unknown that no previous player had dared to confront: what his teammates would say when he told them (and team management, and probably the press) that he was gay, which would make him the first openly, publicly gay player in professional baseball.
The only thing Sean was "just a little bit apprehensive about," his mother, Terry, recalls, was how he was going to get from San Francisco International Airport to Sonoma, the last 65 miles of his cross-country trip.
"I told him to take a bus to Petaluma, and he was reading online how to get to the bus, and then he texted me when he got there and he said, 'My ride's here,' " Terry Conroy says. "And then the next text was, 'My ride left without me, so I took the bus anyway.' It was a good experience for him, figuring it out on his own."
How could a just-turned-23-year-old who was about to become a trailblazer be worried about a bus? "He was so busy, I don't think he had time to think about [anything else]," Terry says. Sean had unfinished baseball business. Less than a week earlier, he had been on the mound at Falcon Park in Auburn, New York, trying to take the Rensselaer Engineers to a title. On May 8, he started for Rensselaer Polytechnic Institute in the Liberty League Tournament and beat the University of Rochester, throwing 106 pitches over 7 ⅓ innings. On May 9—the next day—he came out of the bullpen to close out a 10–5 win over the Rochester Institute of Technology in the second game of a doubleheader sweep, throwing 20 pitches in 1 ⅔ scoreless innings to send the Engineers to the NCAA Division III Regional Tournament. In RPI's next game, on May 13, he earned a four-out save in a 2–0 victory over Keystone College. And two days later, he started against State University of New York at Cortland—the No. 1 team in all of Division III baseball—and took a tough-luck loss, allowing two earned runs over seven innings but exiting with a 6–5 deficit after his defense committed three errors behind him. A few days later, he moved out of the Phi Kappa Tau frat house and set off for Sonoma. He was three credits short of a degree, but professional baseball wouldn't wait.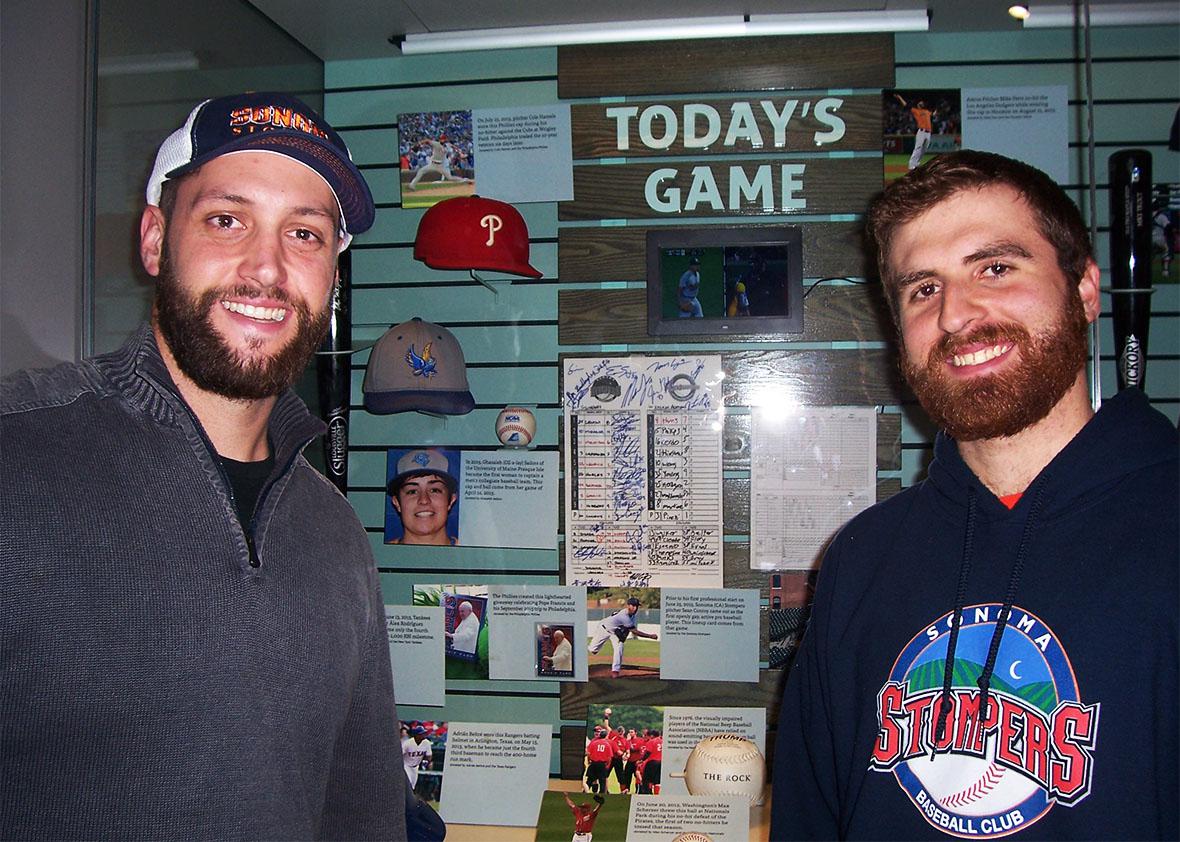 Some aspects of Sean's baseball background are the same as every other professional player's. He remembers swinging one of those short plastic bats with the big barrels when he was barely old enough to stand, and he grew up going to his father's rec-league softball games. By the time Jack Conroy stopped playing, Sean was old enough to start, and his father coached him in T-ball. "When I was 5 I got my name in the newspaper because I actually hit the ball off the tee," Sean says. "That was the big story."
Backyards are a common component of athlete origin stories, which abound with batters who learned to hit lefty or to aim toward the opposite field because pulling a pitch might have meant breaking a window. The Conroys' backyard was long but narrow—more than 100 feet long, and about 20 feet wide—which made it perfect for pitching and long toss. When Sean was 7, one of his father's friends taught him to throw a curveball. That's younger than kids are supposed to be when they start snapping off breaking balls, but it never hurt his arm.
An all-star in almost every league he belonged to, he never counted on becoming a big leaguer, but he was determined to try until the competition convinced him to quit. "I remember in fifth grade a teacher telling us to pay attention because none of us are going to be professional athletes, and I remember disagreeing with her," he says. "She said statistically speaking, it's not likely." To be fair, she hadn't seen our spreadsheet.
Sean's fastball tops out at 85 mph, so he never overpowered his opponents. "There were always people throwing harder than me," he says. "I never considered myself a power pitcher. I was always control and spin." Finesse doesn't turn heads at tryouts, and Sean didn't make his high school team as a sophomore. "Everyone I was playing with knew how I pitched in games, but it just didn't come through in tryouts." Even high school sophomores are supposed to throw hard.
He made the team as a junior, and as a senior he started dropping down to give right-handed hitters less of a look at his stuff. He adjusts his arm angle and pitch selection by the outing, depending on what he has in his arsenal. "When I have the 82 mph fastball, I try to drop my arm slot a little lower so it'll drop more, so it still looks fast," he says. Ninety-five percent of his pitches are fastballs or sliders, split about evenly. Naturally, he has a knuckleball, which he's saving for a free strike against someone who doesn't expect it.
To us, Sean seems cerebral, maybe because it suits our self-image; we serve the Stompers in an intellectual capacity, and we want to see something of ourselves in the players we sign. It's not because he's a bookworm: The lone book in the clubhouse belongs to super sub T. J. Gavlik, who carries a round-cornered copy of Buzz Bissinger's Three Nights in August that our sources say he started in the summer of 2014. ("Those three nights in August sure are taking a lot longer than expected," one veteran remarks to me.) Textbooks excluded, the only book Sean has read in the past several years is The Secret, the self-help best-seller about the mystical power of positive thinking. Sam and I haven't discovered The Secret, which might explain why our fastballs are slow and the universe hasn't seen fit to reward us with an unbeatable team or a manager who values what we say.
When we ask Sean questions, he pauses for a few seconds to construct a thoughtful response—just long enough that we worry he won't answer at all. (He's the same way with texts.) He questions baseball beliefs about bunting and pitcher usage, although he's not a student of sabermetrics per se. And he's a master of the meta-game, the highest level of strategy in any competition that pits people against other people. It's the part of a head-to-head sport that develops in and around the actual rules, that tests not how fast you can run or how hard you can throw but how well you can anticipate what your opponent thinks you're thinking.
I discover Sean's interest in tactics when we bond over Super Smash Bros., the 1999 Nintendo 64 game that's spawned three sequels and a fierce professional Smash circuit. It's a four-player brawler that pits well-known Nintendo characters against one another in a battle to knock everyone else off the edges of an arena suspended in the sky. Every successful attack drives up an opponent's damage counter, and the higher the damage counter climbs, the farther a character flies after subsequent attacks—not unlike pitchers, who get hit harder the deeper they go into games. The Stompers' N64 is always on, from the moment the clubhouse opens to the time when the players start to toss in foul territory before first pitch. Sean is the best of the Stompers at Smash—pro gaming is his backup plan if baseball doesn't pan out—but I'm a match for him, thanks to the countless hours I logged as a kid instead of practicing sports. He likes playing me, he says, because he can't tell what my next move will be. After one white-knuckle game, he tells me that he tries to bring the intensity of our Smash showdowns out to the mound.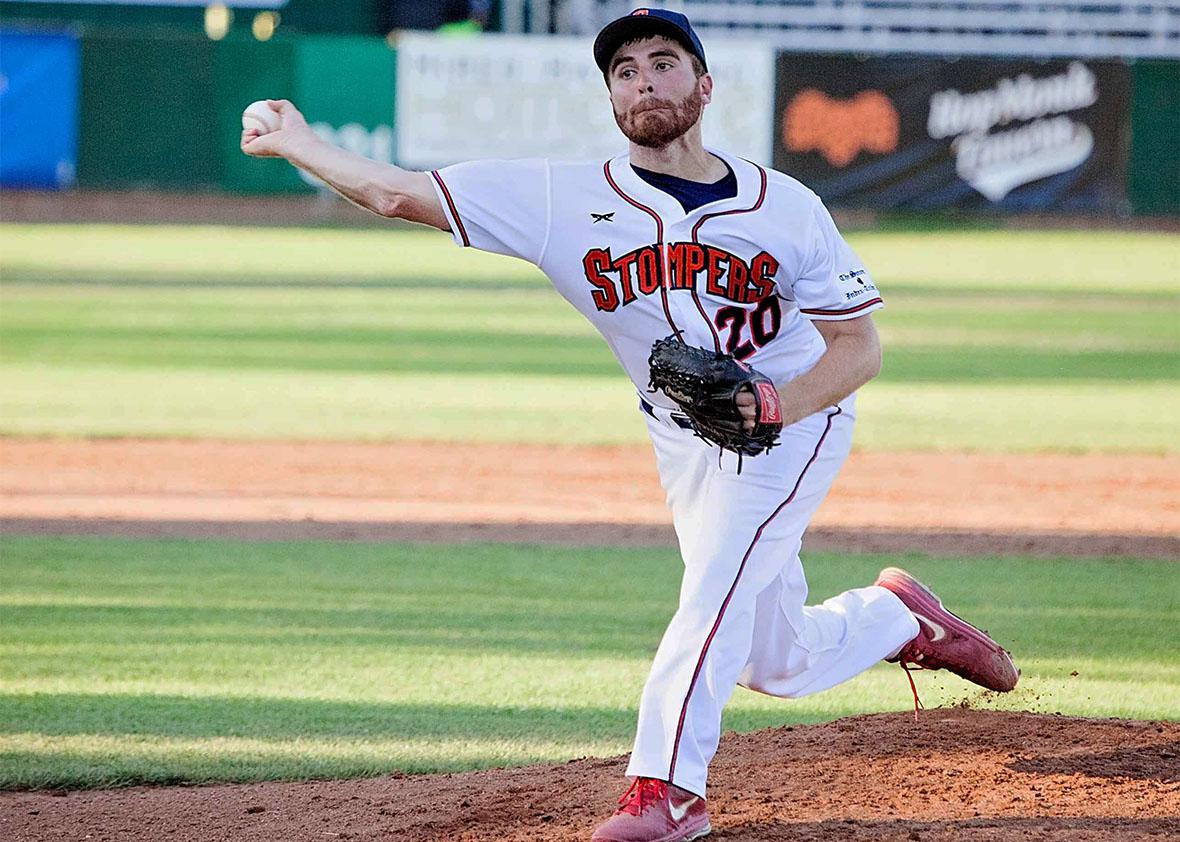 Sean approaches pitching with the same studious desire to stay one step ahead. No one else on the Stompers' staff shakes off signs as often. "I always know what I want to throw, and it's difficult for the catcher to be thinking along the same lines as me," he says. ("The slider's the one I like," I hear him remind his battery mate Andrew Parker, semi-sarcastically, before a game.) But he still wants his catchers to call pitches, because he can learn from their suggestions even if he rejects them. "My line that I told my catcher last year is, 'I like when you call pitches, because you confirm to me what the hitter's thinking I'm going to throw,' " Sean says. In other words, Sean considers the catcher a proxy for the hitter: The catcher is trying to outthink the batter, but the batter is alert to the danger of being outthought. Even if the batter reads the catcher's mind, he'll still be surprised when Sean does something different. On one pitch during spring training with the Stompers, Sean shakes off the catcher three times, but he keeps putting down the same sign. The fourth time, Sean acquiesces and throws what the receiver wants. It results in the only hit he allows all spring.
Sean stopped watching Major League Baseball when he was 10 or 12, bored because he "didn't get everything going on." But when he got my call in April and realized that his career didn't have to die in Division III, he tuned in again to pick up tips from the pros, the way he watches Smash matches on YouTube and Twitch. "I just love watching pitchers pitch," he says. "I don't care [which team] wins. I want the pitcher to win." This goes triple for his own outings. The first time I set up my laptop to show Sean the pitches from his previous start, he's as glued to the screen as a 4-year-old watching weekend cartoons, silent and motionless except for an occasional smile or soft snort when he paints a corner with a sinker or induces an ugly chase with his slider. After that, he's hooked. The day after he gets into a game, I can count on a tap on my arm or a conspiratorial question: "Do you have my video?"
Compared to his complex approach to pitching, Sean's openness about his sexual orientation seems simple. But his transparency as a person makes him as tough to anticipate as his deceptive pitch selection. Thanks to the lack of public precedents, no one expects a pro baseball player to be gay. And if a pro baseball player is gay, no one expects him to say so: Previous players who've come out have either been driven from the game despite their private lives not appearing in the public eye (Glenn Burke) or waited until long after retirement to disclose their orientation (Billy Bean). So Sean does the opposite of what everyone expects, just as he does on the mound: He hides nothing. When he came out to his parents, they embraced him immediately but worried about whether others would. "I think it was in 10th grade," Terry Conroy recalls. "I said, 'I think you should kinda keep it in your back pocket until you get through high school. It's just a better life, because I know what life was like when I was in school.' And he said, 'No, I'm not doing that.' "
He didn't. Sean's high school teammates knew he was gay. His college teammates knew he was gay. And he went west knowing that soon the Stompers would, too. "I learned in the newspaper that he was hoping to be the first player to come out," Terry says. "But he thought he'd have to be at a higher level for it to matter."
On June 10, the night of the Stompers' first loss, the team's owner Eric Gullotta drives Sean and a few other players back to Sonoma from San Rafael, so that general manager Theo Fightmaster—Sean's usual chauffeur—can take a more direct route to his home in Santa Rosa. Prolonged exposure to Eric's raunchy humor in a confined space can make a man do desperate things to change the subject, which might explain why Sean picks this time to let Eric in on his nonsecret. "We were just talking about life after he dropped everyone else off," Sean says. "So when it was just me and him in the car it just felt like the right time. I had already told a few players and I wanted him to hear it from me so he didn't think I was trying to hide it from anyone."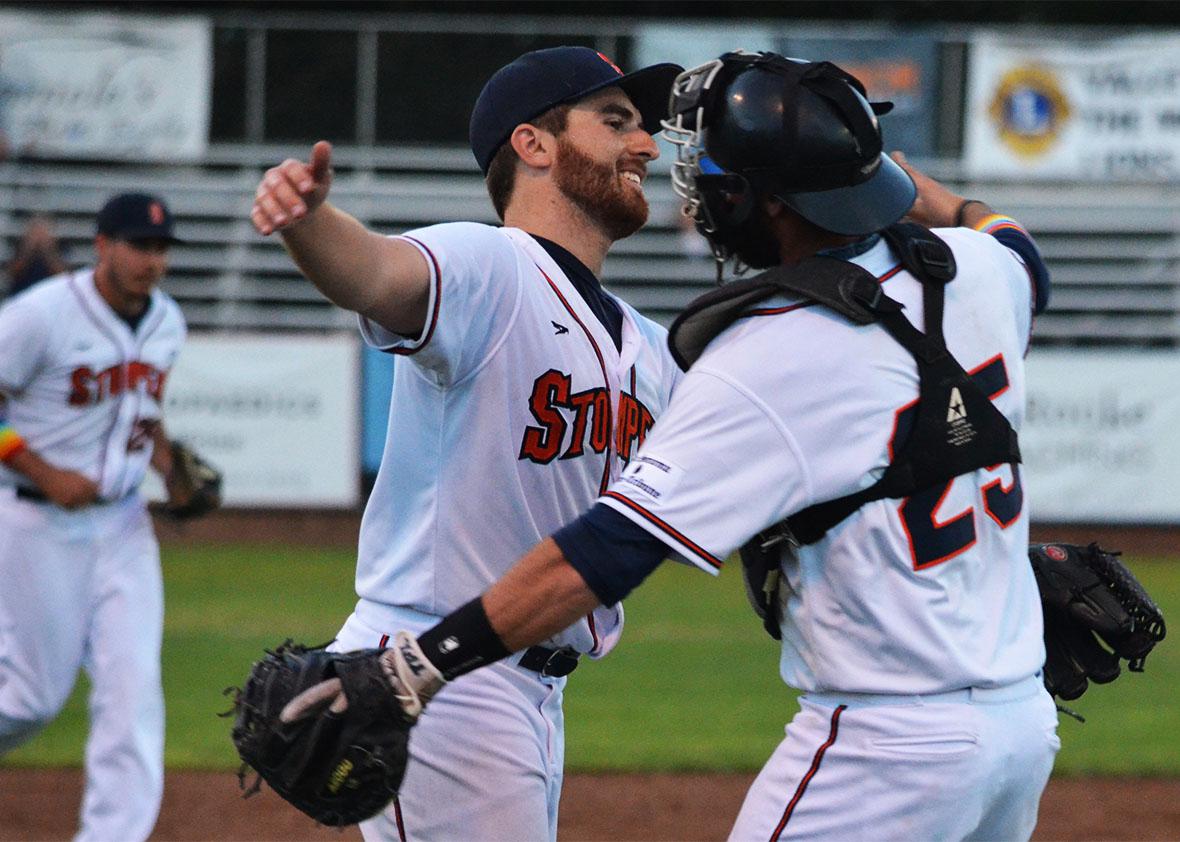 The news trickles down to Theo and then to me and Sam. Our first reaction is excitement: Our small-time team has a chance to help a player make history, thanks to a spreadsheet that discriminates based only on stats. Not only has our statistical scouting method yielded an impressive pitcher, proving that a pair of writers with scant baseball experience could contribute to a team, but it's also given one player an opportunity to break a barrier that matters much more. And even more serendipitously, that player is a psychology student who's as intrigued as we are by the sport's interpersonal puzzles.
Our second reaction is uncertainty: What can we do to make Sean's experience easier? The country has come a long way since Burke and Bean, but the prevailing beliefs of pro baseball's conservative clubhouses are still inscrutable. In March, New York Mets infielder Daniel Murphy responded to a spring-training visit from Bean (now serving as MLB's ambassador for inclusion) by telling reporters, "I disagree with his lifestyle" and "I do disagree with the fact that Billy is a homosexual." Will there be similar "disagreements" between Stompers? And even if no players object to Sean's presence, might the extra attention trained on the team impair its performance? For years, we've seen insinuations that a gay player would be "a distraction." Those fears have always seemed flimsy, a way to whitewash bigotry, but until now we've never had the chance to provide proof.
There was only one ugly incident in Sean's amateur career, which occurred in the Albany Twilight League. "Sean struck a kid out," Terry says. "I was sitting there, and I believe he said, 'I can't believe that faggot struck me out.' So then the next time he came up, Sean struck him out again. That was it. He didn't say another word." Considering Sonoma's proximity to San Francisco, one would expect the community to give an openly gay player a warm welcome, but our players' attitudes are unknown. The first time Sam talks to Theo after we learn about Sean, they agree that any player who makes trouble for Sean won't have a home with us. "We'll cut all 21 if we have to," Sam says.
Theo sees Sean's revelation as a way for everyone to get what they want. The Stompers have a Pride Night scheduled for June 25, just before Sonoma County's Pride Weekend. If the team structures the game around the rookie, then Sean gets to set an example, and the team gets to make its Pride Night—as Theo puts it—"a more genuine event, rather than just, 'Hey LGBT people, come watch baseball.' " And the best way to make Sean the centerpiece of Pride Night is to have him start, which we want him to do anyway.
On June 19, the Stompers put out the press release. As soon as I see it, I scramble to the clubhouse, not knowing what I'll witness. A prepared address to the team? Torches and pitchforks? A Sister Sledge singalong?
Instead, I find nothing out of the ordinary. It's still early, and players are ambling in one by one or in little one-car-capacity clumps. Sean is sitting outside the clubhouse, fiddling with his phone. I ask him to take a walk, and we stroll down the concourse toward third base, stopping when the concrete bulk of the visitors' clubhouse blocks us from the view of the rest of the team. I ask him if he's had any problems. He says no. I ask if he's planning to talk to the team. He says probably not in any formal meeting. I tell him that we'd love to spread his story and that we hope he'll tell us if there's any way we can help. He says he will. Then we walk back to the clubhouse. All told, the interaction takes two or three minutes. I can't tell what I am when I talk to him: a team official, a reporter, or just a guy who got him into this situation and wants his experience to go smoothly. I feel a little nosy, as if I'm trying to horn in on his moment. We're new to knowing Sean is gay, but Sean is not new to being gay, nor is he new to having everyone around him aware of it. He can handle things from here.
The backlash, such as it is, is confined to online comment sections. "You just lost a supporter," the first comment on the Stompers' Facebook post about Pride Night says. "See ya!" Pressed by other users, the lost supporter explains himself, saying, "when has Sonoma or the stompers celebrated Straight identity, Straight couples, or Straight pride? Never!!! Don't sit there and tell me I'm being hateful. I'm just saying the truth!" He's not the only commenter who speaks up for the straights. "Hmmmm, wonder if there's gonna be a Heterosexual night for the rest of the players on this team Not being recognized," muses one woman, who notes that she's "definitely not homophobic." She continues, "My reaction is to management & how they are trying to promote one individual player to try & line their own pockets!! This year has definitely been disappointing with a few aspects on the field as well as management decisions. If this year ends with the current disappointment, its sad that I will no longer be a supporter."
Using the official Stompers account, Theo responds, "We celebrated heterosexual night with 6 STRAIGHT wins to start the season." The Stompers, at this point, are 15–3, having followed up a 6–1 start with another impressive 9–2 run. We've averaged 7 runs per game and allowed barely half that many. Our starters have thrown the first two complete-game shutouts in our franchise's history, our bullpen has a 2.27 ERA, and player/manager Fehlandt Lentini, first baseman Daniel Baptista, and outfielder Matt Hibbert have been the three most productive hitters in the league. I feel the frustration of Phillies GM Rubén Amaro, who weeks earlier whined about fans who "bitch and complain" and "don't understand the game." At least Amaro had earned it: The Phillies were in last place. We're setting records here, and people are worried about whether we're properly honoring our other 21 players for wanting to have sex with women.
In the days before Pride Night, many local and even national outlets pick up Sean's story. More coverage means more comments. "I found myself reading the comments and then answering those hateful comments the next time I had an interview," Sean tells Sam. "When that question got asked to me I answered it in a way that would answer it to them. Like, people that would say that I was just looking for my 15 minutes of fame, that I just wanted to come out to get the attention, which is wrong in a couple different ways. I don't want the attention, nor is the coming-out part new." Angry internet commenters rarely respond to reason, which makes them immune to Sean's tactical thinking. But most strangers are supportive, like the man in Minnesota who mails Sean a custom Stompers baseball card.
If anyone on the Stompers objects to not having their own night, they keep their complaints to themselves, or far away from either our ears or Sean's. The clubhouse conversation becomes cleaner, more sanitized. The baseline level of homophobic language—from off-color comments to unthinking adjectives—recedes. In a game against the Pacifics a few days before Sean came out, San Rafael's designated hitter/third baseman Adrian Martinez was pressed into service as a catcher and inelegantly squatted behind home plate. "This catcher's going down to one knee," Stompers catcher Isaac Wenrich said in the dugout. "He's getting ready for tonight. He must be from the rainbow district of San Fran." Jon Rand, the cheerful San Franciscan southpaw, responded, "Hey, what's wrong with that?"
Sean's announcement stops this sort of exchange. "I definitely heard homophobic things every day before I came out," he tells Sam. "I pretty much just assumed that it was all in jest, just habits. It just made me come out sooner so that I could start teaching people. That stuff only bothers me because it bothers other people." What bothered him more was having to hold back during clubhouse bull sessions—a more acute version of the personality-sapping politeness that accompanies any new relationship. As an unproven rookie, Sean didn't want to police what other players said from his first day in uniform. Nor did he want to adapt his own identity to the team's. "I just stayed quiet a lot more of the time," he says. After he goes public, his mood improves "immediately, like day one," he says. "I just feel better when everyone knows the truth."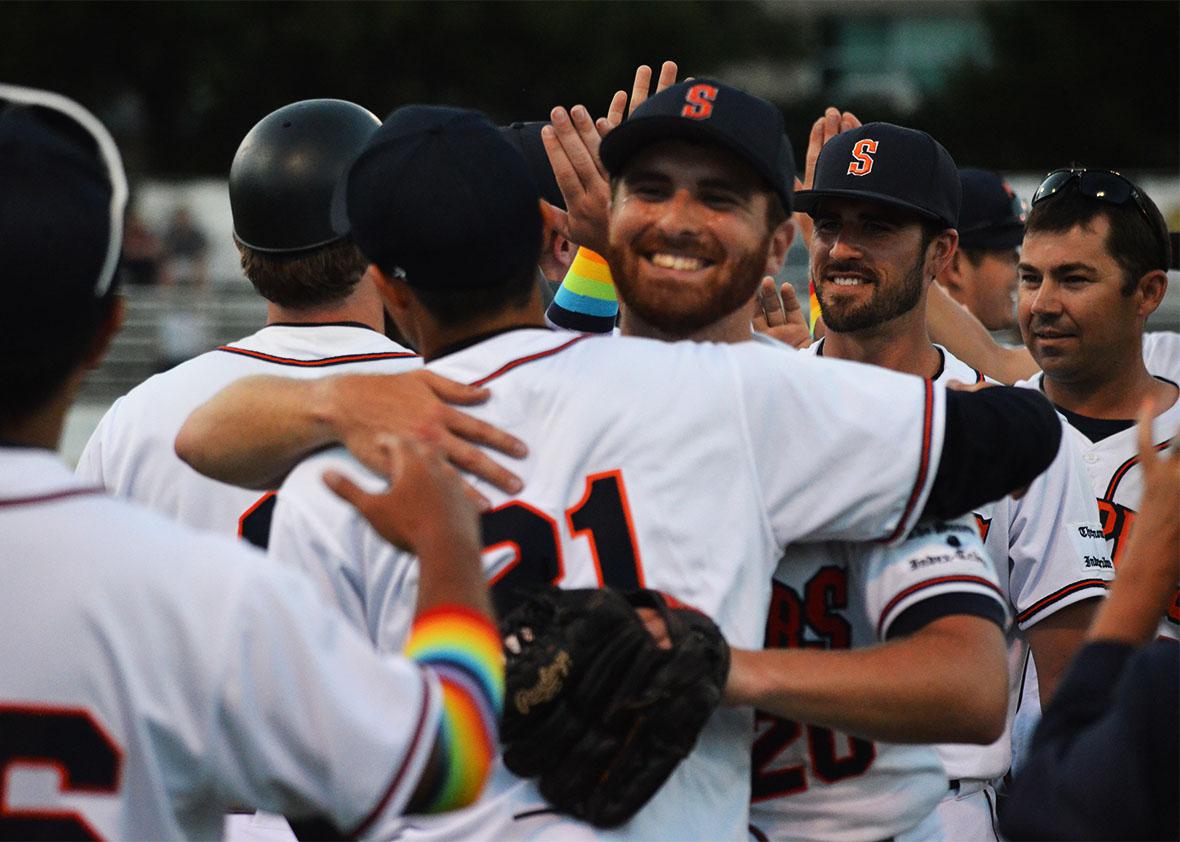 Sam asks if Sean has noticed any subtle signs of disapproval after the announcement: players going out of their way to walk around him, anyone averting their eyes. But Sean isn't gregarious, which makes the answer less obvious. "I avert my eyes," Sean says. "If someone wants to come talk to me, then I'll pay attention, but I'm not one to go out of my way to talk to people. So it's just hard to tell."
Like any clique composed of mostly unsupervised people whose prefrontal cortexes haven't fully matured, the Stompers joke and jockey for social status by mocking each other's most salient surface-level traits. The players pile on Andrew Parker for being a meathead. Gered Mochizuki, the short Hawaiian, gets called "coconut head" and "midget." T.J. Gavlik, who's half Asian, hears a steady stream of slurs and stereotypes. Players tell him to "hit it to Hong Kong" or promise to reward his hits by buying him a cat for dinner. They call him "supple leopard" and "crouching tiger, hidden T.J." They make jokes about how he's afraid of dishonoring the umpire. All of these words would be offensive in other environments—maybe even in this environment, given a different group of guys, or the wrong mix of moods, or less shared history. In the clubhouse, though, they're mostly seen as signs of acceptance, routine shit tests that every pro player has passed (and administered) since Little League. Although there's no telling whether every insult is really shrugged off as easily as the players make it appear, the intention isn't to hurt. It might hurt more not to be mocked, which would mean being beneath the team's notice.
In the immediate aftermath of the announcement, the team's conversational tone around Sean takes on an almost Victorian propriety. No one wants to say something inappropriate and become the bigot of Sean's story. This is mildly uncomfortable for all involved: The players feel they have to watch their words, and Sean says he feels self-conscious because he senses their restraint and knows "that people might not be completely open with me, just because I'm always talking to reporters and they always ask me about my relationship with my teammates." The clubhouse is usually a place where players can be their most unrestrained selves. Now it's a place where they feel obligated to be on their best behavior, a possible drag on morale.
Gradually, though, the language loosens. During a pregame Smash Bros. session about a week after the announcement, Jon Rand, who's one of Sean's closest friends on the team, makes a joke about "playing Smash with fairy boy." He's talking about Link, the hero of The Legend of Zelda and the character he's controlling in the game, but he's also talking about Sean, who's seated beside him. By the time everyone turns toward Sean to gauge his reaction, he's already smiling.
That smile seems to open the offensive floodgates. In the dugout one day, Jon brags about how his butt looks in baseball pants, and someone else says Sean's looks better. "Hey, buy me dinner first," Sean responds. On another night, Sean is pitching against San Rafael and working so quickly that he can't wait to return to the mound after a half-inning off. "Sean, slow down and let me put a dip in my mouth," Isaac says. "That wasn't a gay reference. I said dip." On still another night, Feh, the Stompers' manager, yells, "At least lube us up, at least give us some K-Y" at one of the many umpires he thinks is squeezing the Stompers.
And during a cold, windy game in Vallejo, I sit in the bullpen, listening in on a conversation in which the other relievers ask Sean about "signals," or ways to tell whether someone is gay. Reliever Erik Gonsalves suggests the silliest signals he can think of—flight attendants with crooked name tags, or drivers with their side mirrors fully extended. Isaac, serving as the bullpen catcher on a scheduled rest day, observes that the right fielder is wearing sunglasses on his hat even though the sun has long since set. He asks if that's a signal. I look at Sean and see that he has multiple sunglasses on his hat—his own, and also Jon's, since the lefty left his with his friend when he entered the game. "That's the signal," I say, pointing at Sean's hat. "Two pairs of sunglasses." He laughs. Now even I'm doing it.
In a normal workplace, these comments would be grounds for a lawsuit, or at the very least a sensitivity seminar. In baseball, they represent a strange sort of progress. "You can kinda tell when people are holding back from jokes they would make, so the more days that go by, the more every once in a while people start to be OK with it," Sean says. "And I'm trying to jump right on and be like, 'OK, yeah, yeah, that's fine. Keep doing that.' It's what makes me feel comfortable."
The integration has gone as well as we could have imagined. For years, ballplayers and sportswriters have said baseball clubhouses weren't ready for a gay ballplayer—but that just turned out to be its own hurtful stereotype, a presumption that the jocks wouldn't act the way any decent people do toward a friend. It was an excuse, and the fear it engendered may have delayed this moment for years. Professional baseball, we've discovered, is no less enlightened than the rest of society: Sean is prepared for the Pacific Association, and the Pacific Association is prepared for Sean. "I don't know if people thought [it wouldn't be] because of the culture cop that baseball is in the locker rooms, just all the different backgrounds that people come from," Sean says. "You can never know how many people are going to be hardcore, set in their ways." Sam and I weren't seriously concerned, but even we underestimated the Stompers. Sean was right not to fear anything but the bus to Petaluma.
Copyright 2016 by Ben Lindbergh and Sam Miller. From The Only Rule Is It Has to Work: Our Wild Experiment Building a New Kind of Baseball Team, published by Henry Holt and Co. Reprinted with permission.