Watching Samantha Bee sock it to anti-choice politicians has become a regular highlight of her TBS show Full Frontal. As late night's only female host, she takes abortion restrictions personally and expects her audience to as well; she'll use the phrase "your uterus" when addressing the camera, subtly forcing viewers who don't have one to imagine what it might be like. But this week's closing segment on "crisis pregnancy centers"—that purport to counsel women on their medical options while feeding them pro-life propaganda and bogus advice— featured a surprising host: the comedian Patton Oswalt. (His portion of the segment, Oswalt confirmed on Twitter, was taped last month, before the recent death of his wife, true-crime writer Michelle McNamara.) In a flowing cape, a wide-brimmed black hat, and what appeared to be a pair of gardening gloves, Oswalt took on the theatrical cadence of a vintage TV host as he led us through the investigation of what he called "a masterpiece of gynecological grift." But what was he doing there in the first place?
As the segment's on-screen title implied, "F for Abortion" was, in part, an homage to F for Fake, Orson Welles' 1975 essay film about the unlikely nexus between two confidence men: art forger Elmyr de Hory and writer Clifford Irving, the purported co-author of a Howard Hughes autobiography that turned out to be an elaborate hoax. (You can watch the movie on Hulu here and its trailer—actually a short film in its own right—here.) Welles' movie is itself something of a forgery, though its intent is to provoke rather than deceive: It's built around footage from an unfinished documentary by another filmmaker, and Welles' narration and his periodic appearances on screen serve to undermine its veracity rather than bolster it. He plays the role of a magician, exploiting our desire to be fooled, suggesting that forgery is a form of art, and the reverse may be true as well.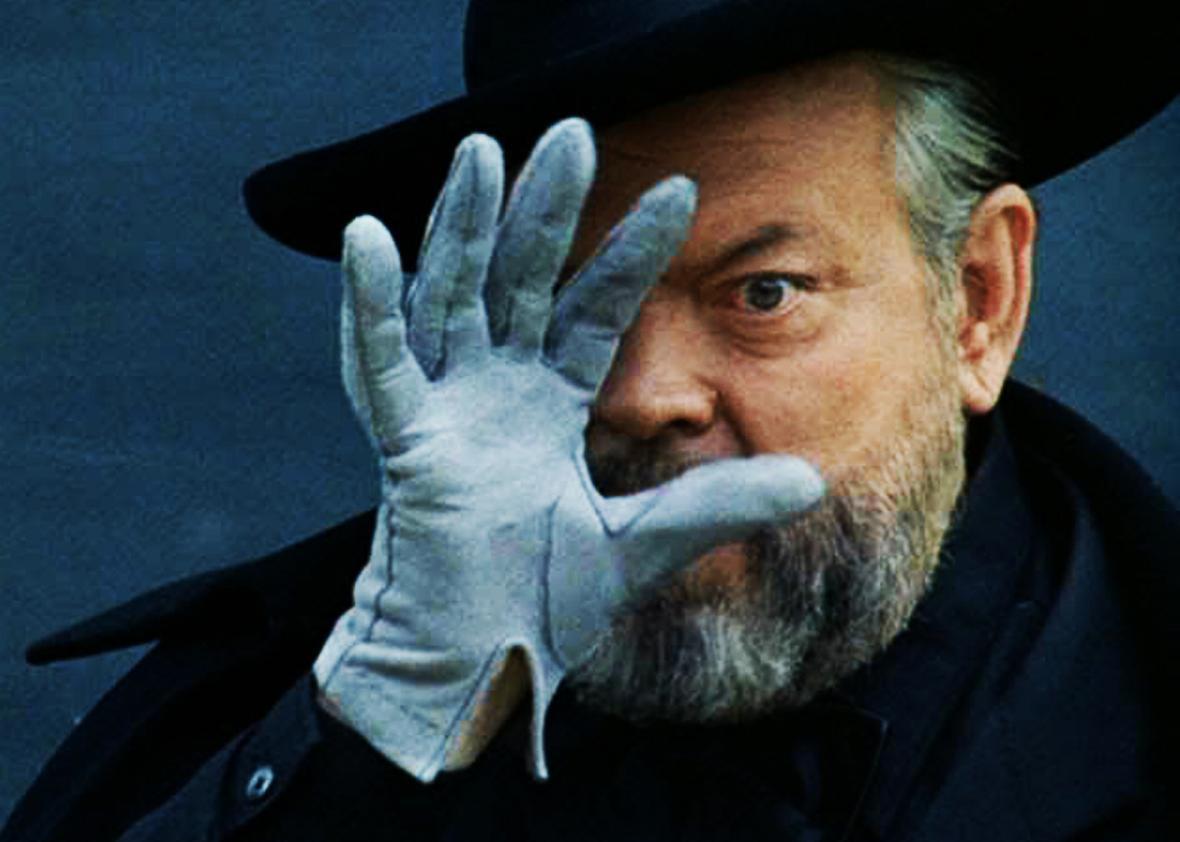 Field producer Paul Myers, who came up with the idea to allude to F for Fake, explained to me: "When we were faced with the challenge of making something as sad and infuriating as Crisis Pregnancy Centers funny we started with the idea of them being con artists. From there a ton of ideas went back and forth but nothing was working out. As a half joke I suggested that we just recut and re-dub 'F for Fake' to make it look like Orson Welles himself was talking about CPCs. Most people in our department hadn't seen it, but when Sam watched five minutes of the movie she saw how funny of a visual and contextual joke it could be."
You don't need to be familiar with F for Fake to enjoy the Full Frontal segment or to be angered by its nonparodic interviews, in which a woman named Cherisse Scott explains how a crisis pregnancy center worker told her that an abortion could leave her infertile, resulting in her having a child she wasn't ready to support. But it certainly adds to the experience of watching it, just as a familiarity with 12 Angry Men made Amy Schumer's episode-length homage that much richer. Though less elaborate, Full Frontal's is the sharper satire, since it connects more meaningfully with its source.
It's not the first time Full Frontal has mined cinephilia for laughs: The show's first episode featured a sendup of Jeb Bush's dead-end presidential campaign with an existentially despondent German narrator who sounded an awful lot like Werner Herzog. (That one, Myers says, was the brainchild of field producer Michael Rubens, who also did the voiceover.) Usually the purpose of parodies is to provide familiar reference points, but these are jokes that, to a certain extent, are meant to be missed, flattering the few while amusing, or bemusing, the many. "There were discussions about how far to push the gag, most of which I lost," Myers admits. "I wanted to have all of Patton's dialogue out of sync like most of Welles' movies or color the whole thing to look like it was a neglected negative. In the end I feel like there is enough in the piece for people to find some of the references funny, but if you haven't seen the movie—which you should—then there is enough in there to laugh at." Full Frontal's segment might not drive too many people to seek out Welles' movie, but it's one way to reach viewers—perhaps especially those without uteruses—who aren't already paying attention to the fate of women's reproductive health and to give those who are weary of fighting the same battles a moment to laugh through the pain.