From the moment Marla Maples first appeared on screen in this season's premiere of Dancing With the Stars, in a fur stole and with a champagne flute dangling from one hand, she was a vision. As she floated across the stage to the opening strains of "Diamonds Are a Girl's Best Friend," the whole performance may as well have been a big, bedazzled middle finger to her ex-husband Donald Trump—an exhibition of her undiminished charm. But it also felt like more than that. Onstage, lounging on the judges' table as tuxedoed men presented jewelry to her like an altar offering, she was ethereal, above the fray, in control.
It had been about 25 years since Marla Maples' last turn in the limelight. In 1992, when she was 28 years old and newly married to Donald, she starred in The Will Rogers Follies on Broadway. Since her marriage ended in 1999, she had been quietly raising her daughter, Tiffany Trump, in California, largely avoiding the public eye. Multiple reality shows had courted her over the years, and she never accepted. "I felt like people had seen enough of my personal life, living in the spotlight like Donald and I were during our marriage, and [I never even got] paid for it," Maples told me. When Dancing With the Stars reached out to her last year, she was 52 and her daughter was about to graduate from college. She worried that the public knew her name for the wrong reasons. "Donald was a very important part of my life," she said. "But I wish more people remembered me as a Broadway actress."
Dancing With the Stars casting director Deena Katz had heard Maples was a fan of the show. She'd tried to recruit her for a previous season, but Maples had declined. Katz knew, for obvious reasons, "that this was a very crazy time for Marla and her daughter," she told me, but she also knew that there might never be a more perfect moment. Katz arranged a Skype call and assured Maples that, if she signed on, her storyline would not be Marla Maples, the ritzy damsel last seen on Donald's arm. It would be Marla Maples learning the quickstep. Katz assured her, "When you step onto that stage, it's about you. It's not about Trump." Maples was intrigued. "Deena told me, 'We'll take care of you,' " Maples said.
Dancing With the Stars, which airs its season finale Tuesday night, is a massive hit, regularly the highest-rated reality show in the key 18–49 demographic. And if there's one woman responsible for the show's success—and its unique place in the pop cultural ecosystem—it's Deena Katz. She's been casting the show since it premiered in 2004. Back then, Katz recalls, reality shows starring celebrities were "very dog-eat-dog." There was The Surreal Life, which first aired in 2003 and assembled a crew of has-beens like Dave Coulier and Verne Troyer so they could butt egos and confront demons under the unfriendly gaze of 'round-the-clock cameras. A few years later, VH1's similarly tragicomic Celebrity Rehab premiered. The Apprentice began in 2004, eventually spawning Celebrity Apprentice, a B-list cockfight dressed up as an entrepreneurial battle of wits.
Katz saw a hole in the reality TV market and set out to fill it. This new show wouldn't pit stars against one another so much as it would force them to emotionally and physically exert themselves. Yes, they would be subjected to certain indignities for the audience's delectation, but only the micro-humiliations of botched pasodobles and flubbed rumbas. For the first cast, Katz assembled a ragtag troupe that included former Bachelorette Trista Sutter, New Kid on the Block Joey McIntyre, and boxer Evander Holyfield. The mandate was simple: Just look like you are having a good time. "Sure, people get frustrated," Katz said, "but they are never fighting with each other. They are just angry they aren't learning their quickstep." A Salon review of that first season, attempting to puzzle through the show's improbable charm, observed: "It would be difficult to care about an actual star who could actually dance. But watching [a] former supermodel try to rumba, then stand, stricken, before the judges. … The whole thing was oddly touching." (ABC executives declined to comment on Katz's role on the show due to "crazy schedules" in advance of the finale.)
Over the past decade, we've become so numb to the manipulations of reality TV—from the increasingly elaborate psychic abuses of The Bachelor to mortifying new installments like Dating Naked and Sex Box—that a feel-good show about famous people seems somehow quaint. Whereas The Bachelor freights every sidelong glance with portent, DWTS's stumbles and heartbreaks are all edited to make the stakes feel as low as possible. Setbacks get couched in the language of spiritual uplift and self-help. "You came out and gave it 100 percent and that's all you can do. Well done," a judge told Maples one night. It's hard to imagine a show diverging further from the standard, mean-spirited reality TV script. On another show, this all could make for treacly stuff—if not for Katz's ability to reel in a boggling mix of celebrities who would seem to have little incentive to swivel their pelvises on national TV: Steve Wozniak, Bristol Palin, Tom DeLay, Paula Deen.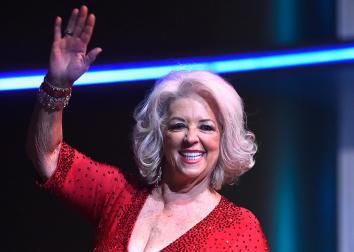 Of course, some stars are simply lured by the chance to bust a move in front of a massive, approving audience. Wozniak didn't have any demons to exorcise. He just wanted to get out there and samba. While shows like The Voice or America's Got Talent can feel like emotional chiaroscuro, all starkly contrasted highs and lows, Dancing With the Stars is light on its feet all the way through. There's no melancholic rumination on the plight of eliminated contestants; it's clear that these are people with only extracurricular glory to gain and literally nothing to lose. Part of the draw is that the whole thing just looks like crazy fun. Every episode opens with a mega group dance number that spills over the stage like an ecstatic technicolor party.
But Katz's casting is by far the show's boldest stroke. In a culture obsessed with picking apart the faux redemption arcs ginned up by Oprah specials and People magazine spreads, she built what turned out to be an ingenious business model: merging audiences' appetite for ritual celebrity self-abasement with the PR interests of the celebrities themselves. "Dancing With the Stars allows celebrities to say, I understand I've been knocked off my perch," said Tucker Carlson, who competed on Season 3. But, he added, "If you're Paula Deen, you don't have to answer questions about your racial views on this show. They are able to ensure that you may look slightly silly, but you'll never really humiliate yourself. It's a nerf environment."
In Dancing With the Stars' decade-plus on the air, Katz has converted a run-of-the-mill reality TV spectacle into something bigger: our culture's foremost celebrity image rehabilitation machine, the easiest way for stars to rise from the ashes when they have something they want the public to forget. "I'm redefining myself right now," Maples told me. "And this was my coming-out."
* * *
Deena Katz has an oaky tan and the gung-ho energy of a majorette. She's part therapist, part alchemist, part yenta. "Deena is like your Jewish mother," said Sheryl Shade, an agent who has had several clients compete on Dancing With the Stars. "That one will work with that one, they'll get along well, that'll be a little controversial—she just knows." Katz has an instinct for which celebrities, no matter how unsexy or arrhythmic, will come alive to the beat of "It's Not Unusual" or "Tainted Love." "She can see someone on television and imagine that person wearing a skintight Lycra outfit doing the cha-cha," Carlson said. "Most people don't have the imagination necessary to see that."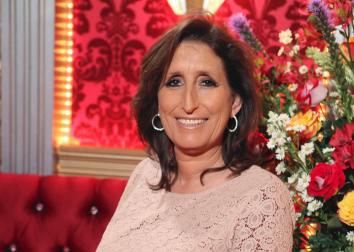 With Katz as its social chair, the show has produced a string of unlikely friendships. One season, Metta World Peace and Nancy Grace became close friends. "All politics aside, forgetting everything that comes with the Palin name, I just loved Bristol Palin," said Olympic gymnast and Season 8 winner (and Dancing With the Stars: All-Stars cast member) Shawn Johnson. Maples' best friend this season was former NFL star Doug Flutie. Katz has everyone over for dinner and goes to cast members' weddings. "They're my kids," she told me. "I always say I have one daughter and 250 kids."
As the show's profile has risen, Katz has seen knee-jerk resistance to the concept steadily soften in the celebrities she recruits. In Season 1, Lisa Rinna said no; by Season 2, she was in. Katz asked both Geraldo Rivera and Mischa Barton several times over the years before they finally agreed to do the show this season. "Agents get it more now," Katz said, and are less likely to nix the idea without even bringing it to their clients. "It doesn't matter if you were the MVP of the Super Bowl," she tells celebrities now. "For your marketing, for your career, this is like Willy Wonka's golden ticket."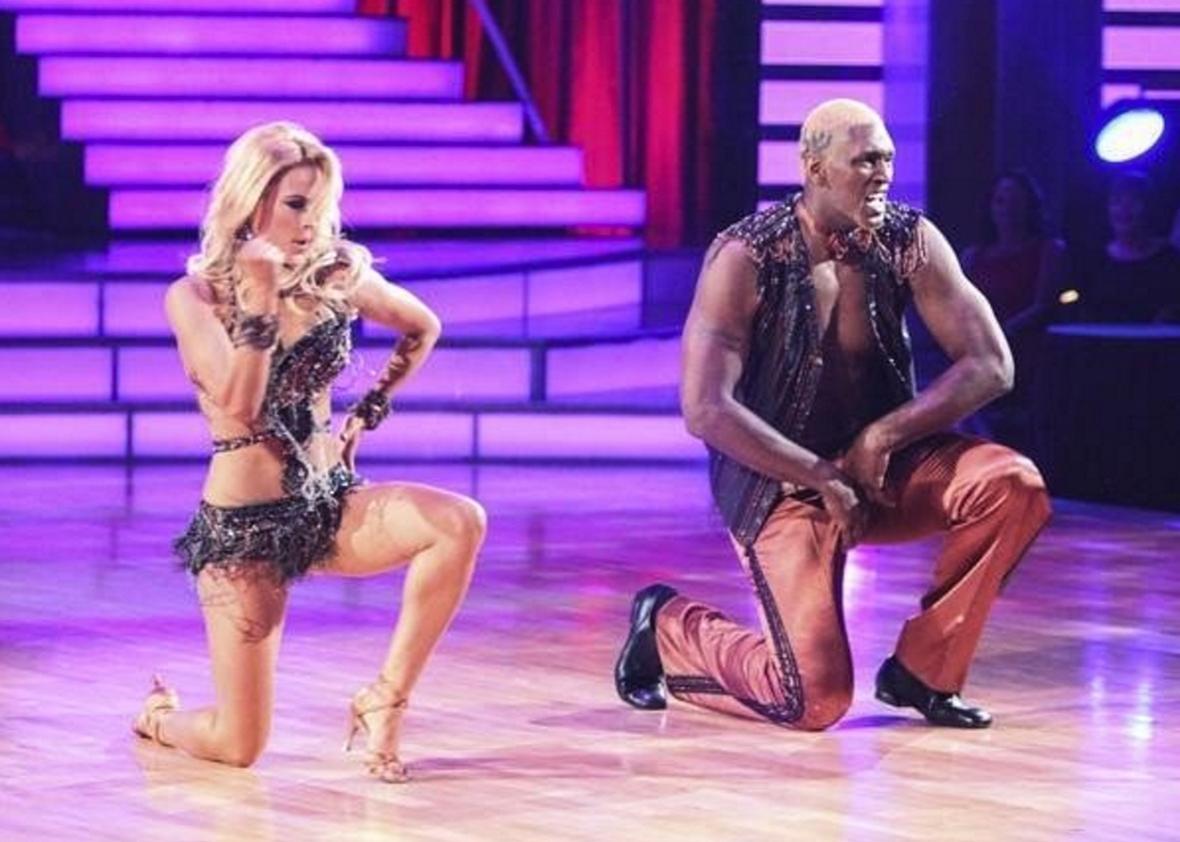 She sells stars on the chance to target an entirely different audience than the one they normally reach—and to tweak the way their current fans perceive them. "When I originally was asked, I said no," Jerry Springer told me. But then he talked about it some more with his daughter, who was getting married, and thought this might be one fun way for him to learn a father-daughter dance. "Everyone in the biz says this is a great career move," he added. "If the only thing the public knew about me was that I have a crazy talk show, can you imagine what they think I'm like?" And the gambit appears to have worked: Even as the judges dinged his clumsy moves, he made it into the top five. "Fans go wild," proclaimed one Associated Press headline, "for 'Dancing' Jerry Springer."
Katz spends hours online each night, scanning gossip sites and reading celebrity news. She pores over magazines like Us Weekly to get a sense of who is making headlines. She takes suggestions from her teenage daughter and her husband (he suggested Wozniak and Gary Busey) to make sure she's targeting different demographics. "Every time we have dinner with people they want to play the 'who should be on Dancing With the Stars' game," she said. "It's always 'Jennifer Aniston.' And I'm like, Oh trust me, I've tried. She can't do it."
For the most part—about 90 percent, Katz estimates—the cast members she chooses are people she reaches out to, rather than people who reach out to her. (George Clooney ex Stacy Keibler is one of the few who earned a spot on the show after soliciting Katz.) To reel in 16-year-old Johnson right after she'd won Olympic gold in 2008, Katz invited her to see a performance live. They chatted about Johnson's childhood, her team, her family. "She clearly wants to get to know you on a human level," Johnson said. "My ask wasn't a contract or an email; it was a full in-person experience, and I think that's how she convinces a lot of stars." Katz is relentless in pursuit of the stars she wants. "Bill Clinton is my dream," she said. "He's my centerfold. I try him every year. His people are always polite when they say no."  
Some stars, she explains, she chooses because "the idea of them dancing makes you laugh" (Bill Nye, Von Miller). Some she chooses as "nostalgia picks," because they are reliable crowd-pleasers (Jennifer Grey, Ralph Macchio). She tries to choose a few people who are currently in the news, to make the show feel topical. She throws in some wild cards (Buzz Aldrin, Nancy Grace). "Every season is like making the best dinner party ever," Katz said. "This show would be so boring if it were always 12 actors and some Disney kids." Ideally they're people who can laugh at themselves. ("Otherwise the show gets too intense.")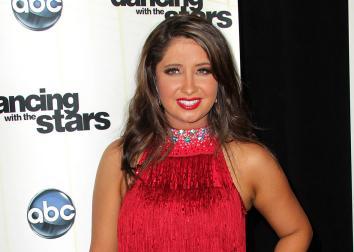 For the contestants who are looking to recalibrate their image, there's a kind of formula in place. "Week 1, you acknowledge that this thing is what you're known for," Katz said. "You say it, you come clean, and then it's over. The elephant in the room is gone. Then you can control the narrative." "My life's been told in the tabloids, but I'm just a regular girl," said Bristol Palin in the Season 11 premiere, in which she wore a Sarah-esque updo and presidential suit then ripped the costume off to reveal a fringy red minidress beneath. (One exception was Paula Deen, whose indiscretion was perhaps too toxic to address in prime time—so the producers let her resolutely ignore it: Deen's opening line, right on the heels of her scandal, was, "Hello, my name is Paula Deen and I'm probably most known for cookin'.")
For her introductory clip in this season's premiere, Maples sat in softly lit close-up, relaxed in a pastel shirt and jeans. "I'm Marla Maples, and you may know me as an actor," she told the camera. "I was in The Will Rogers Follies, and I'm the proud mommy of Tiffany Trump." And then, after a short rehearsal montage, she danced—a giant spinning diamond projected behind her. She dipped a bit stiffly; her face twitched with nerves. But at the end, the judges crowed. "Forget about the Donald! Ballroom is your trump card!" one judge told her, as Maples, a silver flake of confetti still nestled in her cleavage, beamed and gave an eager nod.
The next week, Maples danced a fervent Argentine tango to Ed Sheeran's "Don't." She did a spunky jive to Pharrell's "Happy." In Week 4, she got cut. She was heartbroken. But, looking back, Maples said, "I had such a great experience on this show." She and Deena Katz are still close—Katz invited Maples to her Passover Seder this year. She will be back Tuesday night for one last full-cast dance in the finale, which she eagerly rehearsed with her dance partner, Tony Dovolani. "I hope people feel like they got to know me," she said.
Of course, as much as Katz sells potential contestants on how empowering a platform this show can be for reintroducing themselves to the viewing public, it's not as if DWTS hands them complete control. She could promise not to define Maples by her time as Trump's wife, but there was still the formula: acknowledge your past, and then move past it. This was a reality show, after all. "As far as 'Diamonds Are a Girl's Best Friend,' that's not really my thing," Maples said about the producers' choice of song for her first dance. "I grew up in Georgia, and I'm more of a tomboy." But she steeled herself, even as the announcer called her "the Broadway star and TV host who made headlines when she married some guy named Donald Trump." Maples remembers the first time a producer asked: "Can we actually have you dancing with a flag?" "I was like, OK, now I get it," she told me. "But I thought to myself, of course. My ex-husband is running for president." The important thing, for her, was that she was out there by herself. "I'm not the girl drinking champagne on the rooftop," she said. "But that's a part I can play."
That final night, before Maples got eliminated, was her favorite dance on the show. In line with the evening's Disney theme, she dressed as the Little Mermaid, her partner as Prince Eric. They waltzed to the song "Part of Your World." She loved it: spinning under the stage lights in a red wig and mermaid gown, disguised beyond recognition, not a diamond or champagne flute in sight. "It was like I was floating," she said. "I felt like I was finally free."