Purple Rain's ecstatic First Avenue climax notwithstanding, there's no better document of Prince on stage than his 1987 concert movie Sign o' the Times. Robert Christgau judged it a serious challenger to Stop Making Sense's status as the greatest rock concert film ever made, and if, it his final analysis, it fell just short of the mark, it was truer to the spirit of an actual show. Where Stop Making Sense "goes for a sinuous, almost elegant clarity," Christgau wrote, "Prince's movie is all murk, scuzz, steam, and, oh yeah, sex. With all due respect, which one sounds more like a real rock concert to you?"
Unfortunately, it's also almost impossible to see and has been for decades. It's never been issued on DVD in the U.S., and the VHS tape is, not surprisingly, long out of print. The only legal way to watch it is via foreign Blu-rays, which are expensive and unlikely to play on a U.S. player. (I found a blocky-looking stream on a dubiously legal Russian website.) But it's worth seeking out, however you can find it, especially since official records of Prince's astonishing stage prowess are surprisingly rare. Unless you count Purple Rain, much of which was recorded live, the earliest is 2002's three-disc box set One Night Alone… Live!, which is also out of print, but can be yours on Amazon for almost $300.
To watch Sign o' the Times now, in the wake of Prince's shocking death Thursday at the age of 57, is to experience all of his gifts at once, with an intensity so fierce it tempts the boundary between pleasure and neural shutdown. Here, in 84 incandescent minutes, is proof that all those otherworldly talents—that voice, that guitar playing, that style—somehow all fit inside the same physical being, a circumstance that would have been implausible had he been 8 feet tall instead of just a hair over 5. Although it was filmed in different locations and Prince's frequent costume changes suggest significant breaks between songs—it takes time to switch from Spandex overalls and a white fur coat to a jean jacket and a policeman's cap—it nonetheless feels live in a way concert movies rarely do. When Prince orders his backup singers to "back off the mics" so he can stretch out the gospel coda of "Forever in My Life" or when, at his cue, the horn section seamlessly drops a Duke Ellington quote into the Dionysian revelry of "It's Gonna Be a Beautiful Night," you're not just watching a performance; you're seeing music being made.
The movie, which Prince also directed, has wisps of a story floating through it, vignettes in which members of his band play out romantic conflicts while Prince watches pensively through wire-rimmed glasses, but they're fleeting distractions in the face of the far more enthralling story told by the music. Nearly all of the songs are taken from the sprawling double album of the same name, with the exception of "Little Red Corvette" and a version of Charlie Parker's "Now's the Time" that culminates in a ferocious Sheila E. drum solo. ("Not bad—for a girl," Prince quips when he introduces her, his wry drawl undercutting the sexist qualifier.) There's a certain perversity in leaving established hits like "Purple Rain" and "1999" on the cutting-room floor, and that may account for why Sign fizzled at the box office, earning less than a third of what the little-loved Under the Cherry Moon had only the year before. But Prince had just severed ties with his longtime backing band, the Revolution, and omitting the songs most closely associated with them gives the movie the feeling of a fresh start. Besides, audience had already seen him play those songs in Purple Rain, and Prince never showed any interest in repeating himself.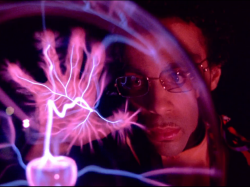 Sign o' the Times opens, naturally, with the song of the same name, but the hard-edged bass line and Prince's snarling lead guitar lend it a darker, more urgent cast than the familiar album version. The apocalypse isn't coming; it's here. The rest of the band files in, eight of them banging snare drums in perfect unison like they're on their way to a jazz funeral. Although the movie closely follows the tour's set list, it somehow feels like every song is the last song of the night, that one final moment of suspended ecstasy before the lights come up and real life comes rushing back in.
Although Prince played nearly every note on the Sign o' the Times album himself, the movie shows him to be a formidable bandleader, mixing James Brown's exactitude with Sly Stone's magnanimity. You don't necessarily want the star of the show to step aside so his band can stretch out on a jazz standard, but it speaks volumes that an artist of his singular presence was still willing to share the spotlight. When Boni Boyer, whose prim outfit and gospel-tinged vocals suggest she's accompanying a Baptist church choir, steps to the fore for a vocal solo on "Forever in My Life," he urges her on: "This is your house."
There are weak spots, of course: The spoken-word interlude by choreographer-turned-sidewoman Cat Glover is a reminder that, for all his apparently inexhaustible talent, Prince had something of a tin ear when it came to rap, and the moment in "Hot Thing" when he slides through her legs and rips off her flimsy skirt is, uncomfortably, more violent than sexual. But if you're still fretting over those by the time he gets to "The Cross," his urgent, soulful preview of the Second Coming, maybe Prince isn't for you after all. Prince's long-running dispute with his record company over the ownership and management of his back catalogue kept his classic albums from receiving the archival treatment they so richly deserve, and it's likely what's kept Sign o' the Times off the shelves as well. Those of us mourning Prince's death should remember that there's a second coming due to arrive from him as well: Those floodgates are likely to finally burst, and we'll be able to hear new music—and re-experience this remarkable movie—very soon.