For the past 20 years, Arsenal, Chelsea, Manchester City, and Manchester United have played keep away with the Premier League trophy. That quartet has dominated English soccer so thoroughly that only two other teams, Liverpool and Newcastle United, have even finished second during that span. Now Leicester City F.C. sits in first place in the premiership, seven points clear of second place with three matches to go. ESPN's Soccer Power Index gives the Foxes a 98 percent chance to win the league, meaning Leicester is almost a lock to win the most shocking title in the history of major professional sports. (Update, May 2, 5:17 p.m.: Leicester City just won the title thanks to this fantastic goal by Chelsea's Eden Hazard.)
This Leicester City season is not Kansas City breaking through the ranks of baseball's high spenders to snatch the World Series crown. Major League Baseball has no salary cap, yet anyone is capable of winning a championship: 10 franchises have won the World Series in the past 20 years, and 28 of 30 teams have made the playoffs in the past decade. The Premier League has no salary cap, no draft, and no help for the little guy. At the beginning of the 2015 season, you could get 30-to-1 odds on a Royals title. For Leicester City, those odds were 5,000 to 1. If it wins the title, it may be the most unlikely successful single event bookies have ever taken bets on. The English bookmakers William Hill will also take bets at 5,000 to 1 on Elvis being found alive, Kim Kardashian winning the presidency in 2020, and Barack Obama playing cricket for the English national team.
Last year, Leicester City won seven of its last nine games to avoid relegation to England's second division. All but two of the Guardian's 11 preseason prognosticators picked it to be relegated this year. It's a story that could give even a Cleveland Browns fan hope, if only the Browns had an old Plantagenet monarch lying around it could exhume and provide a proper burial. Leicester City didn't just make a leap. The Foxes triple-jumped, bounding past the midtable clubs and English soccer's perennial top four to land right at the top. Here's the club's own summation of its last year:
* * *
How has Leicester City done it? The answer is simple to enumerate yet impossible for another team to duplicate. The Leicester miracle isn't one of talent. It's one of timing. Everything that could possibly go right for this club has gone right, and it's happened all at once. Leicester has hit on nearly all of its signings; grabbed an underappreciated, overqualified manager; and kept its key contributors remarkably healthy.
Just as important, Leicester City has surged in a year when the sport's traditional powers have struggled. This is just the third season since 2000 where 76 points through 35 games has been good enough for first place. In most of those years it'd be either second or third. Manchester City, Arsenal, Manchester United, and Chelsea always win; this year, they're third, fourth, fifth, and ninth in the standings. You can only beat the opposition that's put in front of you, but it's easier to surge ahead of teams that aren't playing up to their standards.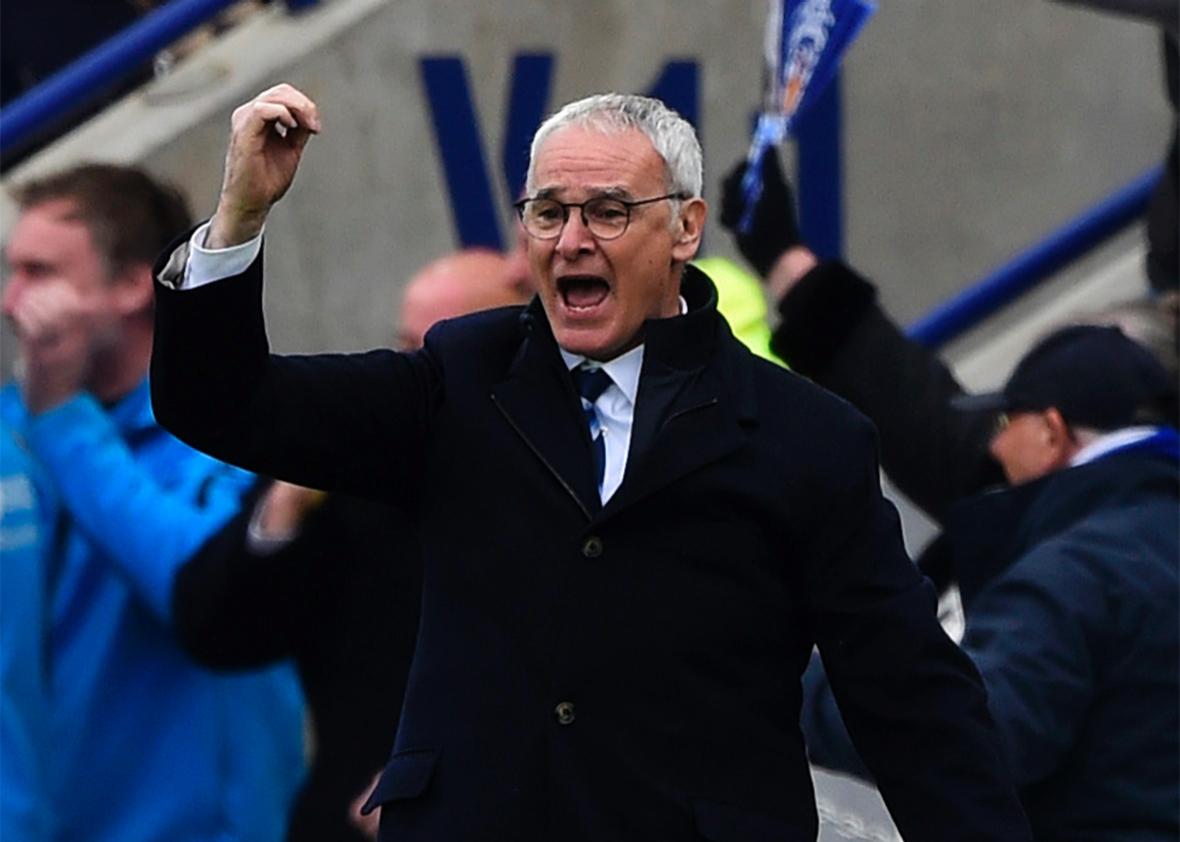 Claudio Ranieri is familiar with the concept of underachievement. A onetime manager of Chelsea, Juventus, and Inter Milan, Ranieri lost his job as manager of Greece's national team in less than four months thanks to a 2014 home loss to the Faroe Islands.
Ranieri didn't reinvent the wheel when he arrived in Leicester this past offseason, but he did trick it out with the latest in wheel-based technology. Leicester City almost always lines up in a version of soccer's most venerable formation, the classic English 4-4-2. Ranieri, though, supplements it with tactics taken both from traditional powerhouses and successful underdogs.
The key feature of Leicester's 4-4-2 is its compactness, which Ranieri borrowed from Arrigo Sacchi's late-1980s A.C. Milan teams. Defenders, midfielders, and forwards stay close together and defend as a 10-man unit, forcing opponents to navigate three lines of players in quick succession if they want to get to goal. That compactness helps Leicester press and funnel the opposition wide, objectives that match those of Diego Simeone's Atlético Madrid teams. It's a style that allows clubs to punch above their weight. In 2013–14, when Atlético won La Liga and made the Champions League final, it spent roughly a third of what Barcelona and Real Madrid did on player salaries. Leicester is paying out approximately $100 million in salaries this year, less than a quarter of top English spenders Chelsea.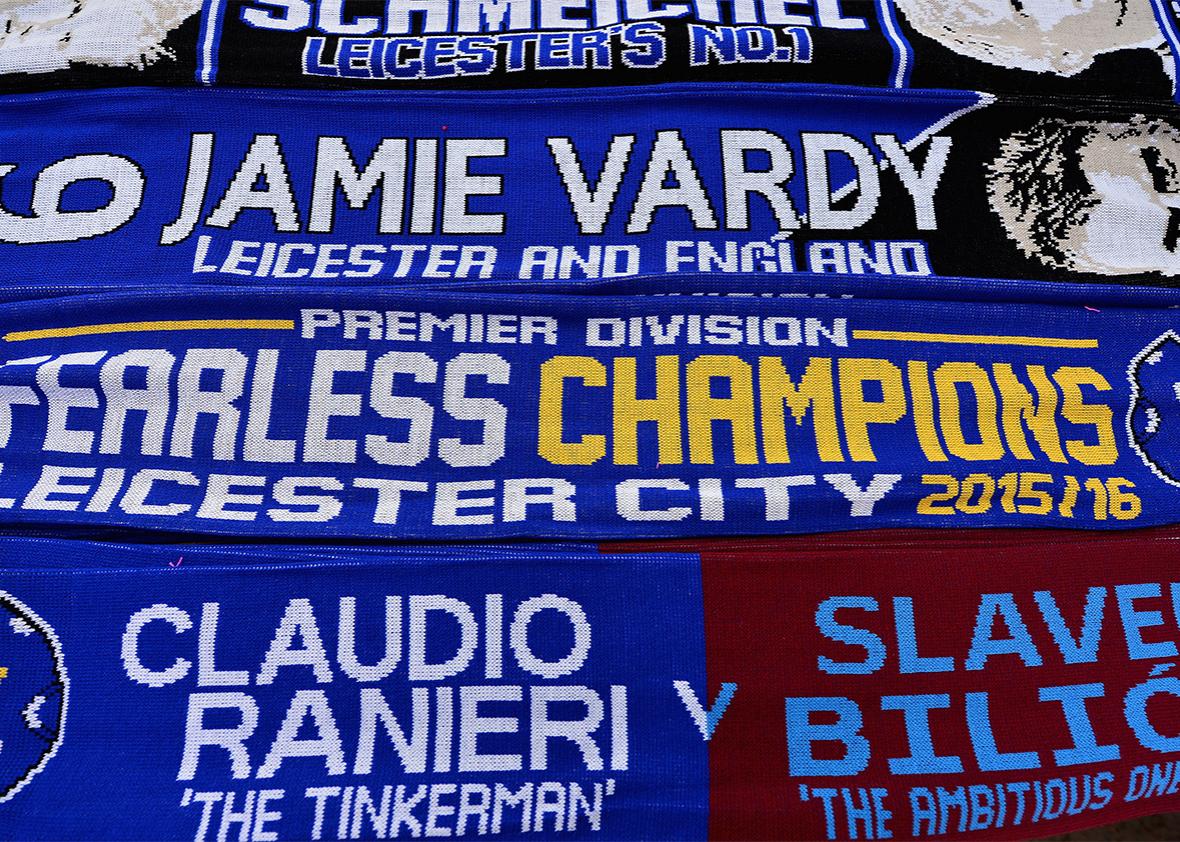 The best tactics in the world can help you steal a couple of games you shouldn't win. They can't steal you a league title. To win the Premier League, you need great players, and Leicester has them. For a team operating on a limited budget, the most valuable asset is the late bloomer, someone whose growth curve shoots skyward after the big clubs have taken their look and moved on. Right back Danny Simpson and midfielder Danny Drinkwater, who made his first appearance for England in March, spent time in Manchester United's academy. Defender Robert Huth was brought to England from Germany by Chelsea, while Kasper Schmeichel, son of Manchester United great Peter Schmeichel, started his career at Manchester City. All are now regular starters for a team that is assured of finishing above those who deemed them surplus.
Leicester has somehow gotten all of these late bloomers to flower at the exact same moment. The 25-year-old Algerian Riyad Mahrez, English football's newly anointed player of the year, has scored more goals this season than he did in his previous four of first-team soccer combined. Striker Jamie Vardy scored five goals last year in his first Premier League season and is currently on 22 and counting. Leicester's youngest regular starter, pint-sized destroyer of worlds N'Golo Kanté, was brought over from the midtable French club Caen this summer for $8 million; he is now wanted by somewhere between most and all of Europe's top clubs.
If any one of these players had broken out last season, he likely would have been sold off for a handsome profit. Leicester City would have gotten paid, the player would have gotten paid, and the fans would have been upset but ultimately accepted the realities of the game's economics. Everybody would have been OK with the status quo.
Now, instead of one departing star, Leicester City has a core—and a core is worth fighting to keep together. Even if Leicester chokes away the league, it will still have the resources to maintain this squad. That's because the financial playing field tipped closer to level this year. The Premier League just signed a new three-year, $7.2 billion television deal in the United Kingdom, and that money will get split among all 20 teams in the premiership.
The hope is that this cash infusion will bring more parity to the league, giving more clubs a chance to finish in the top four and earn a place in the money-printing Champions League. The new deal has already bolstered the Premier League's middle class. Sixth-place West Ham signed French star Dimitri Payet to a club record extension. Stoke City—once synonymous with the English virtues of physical defense and cold, wet Tuesday nights—has captured a series of creative attacking players after their stints with Barcelona, Bayern, and Real Madrid came to an end.
But while other teams are spending money in the hope of sneaking into fourth, Claudio Ranieri is sitting in the back, talking about how he used to bull's-eye womp rats in his T-16 back home.
Invoking the Death Star may seem silly, but Leicester's season is so lacking in precedent that the best possible comparisons are all fictional. They're the Rebel Alliance. They're Andy Dufresne. Imagine the Mighty Ducks triumphing over a team led by Johnny Lawrence, Ivan Drago, and Alpha Beta's Ogre.
This is the greatest underdog story in modern sports history. The barriers to entry were significantly lower when the English club Nottingham Forest won promotion, the title, and the European Cup in three consecutive seasons from 1976–79. Rulon Gardner and the 1980 U.S. Olympic hockey team both pulled off amazing upsets, but those were one-shot deals. They didn't outlast their opponents in a best-of-38 series.
Where most early season surprises stumble when opponents have the chance to scout and tailor their game plans, Leicester City has adapted. When teams figured out how to slow their potent offense, it rolled off four straight 1–0 wins in March and April. That was a new trick for it. Ranieri was so unimpressed by the team's defending at the start of the season that he threw the team a pizza party when it earned its first clean sheet.
* * *
How could you not love pizza-partying Leicester City? Arsenal manager Arsene Wenger says "the country is behind Leicester." Chelsea captain John Terry, whose team plays the Foxes on the last day of the season, says a Leicester title "would be great for them and it would be great for football." Prince William is "dying" to see Leicester pull it off, especially since his club, Aston Villa, has already been relegated.
Should you love Leicester City? The club is owned by Vichai Srivaddhanaprabha, a Thai businessman and owner of the King Power chain of duty-free stores. Srivaddhanaprabha, who's worth approximately $2.8 billion, bought the club in 2011, when it was still in the second division, paying off its debts and boosting its payroll. Without him, the team wouldn't have been a 5,000-to-1 shot to win the Premier League. Leicester wouldn't have been in the Premier League at all.
Srivaddhanaprabha is hardly the wealthiest Premier League owner, but he's not at the bottom of the list either. Is it being a spoilsport, then, to point out that Leicester City is an underdog because its incredibly wealthy owner spends less money on his team than the league's other, even more incredibly wealthy owners do on theirs?
Should you even like Leicester City? One of the inciting incidents for this Cinderella story—the firing of the club's former manager, Nigel Pearson—came after a video leaked showing three youth players, including Pearson's son, James, spouting racial slurs at three women during an orgy in a Thai hotel room.
It would be a bit of an understatement to euphemize this as, say, a "controversial incident"—the racist Leicester orgy fills every square on the sports scandal bingo card. But to its credit, the club dismissed all three of the players, and Leicester City stood by the firing of the elder Pearson in the face of criticism, ensuring that this year's squad would be squeaky clean and entirely free of controversy, scandal, and incidents.
Well, not quite. We need to talk about Jamie Vardy.
Leicester's star striker has a whip-thin frame and a perpetually angry expression, a look that calls to mind an early punk rocker. If you want to see him in action, you'll have to wait a bit—he's  suspended for this weekend's game against Manchester United after verbally abusing the referee on his way off the field. He's tremendous to watch when he is on the field, the fastest man on the pitch and also the most precise. He's so good and so new that, as with his team, we still haven't found the proper comparison for him, with everyone from Sergio Aguero to Gabriel Batistuta to Toto Schillaci being cited as a precursor.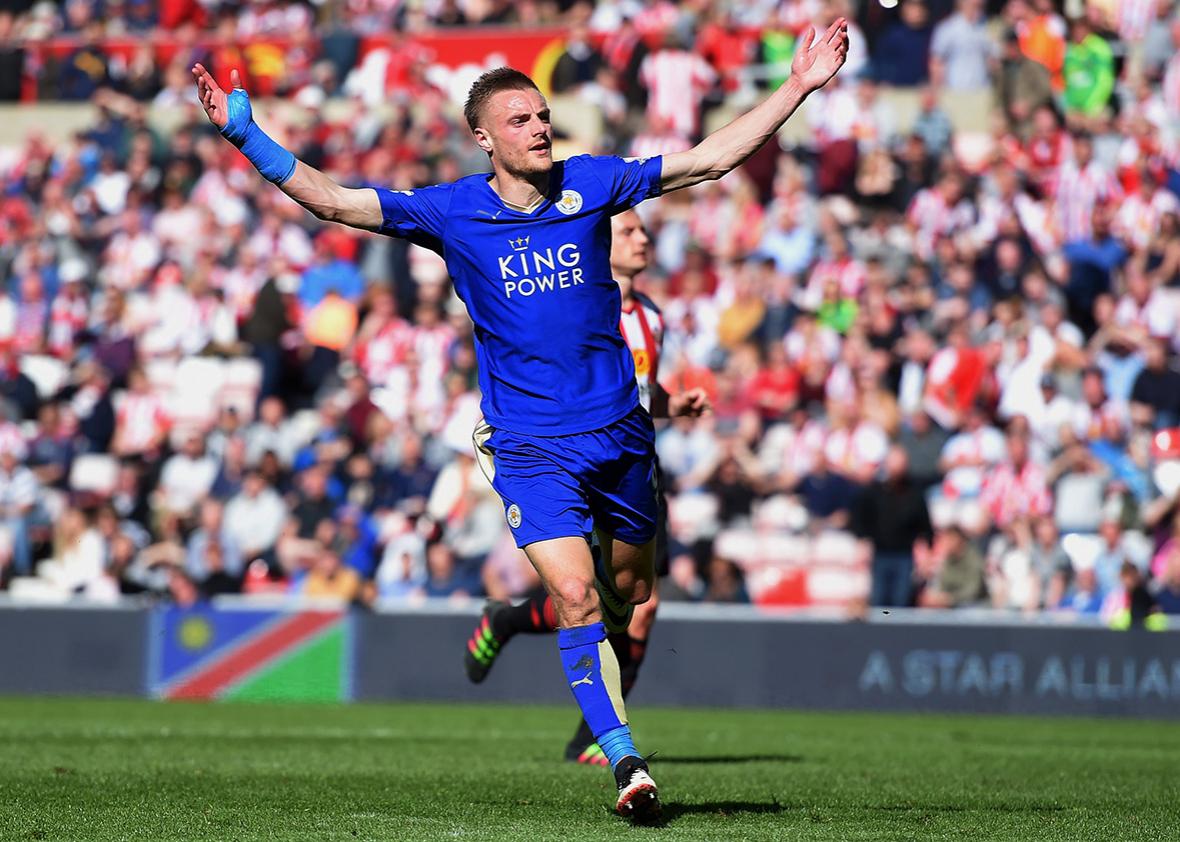 Vardy is packed so full of stock athlete narratives that he too can seem like a fictional creation. Watch any Leicester match and you're bound to hear a dozen or so mentions of how he was manufacturing medical splints to supplement his semipro wages as recently as six years ago.
In 2007, during his time at seventh-division Stockbridge Park Steels F.C, he spent six months playing with a police bracelet around his ankle, which has a certain Ricky "Wild Thing" Vaughn cachet until you learn he earned it for an assault charge stemming from a fight outside a pub. Except Vardy says the altercation started when some patrons mocked his friend for wearing a hearing aid, which, if true, is at least a better-than-average justification for getting into a bar fight. Less defensible is his behavior at a casino this offseason, where he racially abused one patron and had to be restrained by a teammate from fighting another. Vardy apologized, paid a fine, and attended diversity training.
If you're not sure of the appropriate response to all this, I'm happy to report that a movie version of Vardy's life story is in development and will no doubt tell you exactly how to feel.
* * *
For the majority of fans, none of this context matters. We care about aesthetics, morality, and personality. We care if teams play ugly and if they have some real scumbags on the roster. But we don't value any of that stuff as much as we do the storyline. This storyline—the greatest Cinderella story in the history of sports—is too good to be true, except it's happening in what purports to be real life.
Otherwise neutral fans are often torn between rooting for greatness and rooting for unpredictability. We want to see something special, but we also want it to be like nothing we could have imagined before. European soccer gets a lot more of the former than the latter, which is why Leicester is such a fantastic outlier.
The trouble for Leicester City is that this is not the end. More than ever, our sporting narratives are serials. You can read previews of next season before the last flakes of championship confetti hit the ground.
Those fans who choose to stay on the Leicester City bandwagon will find themselves rooting for a wildly different team. Should it hold on to win the title, Leicester will receive a record payout of approximately $210 million, plus additional money for participating in the Champions League as well as a new wave of lucrative sponsorships and merchandising opportunities.
Despite Leicester's owner's billions, it's this money that's going to tip the public perception of the team. Pocket it, even if just to keep the club on a more sustainable budget, and Srivaddhanaprabha and his Asian Football Investments consortium will be crowned the greediest men in soccer, with a legion of players-turned-pundits and sports columnists lining up to tell us that they're sucking the soul out of the game by treating it as a business.
Or Leicester could splash that money around, instantly forfeiting its underdog status. The club will need to spend on the raises necessary to keep Vardy, Mahrez, and Kanté; on transfer fees for reinforcements for a European campaign; and on depth for when its injury luck finally runs out. First-place Leicester City will have more money and more opportunity for profligate spending than sixth-place West Ham. That doesn't sound like an underdog. That sounds like Manchester City, purchased by the Abu Dhabi United Group in 2008 and transformed from a second-tier club to a money-splashing champion.
Leicester will at least have the novelty of taking a leap in financial class because it wins and not the reverse. Regardless, the team will become the newest exhibit in the ongoing show trial of how the spoils of the game are spoiling the game, exactly the axiom that this year's Leicester's squad is supposed to be defying.
It's a winning team's right to do whatever it wants with its winnings, and Leicester's disruption of European soccer's class structure will be a kind of victory no matter what happens next. But it will also be a victory for that structure, as it chews up a lovable underdog and spits out another free-spending power player.
We don't know who might wind up being the next Leicester City or if there will ever be a team like this again. We do know that the Leicester City of 2015–16 won't be the Leicester City of 2016–17. To have any chance to duplicate this year's miraculous success, Leicester will have to shed the identity that brought it to the top. That's the way international soccer works, and I wouldn't bet on that changing even if you gave me 5,000-to-1 odds.