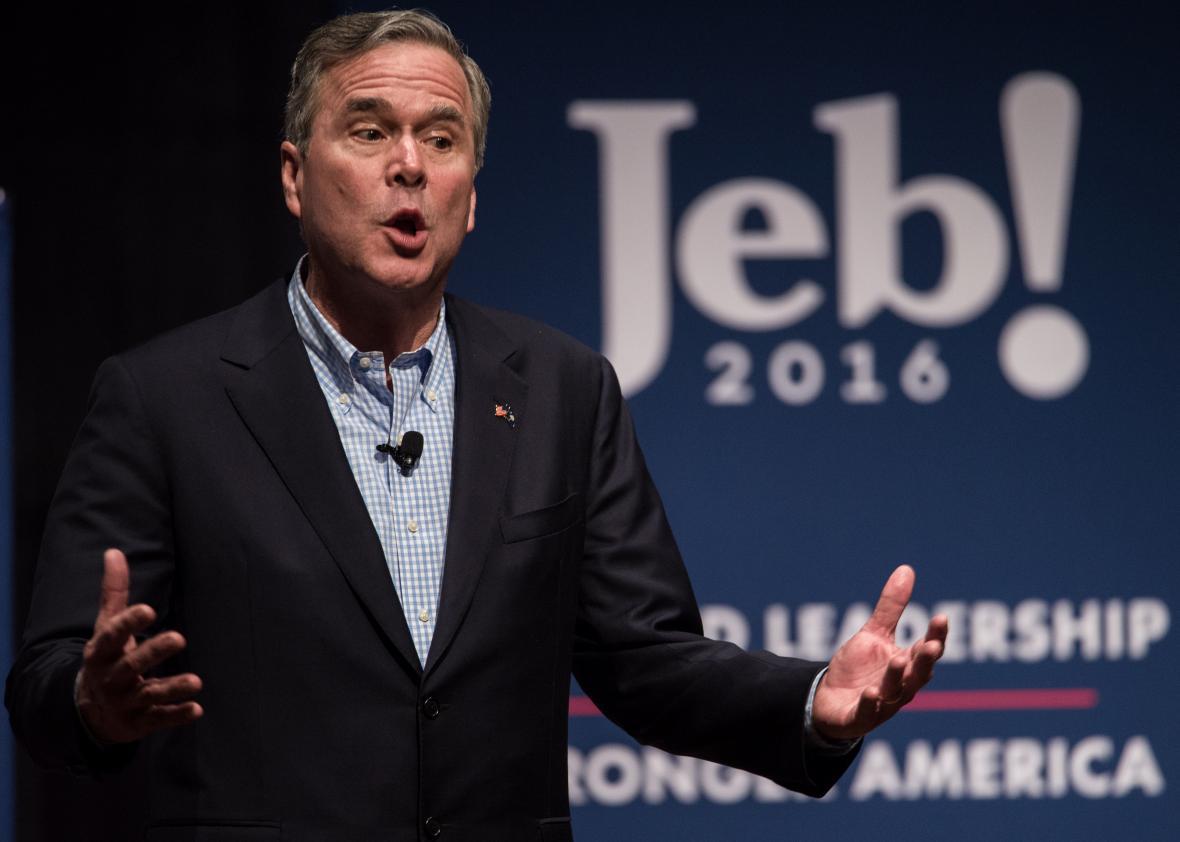 In early March, shortly before interviewing Hamilton star Lin-Manuel Miranda on their podcast, Another Round co-hosts Heben Nigatu and Tracy Clayton got to brainstorming about another political figure who deserved a "Lin-Manuel-esque musical." "I'm very fascinated by white men who have something handed to them who utterly fuck it up," said Nigatu. "Let's do a Jeb musical!" They proceeded to deliver an elevator pitch for Jeb! An Uncomfortable Musical About an Awkward Man and His Quest for the American Presidency, which would feature Stephen Colbert as Jeb Bush, Tommy "Tiny" Lister as Donald Trump, and Harry Connick Jr. as George W. Bush. It was a compelling notion—after all, there's something tragic and human about Jeb's failure to secure the Republican presidential nomination despite at one point early on being the establishment favorite—but it was also just a joke. No one would ever actually write a full Hamilton-style musical about Jeb Bush, right?
Never underestimate college students' work ethic and commitment to absurdity. About 17 undergrads from Boston University, the University of Michigan, Yale, and other institutions who know one another from a Facebook group—they've never met in real life—have spent the past several weeks writing their own full-length Hamilton parody called Jeb! An American Disappointment. Hamilton, as you may know, is about three hours long and comprises 46 numbers, so rewriting the whole book for Jeb Bush was no mean feat. "We've spent the past month refining and tweaking the document, making sure that our parody was not just a quality parody, but good in its own right," the parody's authors told AM New York.
Some of Jeb!'s jokes and rhymes are sheer genius—for instance, in the opening number, "Alexander Hamilton" becomes the rhythmically parallel "Jeb Bush, exclamation point." Like Nigatu and Clayton, Jeb!'s creators made the natural decision to put Bush nemesis Donald Trump in the Aaron Burr role, and they let John McCain, Lindsey Graham, and Chris Christie stand in for Hamilton besties John Laurens, Marquis de Lafayette, and Hercules Mulligan. (The four friends sing, "Let's destroy ISIS in Iraq" instead of "Let's have another round tonight.") Recasting the musical's female roles was more of a challenge. Angelica, Eliza, and Peggy become "Florida Interests," "Florida Voters," and "Florida Money"; I'm still trying to figure out how to make "The Florida machine!" fit into the same number of beats as "The Schuyler sisters!" Despite the fact that many of the lyrics in Jeb! would be very difficult to actually sing, it's truly a thing to behold—and just wait till you find out who stands in for King George III.
---