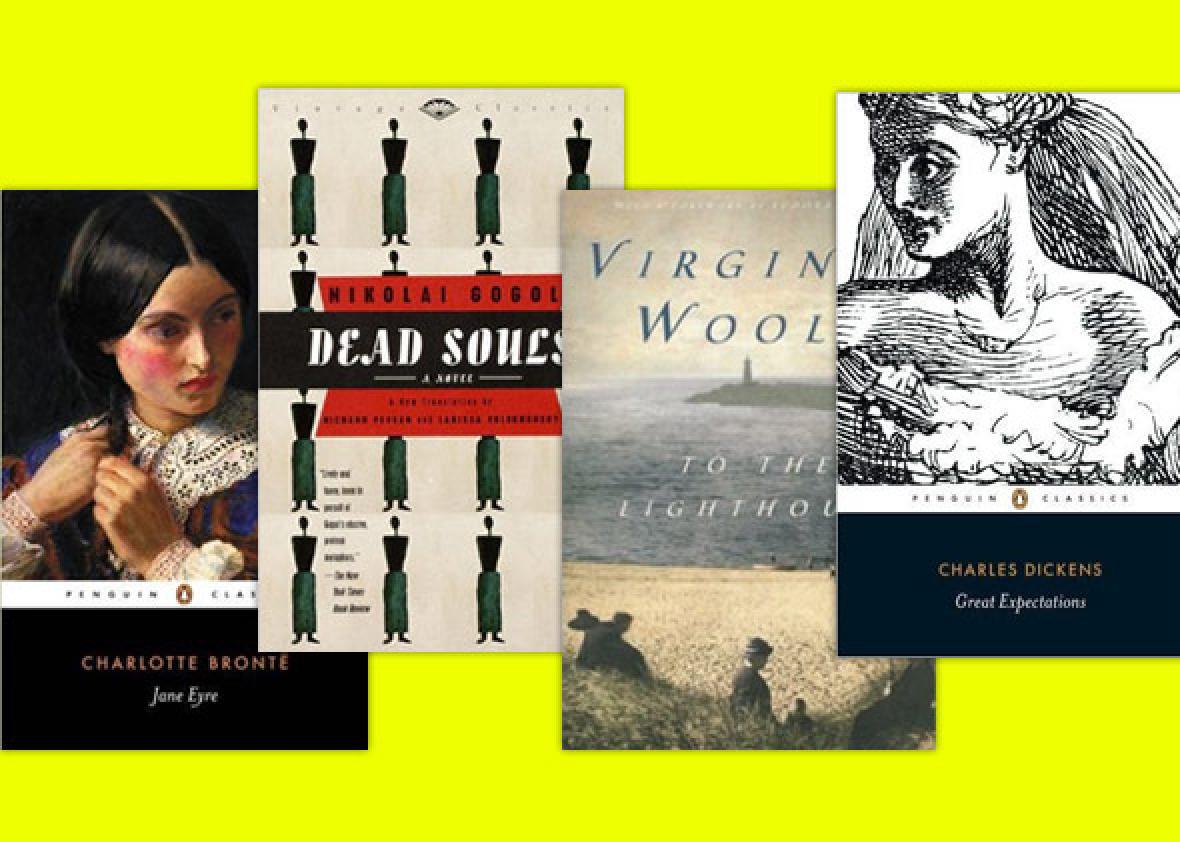 Update, March 8, 2016: We have a winner! Woolf and Gogol put up a good fight, but our members chose Charlotte Brontë's Jane Eyre. We'll be reading and exploring the book on Slate and in our private Facebook group until early May, when Laura and Jacob will discuss it on our members-only podcast. 

This article is part of A Year of Great Books, a Slate Academy. To learn more, read Laura Miller's introduction to the series, or visit Slate.com/GreatBooks.
Jacob Weisberg has a long list of great books he'd like to read or revisit, when he's not running The Slate Group or writing biographies of presidents. So Laura Miller invited him to read our next selection with her—and it's up to you to pick what they read.
If you're enrolled in this Slate Academy series, you can vote below on which book Laura and Jacob should discuss on the second episode of the podcast. (If you're not yet enrolled, learn more at Slate.com/GreatBooks.)
And if you haven't already finished our first selection, The Life and Opinions of Tristram Shandy, Gentleman—hurry! We'll release Laura's discussion with Will Oremus next week. And visit our private Facebook group to join the Shandy discussion and read members-only essays and posts about the novel.
Episode 2: The shortlist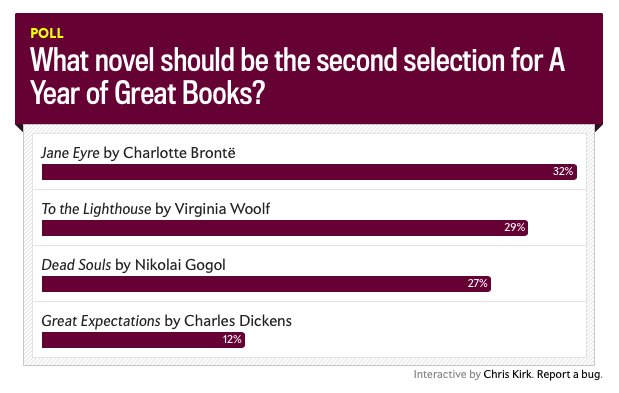 Jane Eyre by Charlotte Brontë
A novel in the Gothic tradition—the story of an orphaned governess who gets a job in a gloomy house in the British countryside. Adrienne Rich wrote, "I have never lost the sense that it contains, through and beyond the force of its creator's imagination, some nourishment I needed then and still need today."
To the Lighthouse by Virginia Woolf
To the Lighthouse depicts the Ramsay family's visits to the Isle of Skye, shifting perspective between the streams of their very different consciousnesses. "No matter how often we begin it again, it seems to expand and expand again ahead of us," Eudora Welty wrote.
Dead Souls by Nikolai Gogol
The story of a wily scam artist trading in dead serfs still on the property rolls, Dead Souls combines black humor, Dickensian satire, and borderline-absurd caricature. As the poet Pushkin said of Gogol, "Behind his laughter you feel the unseen tears."
Great Expectations by Charles Dickens
Perhaps Dickens' best-loved novel, Great Expectations is the story of the orphan Pip, who receives a bequest from a mysterious benefactor. (Complications ensue.) As the Atlantic's reviewer had it, "In no other of his romances has the author succeeded so perfectly in at once stimulating and baffling the curiosity of his readers."
Subscribe to our Year of Great Books newsletter to receive updates about the series.
To access all features of this Slate Academy, or to learn more about enrolling, visit Slate.com/GreatBooks.
---