The film world was in mourning Thursday night over the loss of production designer Ken Adam, who died in London at the age of 95. Although Adam's career spanned half a century, he's best known for the groundbreaking work he did in the 1960s and '70s, particularly for the James Bond series. His ultramodern, austere sets helped define the look of the decade (to say nothing of the constant spoofs that followed).
In remembrance, let's look back at some of his greatest designs and what made them so influential.
Dr. No's meeting room, Dr. No (1962)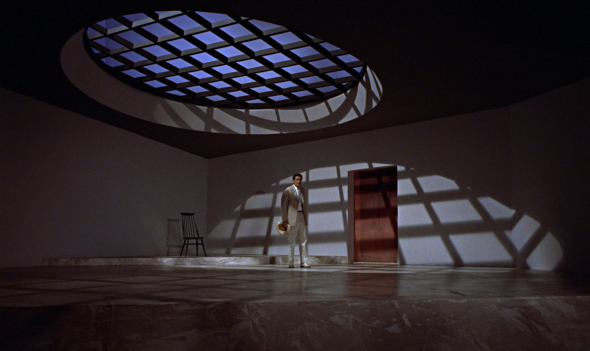 Though Adam had been working in film for more than a decade, designing the first James Bond film made his career. Dr. No had almost no budget, but Adam was able to do a lot with a little—most strikingly here, where the shadows cast by the skylight do all the work. There's really no reason for the room to be this elaborately designed—Dr. No doesn't even meet with his henchman here; he just gives orders over an intercom—but that's the point.
The War Room, Dr. Strangelove or: How I Learned to Stop Worrying and Love the Bomb (1964)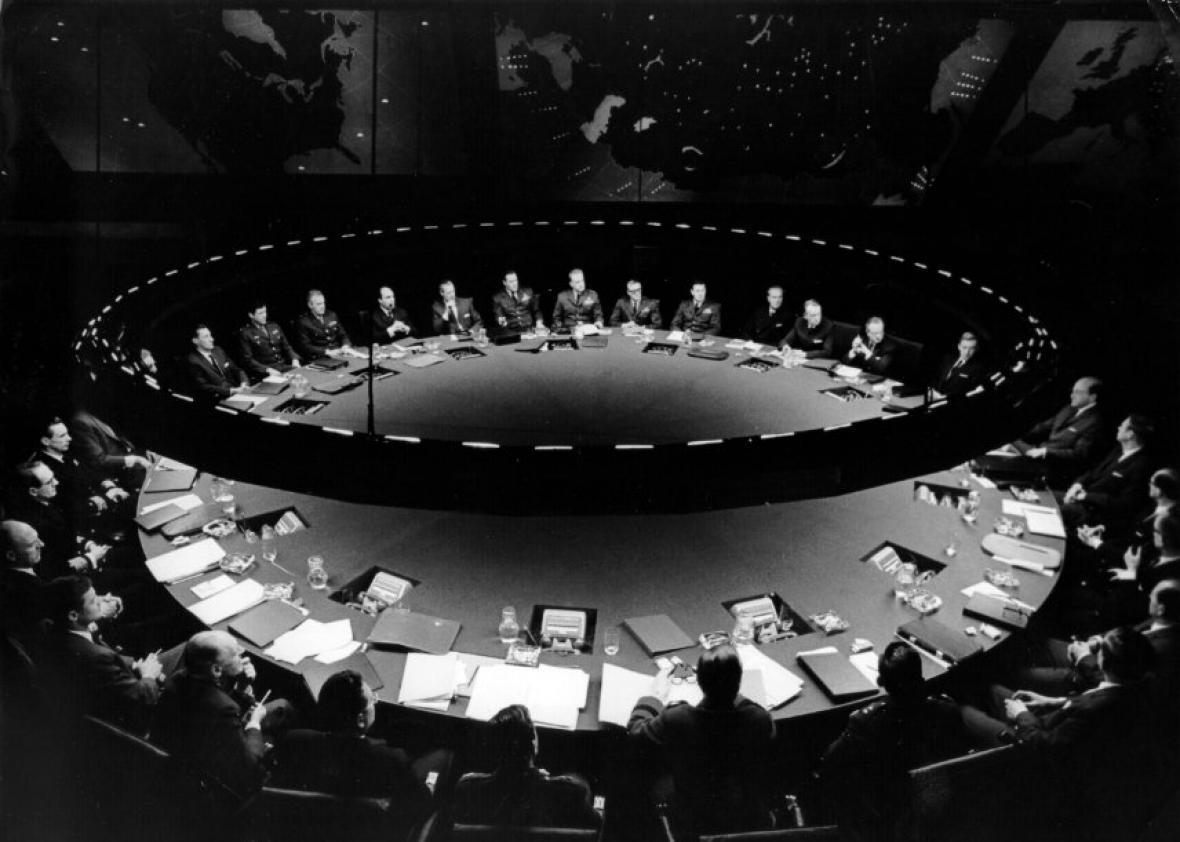 Adam didn't work on the next Bond film, 1963's From Russia With Love, but he was already casting a long shadow: It's hard to believe the chess match set wasn't his. But he had a great excuse for missing one of the best Bond films: making one of the best films, period. Director Stanley Kubrick liked the design of Dr. No's laboratory and wanted a similar look for his own supervillain's lair. Adam delivered in spades, designing this cavernous tomb with pools of light illuminating its vast, impractical table.
Fort Knox, Goldfinger (1964)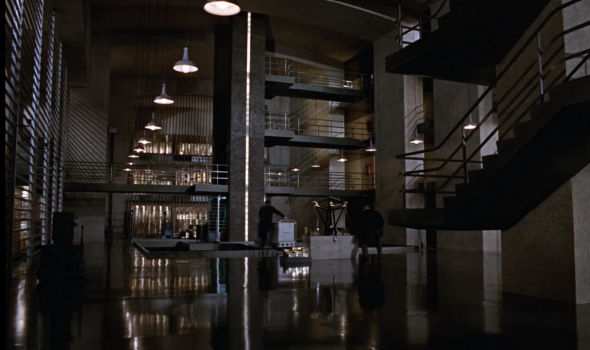 For security reasons, Goldfinger's production team wasn't allowed to see the vaults at Fort Knox, so this set was designed from scratch. But Adam wasn't disappointed with the lack of authenticity, as he told the Guardian in 2005: "I knew from going to the Bank of England vaults that gold isn't stacked very high and it's all underwhelming." Underwhelming wouldn't do: Adam's Fort Knox has multiple stories of barred vaults stacked on top of each other, with massive piles of gold bars everywhere the camera turns. It looked the way people imagined it should, so much so that Fort Knox got complaints from citizens convinced they'd let a British film crew inside.
Volcano lair, You Only Live Twice (1967)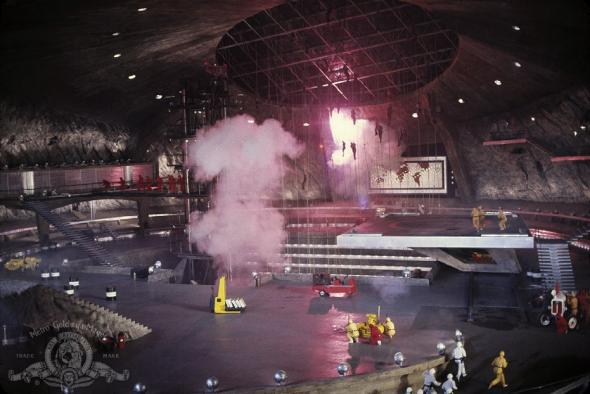 You Only Live Twice has a special place in the Bond canon for a lot of reasons, not least because Sean Connery makes the regrettable decision to disguise himself as a very unconvincing Japanese fisherman. But SPECTRE's rocket base hidden inside a volcano is the high point of large scale Bond ridiculousness. The set cost nearly as much as Dr. No's entire budget, had a working monorail, and yes, those are ninjas rappelling from the roof.
Tithe barn, Barry Lyndon (1975)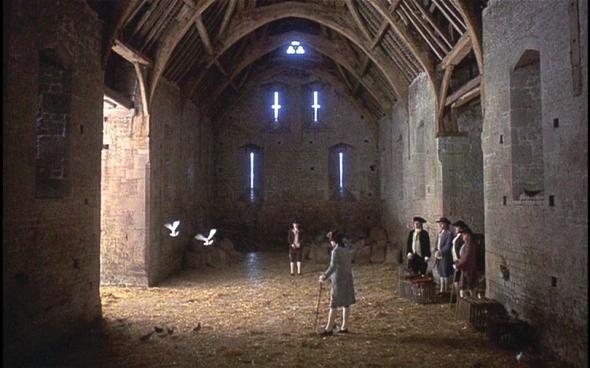 Adam's reunion with Stanley Kubrick is better known for its lighting than its set design. But Adam, along with art director Roy Walker and set dresser Vernon Dixon, went to great lengths to build a world that looked like a painting, for which all three men shared an Academy Award. The tithe barn where Barry duels Bullingdon isn't necessarily the most striking set in the film, but no one could have designed it but Ken Adam.
The Liparus, The Spy Who Loved Me (1977)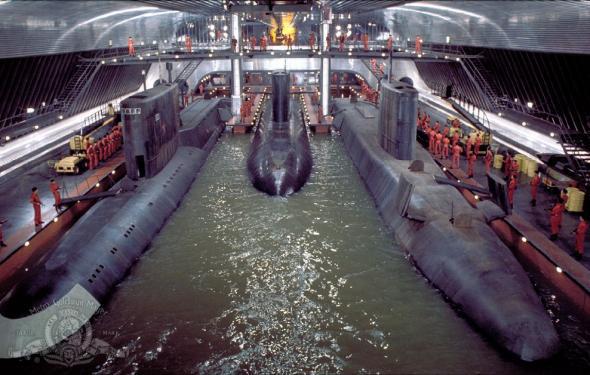 In May of 1977, Star Wars demonstrated how much could be achieved with matte paintings, creating enormous sets at a modest cost. A few months later, Adam showcased a different approach: just build the damn thing. The 007 stage at Pinewood Studios was custom-designed to hold the interior of this supertanker, which holds three submarines. And in the Bond tradition, the entire set is spectacularly destroyed in the finale. Though Adam worked for decades longer, on films from The Madness of King George (for which he won another Oscar) to Addams Family Values, he never worked on a grander scale.