Paramount Pictures and CBS Studios filed an amazing amended complaint Monday in their lawsuit over the fan-made Axanar films. A little background: Paramount has allowed Star Trek fan films in the past, as long as they didn't make a profit, but crowdfunding has changed the landscape. Producer Alec Peters was able to raise more than $100,000 for his first short film, Prelude to Axanar. The resulting 21-minute mockumentary, with slick production values and recognizable actors, premiered at San Diego's Comic-Con in 2014:
Peters and his company Axanar Productions used the film as a proof-of-concept for a feature-length fan film, for which they raised $650,000. At that budget, it turned out Paramount and CBS were a little less tolerant of the use of Star Trek properties, and filed a lawsuit against Peters and his collaborators in December. Peters requested a dismissal in February on the grounds that, among other things, Paramount and CBS hadn't been specific enough about exactly how he was infringing their Star Trek copyrights. On Friday, according to the Hollywood Reporter, Paramount and CBS cleared up any doubts. The Hollywood Reporter has posted the full amended complaint, and it's a doozy.
The heart of the filing is an endless table of every infringement: characters, races and species, mood and theme, plot point similarities, costumes, settings, and even logos. The dialogue section includes the entire Klingon language. And each infringement has a detailed explanation, filled with Star Trek universe trivia. Did you know that triangular medals for dress uniforms on the left breast first appeared in the Star Trek episode "The Menagerie Part I," from 1966? The United States District Court for the Central District of California does! The filing even includes framegrabs: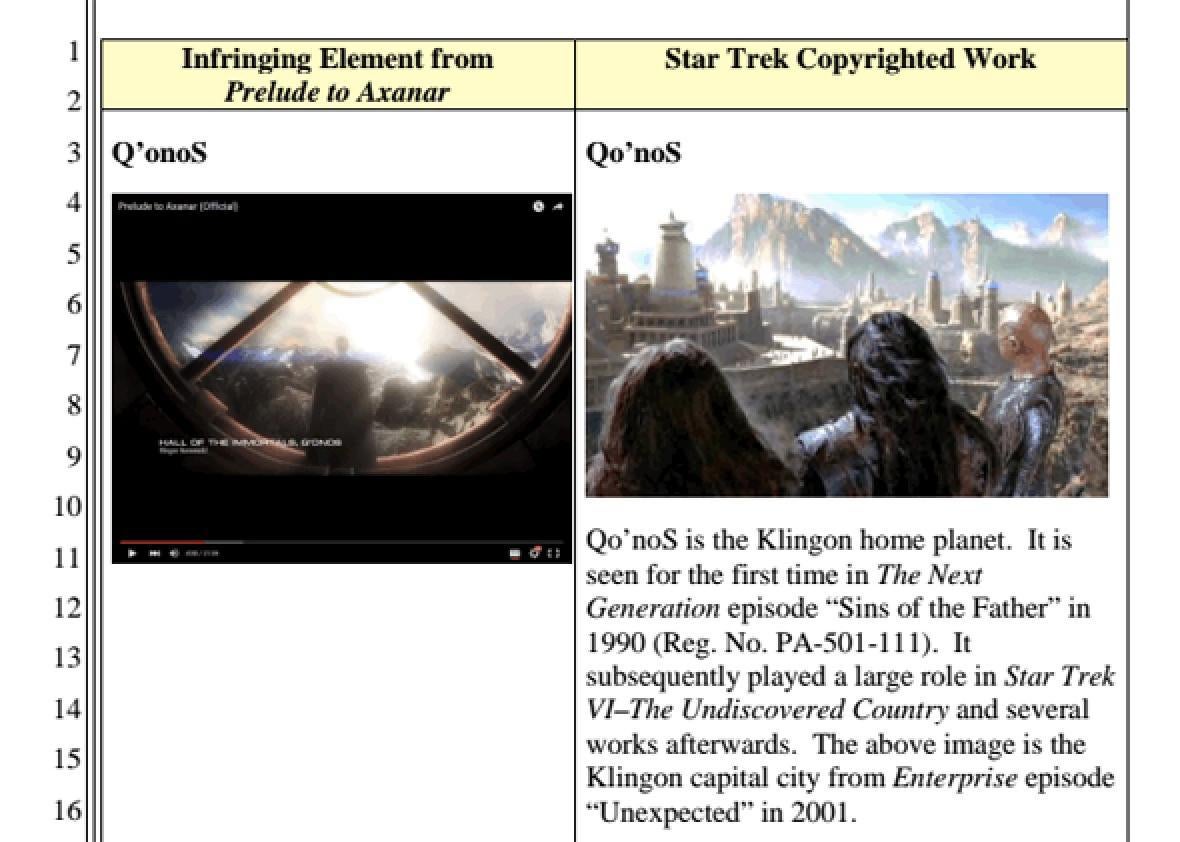 It goes on like that for pages. Regardless of whether it's determined the Axanar producers violated copyright or not, the amended complaint makes clear that Alec Peters and his lawyers broke a much more fundamental rule: Never ask a Star Trek fan for more detail.