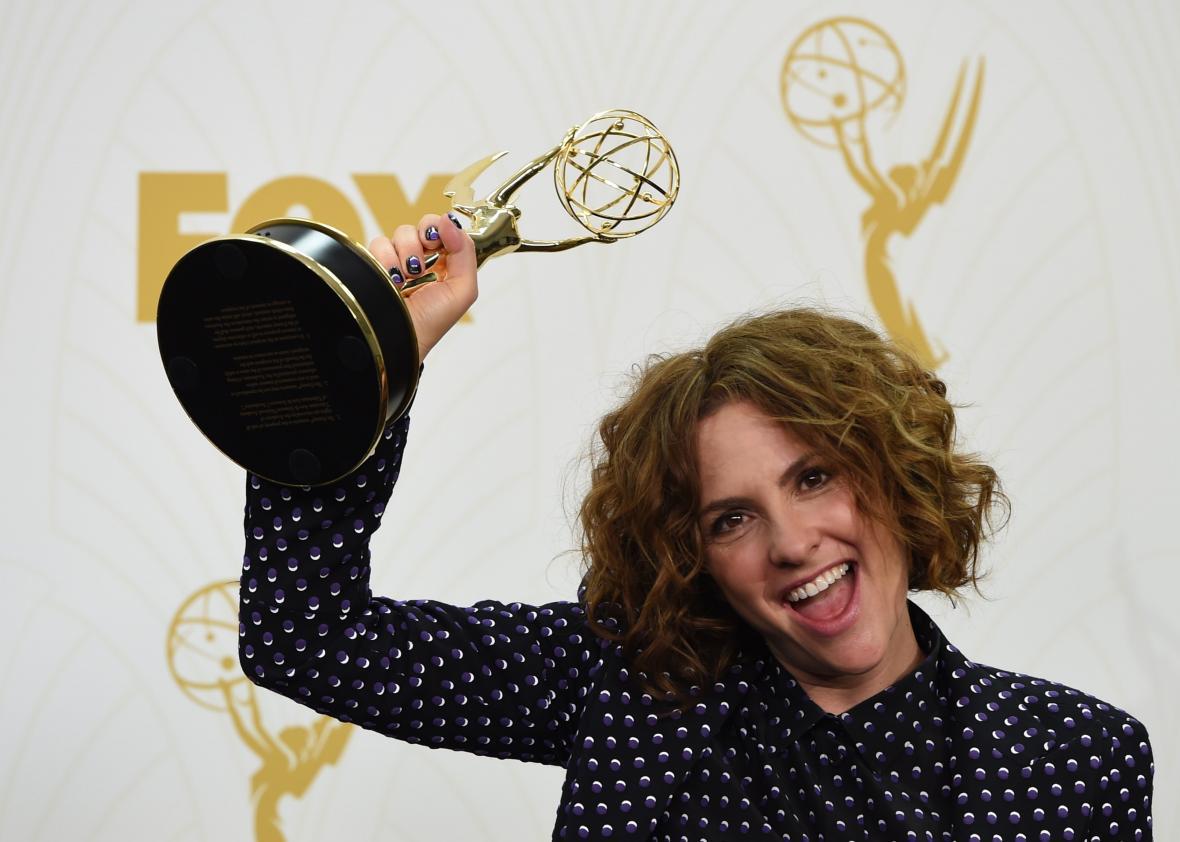 Variety reports Tuesday that after spending big money at Sundance to acquire Kenneth Lonergan's Manchester by the Sea and Todd Solondz's Weiner Dog, Amazon Studios celebrated International Women's Day by greenlighting new projects from indie-film stalwart Tamara Jenkins and Transparent creator Jill Soloway. They're also working on a Barry Levinson film and a romantic comedy from commercial and music video director Tom Kuntz.* That's in addition to already-announced projects from Whit Stillman and Woody Allen. If that lineup sounds like an independent film dream slate (and Barry Levinson), there's a reason: The studio has Ted Hope and Bob Berney in senior positions. Both men are independent film legends: Hope co-founded Good Machine (Safe, The Ice Storm) in the 1990s while Berney headed up Picturehouse (Pan's Labyrinth) in the aughts.
Soloway's project, Ten Aker Wood, is a semi-autobiographical coming-of-age story set on a marijuana farm in Northern California. It's being co-written by playwright Sarah Gubbins, who is also collaborating with Soloway on a television project for the studio, an adaptation of Chris Kraus' cult novel I Love Dick. Meanwhile, Jenkins' Private Life is about an older woman trying to have a child. The director's Pinterest board for the movie features diagrams showing where to administer intramuscular injections and a still from Rosemary's Baby, so it seems likely to be at least as cheerful as her (wonderful) previous film, The Savages, which was released an absurd nine year ago.
The digital studio is making an effort to enter the world of film with a distinct brand, which studio chief Roy Price sums up as "visionary filmmakers who are making interesting films." That could be the rare studio-chief boast that's backed up by results: Lonergan's You Can Count on Me and Jenkins' The Savages belong on any list of the best films of the 2000s. Amazon hopes to move into the prestige film space the major studios have mostly abandoned in search of comic book money. But although Amazon's new directors have reputations for making excellent films, they don't necessarily have great box office track records. (Compare these acquisitions, for example, with Netflix's feature move: a four-picture deal with Adam Sandler.) But Price isn't concerned, telling Variety, "I don't focus on the individual movie making money. It's the system that creates value as a whole."  It wouldn't be the first time Amazon operated at a loss while building brand recognition and driving competitors out of business. Just ask your local bookstore.
*Correction, March 9, 2016: This post originally misspelled director Tom Kuntz's last name.

---