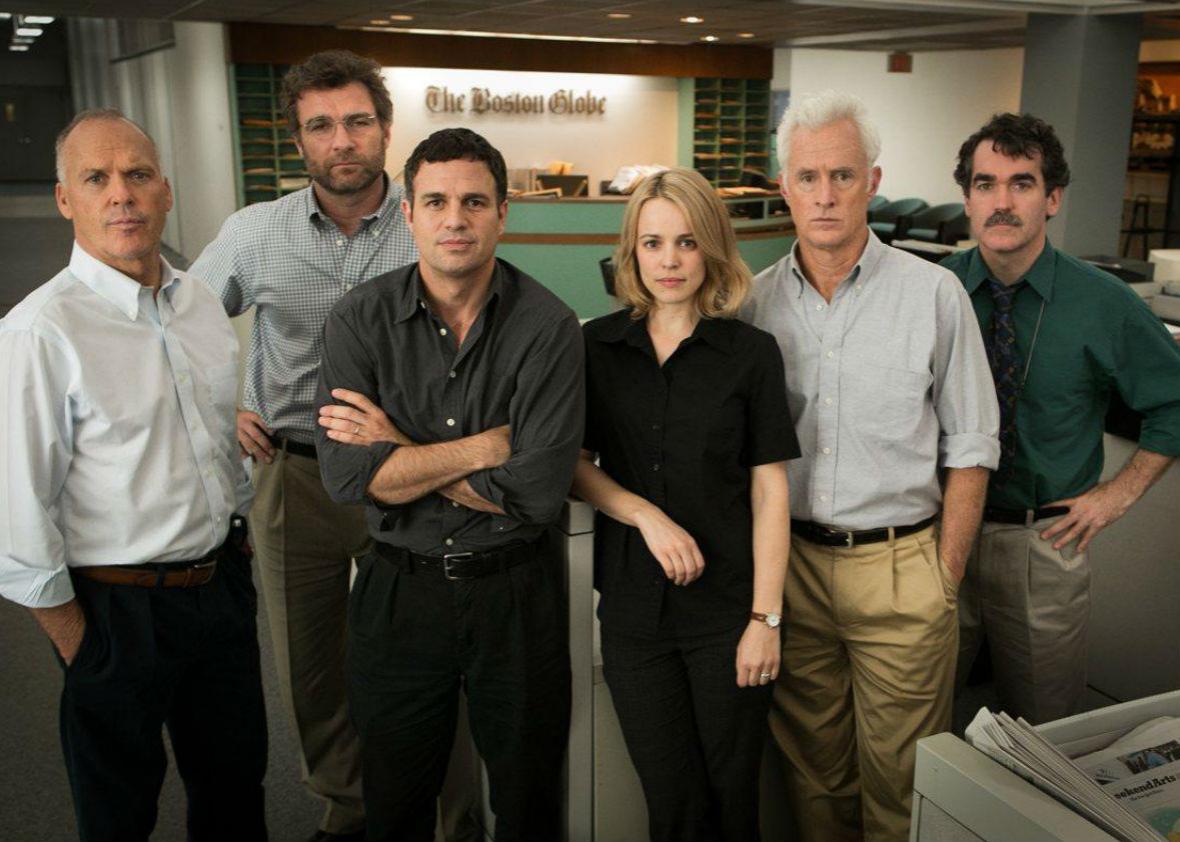 You stop paying attention to the Oscar race for five minutes—fine, maybe it was closer to five weeks—and return to find that your personal pick among the Best Picture nominees, Tom McCarthy's early favorite Spotlight, has been severely mauled by a CGI bear. Is it really the case that Alejandro Gonzalez Iñárritu, Mexico's leading cinematic miserablist, will become the first director in Oscar history to win in consecutive years for both Best Director and Best Picture? (Even if he only takes home the director prize, he'll be the first back-to-back winner in that category in 65 years.) The Revenant isn't a terrible film, even if I can no longer look back on its ponderous second hour without giggling at Anthony Lane's New Yorker line about Leo DiCaprio getting in "a little light reading" before he dozes off inside that hollowed-out horse carcass. But one year after the academy over-honored the virtuosic yet empty Birdman, does Iñárritu need another matched set of prestigious gold bookends for Bearman?
Whatever. As Donald Trump has been busy proving in the political arena for the past few months, there are some races in which, to paraphrase a line of Mae West's, goodness has nothing to do with it. The Revenant has run an awards campaign of unparalleled chutzpah—on the eve of one big critics' guild vote, I emerged from a press screening of David O. Russell's Joy to find a pair of Revenant publicists waiting, uninvited, to hustle me into a car in time to make a showing later that evening. Fox's intrepid marketing team has managed, Hugh Glass–style, to haul their movie's wolf-pelt-clad ass across the trackless frozen wastes of Oscar season, gaining momentum these past few weeks with Director's Guild and BAFTA wins. Far be it from me to play the Tom Hardy role and stand in the way of The Revenant's masochistic belly-crawl toward Oscar-night glory.
Chris Rock may be the only potential Oscar host qualified enough and brave enough to deliver trenchant yet comic analysis of this silly annual rite's least-silly controversy, the #OscarsSoWhite campaign that has many potential viewers vowing to boycott the ceremony. We know from that Bill Murray Christmas special that Rock is not really one for public singing, but a part of me hopes that the ceremony opens with one of those big Billy Crystal–style production numbers, allowing Rock to spoof the acting nominees' across-the-board pallor by, say, imagining every nominated movie as remade with an all-black cast. (The Martian, say, with a brother on another planet.) The glaringly obvious melanin deficit in performance categories over the past two years has led even the hidebound academy to start seriously rethinking the rules that govern its members' eligibility to vote.
#OscarsSoWhite has also led to a few sticky situations in which it's hard to know whether or not to celebrate certain wins. If Straight Outta Compton pulls off an upset and wins for Best Original Screenplay (Spotlight, most seem to agree, is the favorite in that category, while The Big Short is all but a gimme for adapted), will that count as even the faintest of symbolic blows for industry diversity, given that the film's entire four-person screenwriting team is #SoWhite? If Sylvester Stallone wins Best Supporting Actor, as he's currently favored to do, should we be glad that the work of fast-rising black director Ryan Coogler is at least getting vicarious recognition? Sly himself forgot to thank Coogler in his Golden Globes acceptance speech, proving that the on-screen "thank you" scroll slated to appear alongside this year's 45-second Oscar speeches may be a necessity—though does seeing one's name roll by in a pre-prepared sidebar really count as a heartfelt expression of gratitude?
Here are a few moments I humbly hope to witness on Oscar night: Brie Larson shows up looking radiant in something simple and chic, and accepts her richly deserved Best Actress trophy with the thoughtful candor that's becoming her red-carpet trademark. Spotlight takes home at least something—Supporting Actor for Ruffalo, maybe. It might be exciting to see Pixar's wildly inventive Inside Out finally bridge the gulf between animated and live-action and beat out McCarthy's journalism drama for the Best Original Screenplay award. I'd also enjoy seeing the legendary cinematographer Roger Deakins (Sicario) finally take home some shelf candy after 13 nominations without a win. And, though the "In Memoriam" montage focuses mostly on performers best known for film work, if it doesn't pay tribute both to Star Trek's Leonard Nimoy and Grace Lee Whitney (who played Captain Kirk's crushed-out yeoman Janice Rand in the show's first season and reprised the role in several films), I may find myself forced to issue a sternly worded tweet. I'll be watching and tweeting throughout the ceremony—find me at @thehighsign, and let me know what you're looking forward to or dreading on Sunday night's show.
---