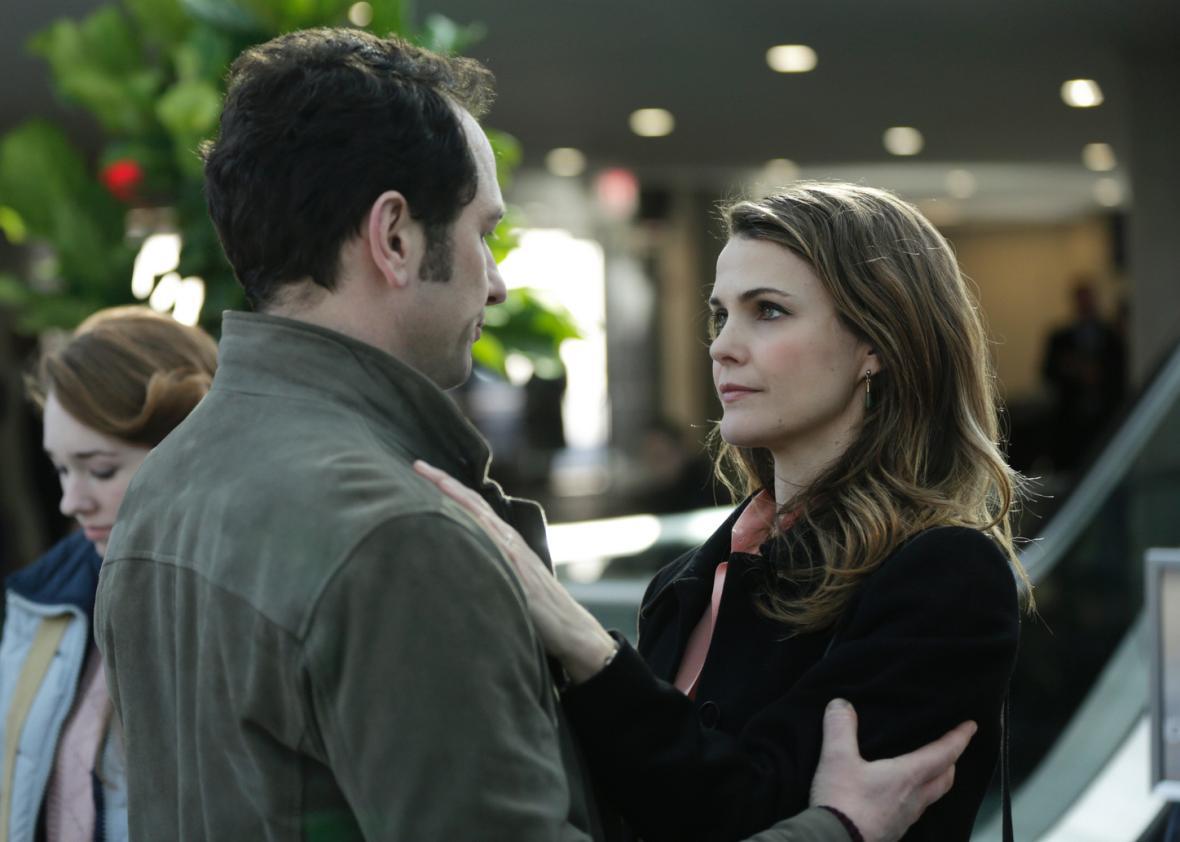 FX's Cold War spy drama The Americans may not return for its fourth season until March 16, but until then, the episode titles provide some intriguing clues to what's coming. The show's exquisite Season 3 finale, "March 8, 1983," was built around Ronald Reagan's address to the National Association of Evangelicals that day—the "Evil Empire" speech. Although episode titles like "Glanders"—an infectious bacterial disease in horses, once used as a bioweapon—and "Chloramphenicol," a drug used to treat, well, bacterial infections, are perhaps best researched as little as possible (seriously, don't image search "glanders"), several of the other episodes are worth doing a little homework on. Here are three videos you can watch right now to prepare for the fourth season of The Americans:
Episode 3: "Experimental Prototype Community of Tomorrow."
EPCOT Center opened its doors on October 1, 1982. Here's EPCOT Center: A Souvenir Program, a 1983 promotional video sold in the gift shops that year. Check out all the original rides and attractions, including Exxon's Universe of Energy pavilion and the original incarnation of Journey into Imagination mascot Figment and his long-gone sidekick "Figment."
Prediction: Paige and Henry will watch this video in their room at Disney's Contemporary Resort as Philip and Elizabeth have a shootout on top of the monorail.
Episode 8: "The Magic of David Copperfield V: The Statue of Liberty Disappears."
David Copperfield's most famous television special aired on April 8, 1983, only a month after Reagan's Evil Empire speech, suggesting that the fourth season takes place in a very short timeframe. The Statue of Liberty's disappearance was television history—but it's worth rewatching to see less-well remembered illusions like Copperfield shrinking a lecherous Eugene Levy to the size of a Barbie doll. ("David, you rascal, now you're cooking with gas—I like, I like!").
Prediction: A Eugene Levy guest spot? A tenuous metaphor about the Cold War "vanishing" our freedoms as Americans? Both?
Episode 9: The Day After
Although it was originally supposed to air in May of 1983, ABC's Cold War classic TV movie The Day After didn't make it onto television until November 20. So unless there's a six-month gap between episodes, the title is probably more thematic than literal. But The Day After, a ghastly story of nuclear apocalypse following a Soviet attack, couldn't be more apt for the increasingly nightmarish world of The Americans. More than 100 million people watched Jason Robards, John Lithgow, JoBeth Williams, and Steve Guttenberg in this grim story of a world dying from radiation. Reagan reportedly saw the film and credited it in his memoirs as a turning point in his thinking on the survivability of a nuclear war.
Prediction: If this TV movie could change Ronald Reagan's mind, just imagine what it'll do to impressionable teenager Paige!
There's no telling what moments in 1980s cultural and political history the other episodes will draw from, but the season finale is called "Munchkins," so anything is possible.
---