This post originally appeared on Food52.
Sure, you could sling together penne alla vodka in half an hour and it will taste just fine—there's spice and cream and tomato and, mysteriously but necessarily, vodka (we'll come back to that).
But if you're going to commit—to the cream, the vodka, all of it—you can do a whole lot better than just fine. Especially when you nestle up under the wing of Ina Garten.
This pasta is Garten's version of one that's been on the menu at Nick and Toni's in East Hampton for more than 20 years, and so loved that she featured on her show The Barefoot Contessa and in her 2012 cookbook Foolproof.
The recipe title technically doesn't even have the word vodka in it, but it's the first vodka sauce that comes up every time I try to ask the world for a good one.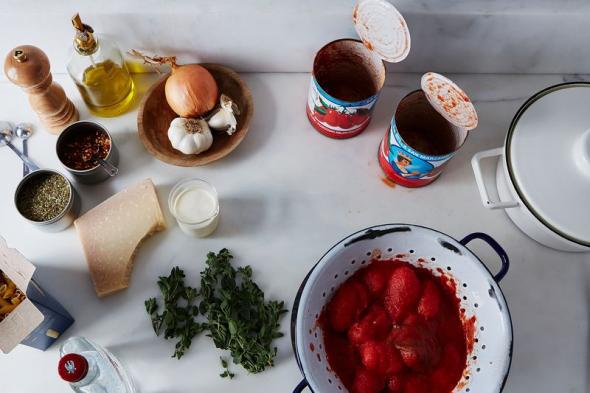 It starts the usual way sauces do—sauté onion and garlic, add some chile flakes, then booze, then tomatoes, but then it swerves off course. Here's the secret to its success: You take this perfectly adequate sauce and roast it in the oven for an hour and a half.
The sauce concentrates and the tomatoes caramelize and turn jammy, melding with all the other flavors more conclusively than they would in a speedier stovetop number.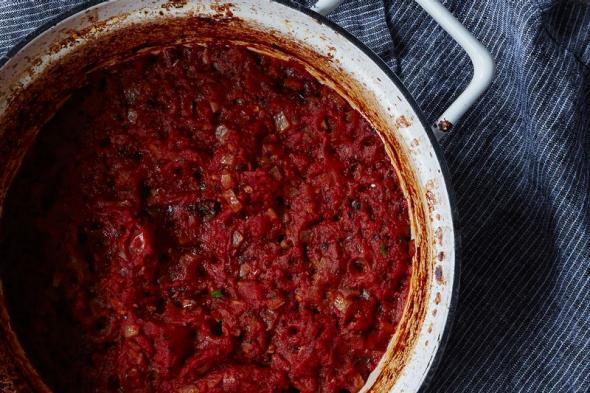 The vodka can only help the process along. It may be a humble liquor, but it's also an abundant source of ethyl alcohol that "during cooking, can react chemically with acids in the food to form fragrant, fruity compounds called esters," according to food science writer Robert L. Wolke. So the boozed up sauce isn't just a marketing ploy from the 1970s Italian vodka industry, as some legends would have it, though beyond that the sauce's origins are murky.
(Wolke also bursts the bubble on the belief that alcohol used in cooking actually extracts otherwise untapped aromas and flavors from foods—it needs to be in a much higher concentration, as in vanilla extract, to do that. But who needs extraction when you've got esters!)
At the end, you'll blend the darkened, reduced sauce, to help it coat the pasta generously and tuck into all the ridges, tubes, and crannies. Then you'll slip in some cream and fresh oregano—or not.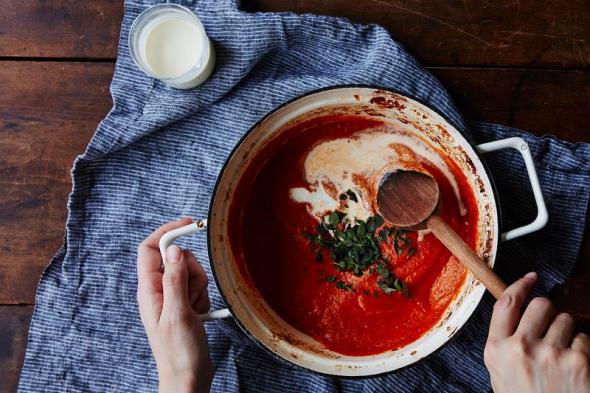 And that's the kicker: I first encountered this recipe on Alexandra's Kitchen, where Ali Stafford ditched the oregano for basil and cut the cream down dramatically, which leads me here: This oven-roasting technique is a boon to tomato sauces everywhere—not just vodka. Try it on marinara, puttanesca, amatriciana, maybe even Marcella.
Anytime you have a bit more time, and don't want to stir and mind the stovetop, put a lid on your sauce and throw it in the oven. As Ina would say: How easy is that?
Ina Garten's Pasta alla Vecchia Bettola
Serves 4 to 5, with leftover sauce
¼ cup good olive oil
2½ cups chopped Spanish onion (1 large)
1 tablespoon minced garlic (3 cloves)
½ teaspoon crushed red pepper flakes
1½ teaspoons dried oregano
1 cup vodka
2 28-ounce cans peeled plum tomatoes
Kosher salt
Freshly ground black pepper
1 pound penne rigate or other short pasta shape (Note: Original recipe called for 12 ounces, but this pasta makes plenty of sauce, so go ahead and cook the whole box)
2 tablespoons chopped fresh oregano, plus extra for serving
1 cup heavy cream (or less, to taste)
½ cup freshly grated Parmesan cheese, plus extra for serving
See the full recipe at Food52.
More from Food52:
How to Have Tater Tots and Nachos at the Same Time
Make These Scones, Let Your Everything Bagel Flag Fly
20 Weekend Baking Projects to Conquer This Winter (and Spring!)
This Slab Grilled Cheese Is The New Party Sub
Why Breakfast is Better in the U.K.
Mario Batali's (Optionally) Pot Brownies and Six-Course Menu for the Big Game