In a recent interview with Variety about their new film Hail, Caesar!, Joel and Ethan Coen were asked point-blank if the characters in their 1950s-Hollywood fantasia were based on real people. Ethan answered, somewhat evasively, "Is Scarlett Johansson Esther Williams? Not really. We don't know anything about Esther Williams." "We're not big on research," added Joel, explaining, "You can go down the rabbit hole really fast."

With all due respect to the Coens, let's go down that rabbit hole! The duo may not have done extensive additional research while preparing for the movie, but their grasp of movie history still comes through loud and clear. Here are the inspirations behind all the movie's main characters and key events, as best as we can tell. (Spoilers for both Hail, Caesar! and Hollywood history follow.)
Eddie Mannix (Josh Brolin)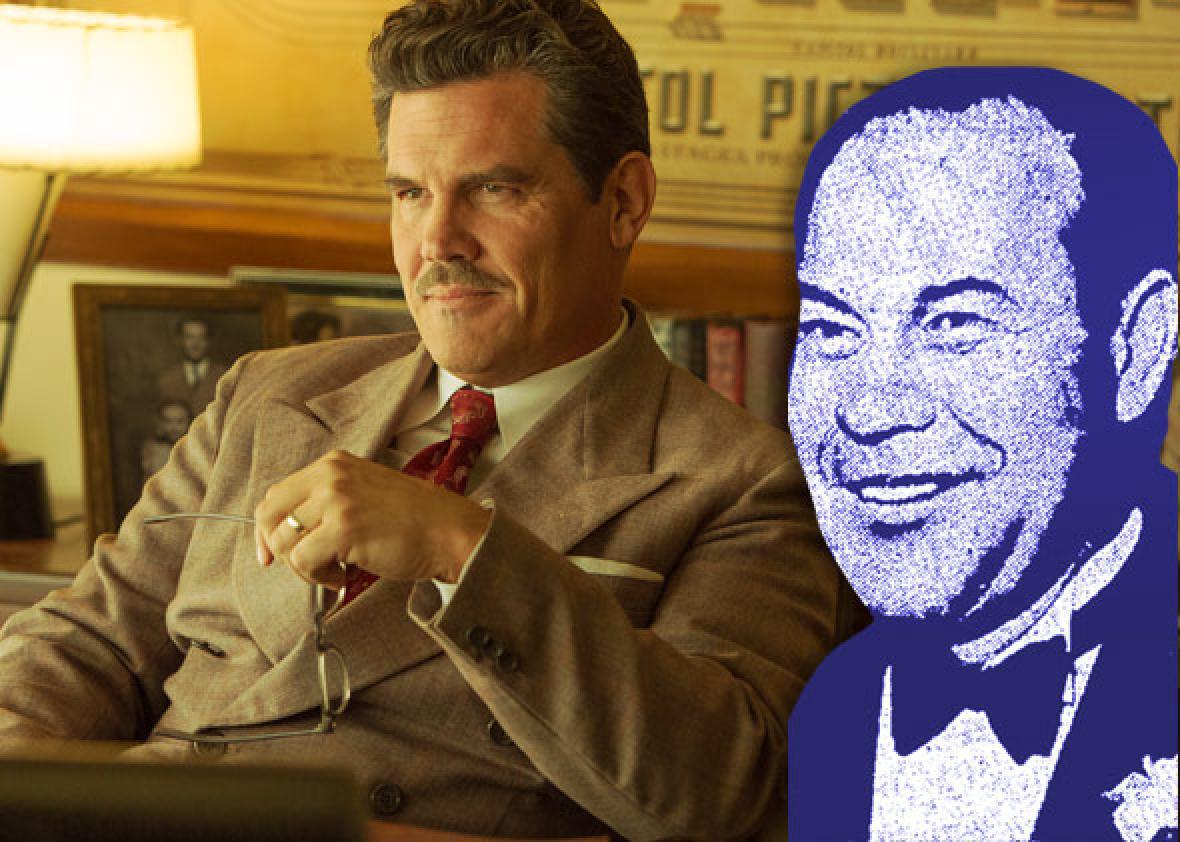 This one's pretty easy to figure out. The real-life Eddie Mannix was also named Eddie Mannix, and for years he ruthlessly managed the lives and images of MGM's stars. Like Hail, Caesar!'s Mannix, the real man was at least nominally Catholic, but while Brolin's version is a dedicated family man with two children and a wife, the real Mannix was a childless philanderer whose mistress Mary Nolan sued him after he beat her. There's no end to the scurrilous claims about Hollywood scandals Mannix supposedly suppressed or managed: The Fixers, E.J. Fleming's book about Mannix and MGM publicity head Howard Strickland, is full of them, ranging from peccadillos to murders—though many are questionably sourced. The Coens' Eddie Mannix also assumes Howard Strickling's duties, feeding highly fictionalized versions of the studio's stars to the press. Maybe that explains why he has no time to get up to anything much worse than sneaking cigarettes.
Baird Whitlock (George Clooney)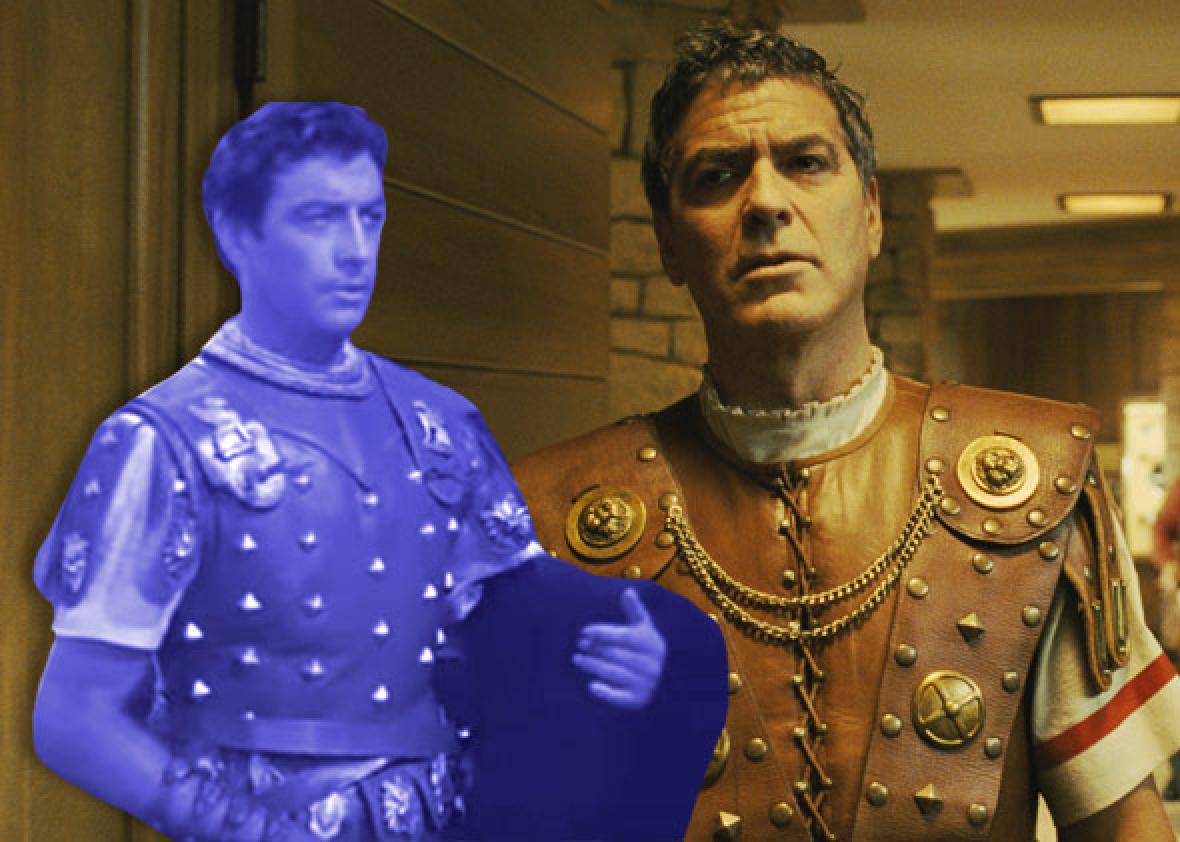 The biggest star at Mannix's studio is George Clooney's amiable dunderhead Baird Whitlock, set to star in Hail, Caesar: A Tale of the Christ. There's no exact match for Whitlock, although the film he's starring in is a close match for 1959's Ben-Hur, down to the subtitle (which matches that of both the novel and the original 1925 film adaptation) and the chariot race. Charlton Heston had the lead in that, but the rumors that dog Whitlock about his early role in On Wings as Eagles are a closer match for some hearsay about Robert Taylor, star of 1951's Quo Vadis, another MGM sword-and-sandals-and-Christianity epic.
Hobie Doyle (Alden Ehrenreich) and Carlotta Valdez (Veronica Osorio)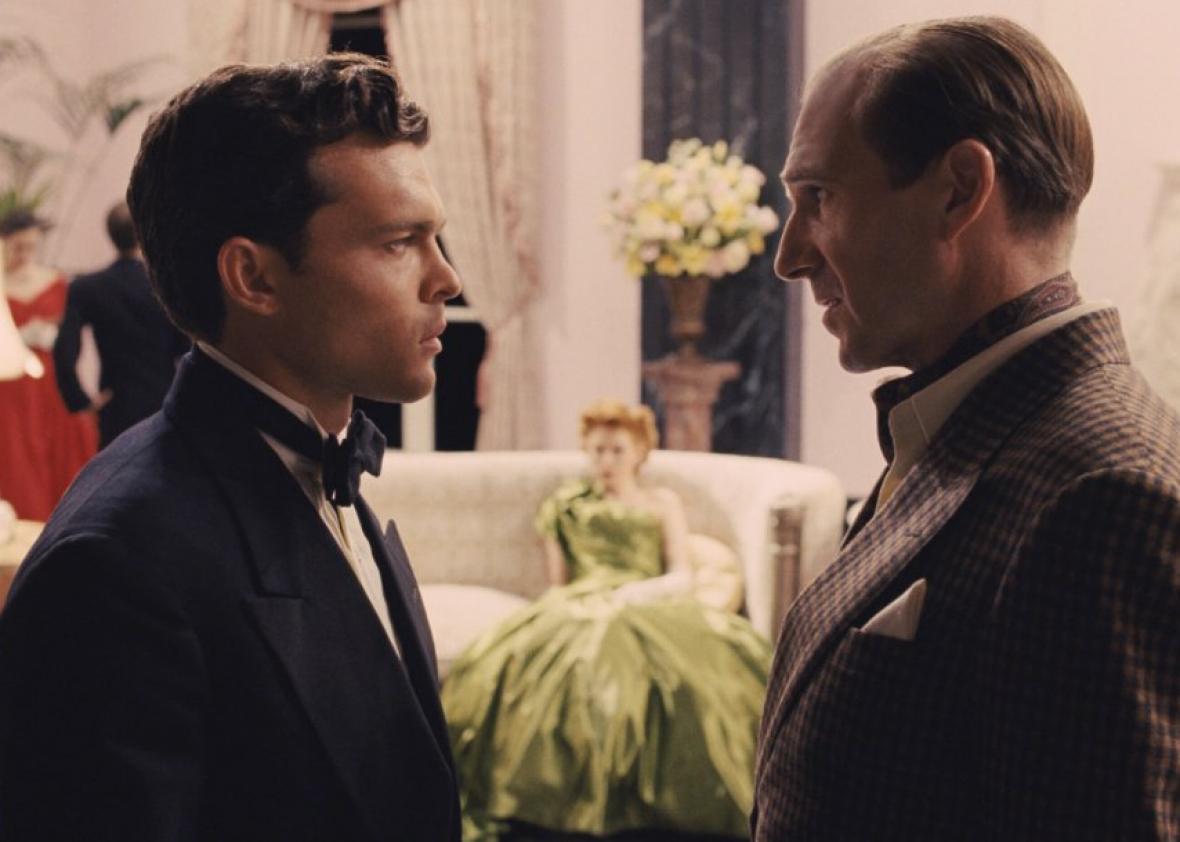 Ehrenreich's singing cowboy and Osorio's Latina bombshell stand in for years of studio-arranged dates and even marriages when Erenreich takes her to the premiere of his new B-Western, Lazy Ol' Moon. There are any number of B-Western actors who have some Doyle's characteristics—he can ride a horse like Ken Maynard and is as good with a lariat as Lash LaRue—but his miscasting in Laurence Laurentz's high-society melodrama suggests Tim Holt, who had a whole second career outside of Westerns in films like The Magnificent Ambersons. (Holt, unlike Doyle, did just fine.)

As for Valdez, her name is lifted from Vertigo, but what little the Coens give us of her background is straight Carmen Miranda, from her dance moves up to her tutti frutti hat.
Thora Thacker and Thessaly Thacker (Tilda Swinton)
The press in the film is represented by Tilda Swinton, playing two rival gossip columnists who happen to be identical twins. 1950s Hollywood had nothing as bizarre as dueling twins, but the world of gossip columns was defined by the feud between Hedda Hopper and Louella Parsons. The actual people were far nastier than Swinton's twins, particularly Hopper, who embraced the anti-Communist hysteria of the early 1950s.
The Communist Study Group

Probably the least fair caricatures in Hail, Caesar! are the study group of Communist screenwriters responsible for Baird's kidnapping. Although they immediately confess to working to get Communist content into motion pictures—exactly what HUAC accused them of—their main concern is getting more of the studio's money for themselves. Hollywood Communists of this period were naïve about Stalin, but they weren't so blithely unaware of their own privilege, as member Paul Jarrico explained years later:
There's a Jarrico theory of guilt that will be found, someday, in textbooks of psychology, which is that most people who feel guilty, are. Yes, there was a feeling that here we were … being paid higher amounts of money for our work than most people got paid for their work, yet identifying ourselves with the oppressed and the poor. 
Professor Marcuse (John Bluthal) seems to be inspired by Frankfurt School critic Herbert Marcuse. In the screenplay, the group leader played by Max Baker is named John Howard Hermann, after the Hollywood 10's John Howard Lawson, the leader of the Hollywood section of the Communist party during the early 1950s. Eagle-eyed viewers will also notice a dog named Engels, whose namesake is more obvious.
DeeAnna Moran (Scarlett Johansson)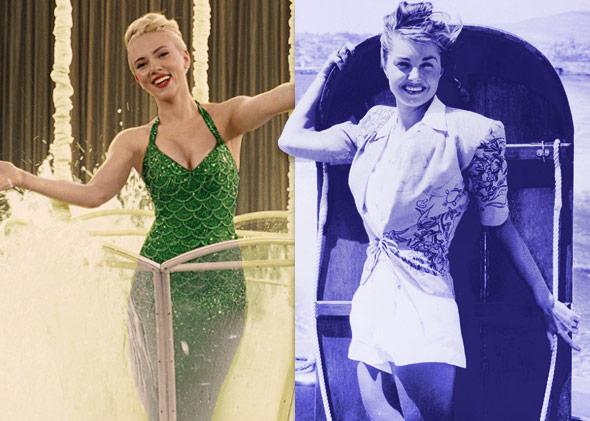 Scarlett Johansson's character might not be Esther Williams, but she's definitely starring in an Esther Williams movie: Her big aquatic dance number is an almost exact replica of a sequence from Million Dollar Mermaid. But her and Mannix's scheme—in which they hide an illegitimate pregnancy from the press by having her adopt her own child—is older. In 1923, the real Eddie Mannix used this same tactic to cover up Metro star Barbara La Marr's pregnancy and childbirth. The plot worked so well that he reused it in 1937 with actress Loretta Young. (Louella Parsons got the exclusive on the "adoption.") Young's pregnancy was the result of an alleged date rape by MGM star Clark Gable.

Joseph Silverman (Jonah Hill)
The ghost of Clark Gable makes another appearance in Hail, Caesar! in the backstory for Jonah Hill's deadpan notary/"professional person" Joseph Silverman. When he's drafted to be the foster parent for DeeAnna Moran's child until it can be adopted back, Mannix explains that Silverman did three months in jail in place of a star who killed a pedestrian by claiming to be the driver. There's a long-running rumor about an unnamed MGM executive taking the fall for Clark Gable after he killed a pedestrian on Sunset. Gable did get into a couple of accidents that the studio covered up, but no one was killed in these incidents, and there's no trace of anyone from MGM doing jail time for the death of a pedestrian. However, in The Fixers, Fleming advances the theory that Gable may have been the driver who hit and killed Tosca Roulien, the wife of Brazilian film star Raul Roulien in 1933. John Huston, 26 at the time, was reported to have been the driver of the car that hit her. Huston was found blameless in her death, however, so whoever was driving, no one did any jail time.
C.C. Calhoun (Frances McDormand)
Frances McDormand has a brilliant one-scene appearance as C. C. Calhoun, a chain-smoking film editor who shows Mannix a rough edit of one of the studio's films. Although C.C. Calhoun's name suggests legendary editor Dede Allen, she seems to be inspired by Isadora Duncan as much as any particular editor. But Golden Age Hollywood had no shortage of brilliant female editors, including Margaret Booth, whose career spanned seven decades. She was at MGM from 1937 to 1968, where she was "head cutter," overseeing editing on all of the studio's films. Booth received an honorary Academy Award in 1978.
Burt Gurney (Channing Tatum)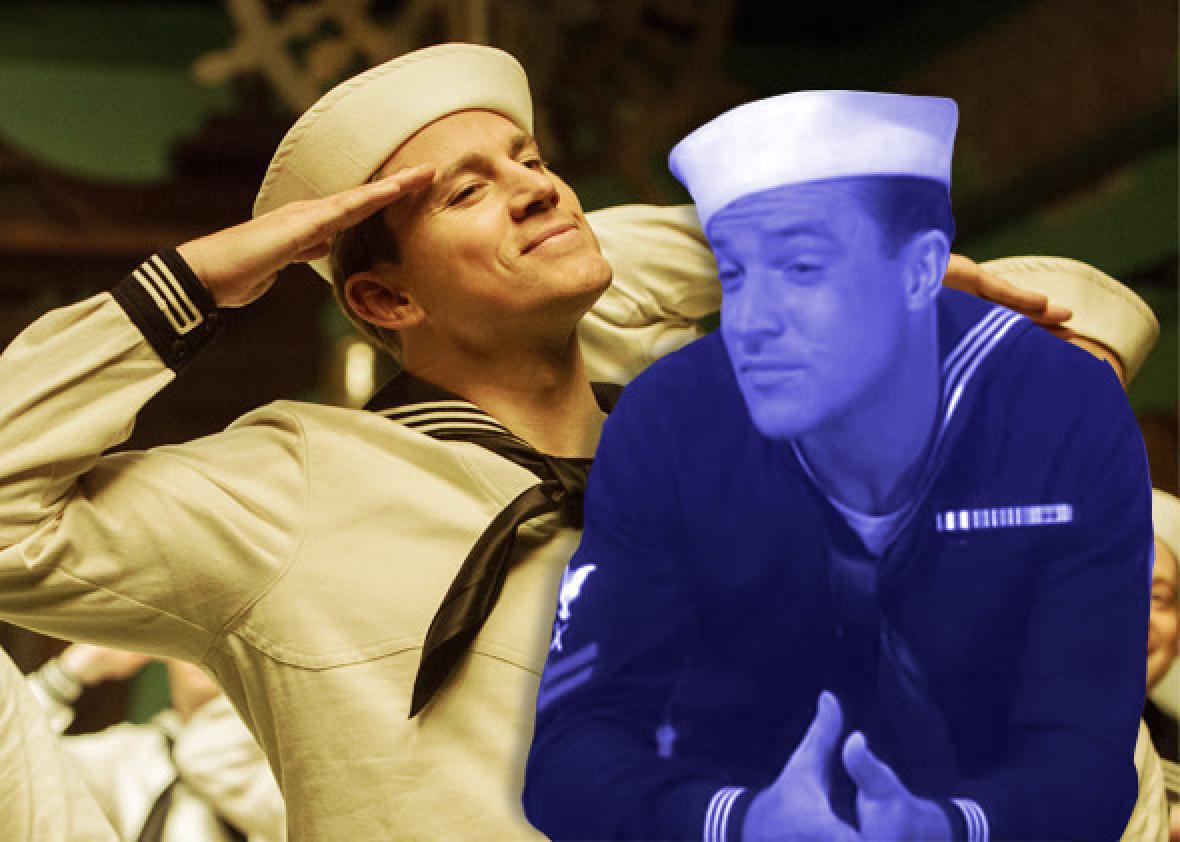 Burt Gurney's Navy-inspired dance number owes everything to Gene Kelly's performances in On the Town and Anchors Aweigh. Though Kelly was liberal and was married to blacklisted actress Betsy Blair, savvy viewers will note that the scene in which Gurney defects to the Soviets by secretly boarding a submarine off the coast of Malibu doesn't reflect Kelly's life story. Some events in the movie are pure Coen brothers.
Read more in Slate:
The Coen Brothers' Hail, Caesar! Is Silly, Epic, and One of Their Very Best