If the story of O.J. Simpson had been a novel instead of a real thing that happened, it would have been dismissed as too improbable and outlandish to take seriously. Unsurprisingly, "The People v. O.J. Simpson," a 10-episode scripted series that premiered tonight on FX to rave reviews, benefits from this surplus of drama. For many viewers, especially those who were too young at the time of the O.J. trial to remember it in all its particulars, much of this show will feel deliciously unfamiliar. But how much of it is true? To find out, Slate watched episode 1 with one eye focused on its source material, Jeffrey Toobin's tremendous 1996 book, The Run of His Life. Below, you'll find our best effort at a guide to what was fact and what was fiction.
THE BODIES
One of the first things we see in Episode 1 is a man walking his dog. Dressed in a Hawaiian shirt and wearing a blank expression, he encounters a barking dog—an Akita—that leads him to the bodies of Nicole Brown Simpson and Ron Goldman. In fact, the discovery of the bodies—and the role of Nicole's Akita—was a bit more convoluted than that. According to Toobin's book, the man who discovered the Akita was a screenwriter named Steven Schwab, who lived about three blocks from Nicole's house.* He had gone out for a walk with his dog around 10:30pm, after watching The Dick Van Dyke Show on TV, as he did seven nights a week. Schwab approached the Akita after he saw it barking and took note of its bloody paws before heading back toward his house. The Akita then followed Schwab home, and waited for him on the landing outside his apartment; after a while, Schwab gave it some water. So how were the bodies discovered? Turns out it didn't happen till later, when Schwab's neighbor, Sukru Boztepe, came by to inquire about the dog, and agreed to take it in for the night. Not long after that, Boztepe and his wife took the dog out for a walk, and found it that it was pulling them insistently toward Nicole Brown's house. It was at the foot of the steps leading up to Brown's front door that the couple found the bodies. 
THE POLICE INVESTIGATION
The show portrays the early stages of the police investigation with almost perfect precision: there were indeed lit candles all over Nicole's house when Robert Riske, the first police officer on the scene, arrived; the bathtub was indeed full of water;  and Nicole's two kids were indeed sleeping soundly in their separate bedrooms. However, a few details are left out. One is that there was a cup of melting, partially-eaten Ben and Jerry's ice cream on the banister next to the stairs. Another is that after Riske saw photos of O.J. Simpson on the walls, he elected to call in investigators on a regular phone instead of using his walkie-talkie. The reason he did this is revealing: as an LAPD cop, Riske had the media savvy to know that reporters were always listening in on the police scanner, and he didn't want the media showing up to the house before his back-up did.
One seemingly too-good-to-be-true moment in the show comes when the Detective Mark Fuhrman character says he knows the address of O.J.'s home because he went there once years ago while responding to a domestic violence call from Brown. This actually happened. As Sarah Paulson's character, prosecutor Marcia Clark, notes later in the episode, Brown had called the police on O.J. a whopping nine times. What the show leaves out is that Fuhrman was the reason O.J. finally got arrested for spousal abuse in 1989: As Toobin documents in his book, Fuhrman was the only police officer in the entire LAPD who agreed to put in writing what he saw at O.J.'s house when he answered a 911 call from Brown in 1985. The letter he wrote ended up convincing the prosecutor that Simpson's behavior fit a pattern, and he moved ahead with charges.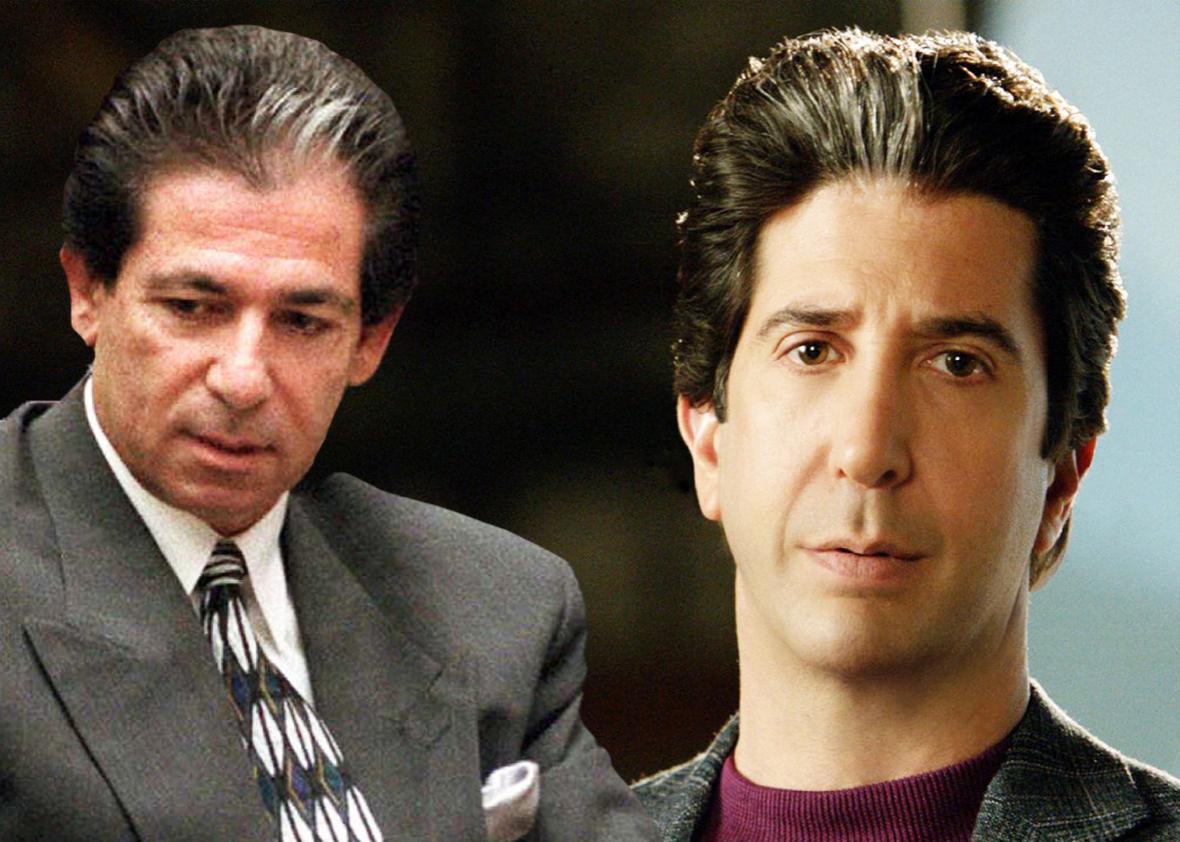 KATO KAELIN
A question the first episode of the show doesn't answer is: Why there was a stoned-seeming blonde guy named Kato Kaelin on O.J. Simpson's property on the night of the murders? The answer, as laid out in Toobin's book, is kind of complicated, and begins with the fact that Kaelin had rented a guesthouse from Nicole and babysat her kids after her divorce from O.J. When Nicole moved to a new place in January 1994, she wanted to continue the arrangement with Kaelin—except this time he'd be staying in her actual house, in a small guest suite between the garage and the kitchen. When O.J. heard about this plan, he objected, and in a petty power move offered to let Kaelin live in his guesthouse for free instead. Kaelin took him up on it.
The scene in which Kaelin is confronted by the police in the middle of the night might be one of the best moments of Episode 1. But the show's creators took a shortcut by showing Kaelin telling the police that O.J. was out of town on a trip to Chicago. In fact, that information came from O.J.'s secretary, Cathy Randa, whom the police called later in the night after consulting O.J.'s daughter Arnelle.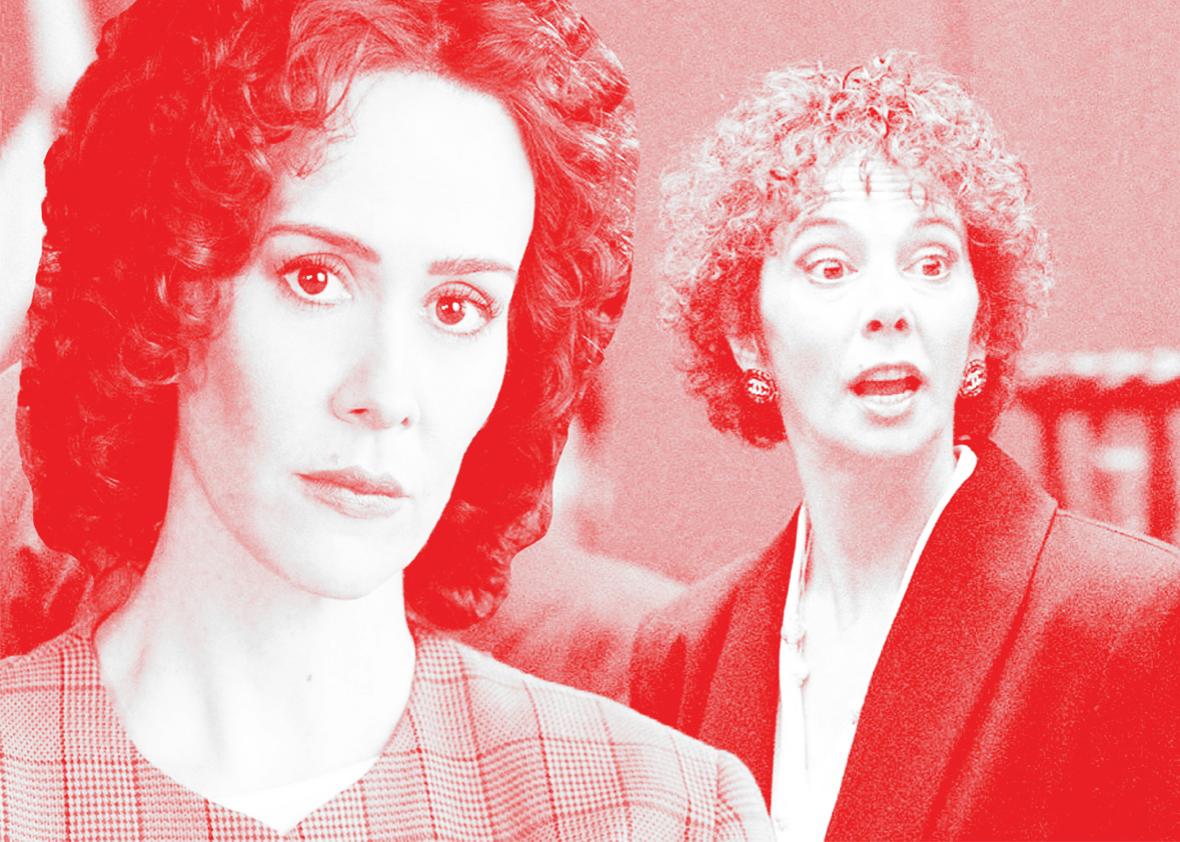 MARCIA CLARK
In her first scene, the prosecutor is shown speaking to Detective Phil Vannatter on the phone about the killings. Memorably, she has no idea who O.J. Simpson is until Vannatter describes O.J. as a movie star who appeared in Naked Gun and "the guy in the Hertz commercials." According to the Toobin book, though, Clark did not know who Vannatter was talking about even after those references were dropped, because Clark's "only connection to mass culture" was listening to the Doors and reading novels about serial killers.
THE INTERROGATION
The show portrays the police interrogation of O.J. Simpson as a total disaster in which no solid information was extracted and various contradictions in his account were allowed to remain unresolved. Indeed, according to Toobin, the interrogation came to be known in the prosecutor's office as "the fiasco."
ROBERT SHAPIRO
In the show, O.J. puts in the call to Robert Shapiro directly to ask him to be his new lawyer. According to Toobin, this isn't exactly how it happened: O.J. brought in Shapiro because a guy he was only vaguely acquainted with—T.V. executive Roger King—called him after hearing that his then-lawyer Howard Weiztman had allowed him to give a statement to the police. In that phone call, King promised O.J. he could get Shapiro on his team, and proceeded to track him down. As Toobin notes, "What makes this transaction curious is that none of the participants really knew one another." King himself had never even spoken to Shapiro—he had just heard he was good at defending celebrities. Nevertheless, Simpson knew he wanted Shapiro as soon as King made the recommendation: per Toobin, "Robert Shapiro became [O.J.'s] lawyer because he fit the image of a smart lawyer in the eyes of … [King], who fit O.J.'s image of a smart guy."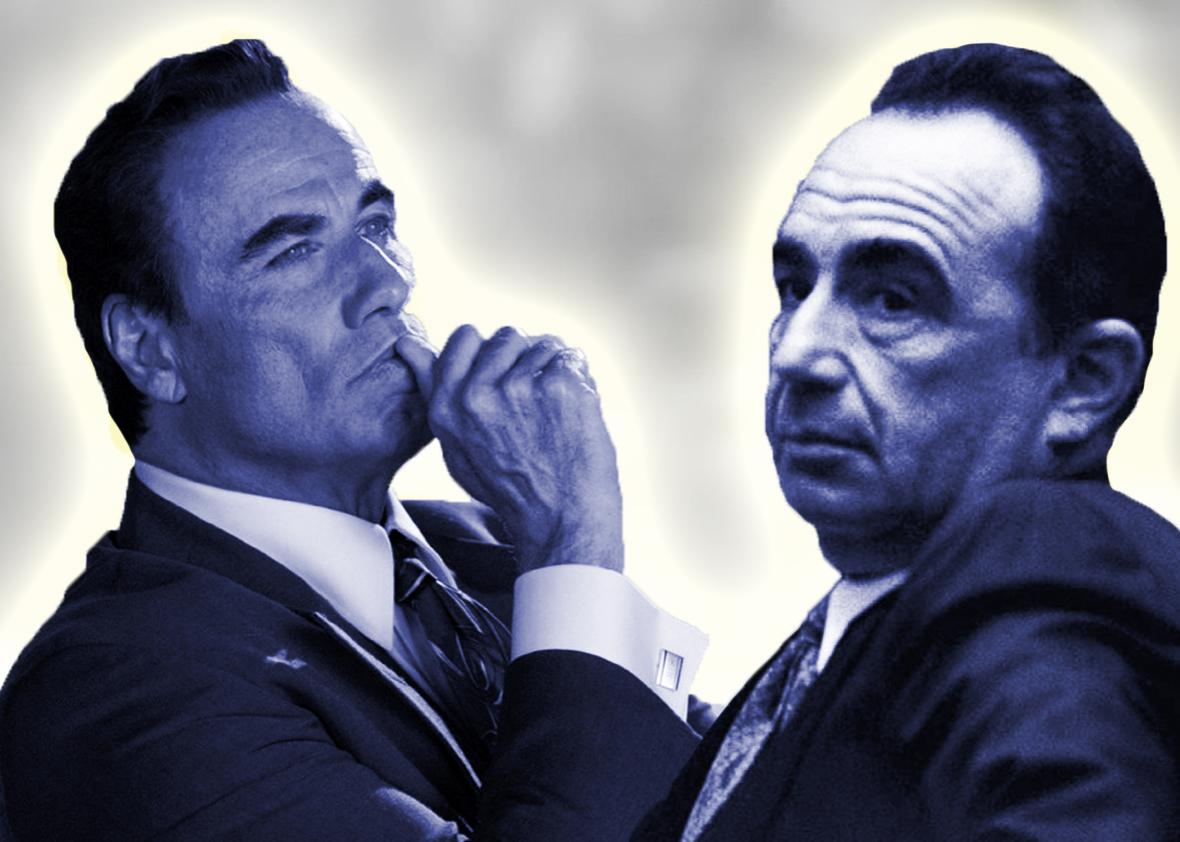 One of the most intense scenes in Episode 1 takes place when Shapiro looks O.J. in the eye and asks him if he killed his ex-wife. O.J. responds, "No. I loved her." This scene does not appear in the Toobin book, but a variation of it does pop up in Shapiro's memoir, The Search for Justice, in which he describes O.J. looking at him with steady eyes and saying "in a strong voice," "I did not do this." According to Shapiro's account, O.J. did elaborate on that assertion by talking about his relationship with Nicole, but in somewhat different terms than Cuba Gooding Jr. does on the show: "Nicole and I were together for a long time, Bob," he is quoted as saying. "We had our problems, sure, but we shared two beautiful children together, and she was a great mother." From there he talked about what a good life he had, complete with "fame, fortune, and wonderful friends." Whether or not he loved Nicole did not come up in this conversation, at least according to Shapiro.
O.J.'s NOTES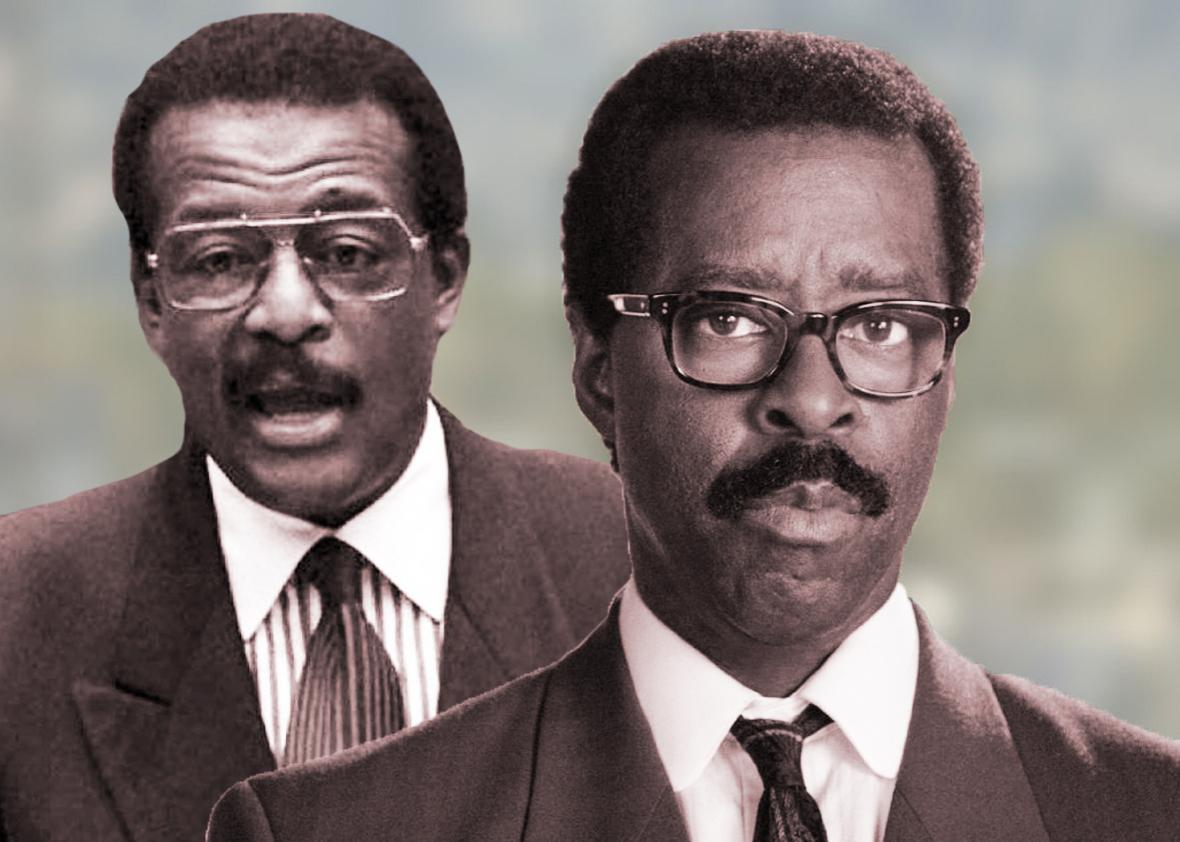 Perhaps the biggest departure from fact that takes place in Episode 1 involves the letters that O.J. wrote to his mother, his kids, and his fans before he absconded in the Ford Bronco. As Toobin shows in his book, O.J. wasn't much of a writer—though he graduated from college, he focused his energies on football—and had huge problems with spelling and grammar. Though the letter displayed on screen near the end of the episode does have the word "I've" misspelled in the same way the real letter did, the show creators seem to have decided to spare Simpson the embarrassment of showing the extent of his errors.
THE SUICIDE ATTEMPT
The climax of Episode 1 is when O.J. holds a gun to his head in the bedroom of a young Kim Kardashian, while Robert looks helplessly on and tries to calm down his friend. This scene does not appear in Toobin's book, but it seems Robert did describe it in an interview with Lawerence Schiller, author of American Tragedy: The Uncensored Story of the O.J. Simpson Defense. According to ABC News, Kardashian said in 2003 that he found Simpson "sitting there with a gun and his pictures of his kids and of Nicole."
"I said, you can't," Kardashian said in the interview with Schiller. "This is my daughter's bedroom. I can't have my little girl in this bedroom and every time I come in here I'm gonna see your body." Kim would have been 14 at the time.
MICHAEL JACKSON
In the show, Johnny Cochran tells his wife he cannot wear a lime green suit because he is about to go visit his client Michael Jackson, who he says is "afraid of that color." I could not find any evidence of this in my research.
Correction, Feb. 2, 2016: This post originally misidentified the person who first came upon Nicole Brown's Akita. It was Steven Schwab, not Pablo Fenjves. Fenjves merely heard the dog barking from his house.