This year's Oscars welcomed two guests back to its stage after more than three decades: C-3PO and R2-D2. The two droids—joined by their newer friend BB-8—wandered onto the stage looking for their seats. It wasn't 3-PO and R2's first rodeo; they joined Mark Hamill onstage at the 1978 Oscars to present the Special Achievement awards for Sound Effects Editing.
After the three droids got in some some banter and, of course, issued effusive praise to Star Wars composer John Williams, they left the stage—but not before the Oscars reaction cam caught an adorable reaction from Room's young star Jacob Tremblay, who immediately stood up to try and see them better.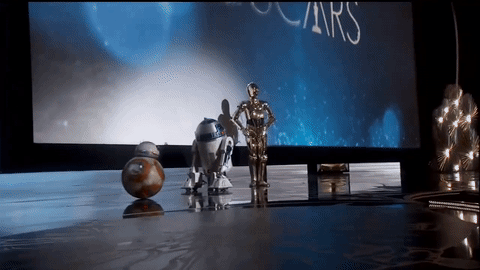 No word yet on whether he'll end tonight's awards ceremony with another lightsaber battle.
---