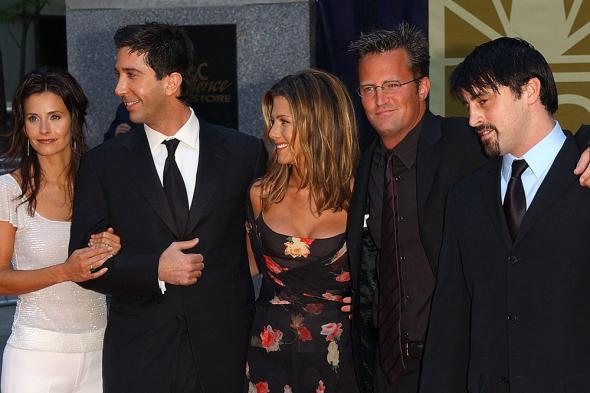 Those with Friends-related unagi might have felt a shift in the universe today, as NBC announced that all six principal cast members of the beloved '90s sitcom will appear in a two-hour special next month. But don't get too excited about revisiting Central Perk—the special is primarily a tribute to comedy director James Burrows, who recently directed his 1,000th TV episode. (He directed 15 Friends episodes over its first four seasons.)
From TVLine:
The telecast, which is being likened to last February's high-rated Saturday Night Live 40th Anniversary Special, will also reunite the casts of other landmark Burrows series, including Taxi, Cheers, Frasier and Will & Grace. The stars of more recent Burrows programs, including The Big Bang Theory and Mike & Molly, will also appear.
While all six Friends stars—Jennifer Aniston, Courteney Cox, Lisa Kudrow, Matt LeBlanc, Matthew Perry, and David Schwimmer—will appear, it's unclear whether they'll all be in the same room together, as NBC chief Robert Greenblatt told reporters at the Television Critics Association's press tour, "I'm not sure we can logistically pull it off." The special will air on NBC on Feb. 21. In the meantime, Friends fans can whet their appetites by binge-watching the show's 10 seasons on Netflix, writing dark fanfiction, and singing along to "Smelly Cat" with Taylor Swift.
---