This post originally appeared on Food52.
It's Sunday morning and you're out there on the internet again, looking for the fluffiest buttermilk pancakes. A lot of fancy recipes will tell you to separate your eggs, whip the whites, and fold them in gently at the end. This one isn't going to.
It's a move that makes sense—if you were to add more baking powder or soda, up to a point, you'd get more whiz-bang-pow puffiness in return, but also a chemical aftertaste that lays in wait under your maple syrup. I once tried a pancake recipe with a tablespoon of baking soda. It was super fluffy, and tasted like the inside of a locker.
This is why smart recipe developers have you add in a mechanical leavener instead of more chemical ones. That is: you, with your hands and your egg beaters, manually frothing up airy egg whites and carefully trapping them in your pancakes.
But I've often found that when I commit to whipping egg whites, they'll start strong, but by the end of a big batch of batter, they've deflated like a melted milkshake. Melted milkshakes do not make fluffy pancakes.
So you better believe I was intrigued when Food52 contributor Ali Stafford sent me this recipe for Lofty Buttermilk Pancakes, made famous on the Kitchn by longtime contributor Dana Velden. It promises fluff—but to get it, you stir in the egg whites at the very end. No whipping.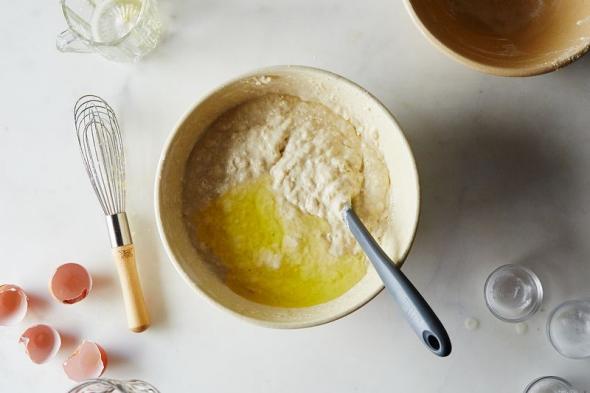 "My theory is that the original maker of this recipe was supposed to beat the egg white but either forgot or decided to skip the step. And, to be honest, laziness was the reason I thought I would try it, too," Dana, who's been making this recipe for over 15 years, told me. "I was more than willing to not beat egg whites at 7 a.m."
I wanted to know what the Food Lab's J. Kenji López-Alt thought about this whipless egg white revelation, and he set me straight. "Have you actually tried side-by-side mixing the white in at the end vs. just mixing it in with the other ingredients to confirm whether it really ends up making the pancakes lighter or not?"
No, Kenji, because I'm not you! This time, I didn't cook the recipe to and fro. I just kept making pancakes and liking them. Is that so wrong?
Well, yes. So I tested and re-tested these in a few side-by-side-by-side sessions, adding in egg white at various stages: a. along with the yolk and the other wet ingredients (as nature intended), b. at the end (as this recipe intended), and c. whipped up to stiff peaks, folded in at the end (as many recipe developers intend).
I hoped that the Kitchn's lazy, lofty method would make noticeably fluffier and better pancakes than doing nothing. Otherwise, why should I tell you to separate an egg? In my wildest dreams, it would also dethrone whipped egg whites. Here's what I learned:
Following this recipe, each of these egg white moments makes very good pancakes. They're tangy and pudgy and delicious, and have just a skosh more butter in them than other buttermilk pancakes out there. (Actually there's easily double the typical amount of butter—so … just put less on top.)
You want extra fluffy-good pancakes? Buy thick, local whole-milk buttermilk when you see it. You often won't have a choice, but when you do, take it.
Whichever kind of buttermilk you use, thick or thin, stirring in the egg white at the end does give a noticeable puff and bounce to the cakes.
In this case, whipping the egg whites did not make the pancakes any fluffier.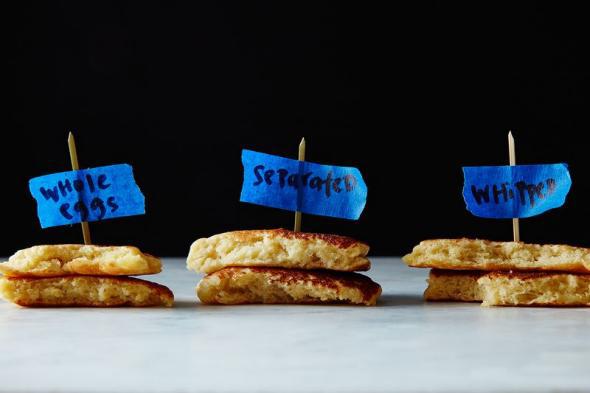 To understand what that relaxed egg white was up to, I turned next to Rose Levy Beranbaum, the author of the Baking Bible, and many more cake and pie bibles. "Adding the white at the end gives more support—this is a technique used in soufflés—adding a little of the white unwhipped at the end so that the soufflé doesn't deflate as quickly," she wrote back. "Whipping egg whites to soft or stiff peaks adds more air but also as the egg white cells enlarge, the membrane gets thinner and thinner and is more fragile."
So not only does a little egg white au naturel puff up the pancakes, it will do so consistently, from the beginning of the batter to the end.
Sunday morning, we have our fluffy, lazy buttermilk pancakes. And they don't even taste like a locker.
The Kitchn's Lofty Buttermilk Pancakes
Recipe adapted slightly from The Kitchn
Makes 18 to 20 three-inch pancakes (serves 4 to 6)
2½ cups flour
2 tablespoons sugar
1½ teaspoons salt
1 teaspoon baking powder
1 teaspoon baking soda
2 large eggs, separated
2 cups buttermilk
½ cup milk
10 tablespoons unsalted butter, melted and cooled
Canola or peanut oil for frying
See the full recipe at Food52.
More from Food52:
How to Chip Away at Your Stash of Bacon Fat
15 Real Tips We Learned From The Great British Bake Off
A Game Day Feast from the Food52 Test Kitchen
15 Wintry Citrus Recipes to Sunbathe In
How to Make Samoa-Inspired Girl Scout Cookies at Home
15 Warming Snow Day Meals That Are Already in Your Pantry