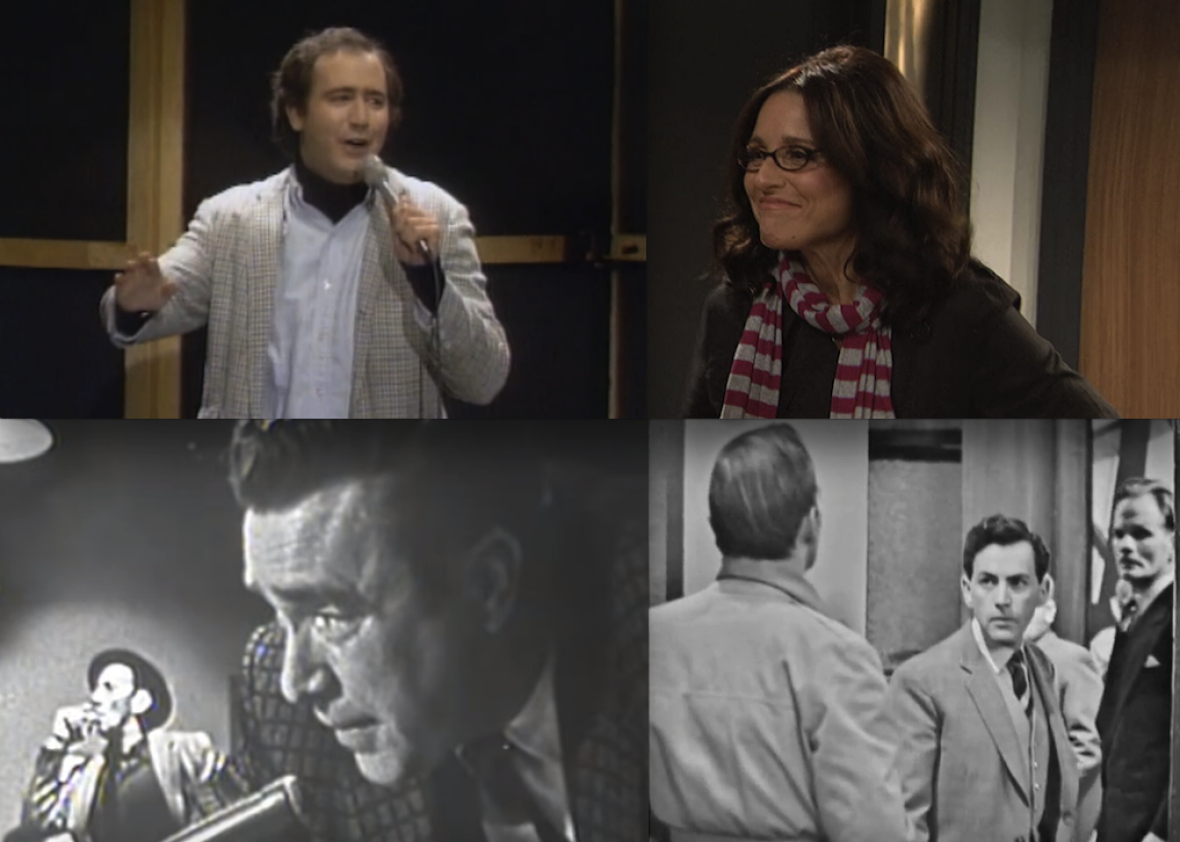 Tonight at 7:00/6:00 Central, FOX will air Grease: Live, the network's first entry into the live television-musical format recently revived by NBC. Anything can happen on live TV, and although probably nothing will, that's a huge part of the appeal. While you're anxiously awaiting the triumph or catastrophe tonight, here are four landmark episodes of live television you can watch right now.
Playhouse 90, "The Comedian," February 14, 1957
Playhouse 90 was the high-water mark for American live television, with some of the medium's most talented actors, directors, and writers. "The Comedian" exemplifies this confluence of talent: Rod Serling and Ernst Lehman wrote it, John Frankenheimer directed, and Mickey Rooney stars. Frankenheimer's restless camera and endlessly inventive staging are the main draw here, but the nastiness at the heart of Rooney's performance singlehandedly refutes the idea that television antiheroes are something new. It's available on the Criterion Collection's Golden Age of Television disc but can also be found on YouTube.
30 Rock, "Live Show," October 14, 2010
Starting with ER's live episode in 1997, many shows have broadcast a single episode live as a stunt. 30 Rock's two forays into this field are, unsurprisingly, some of the best. "Live Show" was the first of these, filled with meta-jokes about live TV, from Julia Louis-Dreyfus standing in for Tina Fey to Fail Safe-style shaky-cam shots of Matt Damon and Bill Hader flying a plane. The highlight, however, is Chris Parnell crooning his way through an ad for Dr. Leo Spacemen's erectile dysfunction treatment, a smooth jam CD called "Love Storm." It's streaming on Netflix here.
Armchair Theatre, "The Criminals," December 28, 1958
The U.K.'s long-running Sunday night show Armchair Theatre had the most famous live-television catastrophe on the night of November 30, 1958, when actor Gareth Jones died of a heart attack off-camera in the middle of the broadcast. The actors and director, improvised the remainder of the performance around the missing character. That episode, "Underground," is lost, but "The Criminals," from a month later, is available on the Internet Archive here.
Fridays, "Episode 19," February 20, 1981
No one dies on this episode of Fridays, but everything else that could go wrong did, as guest host Andy Kaufman takes the precarious nature of live broadcasting and drives it straight off a cliff. "I just realized I can do anything I want up here and they can't do anything to me," he says in his opening monologue, and the meltdown continues from there, culminating in a fistfight between Kaufman and a pre-Seinfeld Michael Richards. Staged? Real? Who knows, but it's a great look at Kaufman in his prime, and it's available on Hulu here.
---