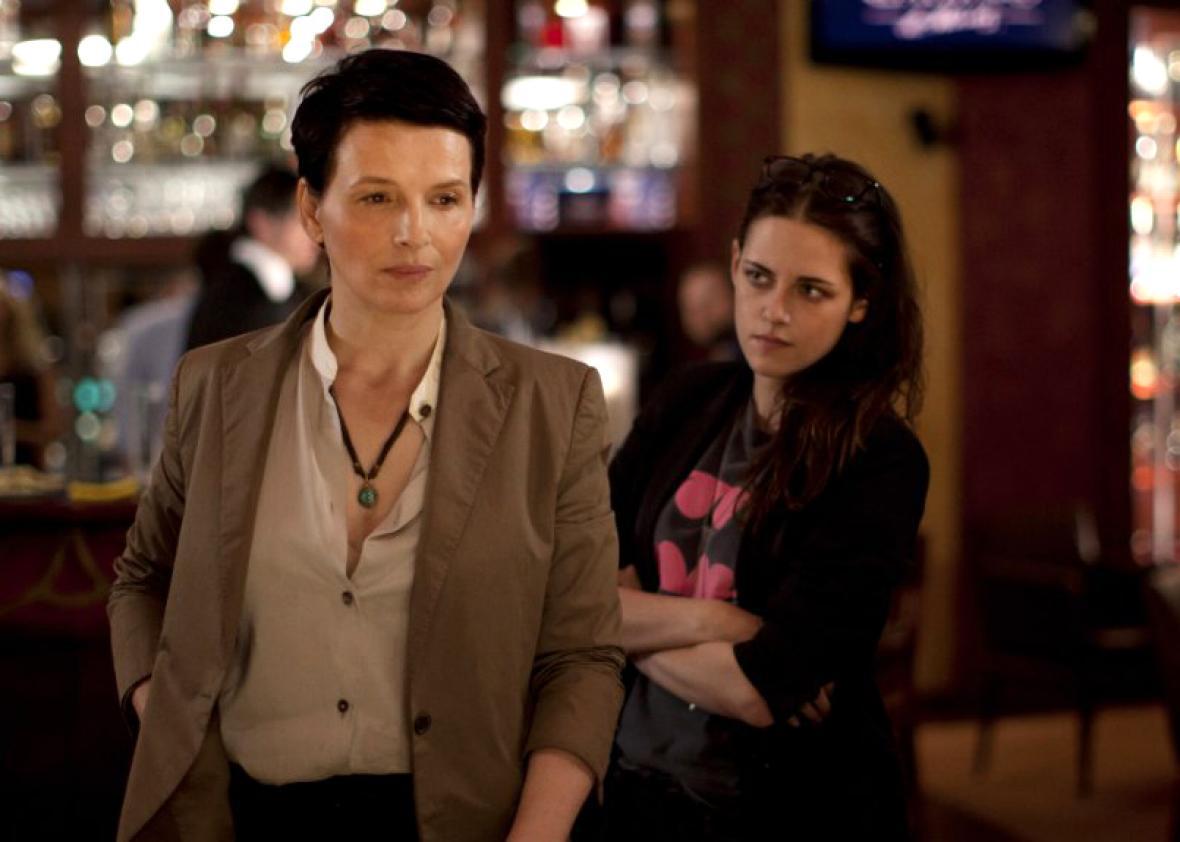 Aisha Harris: Well Dan, like the bionic-armed, unfailingly determined Furiosa, we Oscar enthusiasts have been clamoring to find our own Green Place, a fertile oasis of sure-bets and front-runners amid the clutter of end-of-the-year prestige fare. Spotlight aside, this has not been the case, which is great! For the first time in years, this race is truly interesting, with long-shots like Mad Max: Fury Road making their way into close-bet status, and (most) "meh" prestige pictures, like Steve Jobs, falling by the wayside.
And so with final ballots due on Friday, what or who would you like to champion in a last bid for consideration from those on-the-fence academy voters?
Kois: Please vote for one huge surprise in the screenplay categories.
Not, like, a movie that's been on the edge of awards season all year and gets Best Screenplay but not Best Picture. But something great but completely out of left field. There is precedent! In the Loop in 2009. In Bruges in 2008. Borat in 2006.
Why not, this year, quality, respected, successful, cool, really well-written movies like Diary of a Teenage Girl for Best Adapted, say, or Trainwreck for Best Original?
Harris: Trainwreck's a possibility, thanks to its WGA nomination. Even considering Borat, though, I don't think it will be considered "dark" enough as a comedy. The academy tends to favor heavy material.
Kois: Probably not. Plus, everyone thinks no one writes Judd Apatow movies, and that they're just made up on set. But they're only, like, 35 percent made up on set! What would YOU ask the Oscar voters to consider?
Harris: "Earned It (Fifty Shades of Grey)" for Best Original Song.
For starters, I'd really love to see the academy get dark, twisty, and sexy with their choices here. A lot of pundits put Ellie Goulding's cutesy "Love Me Like You Do" as a shoe-in here (13 out of 21 on Gold Derby!), but the Weeknd's sultry, almost ominous "Earned It" isn't as heavily favored. For shame! 
Kois: I too hope this group made up mostly of 68-year-old white men gets dark and sexy! That's a great song, and I think in all seriousness it has a great chance. It was a huge hit!
Harris: It's the far superior song, and I shiver at the idea of having to see the terribly blah "See You Again" from Furious 7 in this category without "Earned It" as an antidote. (I'm also still pissed about the terribly pedestrian "Glory" being Selma's only Oscar win.)
Kois: I honestly think it would have much better chances if its official title was not "Earned It (Fifty Shades of Grey)" because then people wouldn't be faced with the stark reality of what movie they'd be nominating right there on the ballot.
Harris: True.
Kois: Here's my next For Your Consideration, voters:
Please ignore the subpar studio product for Best Animated Feature.
I have high hopes for this one, actually, given that in recent years the animation committee has given nods to such beautiful, small movies as A Cat in Paris, Ernest & Celestine, The Tale of the Princess Kaguya, and Song of the Sea. This year I certainly assume that Pixar, for example, will see Inside Out, one of the best movies of the year, full stop, nominated. But why not swap Pixar's second movie, The Good [but Not Great] Dinosaur, for Studio Ghibli's final film When Marnie Was There, or the charming Shaun the Sheep? And for God's sake: No Minions, please.
Harris: I think the Minions are all but guaranteed in this category, Dan. You may or may not recall that Shrek sequel No. 390,293, Puss in Boots, was nominated a few years back. (Rango won.)
Kois: Don't remind me, on either count. That was a bad year. Anomalisa is a lock, though, right?
Harris: Yes, I think that will be the artsy, creatively ambitious film in that bunch, Inside Out aside. OK, my next petition:
Straight Outta Compton for Best Sound and Mixing.
When you make a movie about one of the greatest producers of all time, I expect the musical scenes to sound great. And boy, did they: Every one is a sonic wonder, pumping in the beats of N.W.A., other timeless songs of the period (like Cherrelle's "I Didn't Mean to Turn You On"), and Pac and Snoop with a flair that makes it feel as if you're hearing these familiar songs in an entirely new way. You can tell that Dr. Dre likely had a say in this sound production, even if he isn't directly credited.
But it goes beyond just the musical sequences—pay close attention to how the sound is cut between the studio and the sound booth in one of the film's best scenes, in which Dre teaches an awkwardly charming Eazy E how to jump in on the beginning of N.W.A.'s first track; or the shattering glass when Ice Cube trashes his manager's office after not being paid what he feels he's owed. It's masterful.
Kois: Good news: I think this is a lock. The voters like to reward films that make deft use of music in this category: Inside Llewyn Davis, Walk the Line, Dreamgirls, and Whiplash all appeared in this category. The only thing they like nominating more than musical films is war movies (gotta mix all them guns!) and there's no straight war movie in this year's front-runners.
My next FYC, and my most unlikely one:
Kristen Stewart for Best Supporting Actress.
Look, I know this is probably hopeless. In Clouds of Sils Maria, she doesn't give the kind of flashy performance that gets nominations. Surely few voters saw the movie, which didn't get a great awards push. But Stewart, despite what some may think of her, is a smart and serious actress who gave a canny, understated performance as a personal assistant in this French drama. She played a movie's worth of two-handed scenes with Juliette Binoche, a titan of world cinema, and was usually the more interesting one in the scene.
And while it seems like a super long shot, she hasn't been completely absent this awards season: She won a passel of critics' awards, including New York, National Society of Film Critics, and Boston, and was runner-up in LA.
Harris: She's finally graduated from MTV Popcorn Awards, ha!
Kois: Uh, EXCUSE ME, she has also won 11 Teen Choice Awards! What's your final For Your Consideration for Oscar voters?
Harris: My final plea, and also my most unlikely one:
Charlize Theron for Best Actress.
Mad Max: Fury Road has now become the little engine that could this awards season, alongside Straight Outta Compton, and seems to have a ton of momentum going into this crucial final week before voting ends. What's crazy to me is how the movie has gotten such a push, but Charlize has not!
Kois: Yes! People deem the movie worth rewarding, but not the incredible, focused, fierce performance by a huge star and Oscar winner at its center? I don't get it at all.
Harris: I know I know, George Miller's aesthetic is overwhelming and amazing and brilliant and whatever, but Fury Road WOULD NOT WORK if it weren't for Charlize.
Kois: Correct.
Harris: Imagine if she were nominated—how often is an actress nominated for a gritty, juicy action role? Hardly ever, because actresses rarely ever even get to have gritty, juicy action roles in the first place.
Kois: From your lips to those 68-year-old white men's ears.
Harris: So please, old man Oscar voters: If you love Fury Road, you also love Furiosa. This is a no-brainer. Take Charlize to her Green Place, please.
Kois: Hey, the good news is, this is the most wide-open race in all fronts in recent memory. It's entirely possible the voters won't heed any of our requests, but I guarantee some crazy-ass surprises when the nominees are announced next week.
---