Catherine Opie never got to meet Elizabeth Taylor. The actress passed away three months into Opie's six-month portrait project of Taylor's Bel-Air home, located at 700 Nimes Road, what Opie ultimately named the book of the work, published by Prestel.
Opie and Taylor's shared accountant put Opie in touch with Taylor's longtime executive assistant, Tim Mendelson. She wanted to document the Hollywood legend's home in the same vein as William Eggleston had done at Graceland.
Imagining is one thing, walking into Taylor's home for the first time was something else.
"It is overwhelming," she said. "You're super nervous because you're in Elizabeth Taylor's home and you don't want to piss anyone off; you want to represent her in a way that feels like an extension of the ability to think about portraiture other than an iconic image of Elizabeth Taylor the movie star."
The goal of the work was to create a portrait of Taylor through her home and all of the objects found within it. There were closets of clothing, shelves filled with shoes and accessories, an incredible jewelry collection, and of course, the house itself, that Opie described as "elegant but simple: a California Ranch–style house with pale blue and lush lavender carpets and a shimmering turquoise swimming pool."
She approached the work thinking more about the relationship the textures and colors had within the photograph, rather than documenting all of the objects as if she were creating a catalog.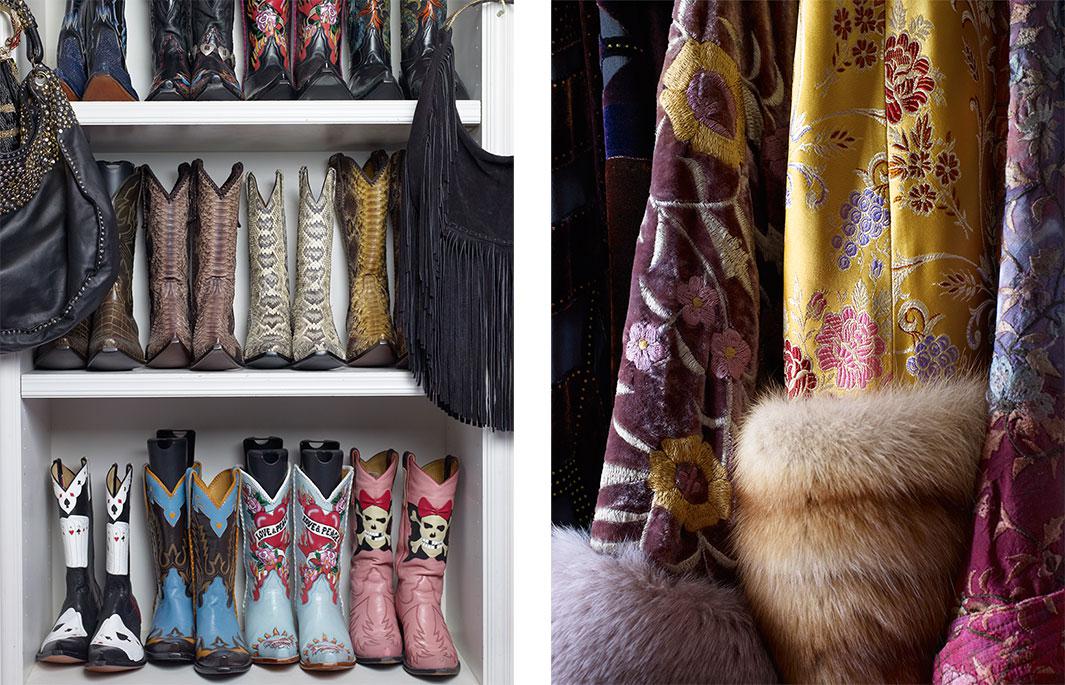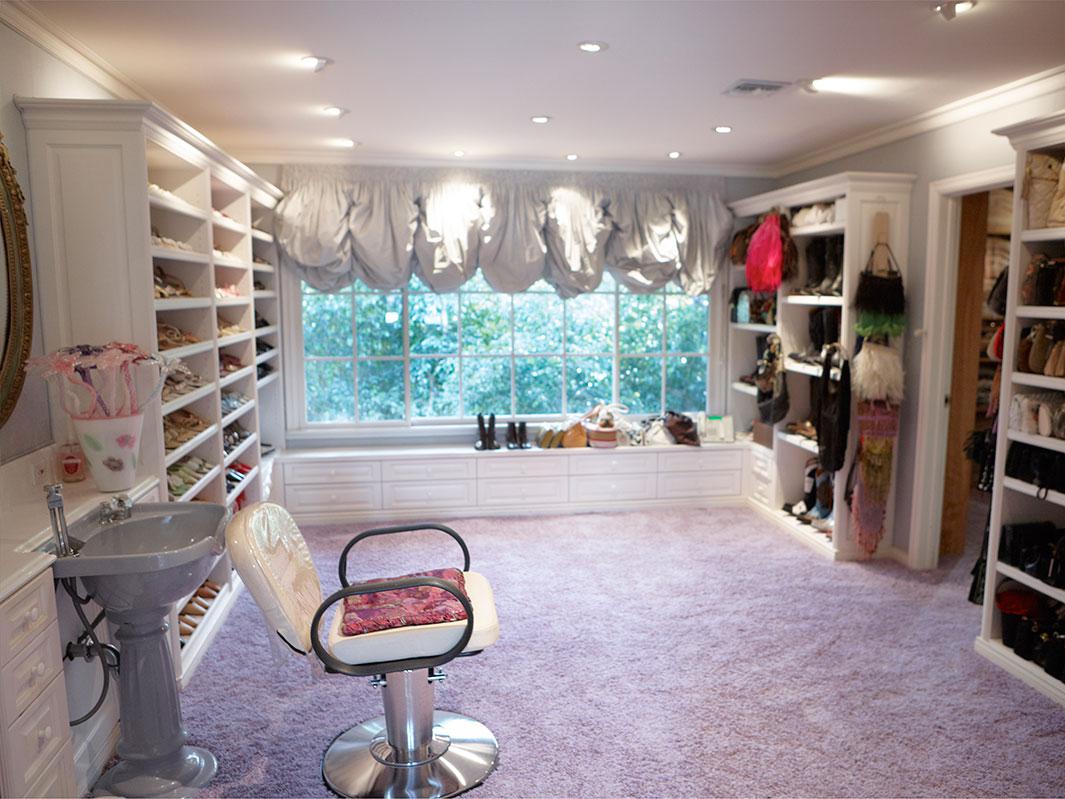 She also didn't shy away from including the many ordinary objects and details that were mixed up with items that were far more extravagant; in fact, she embraced it. There's a great shot of a table filled with framed photographs of Taylor and other celebrities including Michael Jackson, along with other knickknacks. There's also a copy of a television remote control guide lying next to all of the opulence.
"That was superimportant to me," Opie said. "Without the remote control guide, without the scuff of the red chair in the kitchen, without the trace, it would have been only archiving and cataloging and to make a portrait it has to be human; you have to think about humanity and the person has to be present."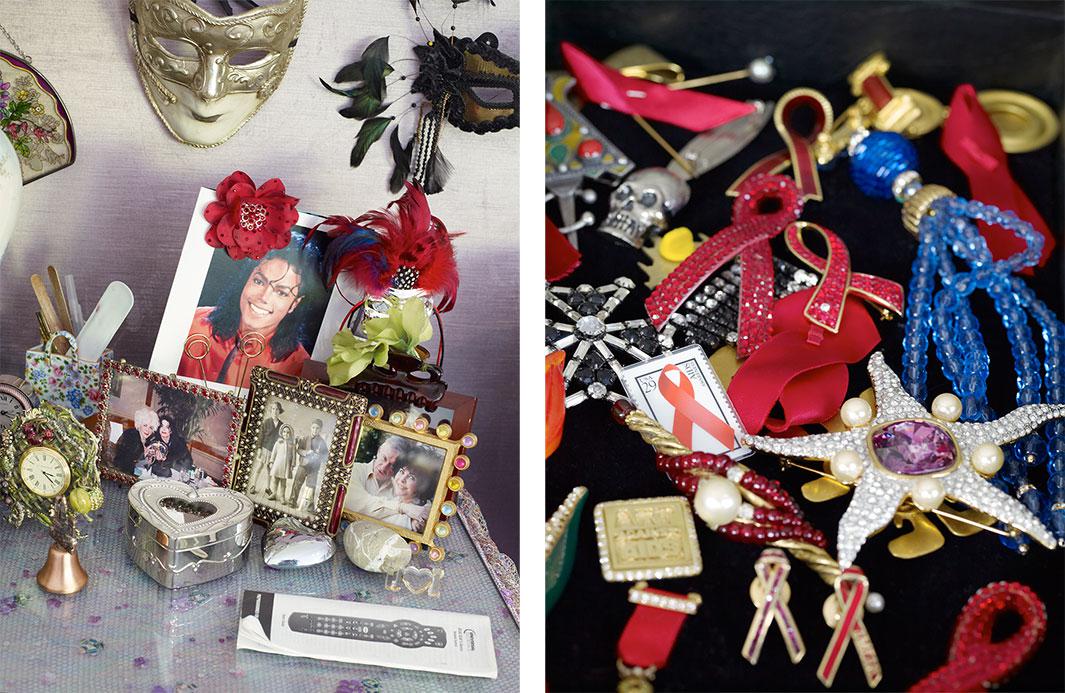 Opie began with 3,000 images and finished with 129. Although she wasn't concerned necessarily about forcing a linear narrative on the reader, she wanted the reader to be able to learn about Taylor by jumping through various time periods and different facets of her life, so she structured the layouts accordingly: from the ornate Christmas ornaments than hung on the trees outside to Taylor's cat Fang walking next to her Chanel shoes to the necklace with a La Peregrina pearl.
Taylor passed away halfway through the project, and Opie questioned whether the work needed to reflect this.
"The work represented [her passing] in small, quiet intimate ways because her death was intimate," Opie said. "Her funeral was just her family; it wasn't a big public funeral."
While growing up in Ohio, Opie had watched Taylor's movies with her mom "in our cold northeastern Ohio basement" and said while she never was able to meet Taylor, working with her staff, specifically Mendelson, and listening to their stories about the actress helped her to create what she feels is a faithful portrait of the star.
"There was an intimacy I was having with Elizabeth through the people who were around Elizabeth without ever meeting her. I think that kind of warmth comes through in the work, and I do think it feels like an intimate portrait because everyone trusted me so much to kind of go to that place within making the work; it was very loving."