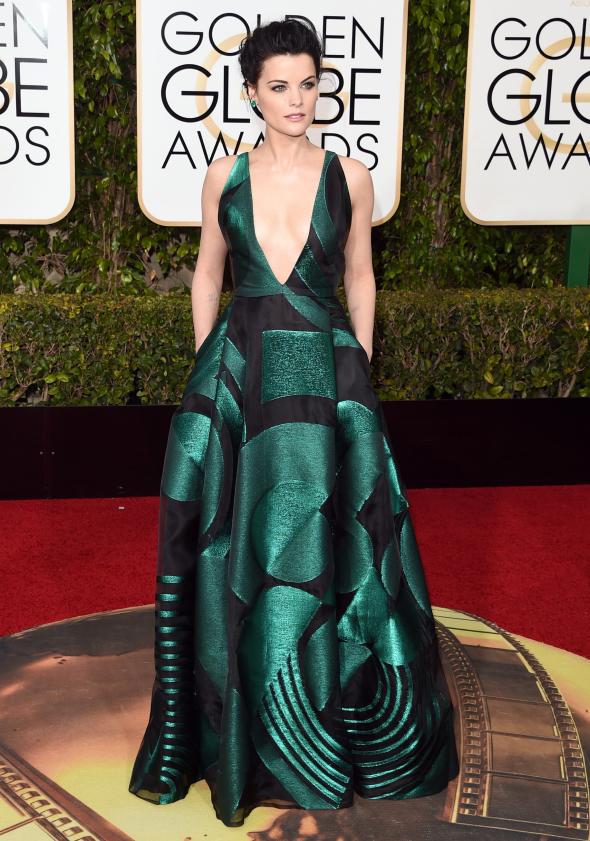 After weeks spent negotiating brand ambassadorships and hours spent filling pores with name-brand mud, the famous and beautiful appeared suitably shiny and new on the Golden Globes red carpet Sunday night. There were precious few heavy hitters—Jaimie Alexander's streamlined emerald-and-black op-art gown, above, was one—but noteworthy details made the other pretty people look just as beguiling in their close-ups as from halfway down the red carpet. Or from behind Ricky Gervais' vodka goggles.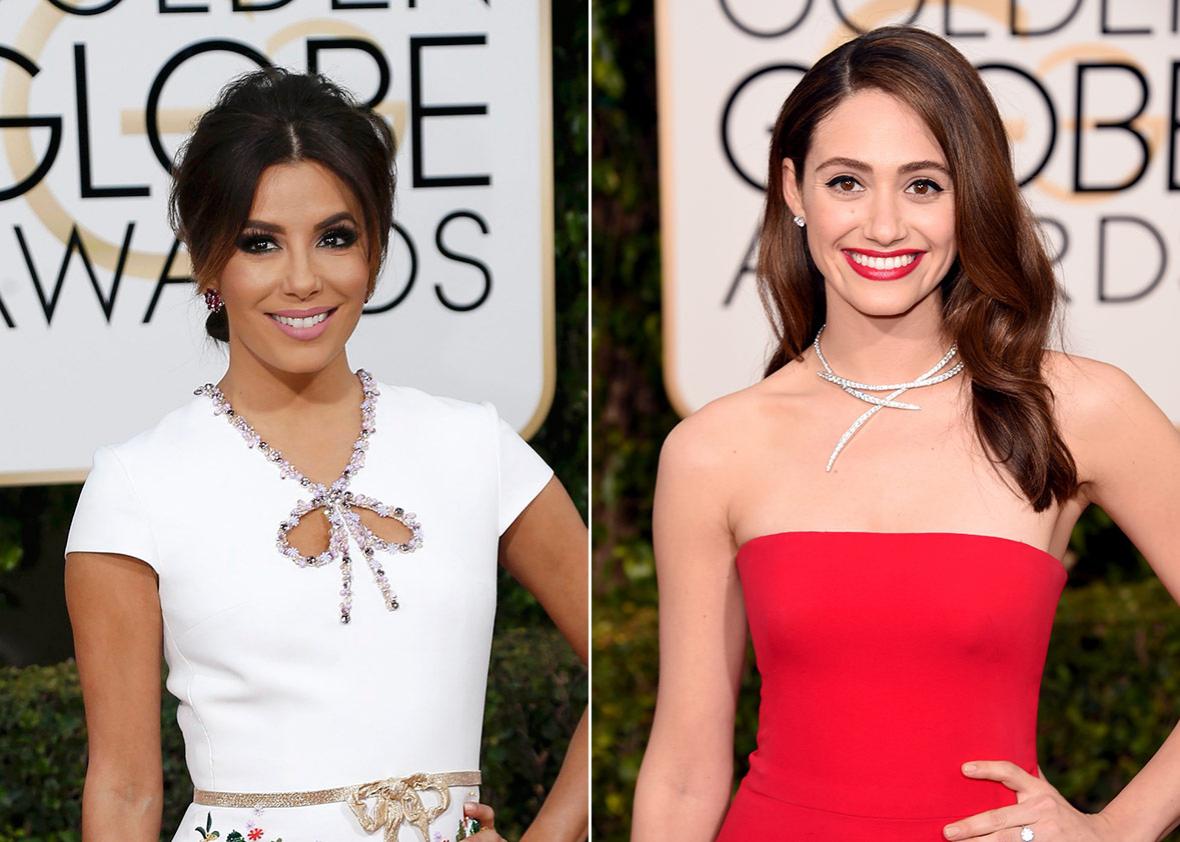 First props go to the architectural cluster of diamonds hugging Emmy Rossum's neck, designed by Van Cleef & Arpels. Equally sparkly and twice as whimsical was Eva Longoria's white Georges Hobeika dress with a cut-out bow neckline and matching belt.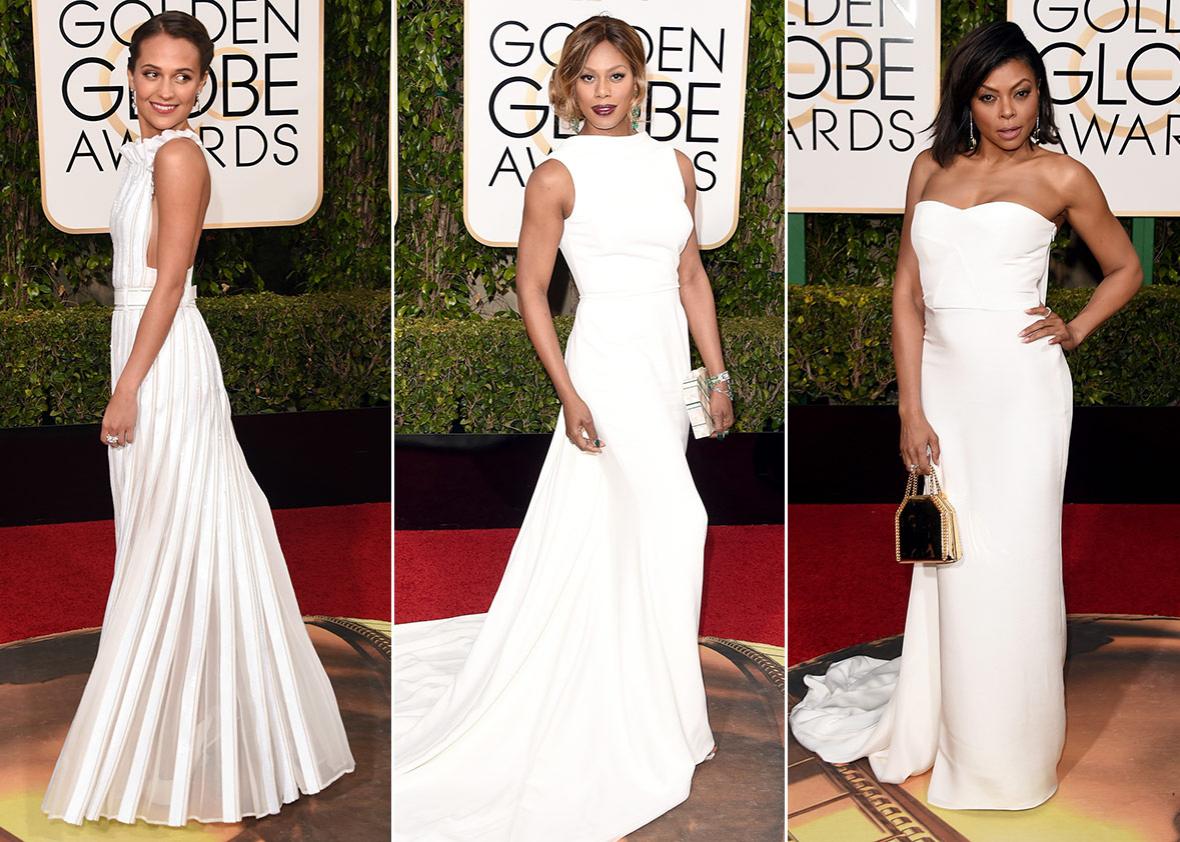 White gowns had a night at this year's Golden Globes. Leading the pack were Ex Machina and The Danish Girl's Alicia Vikander in a ruffled, subtly sequined Louis Vuitton pinafore; Laverne Cox in a high neck and cascade of a train; and Taraji P. Henson in a Cookie-worthy strapless joint with a back panel she periodically whipped to her side like a matador's cape. The latter two wore enormous green jewels in their ears, making good use of their neutral dresses.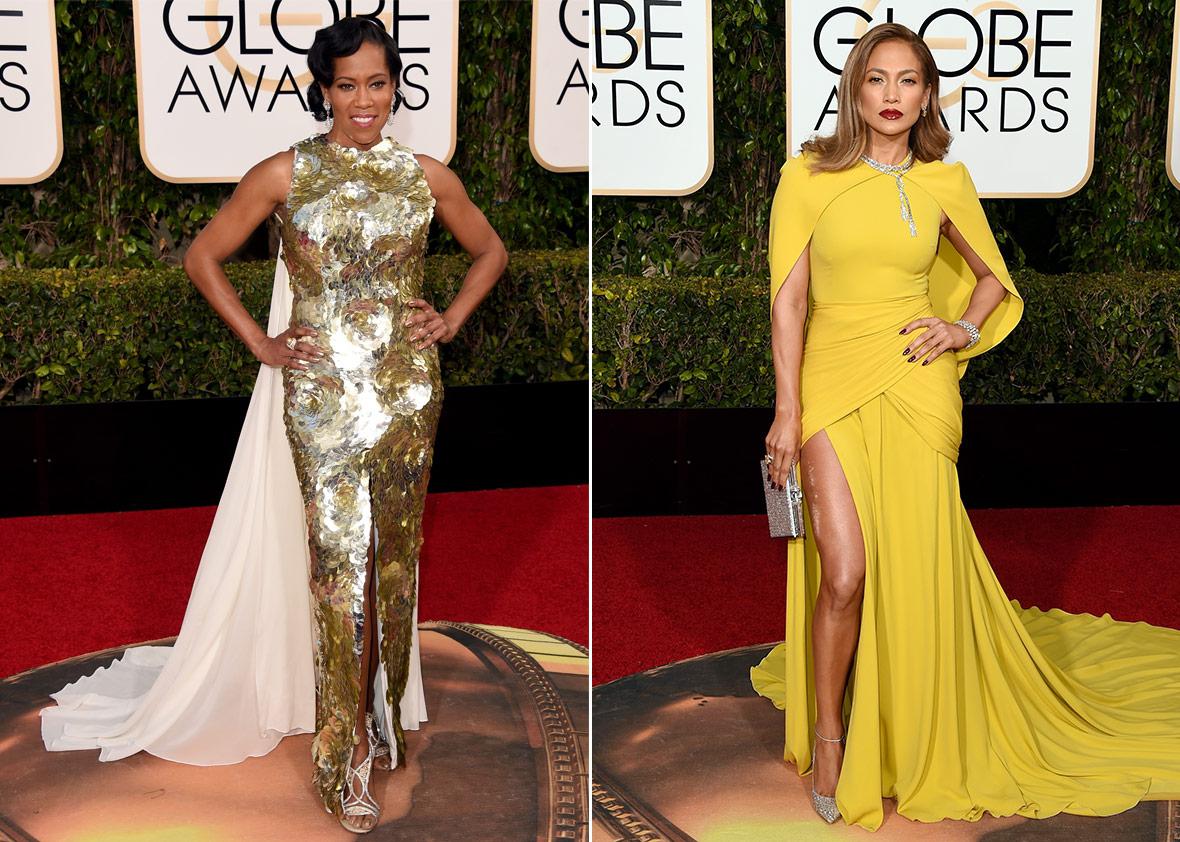 Regina King cosigned Henson's superhero trend with a flowing white cape trailing a dazzling gown of gold paillettes in a sporadic pattern that swirled into shapely rosettes. Better suited for the mid-50s Los Angeles weather: Jennifer Lopez's over-shoulder cape with an exquisite asymmetrical clasp. Lopez's deep red lips and goldenrod gown were my favorite color pairing of the night.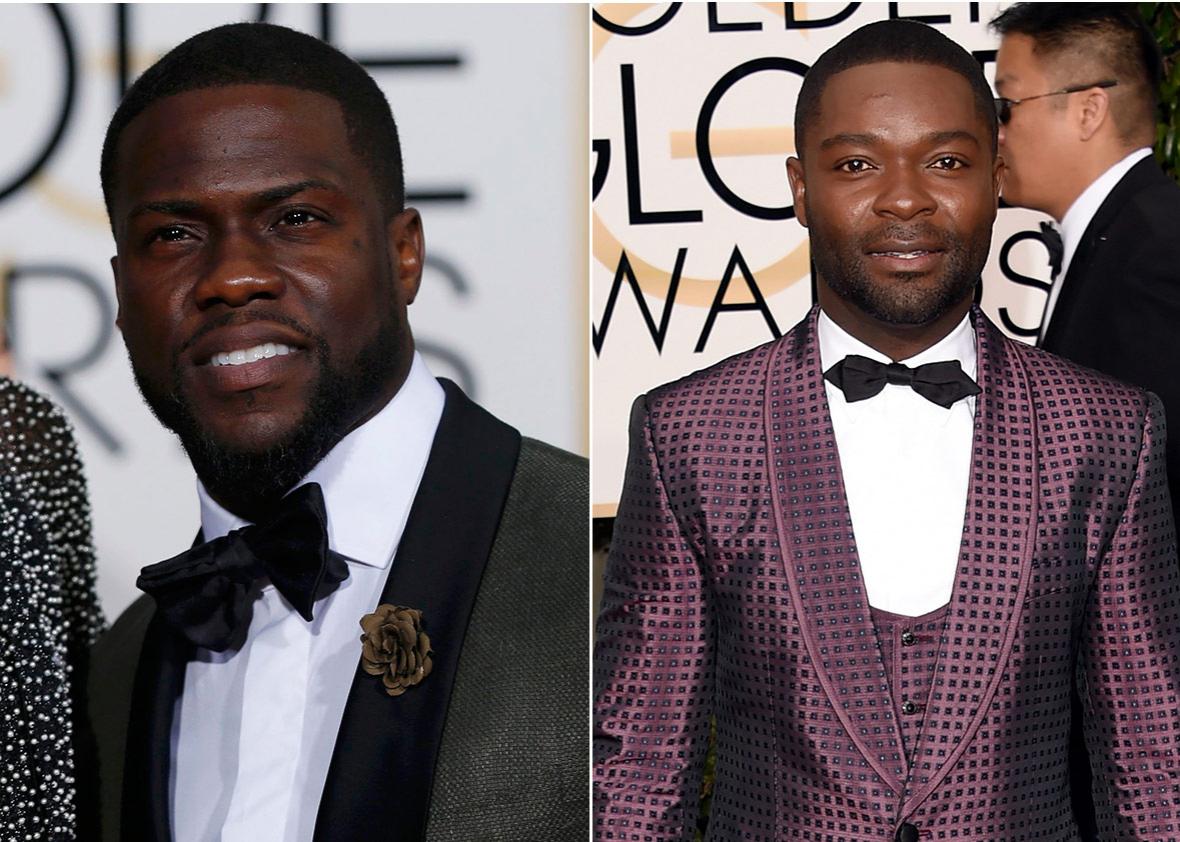 As per usual, most of the men wore basic black or blue, making Kevin Hart's putty tux with a brown satin rosette and David Oyelowo's shimmering mauve three-piece easy—but still deserving—standouts. Oyelowo has been a reliable red-carpet fashion plate, with a sangfroid that makes his bold color choices read like new classics.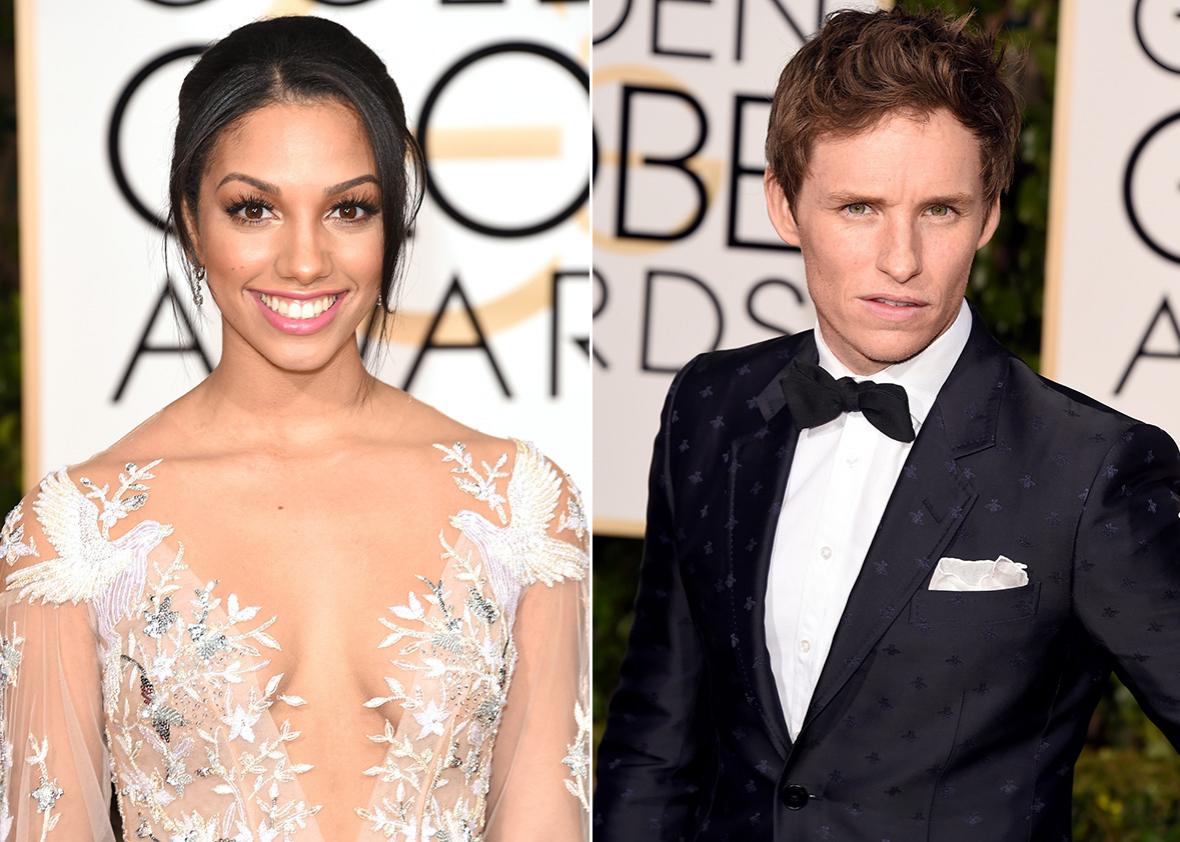 Ditto Eddie Redmayne, whose deep blue suit was dotted with miniature bees monochromatic and somber-toned enough to steer clear of tweedom. Miss Golden Globe Corinne Foxx wore her wings with more extravagant flair in a sheer rose number bedecked with sparrows, which made what could have looked like a page of flash tattoos into a spectacle worthy of her considerable stagetime. (Foxx has a certifiable thing for bird-themed dresses.)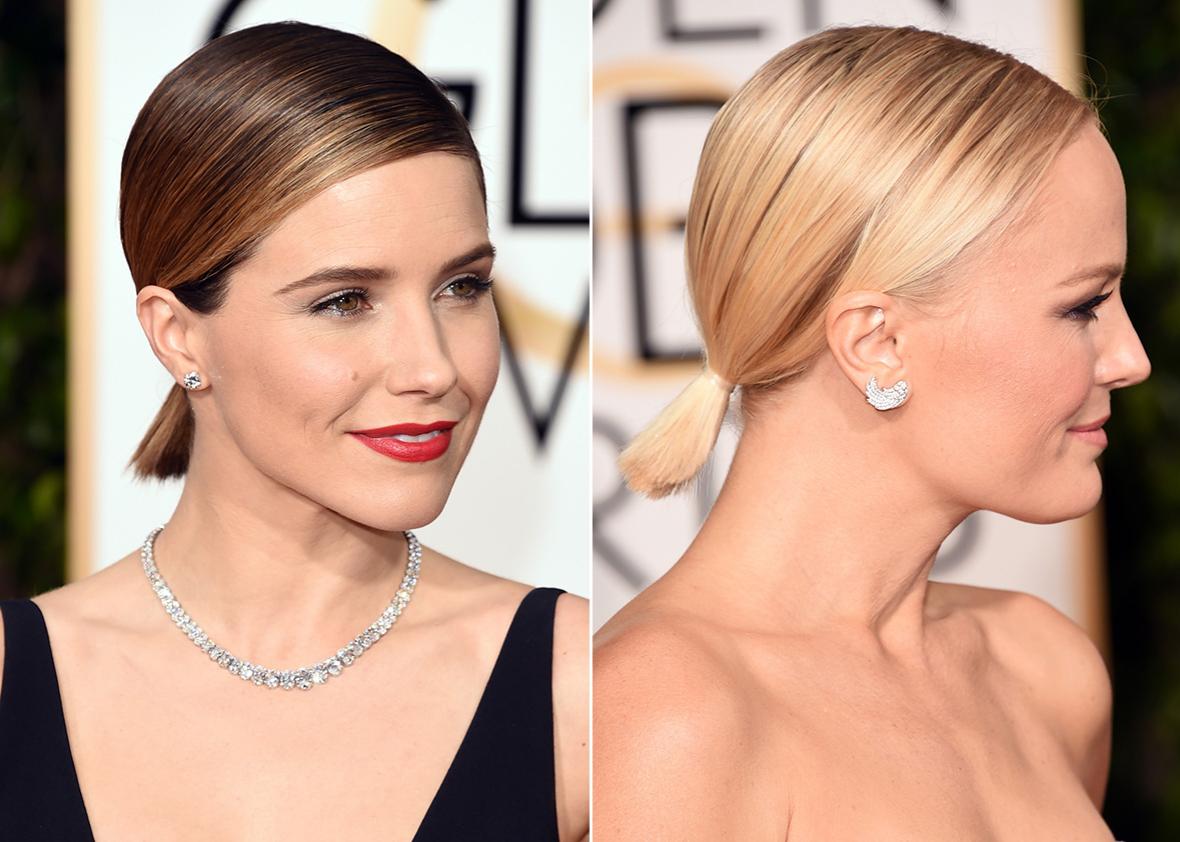 On the hair front, Sophia Bush and Malin Akerman looked sharp in slick, short low ponytails that made me want to grow out my bangs, and precocious Room star Jacob Tremblay proves that the dapper train knows no age limit.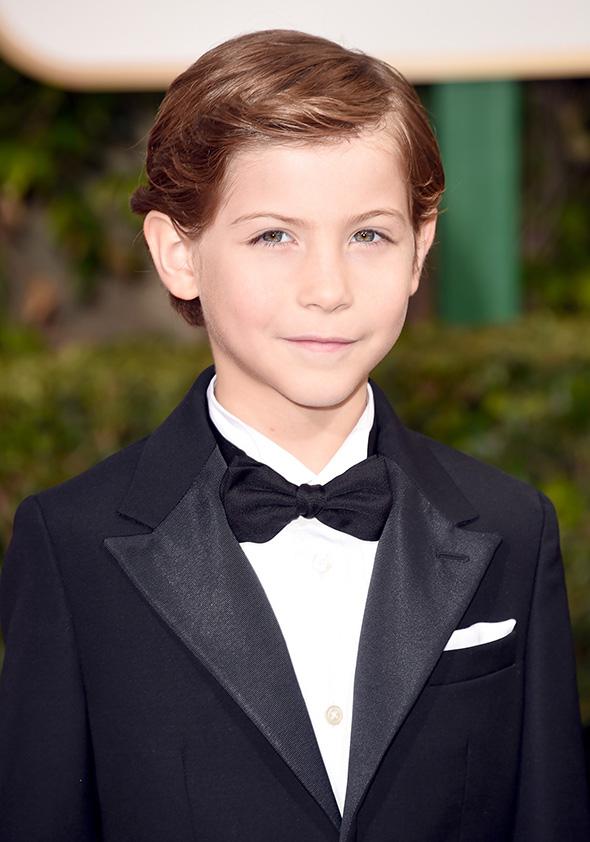 If there's one trend we could have done without this year, it's the shabby. See: Gervais' blustering strut in sunglasses and no tie, plus Jill Soloway's otherwise dashing pink suit with pinstripe shirttails waggling out from under the jacket hem. Fashion's a fickle game, but a good old-fashioned tuck and button never goes out of style.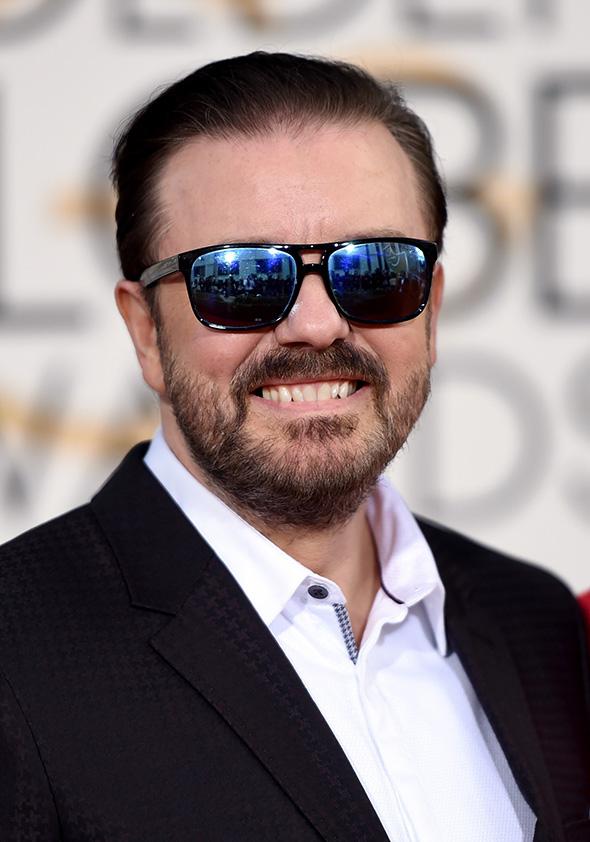 ---