Johnny Manziel might not be the first athlete you associate with eloquence and suavity. You ought to reconsider. Since he swaggered into the NFL with a Bobby Layne gleam in his eye, Manziel has said "all the right things."
Before the 2014 NFL draft, Manziel assured teams at the league combine that his party-boy ways were behind him. "He's saying all the right things. … But I don't know about him," one coach noted.
Cleveland Browns coach Mike Pettine explained that Manziel said "all the right things" before his rookie year about competing with quarterback Brian Hoyer. After Manziel's first start, a 30–0 loss to the Bengals in December 2014, he "said all the right things," USA Today reported.
When the season was over, teammates questioned whether Manziel's head was in football. He checked into rehab. "Manziel keeps saying all the right things about maturing, but now he must do it," the Washington Post noted.
Upon returning to the Browns, Manziel found himself sandwiched between all the right things. First, he was required to say "all the right things" about being humbled and grateful for another chance. Etiquette also compelled Manziel to say "all the right things" about sitting on the bench, even though starter Josh McCown was dreadful.
Manziel became the permanent starter in November. Pettine, again, told the media that his prodigal quarterback had said "all the right things." When an Instagram video cost him the job a week later, an "Open Letter From Cleveland Media" reminded Manziel, "You've said all the right things," before going on to chastise him. On Dec. 13, Manziel was back as the Browns' starter and beat the 49ers. "Manziel said all the right things to reporters," wrote the San Antonio Express-News.
Manziel was apparently wearing a disguise in Vegas just before the Browns played their final game. In January, a Cleveland Plain Dealer columnist compared Manziel unfavorably with the Cavaliers' Tristan Thompson. Thompson had his own friction—a contract standoff—but "he kept quiet," the columnist wrote. "He stayed in shape. When he signed right before the season opened, he said all the right things."
Manziel could argue, with dozens of press clippings as evidence, that he has done nothing but say the right things. His problem was that he did all the wrong ones. Which brings me to my point. Sportswriters seem to have a hard time telling the difference.
* * *
Every so often, an irritating word or phrase belly-crawls its way into the sportswriting lexicon. First, there was upside. Then journey. Then—rising from the grave thanks to Sunday's Carolina-Seattle game—"it was a tale of two halves." Now, we have "all the right things," and I fear only the shame of a perp walk will make it go away.
What kind of sportsmen say "all the right things?" Heroes (Carson Palmer). Goats (Blair Walsh). Benched players (DeMarco Murray). Frenemies (Bryce Harper and Jonathan Papelbon). Owners (Mikhail Prokhorov). Team execs (Jerry Colangelo). League execs (Joe Torre). "City and county leaders" (of cursed San Diego). Whole teams say all the right things, from the Denver Broncos to the Colorado State University–Pueblo ThunderWolves.
Since I started counting in October, sportswriters have used "all the right things" more than 100 times. The phrase infiltrated publications from ESPN.com to the Yakima Herald, and countries from England to Botswana. A couple years ago, slugger Yoenis Cespedes said all the right things … in Spanish. Cespedes remains a free agent, but Jeff Luhnow, the general manager of the Astros, has been saying all the right things about opening the team's pocketbook. So you never know.
Tracking "all the right things" (ATRT) reveals a human centipede of etiquette stretching through the sports world. Before the college football playoff, Alabama players were saying ATRT. So was Michigan State: "Players and coaches said all the right things during media day." After Bama completed its 38-point whupping, Crimson Tide cornerback Cyrus Jones said ATRT. Back in November, after losing to Bama, LSU's Leonard Fournette put up a brave front of ATRT. And what else could the Michigan Wolverines have said after their gut-wrenching loss to Michigan State in October?
James Harden said ATRT about Ty Lawson joining the Rockets; Lawson said ATRT about joining the Rockets, too. In October, Red Sox chief Dave Dombrowski said ATRT about Hanley Ramirez playing first base next season. A month later, we learned, via Dombrowski, that Ramirez had said ATRT about the move. So I guess that's settled.
Now, Bryan, you might argue: Maybe all of these athletes are saying the right things. Maybe every word in every press conference comes out just like the team PR guy drew it up. I'd counter by noting that players who say all the wrong things—Alex Rodriguez, Ray Rice—also say "all the right things." In the last year, reporters had noted idiot Greg Hardy saying all the right things. Twice.
Most sportswriting clichés can be ignored. The ones worth prodding are the phrases that reflect the anxieties of the profession. So it goes here. When a sportswriter records an athlete "saying all the right things," he is saluting the athlete for lying to him.
* * *
ATRT was probably born in other sections of the newspaper, under similarly dismal circumstances. In 1958, the Associated Press reported Nelson Rockefeller saying "all the right things" about being re-elected governor of New York, when Rocky's eye was clearly on the presidency. A year later, Samuel Goldwyn—the Yogi Berra of movie moguls—said all the right things on the occasion of his 80th birthday.
Soon, ATRT became a sacrament of the sports page. In a 1968 game against the Dodgers, Bob Gibson threw a wild pitch in the first inning, allowing a run to score and costing him a record sixth straight shutout. What happened in the locker room was a typical ATRT transaction. You'd expect Gibson to be pissed. But according to the UPI's Vito Stellino, Gibson "said all the right things"—i.e., "the important thing is to win the game."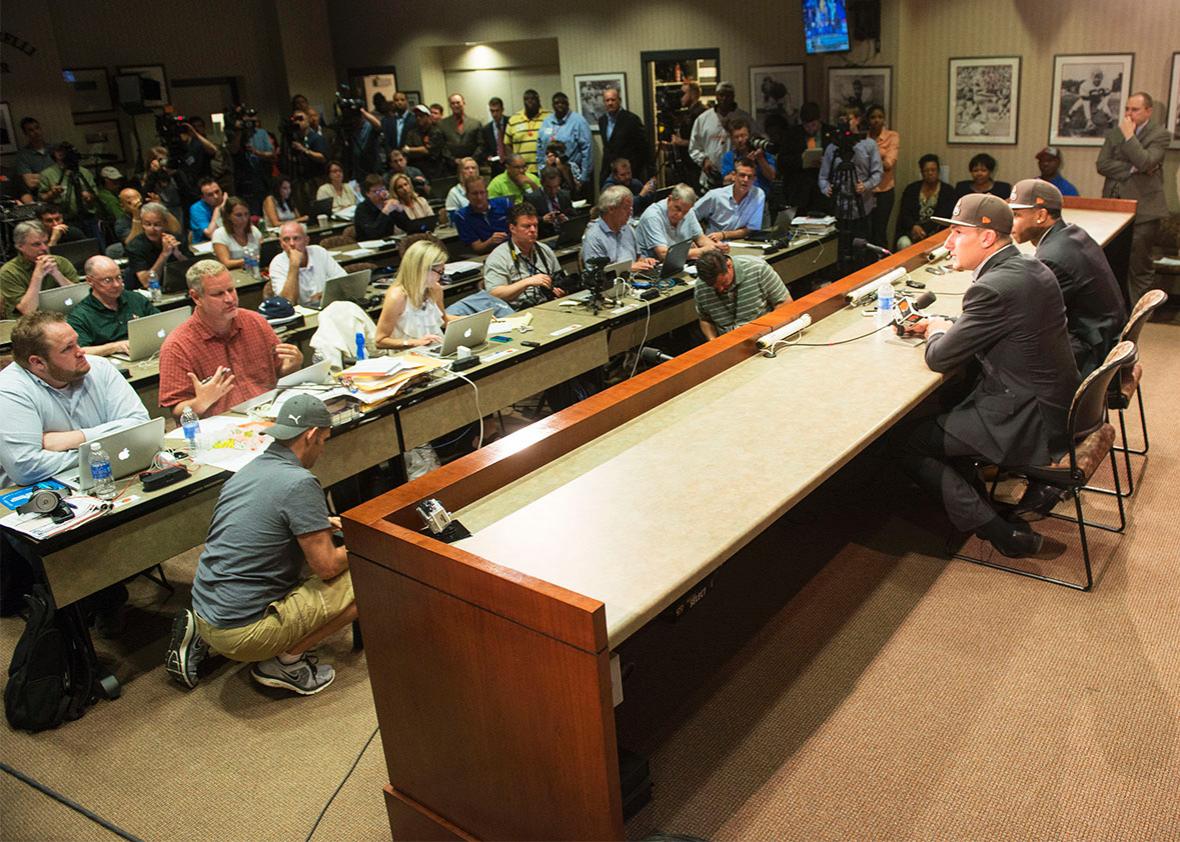 ATRT flourishes at certain events, like coaches' introductory press conferences. New hires are happy occasions. Only an idiot or Jim Tomsula wouldn't say all the right things. If the team sucks, the coach promises to "change the culture." If the team is great, he vows not to futz with "what works." The new coach won't rule out anything ("We'll make trades if we think they'll help us"), but he won't do anything rash, either. He might share, at the press's prodding, his feelings on the franchise's long tradition (or else its huge potential). This is a time for beat sweeteners.
Fans soon learn that a coach's ability to say the right things has no connection to lead the team. In 1991, new Timberwolves coach Jimmy Rodgers's ATRT offertory included calling Minneapolis–St. Paul "God's country." Rodgers won 21 games and was fired after a year and a half. In 2005, first-year Florida coach Urban Meyer bragged that his players were "role models"—they were "living right." Meyer said ATRT, a columnist noted. A few years later, Meyer was skewered for recruiting the Aaron Hernandez All-Stars.
Saying all the right things is a great way to suppress news. Players that are benched say ATRT to claim, preposterously, that the benching doesn't really bother them. See: Peyton Manning, Cardale Jones, and DeMarco Murray. Later, it was reported that Manning would retire rather than be second-string, Jones left Ohio State for the pros, and Murray complained to the Philadelphia Eagles' owner about Chip Kelly not feeding him the ball.
Benched players who regain their jobs say ATRT to let us know they're no longer bothered by what they denied being bothered by in the first place. In 2000, the AP noted that reinstalled Chargers quarterback Ryan Leaf has "been on his best behavior, and has said all the right things."
ATRT is the song of a rookie who's waiting his turn, like Kansas freshman Cheick Diallo. It's the don't-jinx-me mantra of a player who's chasing a record, like Bayern Munich striker Robert Lewandowski.
A player who wants to be traded says ATRT. For in a sportswriter's moral universe, it's OK to have an agent turn the screws on management, but it's not OK for a player to turn the screws himself. (That would make him a "distraction.") So we hear ATRT from Boogie Cousins, Brandon Jennings, and Markieff Morris, whose irritation started when Phoenix traded away his twin brother, Marcus. "Markieff said in a series of tweets that he too would not be with the Suns this season," reported the AP. "But here he is, and he's said all the right things, that he will improve as a player 'with or without my brother.' " Yeah, sure.
When a player is a few months from becoming a free agent, he often says ATRT about re-signing with the home team, whether he intends to or not. The Blue Jays' David Price—now with the Red Sox—was awfully good at this. Of course, Toronto management—trying to placate the same fan base from the other side of the bargaining table—said ATRT about re-signing Price.
If your team suffers a tough loss, you say ATRT as you mourn—see the Astros after their Game 4 meltdown in the ALDS. But if you notch a big win, you also say ATRT—see Navy's Keenan Reynolds after beating Army.
A player returning to the field after a controversy—crime, PED suspension, whatever Manziel does next—is also expected to say ATRT. Take Barry Bonds, the new hitting coach of the Miami Marlins. "During a recent conference call, Bonds said all the right things in the proper deferential tone," ESPN.com reported. "He has ample reason to be grateful." I'm not sure what's more naïve: expecting the all-time home run king to genuflect before the writers or believing that Bonds actually means it.
* * *
Why do sportswriters have players saying ATRT? One theory is that the cliché is basically accurate: These days, players really do say all the right things. Listen to Jordan Spieth charm reporters after a round and try to think of a better description.
ATRT, then, is a sign of the new locker room interaction: A reporter digs for news while an athlete ferociously sticks to the script. Nothing illustrates this like the historic meeting of the minds that occurred between Cal Ripken and Derek Jeter. Ripken, of course, was baseball's longtime voice of genial deflection. ("As usual, Cal Ripken said all the right things," Ken Rosenthal once wrote.) Faced with New York writers, Jeter charted his own elliptical path. ("[T]here's little doubt Jeter himself will play it just right, saying all the right things about all the right people.")
A couple of years ago, when Ripken was doing analysis for TBS, he was dispatched to interview Jeter about playing shortstop. This'll be easy, Ripken thought. It turned out to be the Brady-Manning of ATRT. Jeter parried. He cooed polite, inoffensive things. "I wanted to take him some place in the questions," Ripken told me later, "and his answers just stopped me. … It almost made me go onto another question. I think he is excessively skilled." There are passing-of-the-torch moments in sports, to use another durable cliché, but there are few as mind-blowing as that one.
* * *
At its most defensible, ATRT is a meta shorthand for "the player said exactly what you'd expect him to say." Or: "There's a story there, but I couldn't get it."
In most cases, I'd argue, the pap should just be ignored. After the November Paris terror attacks, a Boston Globe editorial intoned, "World leaders said all the right things." It would only be news if they hadn't.
At its worst, ATRT signals that a sportswriter is thinking like a PR guy. We don't want illuminating awkwardness but unilluminating tranquility. Thus, a player who reveals himself to us (or, worse, reveals himself to another media outlet) is immediately suspect. Didn't he know the talking points?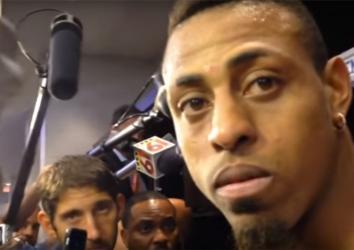 Consider the saga of the Cowboys' Greg Hardy, who allegedly once threw his partner onto a couch covered in assault rifles. The Cowboys signed Hardy in March. "Jerry Jones is saying all the right things about meeting Hardy and giving him a chance, etc.," MMQB's Andrew Brandt wrote. "The optics, however, are not good."
Note that Jones allowed Hardy to skip his introductory press conference—something that's nearly unprecedented for a big free agent. So Jones' way of saying ATRT was to allow Hardy to say nothing at all.
By May, Hardy was talking, but only in homilies about how great a player he was. The site Blogging the Boys noted that Hardy was "certainly saying all the right things."
On Oct. 6, Hardy gave a now-notorious interview at his locker in which he said he hoped to come out "guns blazing" and praised the hotness of Tom Brady's wife. FS1's Katie Nolan responded with a much-lauded piece on Hardy, noting correctly that Hardy is a cretin. But Nolan added that she had a PR degree, remarking, "Greg Hardy had to pretend to respect women for 12 minutes. Just 12 minutes. And he couldn't even do that. And, what's worse, no one stopped him."
Translated: Why didn't Hardy just say all the right things?
Why would anyone—especially a reporter—want to hear well-tended lies? This is something you see a lot in sportswriting: We fill in our scorecards based not on who a player is but on how masterfully he fulfills the PR demand of the hour. Thus, Hardy's interview is called "tone deaf" rather than just repugnant, and he's contrasted with domestic abuser Ray Rice who, in the Washington Post's formulation, has been "saying all the right things."
Back to Hardy's locker. A reporter with Dallas' CBS station stood there, listened to his bilge, and filed this passage: "Hardy has said all the right things to the press this week and seems ready to help the Cowboys defense improve. 'I hope I come out guns blazin',' Hardy said."
This, finally, was the moment when ATRT lost all meaning—when sportswriting became Mad Libs. We might tolerate the rare use of "all the right things." We should never tolerate it when it's wrong.