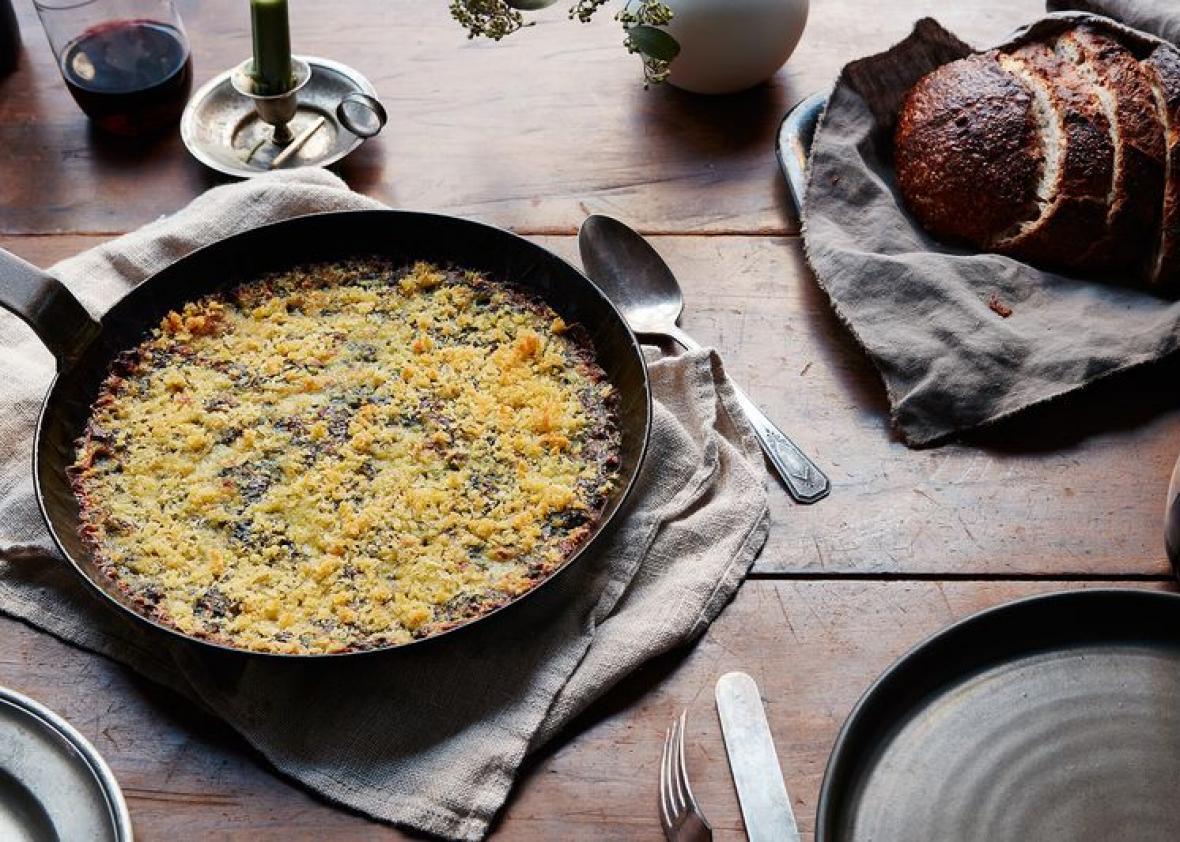 This post originally appeared on Food52.
When you think of creamed spinach, I'd bet you think only briefly of spinach, and more palpably about the cream wrapping every leaf like a thick fur coat. What you imagine probably doesn't taste much like spinach, or much like anything.
It's a nice side. Delicious! But, frankly, a little low on personality. I'm not sure how creamed spinach found its place as a go-to buddy for beef, but both deserve better.
Laurie Colwin's now-famous recipe hops away from the usual steakhouse bellyweight in a number of important ways. As she tells it in Home Cooking, she altered her version a bit from one served to her in Dallas during a literary festival by a cook named Betty Josey. "It was so good it made me want to sit up and beg like a dog," Colwin wrote, and a generation of bloggers was stirred to make it.
First off, Colwin calls for two packages of frozen spinach, which means you won't need to shuffle an ungodly amount of fresh spinach from blanching pot to strainer to tea towel, wringing it all by hand. You'll also be able to jam a whole lot more spinach in, without the risk of waterlogging the casserole. (Don't try to get fancy here—many clamshells of fresh spinach later, you'll regret it.)
Instead of cream, the glue that holds the frozen spinach together is a mix of the spinach cooking liquid and canned evaporated milk, slightly thickened with a basic butter and flour roux, plus Monterey Jack cheese, which Colwin has you cube instead of shred. This changes the game for people who hate shredding—I may never do it again!
All of these flow together, carrying flavor more nimbly than cream, especially once you add in the not-secret but surprising ingredient: jalapeños, pickled or fresh—"(how many is a question of taste as well as what kind. I myself use the pickled kind, from a jar)," Colwin wrote. I liked fresh best (only barely), but both give it a feisty Southwestern tilt that makes the spinach and everything around it taste wilder, fuller, and nothing like cream.
You might be thinking this sounds a little like spinach artichoke dip and, yes, it would be very good smeared on a cracker or piece of baguette. But the density of spinach makes it meatier, so that the next day it's an even better main dish, with a fried egg on top. You can't do that with dip.
Season and perishability have no bearing on the outcome of this recipe—you could probably buy the ingredients for this a month ahead and you'd be fine. This is a special comfort in the winter, when you want to shop only on the strangely sunny days, not the normal, wintry ones.
That said, if you don't have one thing, you can make do—you don't want to keep cans of evaporated milk around just to use 1/2 cup in this recipe, any mix of cream and milk will work; you want to use Gruyère, great; you don't have celery salt, fine.
But the frozen spinach and jalapeños need to stay.
Laurie Colwin's Creamed Spinach
Serves 6-8
2 packages frozen spinach
4 tablespoons butter
2 tablespoons flour
2 tablespoons chopped onion
1 clove garlic, minced
1/2 cup evaporated milk
1/2 teaspoon black pepper
3/4 teaspoon celery salt
6 ounces Monterey Jack cheese, cubed
Buttered bread crumbs (I used 1/2 cup breadcrumbs mixed with 2 tablespoons melted butter)
See the full recipe at Food52.
More from Food52:
This Is the Ideal Vegetarian Main Dish for Dinner Parties
The No. 1 Use for Thanksgiving Leftovers: Strata
Give Any Dish a Kick in the Pants With Vegan Mushroom "Jerky"
The Ultimate Cheesy, Eggy Breakfast Requires Only Two Ingredients
A Fall Salad That Breaks (Most of) the Rules
Dinner Tonight: Roasted Chickpea Salad With Za'atar
---