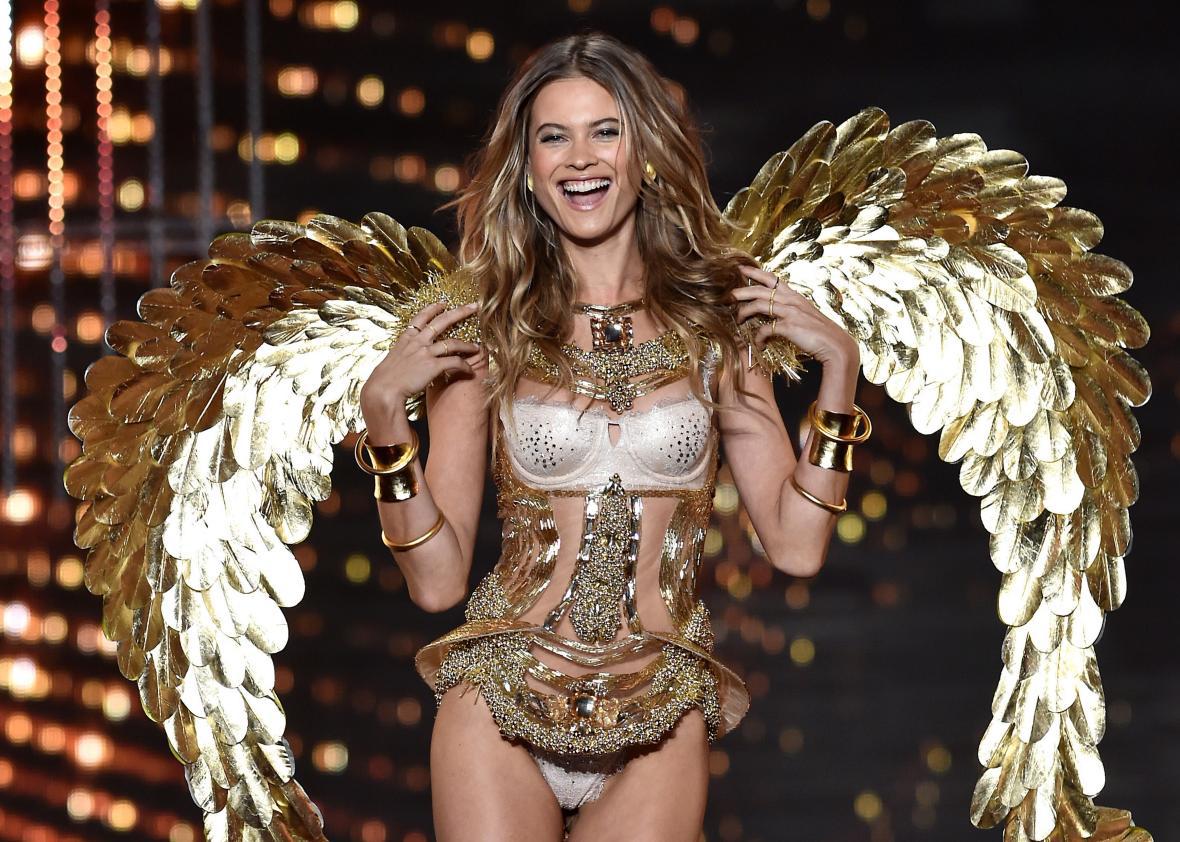 Tuesday night, the Victoria's Secret Fashion Show strutted onto CBS. There was music. There were lights. And of course, elaborately constructed wings abounded. But the centerpieces, needless to say, were the Victoria's Secret models—or, as they're more commonly known, the Angels. Adriana Lima; Alessandra Ambrosio; Lily Aldridge; Behati Prinsloo; et cetera. Oh, and Kendall Jenner was there, too. The Weeknd, Ellie Goulding, and Selena Gomez provided background music. The show's narration—especially its introduction—seems at odds with the interstitial segments. While the former emphasizes how many eyes are on the Angels at all times, and plays up their larger-than-life status, the latter tries to bring them back down to earth and convince us that we can relate to them.
As they took their first turn on that runway, Pat Benatar's "Heartbreaker" narrated their steps. This is "the Superbowl of fashion," watched in 192 countries, a voiceover tells us. "I have fans speaking in all different languages," says Lily Aldridge. "It's just incredible, the reach that this gets." "It's like performing in front of the whole world watching," says Behati Prinsloo. She later adds that VS touts its models as something "almost bigger than life."
But as the show goes on, we're treated to a conflicting message: "Angels! They're just like us." The girls suit up in workout gear and admit that, no, they didn't get these bodies just from "good genes." No kidding. They all discuss their workouts—which include boxing, weight training, pilates, and squats, though they carefully avoid any unseemly mentions of diet. Shockingly, they also assert that they don't in fact look this sexy when they work out. "I totally think we're athletes," says Jasmine Tookes. "I mean, we have to work out all the time, just like an athlete. It feels like we're training for, like, the Olympics. You know, the amount of hours we put in right before the show."
In another segment, clad in silky red robes and bras, and sitting on a set flooded with white, glittery, furry things, the women open presents. All the boxes turn out to contain childhood photos, which serve as pegs for cute, relatable anecdotes. Candice Swanepoel recalls her days of being dragged into "boy's activities." Prinsloo giggles about starring as Mary in a Christmas play. Aldridge remembers her uncle remedying her snowless Southern California winter by driving snow down in a pickup truck. The girls then coyly debate whether they've been naughty or nice this year.
Sure, these segments are just transitional filler to beef up the broadcast . But it seems unlikely that most people tuning in are deeply invested in the question of what role Behati Prinsloo played in her Nativity childhood holiday pageant. CBS would have been better off picking a lane, instead of opting for contradictory messaging: On one hand these women are, sort of, just like all of us—they have to work their butts off (literally) before they can flounce down the runway in boy shorts and a crop-top corset. On the other hand, they're angels.
---