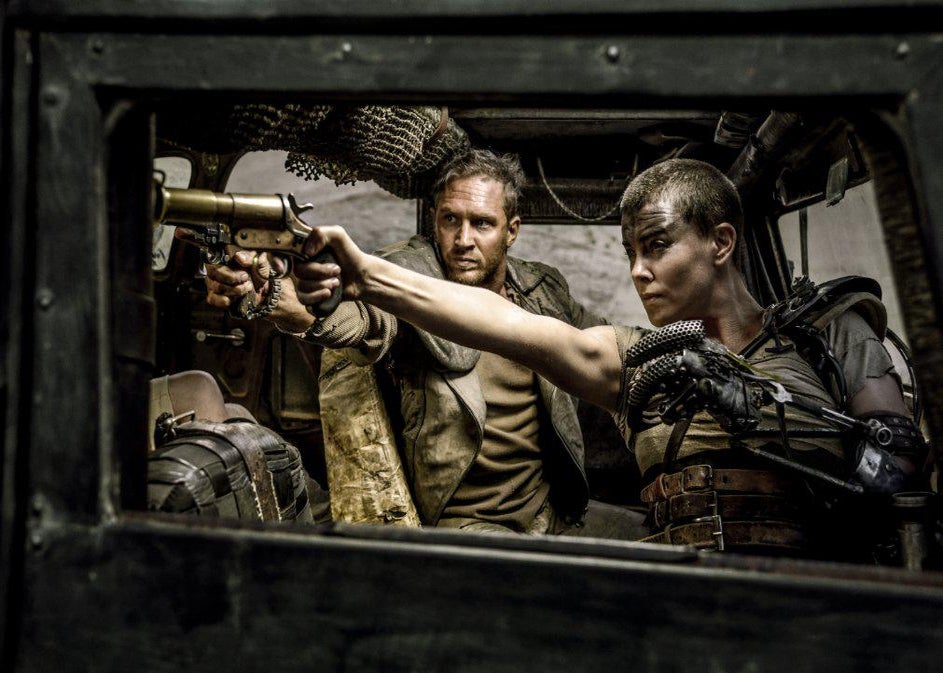 Despite the fact that, in 2009, the academy increased its number of possible Best Picture nominations from five to 10 largely in an effort to correct for what was generally perceived as a snub of The Dark Knight, it's still rare for a critically acclaimed summer action blockbuster to be remembered come awards season time. As summer has turned to fall, and studios have rolled out their prestige films, Mad Max: Fury Road has appeared to be destined for a fate similar to the Dark Knight's, sitting outside of the awards conversation, bandied about mostly as a long-shot, or wishful thinking.
Until now. The National Board of Review has named George Miller's pulsating (and feminist-leaning) reboot of his beloved franchise the Best Film of the year—a major feat in a season that has left everyone unable to speculate about much else outside of Spotlight and The Revenant. Over the last few years, the NBR's choice for the top prize has usually landed a Best Picture nomination at the Oscars, which could be a great sign that much more pomp and circumstance awaits Mad Max down the line.
Yet fans may not want to get their hopes up too high yet—the NBR awards overall shouldn't really be seen as a predictor for how the nominations will ultimately line up. Unlike, say, the SAG or DGA awards, whose voting collectives overlap with the academy's, the makeup of the NBR voting body is mysteriously kept under wraps. The only thing we know about them is that they are made up of "film enthusiasts, filmmakers, professionals, academics & students" (according to their website)—we have no idea how many (or if any) of those who voted for Fury Road in this instance will also turn out to vote with the academy. It's also worth noting  that the NBR's Best Film in 2014 was A Most Violent Year—a film that was completely snubbed by Oscar.
So what does this all mean? Well, maybe it will give Fury Road a boost, and maybe it won't. But those who had lost hope that the movie had any serious chance at picking up major awards should take comfort in the fact that some critics do love it, and may have just helped to push it back into the conversation.
You can check out the full list of winners, which includes Sylvester Stallone for Creed and Brie Larson in Room, below.
Best Film
Mad Max: Fury Road
Best Director
Ridley Scott, The Martian
Best Actor
Matt Damon, The Martian
Best Actress
Brie Larson, Room
Best Supporting Actor
Sylvester Stallone, Creed
Best Supporting Actress
Jennifer Jason Leigh, The Hateful Eight
Best Original Screenplay
Quentin Tarantino, The Hateful Eight
Best Adapted Screenplay
Drew Goddard, The Martian
Best Animated Feature
Inside Out
Breakthrough Performance
Abraham Attah, Beasts of No Nation
Jacob Tremblay, Room 
Best Directorial Debut
Jonas Carpignano, Mediterranea
Best Foreign Language Film
Son of Saul
Best Documentary
Amy
William K. Everson Film History Award
Cecilia De Mille Presley
Best Ensemble
The Big Short
Spotlight Award
Sicario for Outstanding Collaborative Vision
NBR Freedom of Expression Award
Beasts of No Nation
Mustang
---