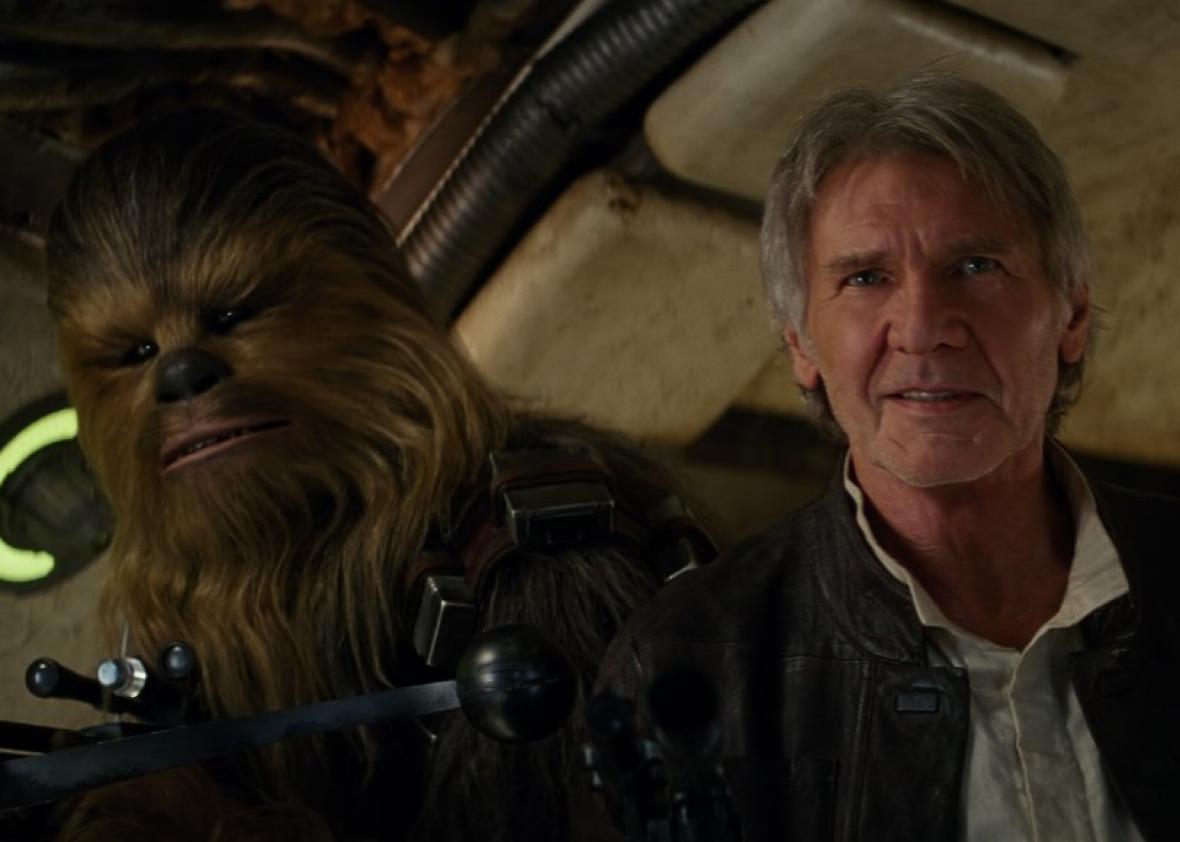 The Force Awakens has finally screened for critics, and the reviews are pouring in. As fans eagerly await opening night, questions inevitably loom. And chief among fans' concerns, of course, is whether all the hype and mysterious marketing have shrouded what is actually a terrible movie that has more in common with The Phantom Menace than A New Hope. Here's what critics have to say: No spoilers, but the movie is a return to the original trilogy's legacy, and it does not disappoint.
Charlie Jane Anders, io9: The Force Awakens passes the "grin test"—that is, there were at least half a dozen moments while watching this film that I found myself grinning like a maniac.
Peter Bradshaw, the Guardian : The Force Awakens is in touch with the force of action-adventure and fun. My only tiny reservation, which I will get out of the way now, is with a tiny new droid who has a bit of a Scrappy-Doo vibe about him.
Terri Schwartz, IGN: On both a macro and micro level, this movie wants to pay its respects to its predecessors, but when the new elements of The Force Awakens are the most engaging, it leaves you excited for the next movie when those shackles to what came before have been removed and the franchise can fully play in this new world.
Todd McCarthy, Hollywood Reporter: What perhaps goes missing in The Force Awakens … is the key magical element that Lucas slipped into the first three films, that of the Joseph Campbell-derived aspects of myth that may have been the secret ingredient that allowed them to connect so strongly with viewers initially.
Bryan Bishop, the Verge: Without giving too much away, I will say The Force Awakens actuallyfeels like Star Wars again, more so than any film since 1983.
Justin Chang, Variety: All in all, the script leans rather heavily on exposition to fill in the 30-year gap between the events of this film and those of Return of the Jedi; one longs to get up to speed, but in subtler, less long-winded terms.
Manohla Dargis, the New York Times: Among the strongest creations of Team Abrams, Kylo Ren is a kind of baby Darth Vader who throws tantrums in inky-black robes while wearing a leather-and-metal-head appliance that looks like a domination mask by way of the grille of a 1952 Chevy.
Stephanie Zacharek, Time: For awhile, watching The Force Awakens, it's enjoyable enough to sink into the film's relatively low-tech production design. Everything looks a little dusty and dirty, including BB-8, whose white-and-orange chassis is so smudged you could almost write "wash me" on its surface with your finger—it's a marvelous touch.
Jordan Hoffman, the Guardian: Its script is ludicrous, riddled with coincidences and a fealty to existing text that a less forgiving person might call lazy. Yet I can't wait to see it again.
James Verniere, Boston Herald: A key to this film's success is the return of the levity that marked the original trilogy and was sorely missing from the solemn and self-important last three movies. … Ford is as good with zingers as he is with blasters.
Adam Rogers, Wired: This is a Star Wars with blood and guts and pain, of villages massacred and children abandoned. Stormtroopers are no longer clones; they're brainwashed humans. And they're monsters.
Chris Nashawaty, Entertainment Weekly: One of my biggest beefs over the years with Abrams as a filmmaker has been that as masterful as he is at setting up worlds you want to visit and mysteries you want to untangle, he falls short with the payoff. … But the ending he's come up with here feels so note-perfect it's hard to imagine it any other way.
Pete Hammond, Deadline: [Harrison] Ford really seems to be relishing the return of Solo, and he's a natural in this encore even if he's over 70 now (much like Sylvester Stallone in Creed).
Alynda Wheat, People: Granted, director J.J. Abrams leans a little heavily on the nostalgia, but given all he had to accomplish in this massive franchise reboot, can you blame him?
Read more in Slate about Star Wars:
---