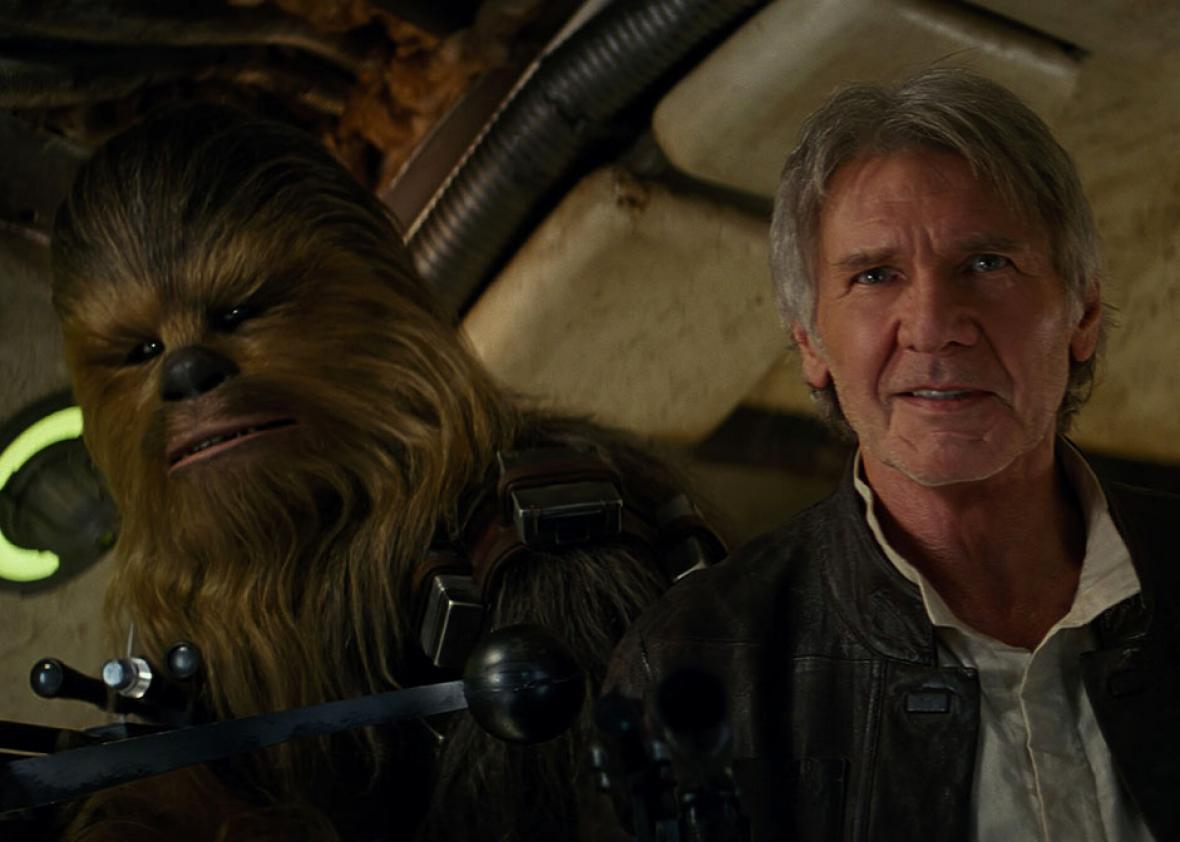 The driving force in culture this week? Star Wars, of course. You'd have to be living under a Millennium Falcon to think otherwise.
The Force Awakens reinvigorates Star Wars for the 21st century, Slate's Dana Stevens declared in her review of the film: The new leads create unique mythical personas, holding their own against the old guard. Here's what other critics are saying. If you're in the mood for a deeper dive into Star Wars' legacy, Forrest Wickman went long on how the original 1977 film not only set the template for action blockbusters but incorporated other storytelling tropes and imagery to become the movies' first postmodern masterpiece. Plus, the new movie's got the best acting of any of the Star Wars movies, remixes the extended Star Wars universe, and contains references aplenty.
Light-speed round! John Swansburg wrote a guide to finding the perfect Star Wars quote for any situation. Alan Siegel revisited the crazy 1980 Boston Pops concert that introduced Darth Vader's theme song. Chris Kirk compared how its ships stack up to others in the sci-fi universe. Chris Suellentrop played the new Star Wars Battlefront video game. And Laura Bradley asked whether a Force Awakens–style animal-carcass sleeping bag is realistic: "I'd pull out the guts but keep the liver with me as a late-night snack," one biologist offered.
On the off-chance you want to read about something other than Star Wars, we've got you covered. The Music Club launched this week, with Slate's Carl Wilson leading a critical discussion of the year's best albums and songs, from Adele to Rihanna to Kendrick Lamar. In other news, Slate Plus kicked off its next Slate Academy: A Year of Great Books, a 2016 book club focusing on the classics, led by book and culture critic Laura Miller. Members can vote on the first selection, and nonmembers can join here.
More stories from the week in culture:
Just in time for the holidays, you can give the gift of a Slate Plus membership, our program of features and benefits for our most loyal readers.
To receive this roundup in your inbox every week, enter your email address below:
---