This post originally appeared on Food52.
I'm sure it isn't easy to be a spritz cookie. The underdogs of my family's Christmas dessert platter, the little green numbers sit amidst a heap of more impressive options; next to icing-drizzled, candy-studded, and intricately decorated competitors, it's no wonder the simple, Grinch-colored spritzes get picked last.
But every year without fail, once all of the other cookie offerings have been exhausted, my family falls upon the pile of wreath- and tree-shaped bits left over on the platter, only to find that it's impossible to stop. Right. This is why we make these. They are relatively plain and a bit off-puttingly verdant, but also crisp, buttery, addictive, and small enough to justify eating a forest's worth.
It's like accidentally saving the best for last.
Spritz cookies are the result of using a cookie press, a retro contraption that pushes dough through perforated disks to form cookies of all shapes.
My mother bought her first press — which we still have and use — from a drugstore when she was in eighth grade, after being totally enthralled by the one she used in her home economics class.
That Christmas, and every subsequent year, she made wreath-shaped spritz cookies for her family, keeping the dough its natural pale color but sticking a halved red (or green! yikes) maraschino cherry in each center.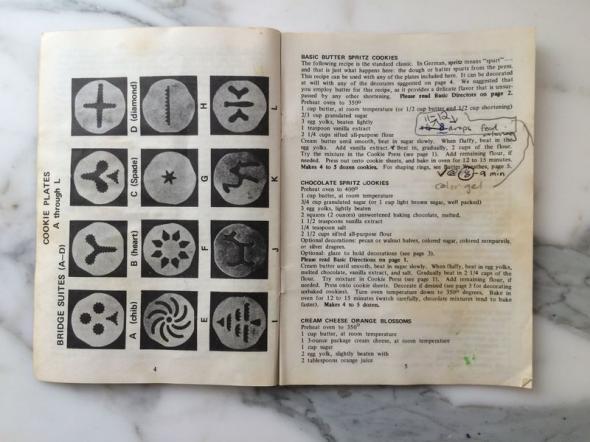 Dying the cookies green — and adding sprinkles! — came later, when she had kids and got festive (she also dyed the milk in our cereal green on St. Patrick's Day every year).
Using the press was a holiday baking activity that my sister and I could take on even at a young age, pushing the dough my mom had prepared through the slot and onto a baking sheet in kid-sized cookie portions.
The cookie press caught my mom's eye when she was younger because she'd never seen her mom use anything like it, but for me, it's the opposite: I've never had a Christmas without spritz cookies, and even as our dessert platter gets cooler and less traditional each year, I don't think I'll ever let one pass without making sure the little green guys are included.
I will definitely never subject my kids to green maraschino cherries, but I know for a fact they'll be spritzing too-fat trees and lopsided wreaths from a press onto a cookie sheet, no matter what new trends hit the Christmas cookie scene.
They might eat all the space age 3D ones first, but at the end of the night, they'll have saved the best for last.
Spritz Butter Christmas Cookies
Makes about 4 dozen
2 sticks (1 cup) unsalted butter, soft
1 cup white sugar
1 egg
2½ teaspoons vanilla extract
Green food coloring (liquid or gel)
2½ cups flour
½ teaspoon salt
Sprinkles or colored sugar, for decorating
See the full recipe at Food52.
More from Food52:
Root Vegetable Galette: Your Answer to Vegetarian Dinner Parties
A Non-Doughnut Fried Food to Eat During Hanukkah
How to DIY a Chanukiah for 8 Glowing Nights
The Easiest Way to Throw a Latke Party for a Crowd (and Still Have Fun)
A Jewish Tradition: 8 Chinese Takeout-Inspired Recipes for Christmas Day
5 Twists on Latkes