Following the grand tradition of contracting renowned authors to write comics, Dark Horse Comics announced yesterday that Margaret Atwood will pen her first graphic novel, Angel Catbird, to be released by the publisher next fall. Atwood said that, "due to some spilled Genetic Super-Splicer," her hero "got tangled up with both a cat and an owl; hence his fur and feathers, and his identity problems."
Angel Catbird will be the first of a trilogy that Dark Horse editor Daniel Chabon calls "a strange mix of The Spirit, Animal Man, and Squirrel Girl—a humorous, action-driven, pulp-inspired story" with "a lot of cat puns." Given Angel Catbird costs a mere $11, most Atwood fans have already pledged to buy the book. But even those skeptical of her prowess as a graphic novelist should preorder a copy, because it will probably be fantastic. Not only is Atwood's writing style perfect for an action-packed graphic novel, this isn't her first foray into comics—the woman knows what she's doing.
Atwood is a master of ambiance, of setting the scene, and of giving us just enough detail that we know there's more to learn—something to uncover. Consider, for example, the opening passage of her award-winning 1985 novel The Handmaid's Tale:
We slept in what had once been the gymnasium. The floor was of varnished wood, with stripes and circles painted on it, for the games that were formerly played there; the hoops for the basketball nets were still in place, though the nets were gone. A balcony ran around the room, for the spectators, and I thought I could smell, faintly like an afterimage, the pungent scent of seat, shot through with the sweet taint of chewing gum and perfume from the watching girls, felt-skirted as I knew from pictures, later in miniskirts, then pants, then in one earring, spiky green-streaked hair.
With a few sentences she foreshadows the novel's entire premise: A futuristic totalitarian society in which women have no autonomy (no perfume or green hair for you). Foreshadowing is perhaps even more important in superhero stories, in which subtle written and visual cues augur whole worlds of backstory. She'll undoubtedly use the same technique in Angel Catbird, keeping us guessing in the best possible way, and delivering just enough information about her mysterious hero to offer a few juicy plot twists.
Her action scenes, as evidenced early in her newest novel, The Heart Goes Last, are also wildly compelling:
Stan wakes at night thinking for a moment that he's home in bed, or at least in a bed of some sort. He reaches for Charmaine, but she isn't there beside him and he finds himself inside the stinking car, needing a piss but afraid to unlock the door because of the voices yammering toward him and the footsteps crunching on gravel or thudding on asphalt, and maybe a fist thumping on the roof and a scarred, partly toothed face grinning in the window: Lookit what we got! Cockfodder! Let's open 'er up! Gimme the crowbar!
And then Charmaine's terrified little whisper: "Stan! Stan! We need to go! We need to go right now!"
Her narrative barrels forward, offering a sequence of action so compelling it's impossible not to read to the end. It's easy to imagine this type of writing translated into dialogue boxes, captions, and the occasional lengthy prelude—hallmarks of any compelling graphic novel.
Perhaps most importantly, Atwood is a veteran when it comes to creating comics. She regularly publishes autobiographical comics about her book tours and interviews that are, frankly, hilarious.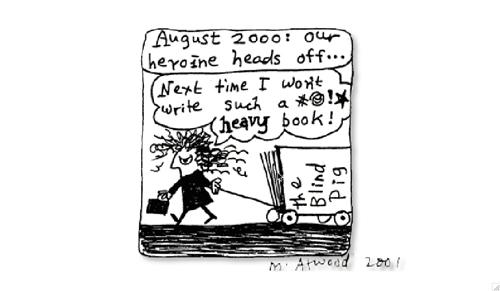 She contributed a set of these hand-drawn comics to The Secret Loves of Geek Girls, an anthology of comics and essays by women that deal with love, sex, and relationships, which will also be published by Dark Horse. She knows where to put a punch line—a crucial skill for anyone seeking to emulate the pointed humor of Ryan North and Erica Henderson's Squirrel Girl. In short, her cat-owl superhero hybrid can't come soon enough.