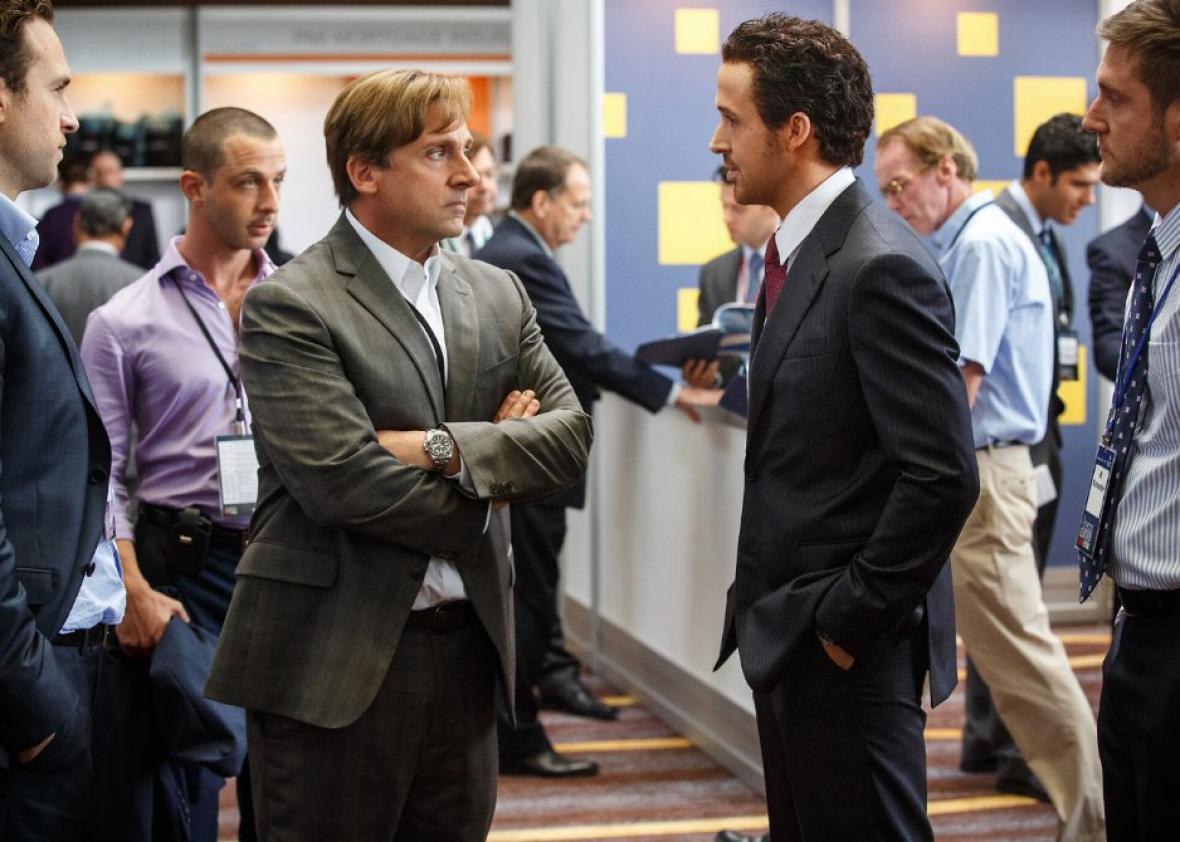 Dan Kois: Hello Aisha! This morning's Golden Globes nominations have answered a few questions but raised a whole lot more. Is The Martian as funny a comedy as, say, Spy? Can George Miller really plow through the quiet, understated directors accompanying him in the awards race like a six-ton war rig loaded with gasoline? Will Smith for best actor?!? Just who is concussed here, Hollywood Foreign Press?
It seems to me that the big victors (on the movie side) are Spotlight, The Martian, and Carol, all of which solidified their awards position, and Joy, The Revenant, and Mad Max: Fury Road, which gained ground in a wide-open race. But I'm doubtful the Golden Globes matter in the major Oscar races. Where they make a difference is in getting Oscar voters to take some performances seriously they might otherwise have been inclined to ignore. So for that reason, I think the biggest winners here are actors whose terrific performances in underseen movies might get a fair shot with the academy now: Jane Fonda (Youth), Paul Dano (Love and Mercy), Michael Shannon (99 Homes), and Maggie Smith (The Lady in the Van).
On the other hand:
Aisha Harris: Yeah, I'm on board with Mark Harris on this one. The Golden Globes don't actually mean anything when it comes to Oscars. Remember Salmon Fishing in the Yemen? No? Well, just a few years ago, that drama starring Emily Blunt and Ewan McGregor that came and went with barely a peep in the early part of that year, found its way into many of the major categories, out of nowhere. A collective "Huh?" rippled throughout the universe when that was announced. While there is no one movie here that echoes as puzzlingly as that one did—pretty much all of these movies have been tossed about as Oscar possibilities since the race this year is so bafflingly wide open—I think it's safe to say that Michael Shannon and Will Smith, say, are still very much long shots.
I'm most puzzled by the lack of Creed nominations, though! Stallone eked in, but it looks like Mad Max took Creed's place here. And if Michael B. Jordan was going to get nominated anywhere, it would be here. (Will Smith took his spot in the acting category, I think.)
Kois: You mean the brown-person slot? Yup, he sure did. Bummer that apparently there's just one. But that Best Actor field is notable, I think, for two reasons:
1. If Johnny Depp, he of 10 (TEN!!!) Golden Globe nominations, can't get a Best Actuh nahd from dese chumps fowah his rahtten Bahstahn accent in Blaaack Maaass, what hope does he have from the slightly less Depp-worshipping academy?
2. God, this year's Best Actor race is boring. I don't even want to watch any of those movies.
Let's eliminate Best Actor this year and distribute its nominations to the other acting categories, which are all overstuffed and fascinating. Do you think Alicia Vikander can pull off a double nomination at the Oscars as well? Or is this just a case of the HFPA, as always, really loving their shiny new stars?
Harris: I do not think so, unless she goes against herself in one category, because she is being campaigned as Best Supporting for Danish Girl to better her odds (even though she shouldn't be). While the academy could still decide to nominate her for Best Actress, it probably won't happen. Which means that Vikander will almost definitely be nominated in Supporting for Danish Girl, and Ex-Machina will be the A Most Violent Year of 2015.
Kois: I wonder if Focus Features might wise up and put her in Best Actress, given these noms? I guess it's too late and that would be too logical. Too bad about Ex-Machina, which is more exciting and more entertaining than The Danish Girl while also being a smarter movie about the construction of identity! Also has more face-peeling and knifing.
Harris: I'm also really happy to see Melissa McCarthy and Amy Schumer in there, as they will never be nominated by the academy (that is the one upside to the Golden Globes distinction between Comedy/Drama). I can actually see one of them winning in this category against Lawrence, especially considering their respective films' broader, more global appeal. It could also be that I just saw Joy last night, and feel like it's one of Lawrence's worst performances.
If we are to read into any of this as Oscar predictions, what would you put Lily Tomlin's chances at, considering her placement here for Grandma?
Kois: It's just such a packed category! For which I am grateful, after the barren wasteland that the Best Actress category has represented in past years. That said, the category weirdness being played out here helps her chances: With Drama/Actress GG nominees Vikander and Rooney Mara being (insanely) positioned for Supporting Actress Oscars, it leaves a little room for a weirdo like Tomlin to sneak in. Oh what a joy that would be. As opposed to a Joy.
What do you make of the complete absence of Spotlight acting noms? I once thought of that movie as a warehouse of potential Supporting Actor nods, but after the shutout in that category at the SAGs and here, it seems as though The Big Short has taken that gig and run with it. They're positioning Carell for Best Actor and Bale for Best Supporting Actor, I guess. I'm heartened that such a big, weird, brainy, stupid movie is making headway this season.
Harris: Well, Rachel McAdams did manage to nab a nom for SAG, so it wasn't completely shut out. But I agree with you, and mentioned it as much in my SAG post on Wednesday: The Big Short seems like a potential dark horse after a few months of nothing but Spotlight, Spotlight, Spotlight. I don't think we can read too much into the fact that Spotlight wasn't present in the acting categories here. At the same time, I think the ensemble, to its credit, works so well together and no one actor tries to be the star of the show, which makes no one performance in that film stand out over the other.
Kois: Which is a great route to a terrific movie that wins no acting Oscars.
Harris: Compare that with The Big Short, in which the film is very clearly divided into separate, yet entangled narratives. Most of the main characters never even appear on screen together. It's much easier to single a performance like Carell's and Bale's out.
Kois: Right! plus, they're acting their FACES off. They're acting SO HARD.
Harris: Yup! In a great way, I think! It's just that the latter is more likely to gain attention than the former, though both approaches work perfectly for their respective films.
Kois: On a similar note: Boy, if the repeated experience of this awards season is gonna be watching Mark Rylance lose an acting award to Sylvester Stallone, I just don't know. Just let those words roll around in your brain a little.
Harris: I mean … Mark Rylance is great in Bridge of Spies, which is finely crafted, "meh" kind of movie. But Stallone surprised the crap out of me, in a really great, rousing movie. So I'm gonna go on record to say that I'd rather see Stallone win than Rylance. #notashamed #gonnaflynow
Kois: From the corner of a firelit room Thomas Cromwell looks balefully upon you, already plotting the misfortune that will strike you in 10 years' time.
Harris: I'll be OK, whatever that misfortune turns out to be—if there's one thing Rocky Balboa has taught me, it's to never, ever stop fighting.
---