Viewers who kept their eyes peeled during Sunday night's episode of The Simpsons noticed that the show paid a subtle tribute to Paris, following this month's horrible attacks. This tableau briefly flashed by during a montage of Broadway marquees: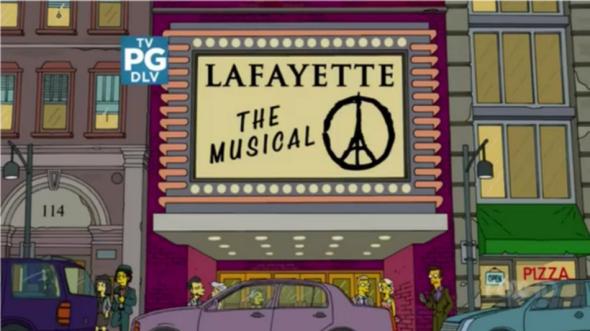 The tribute has levels, more than many people seem to have realized, so let's break it down:
1. The marquee bears Jean Jullien's viral illustration of the Eiffel Tower as a peace sign, which he drew in the hours following the attacks.
2. The show is Lafayette: The Musical, a tribute to the Marquis de Lafayette, French hero of the American Revolutionary War, and the personification of the longstanding alliance between the United States and France. (Celebrating Lafayette is its own American tradition.)
3. The fact that it's a musical is a nod to Hamilton, the hottest musical on Broadway, in which America's favorite fighting Frenchman is one of the main characters.
4. It's a marquee. This makes it the marquee de Lafayette.