As soon as John Di Domenico puts on the wig, his whole chest seems to inflate. He smoothes the wispy nape hairs, pats down the orange shelf of bangs. Normally his posture is shuffling, his shoulders bent. But as soon as he plunks on that wig, his stance opens. Suddenly he faces you down like a wrestler; suddenly he fills every room he enters. After he glues the sideburns to his head, Di Domenico squints at his face in the mirror and purses his lips. "You're a loser," he tells his reflection. "You're fired."
Di Domenico has been a professional Donald Trump impersonator for more than a decade now, but getting ready still takes him about an hour. That tailor-made Trump wig, which cost $4,000, has to be carefully tidied and groomed. He contours his nose to narrow it. He deepens his smile lines with pencil. He is several inches shorter than Trump, so he slips on shoes with lifts to elevate him.  He even wears special undershirts with a higher thread count—"three for $42!" he laments—just so he can feel extra prosperous.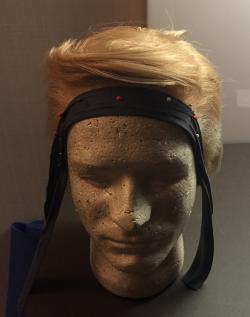 These days, Di Domenico plays Trump three to four times a week. He goes to corporate team-building events to roast company executives, and gets hired for private parties to schmooze with guests. That evening, we were in his hotel room in Chelsea the night before he'd be interviewed for an A&E biopic about Trump. He'd been flown in from Las Vegas, where he lives, for the occasion. "I just feel so lucky," he says. "This is what I've always wanted."
Di Domenico grew up in Ambler, Pennsylvania, in a row house in a working-class neighborhood. His father was a steel worker and World War II vet; his mother was a homemaker and a waitress. He always loved comedy, gorging on Monty Python and SNL sketches, but his other obsession was business. In high school, he started reading Success magazine. "I was like, wow, there's this other life," he recalls. "There's a place where you don't have to worry about how much electricity you're using in your house, and how you are going to feed five mouths." Trump seemed to Di Domenico to be the embodiment of that other life. "I was in love with the idea of New York," Di Domenico says. "And here was this guy basically saying, I'm the unofficial mayor of New York. He's building buildings, and renovating classic hotels. It was just inspiring."
A few years after college, Di Domenico finally moved to Manhattan. But then a bad real estate deal left him nearly broke. "New York chewed me up and spit me out," he says. Eventually he moved to Vegas. In 1999—while appearing in a production of Tony n' Tina's Wedding at Trump Hotel in Atlantic City—he was roaming the halls when a man strode by, flanked by bodyguards and gesturing expansively: Trump. Di Domenico wandered around the gilded lobby, marveling at the giant marquee on the outside of the hotel that spelled out its owner's name. "This whole place," Di Domenico remembers thinking. "It's his."
The first time he got a call asking if he could play Trump was in 2004. He had impressions in his repertoire of Groucho Marx and Charlie Chaplin and Austin Powers, but he'd never attempted Donald. The gig was to record the voice of "Donald Trump" for an Apprentice-themed game at Trump Taj Mahal. He was daunted. "I was determined to really get him right, to really honor him," he says. To research, he spent an entire weekend watching The Apprentice. He studied the nasal placement, the accent, the vocal patterns. "Most actors speak from their chest, but with Trump, it's the weirdest thing—he speaks from his teeth," Di Domenico says. To demonstrate, he pointed to his own mouth, flaring his lips like a horse mid-whinny: "Huuuuuge."
That 2004 voiceover was a career turning point for him. From then on, he began playing Trump regularly. When Trump toyed publically with a 2012 presidential campaign, work spiked. Di Domenico even went on a national comedy tour, staging fake debates with an Obama impersonator and a Romney impersonator. But nothing had quite prepared him for this moment when Trump announced his 2016 run.
He still remembers the day. He was at home in Vegas, watching Trump on TV. "Oh my god," he thought. Instantly, his Facebook blew up with messages. "You're set for life," friends said. And as the months went on, the offers began rolling in. He was invited on Fox & Friends as Trump. He got hired to appear as Trump at Red Roof Inn's national sales meetings in Ft. Lauderdale. "I thought, if he can just make it to the first debate, I'll be in good shape for the fall," Di Domenico recalls. "And then he crushed the first debate." Even Trump's titanic gaffes only seemed to give Di Domenico more fodder. When he heard Trump say "the Mexican government is forcing their most unwanted people into the United States," Di Domenico cringed, wondering if it was all finally over. But then he got a call from his agent saying that Apple Vacations, one of the largest agencies for travel to Mexico, wanted him to do a 30-minute routine at a company party "apologizing" for Trump's immigration comments. "See, they love me! The Mexican people love me!" he ad-libbed every time the crowd applauded.
Over the past decade, he's felt himself become Trumpier. "I'm much bolder than I used to be," he explains. Still, he says: "I'm riddled with doubt, always looking back and looking in. This guy is plowing forward. When I'm playing him, I feel powerful." During college, he interned for the late Democratic senator Arlen Specter, but all these years spent trying to force himself inside Trump's head have indoctrinated him. His dream ticket is Trump-Rubio. He finds himself more awestruck by Trump every year. "Over time, I've become more enamored with him as a person," Di Domenico says, "because he just doesn't change."
Now, before each gig, he tacks two life-sized photos of Trump to the glass, framing his own face in the mirror. Then, squinting, he sponges on the salmony foundation and tenderly combs his wig. Sometimes he plays "For the Love of Money" ("money money money money… money") as he works. Sometimes he just listens to recordings of Trump's voice, those disembodied catchphrases looping like an incantation, over and over. He never gets tired of them. He murmurs every few lines along with Trump, not breaking eye contact with himself: "I've mastered the art of the deal." "I'm having more fun than I've ever had." "If you work hard, you can really hit it big."