Michael DeForge is the archetype of the modern indie cartoonist. A familiar figure at comics events with his omnipresent baseball cap, painted fingernails, and aura of sangfroid, he publishes brilliant and disturbing stories of modern alienation at tiny comics presses. Yet when he isn't exploring body horror, he works on America's most beloved and formally adventurous kids' cartoon. When the new season of Adventure Time premieres Monday, many of the characters and objects on the show will be DeForge-designed—kid-friendly echoes of the misshapen deer and sexually adventurous ants he draws in his comics.
Far from being an outlier, DeForge is an early adapter. In recent years dozens of indie cartoonists have found work in animation as designers, storyboarders, and even voice talent. Indie events such as the Small Press Expo in Maryland and the Toronto Comic Arts Festival are practically job fairs, with animation talent scouts roaming the aisles scanning hand-printed minicomics for a spark to fuel toons for America's tots (and, sure, stoned college students).
As a longtime reporter on the comics world, I was a bit surprised when cable animation started scooping up the alt-comix gang. Was making quirky comics about childhood abuse or a Zoroastrian look at the creation of the universe really training for animating corporate cartoons? But indie cartoonists have injected today's cartoons with vision and new blood. And in return cartoonists are getting something very unusual: steady paychecks, which the Top Ramen–fueled world of small press comics rarely provides. There's a new Big Two in town and it isn't DC and Marvel—it's the Cartoon Network and Nickelodeon.
But is any Big Two a good idea? In a world where ultimate freedom of expression is often the big payoff, talking about making money is frowned upon and selling out is the ultimate no-no. And would young indie cartoonists start aiming their risographed Fort Thunder homages towards showrunners in hopes of getting jobs? And most worrisome of all, will a path to Hollywoodland make the most talented creators abandon comics?
A small-time cartoonist finding a role in animation is nothing new. Just ask Simpsons creator Matt Groening, who got called in to pitch at Fox on the strength of his alt-weekly comic strip Life in Hell. Tony Millionaire's ode to drinking and Victorian penmanship based on his comics strip Maakies, The Drinky Crow Show, ran for a season on Adult Swim. But the real gold rush to California began about seven years ago, as Adventure Time—created by comics-loving Pendleton Ward—kicked off a new era in cable animation, just as small press comics were blossoming with new creators and a bigger audience, thanks to the Internet and Tumblr. Crossover pioneers included Thomas Herpich, hired as a writer for the first season of Adventure Time, and Calvin Wong, an early adoptee on the Regular Show staff.
Kevin Lee, Nickelodeon's creative director of animation development, has been attending the Small Press Expo, or SPX, in Bethesda, Maryland, for years to scout cartoonists face to face. It's not just convenient; it's a gold mine, he says. "SPX features the kinds of creators we need," he says. "For us, the more unique and distinct, the better." Steven Universe creator Rebecca Sugar, a cartoonist of some note herself, says the influx of indie cartoonists "has had a huge effect on the look and feel of what's going on right now in animation. I think there's an unapologetic honesty in both writing and drawing that comes through."
Sugar has simple criteria for finding creators: "I look for cartoonists with interesting ideas. I need artists with really strong opinions about how everything should look and what everyone would say. The technical aspects of animation are less important—those are things you can pick up as you go."
That's because the new wave of cable animation—Steven Universe, Adventure Time, Regular Show, and Harvey Beaks among them—isn't made the same way corporate cartoons were made in the past few decades. Similar to old-school animated masterpieces, like Looney Toons, modern cable animation relies on storyboard artists to write as they draw, rather than providing them with a script. "It's a very classic way to make a cartoon, and the best way," says Sugar. "If someone is going to storyboard on my show they've got to be able to write as well as they can draw. It's a rare skill, but indie comic artists have that skill."
The already hefty roster of crossover cartoonists shows no sign of shrinking. Jesse Moynihan (Forming) toiled on Adventure Time as a writer and storyboarder for seven seasons, helping create such beloved characters as Lemongrab, Ancient Psychic Tandem War Elephant, and Maja the Sky Witch. Like Herpich, Moynihan was just a Marco Polo of this particular trade route. Here's a partial list of cartoon crossover creators: Two of the Adventure Time episodes premiering this week were storyboarded by Kris Mukai. Nick Sumida (Snackies) storyboards and is a voice actor for Harvey Beaks. Nathan Bulmer (Eat More Bikes) storyboards for Sanjay and Craig. Seo Kim (Cat Person) storyboards on Adventure Time. Lamar Abrams (Remake) storyboards and writes for Steven Universe, while doing the occasional voice, like many artists. Hellen Jo (Jin and Jam) has done everything from cleanup on Regular Show to writing on the upcoming Stone Quackers. Sam Alden (New Construction) storyboards for Adventure Time. Cartoon Network's acclaimed animated miniseries Over the Garden Wall is lousy with cartoonists, including Herpich (who won an Emmy for the show), Zac Gorman (Magical Game Time), Laura Park (Do Not Disturb My Waking Dream), Aaron Renier (The Unsinkable Walker Bean), Steve Wolfhard (Cat Rackham), and background painter Levon Jihanian (Danger Country).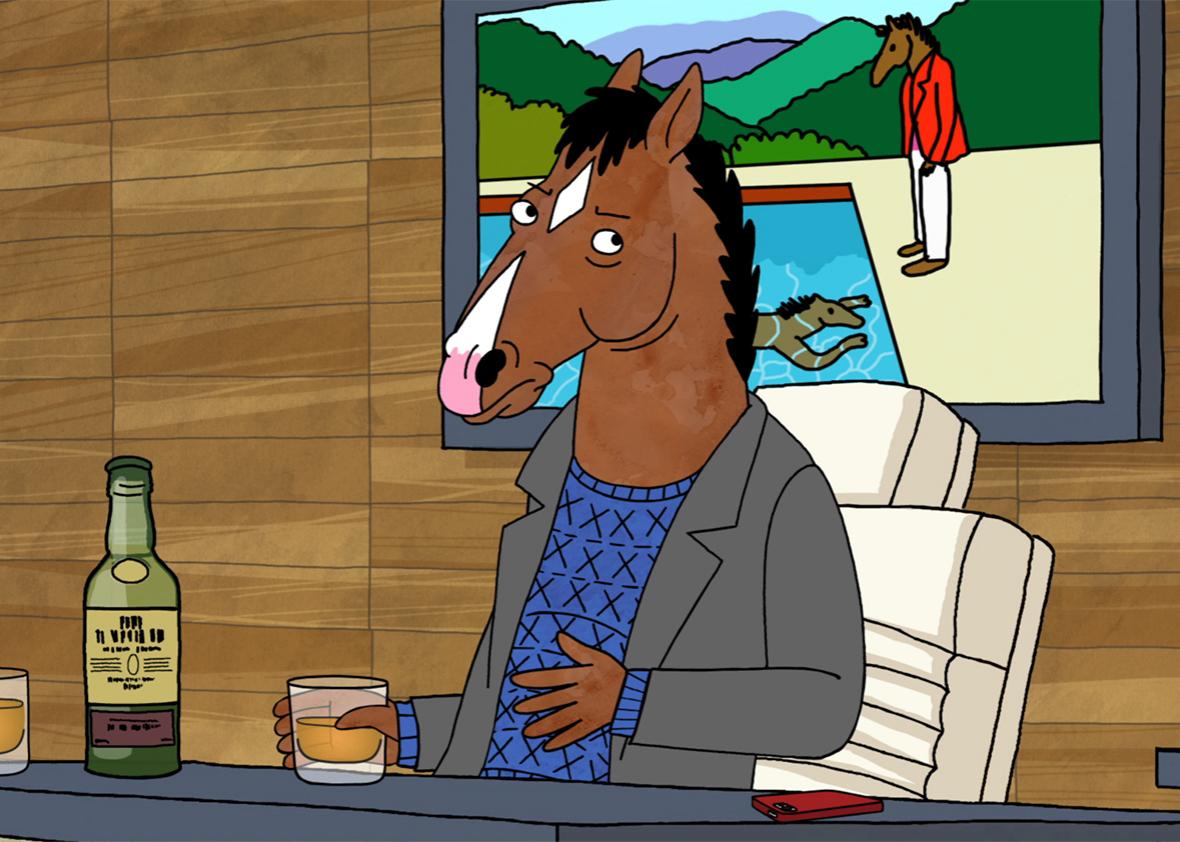 When Netflix's comedy BoJack Horseman premiered last year, serious comics fans already knew that the distinctive character design for the show's anthropomorphic animals was the work of cartoonist Lisa Hanawalt (My Dirty Dumb Eyes). Hanawalt—whose high school drawings inspired her classmate Raphael Bob-Waksberg to create the show—is now BoJack's production designer.
"They're stealing everyone," jokes Annie Koyama, owner of Koyama Press, a small publisher and the home of DeForge and a host of other crossover artists. "If I were doing cartoons, I would scout out cartoonists for talent myself." Does Koyama resent that her cartoonists spend their days making cartoons for Hollywood instead of for her? On the contrary, she's grateful that her cartoonists can now afford more than a steady diet of peanut butter. "It kills me that I can't pay more, but I'm grateful they're making a living wage," she says. "Making comics is a lot of work for not a lot of financial reward."
The world of small press comics—ranging from homemade silkscreened minicomics to luxuriously produced thick graphic novels—has received prestige and acclaim among forward-looking comics aficionados, but it isn't exactly the road to riches. Print runs are often in three digits, distribution is spotty, and many respected publishers offer only small advances—if they offer them at all.
Ryan Sands runs another micro press, Youth in Decline, whose talent line-up (including Sumida, Jo, and Alden) has become a farm team for animation. While acknowledging that day jobs can slow down comics production, he too welcomes the introduction of the animation money spout: "I'm entirely happy about it in the sense these folks have found a way to be in a creative field without relying solely on their comics to survive."
Alden's career path is pretty typical. He started as another bespectacled citizen of Tumblrville, serializing a longform comics story (now abandoned) about growing up. A series of shorter stories dealing with family issues and abuse got him attention, culminating in a 2013 Ignatz Award for Most Promising Newcomer. Despite his work's somber themes, an offer to try out for an animated show soon followed, and although that didn't pan out, Alden himself contacted Adventure Time asking to take their boarding tryout. He passed, and after a year of freelancing, was offered a staff job and joined the wagon train west last year. "Comics had always been my goal," he says, "but this happened as I was deciding I didn't need to produce comics with the same volume."
Alden admits that his career path as a comics creator wasn't clear. "My career in comics wouldn't have been sustainable past a certain point," he says. For a while he had the "naive" idea that he would produce a big thick graphic novel and "live off that, but I don't think I can do that."
"Indie comics artists, by nature, develop their own creative voices and thrive doing so in this pure, expressive, personal art form," says Nickelodeon's Lee. "I feel like most of them are doing it for themselves first and hoping others will come along for the ride." In September, he attended SPX in a more formal way as a sponsor, with a specific program for seeing pitches for potential new cartoons.
Not everyone thought this was totally awesome. Melanie Gillman, creator of the acclaimed Web comic As the Crow Flies, took to Twitter to warn that the Nickelodeon release contained some onerous language. George Rohac, head of Breadpig, a company that helps Web cartoonists market their work, noted, "The hard push SPX has done to be 'Small Press Focused' is immediately undermined by 'We're with Nick doing animation!' " If that's the way a small press show like SPX wanted to go, he wrote, "great, but it isn't how they've talked about their show since ever."
While I have a hard time frowning on indie cartoonists eating regular hot, nutritious meals with their animation loot, I still wonder if some young creators are being led on by the dangling brass ring of developing their own show. After all, there are scores of talented young cartoonists, and there isn't enough room on the schedule for all of them to get their own show. Many of these cartoonists have gone through the pitch process, with several almost getting to the finish line, but no one has crossed it yet. Sands and DeForge worked on a pitch for a year for Cartoon Network before it was killed. They have no hard feelings, but it must have sucked a lot of time and energy.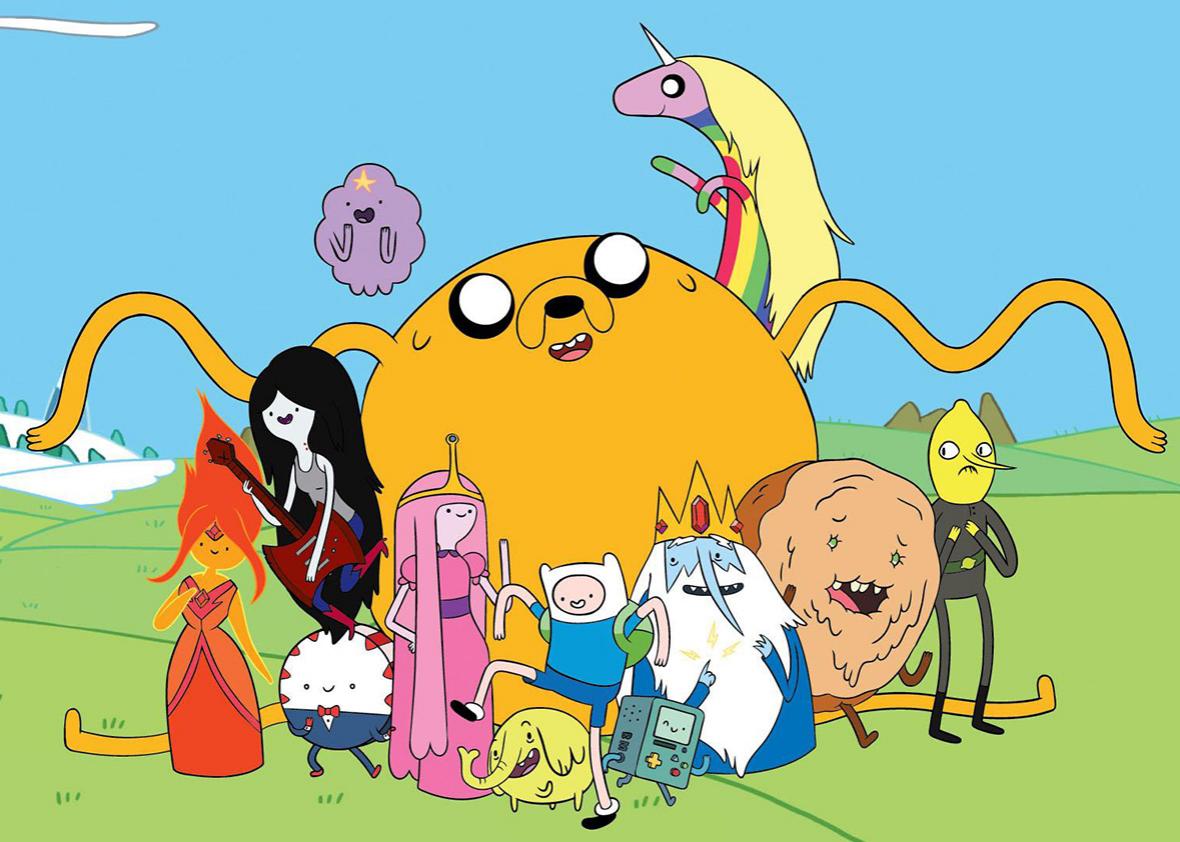 If anything, walking around shows like SPX, I've noticed something of an Adventure Time track among many of the small press comics now coming out: Where once young cartoonists overwhelmingly produced gloomy masculine self-absorption and misanthropy in the tradition of Daniel Clowes or Chris Ware, these days many booths feature fantasy epics with colorful characters and invented worlds heavy on the talking animals. It shouldn't be surprising that up-and-coming cartoonists are absorbing the Adventure Time aesthetic. A 20-year-old making comics now could have been watching the show since she was 15, after all.
The influx of young cartoonists to L.A. has created something of a scene, supplanting Brooklyn of the previous decade as the place to be for ink slingers. "The first time I walked into the Cartoon Network building, it was like, 'Oh, so this is where all my friends went,' " says Alden. Comic Arts L.A., a one-day comic show, debuted in downtown L.A. last year and quickly became a rallying point for the community. "CALA is going to be the show to watch and the expression of a local scene that's blowing up," Sands says.
And it seems that cartoonists who've gone Hollywood are still making comics, if a bit more slowly. Hanawalt's Hot Dog Taste Test comes out in the spring. Moynihan is plugging away on Forming, and DeForge continues to be ridiculously prolific. And the increasing hybridization of multimedia is spilling over into other arenas. "In five years you'll be writing a story about how indie cartoonists are getting into the video game scene," Sands predicts.
"Working in animation is a dream job," Alden says, even as he works on two upcoming graphic novels. "Without the pressure to support myself I can make better comics."