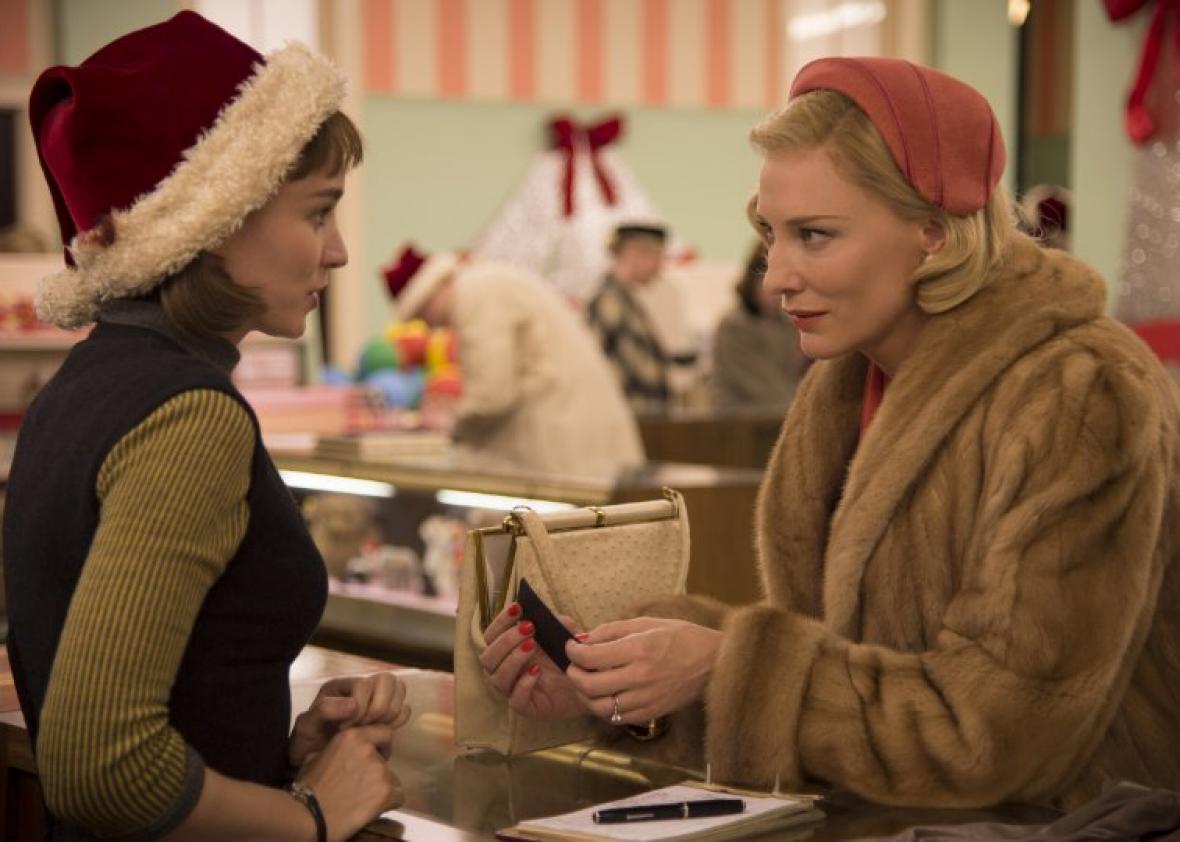 In this, the historic week when Carly Simon provided the world with closure in the decades-old mystery of just who she was singing about in "You're So Vain"—to promote her memoir, naturally—we meditate on the doomed love affairs that artists transform into work we love.
A younger woman being taken in by an older, more experienced lover: not just the story of "You're So Vain" but also the plot of Carol, the awards-bait period drama of an illicit romance between Rooney Mara and Cate Blanchett. Slate's Dana Stevens writes that the Todd Haynes film "submerges … the viewer in a richly detailed and aesthetically complete universe whose deliberate artificiality is part of the point." Meanwhile, J. Bryan Lowder praises its depiction of the unspoken recognition that comes with queerness, June Thomas finds that its older woman–younger woman dynamic rings true, Louis Jordan reveals the story of the screenwriter who fought to get the movie made, Claire Landsbaum explores the history of lesbian movies, and Stephanie Fairyington chides Blanchett, not for her performance but for some of her public statements around it.
Another woman who knows a thing or two about doomed love affairs is Adele, who returns to the fold with 25 this week, projected to become the fastest-selling album of all time. Here, Forrest Wickman broke it down track by track. Adele is growing up, and so are Justin Bieber and the heartthrobs of One Direction—reviewing their new releases, Carl Wilson notes that the center of pop gravity has shifted to women. I bet they (still) think this Billboard chart is about them.
And of course the one cinematic romance that never, ever had a chance: the one between hapless thieves the Wet Bandits and the possessions of the McAllister family. It's the 25th anniversary of Home Alone, so Alan Siegel interviewed the film's production designer and cinematographer about how they shot the film's climactic final sequence, described memorably as "a kids' version of Straw Dogs."
A few more clouds in our coffee:
Want to help Slate improve? Take our reader survey! You could win a Slate Plus membership: http://slate.me/1O3gnGc
To receive this roundup as a weekly email newsletter, sign up below.
---