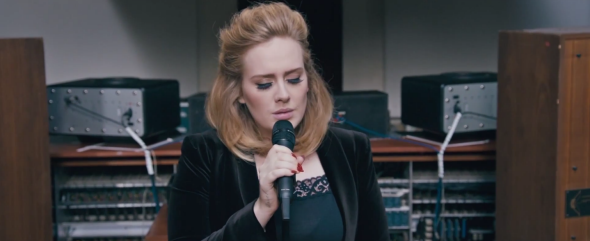 If Adele really is modernizing her sound and exploring the "weirdest sounds" that she can get away with, as longtime collaborator Paul Epworth put it in a recent Rolling Stone cover story, she's still easing fans in slowly. The singer entered Phase Two of her plan for global domination on Tuesday when we shared the full version of the second song from 25, and it feels very much like a sequel to "Hello" (which itself felt very much like a sequel to "Someone Like You"). If "Hello" had Adele trying and failing to call up a past lover, "When We Were Young" finds her running into that lover at a party and pausing to reminisce one last time.
And "When We Were Young," like "Hello," has its meta elements. As the 27-year-old old soul sings on the chorus, "You look like a movie/ You sound like a song/ My god, this reminds me/ Of when we were young." The tune, co-written with indie songwriter Tobias Jesso Jr., whose "How Could You Babe" earned Adele's seal of approval earlier this year, has its share of clichés ("you feel like home," "you're like a dream come true"), but the performance makes me think that Adkins could make the phone book sound moving. (Listen especially for her movement from her lower register, at the song's beginning, to when she hits that high note around 4:30.)
As for those "weird sounds," you won't find them here. Aside from a ghostly synth wash that lingers deep beneath the track, "When We Were Young" is just as nostalgic musically as it is lyrically, with mournful chords on the piano and some lightly picked guitar that is mostly drowned out by Adele's belted vocals. Still, there are hints that there are more adventurous things to come. (Perhaps even on the studio version of the track, which was produced by the eclectic Ariel Rechtshaid.) Hiding in plain sight are some synth pads that go unplayed, and at the end Adele surprises herself by tearing the mic off its stand. "It's a whole new me," she says, rolling her eyes.
---