In 2009 then-Massachusetts Gov. Deval Patrick set a goal for the state to create enough wind-generated electricity to power 800,000 homes by 2020, a quarter of which would come from turbines. It was an ambitious plan, made even more so by the fact that in the United States, Massachusetts ranks 35th in potential land-based wind capacity. Massachusetts is also a densely populated state, which means once they are constructed, the turbines aren't exactly an inconspicuous addition to the neighborhood.
Greer Muldowney noticed them once she moved back to Boston in 2012 after finishing her MFA at Savannah College of Art and Design and began photographing their placement into the urban landscape around the state (and a couple in Providence, Rhode Island) for her series "Urban Turbines."
Muldowney is all for renewable energy but feels there should have been a more pragmatic approach.
"I think it's great, and I think they're beautiful and seductive symbols of [renewable energy], but we're in this wild lust moment of green energy that has been bubbling to the surface for the past 10 years," she said. "I think no one can avoid the idea of climate change anymore, but I also think you always kind of stumble over yourself trying to be first or trying to be progressive."
The problem with the turbines isn't limited to aesthetics. Although many scientists say wind turbines are safe, some residents in Falmouth who are living close to a 400-foot-tall turbine have complained of headaches, insomnia, and depression.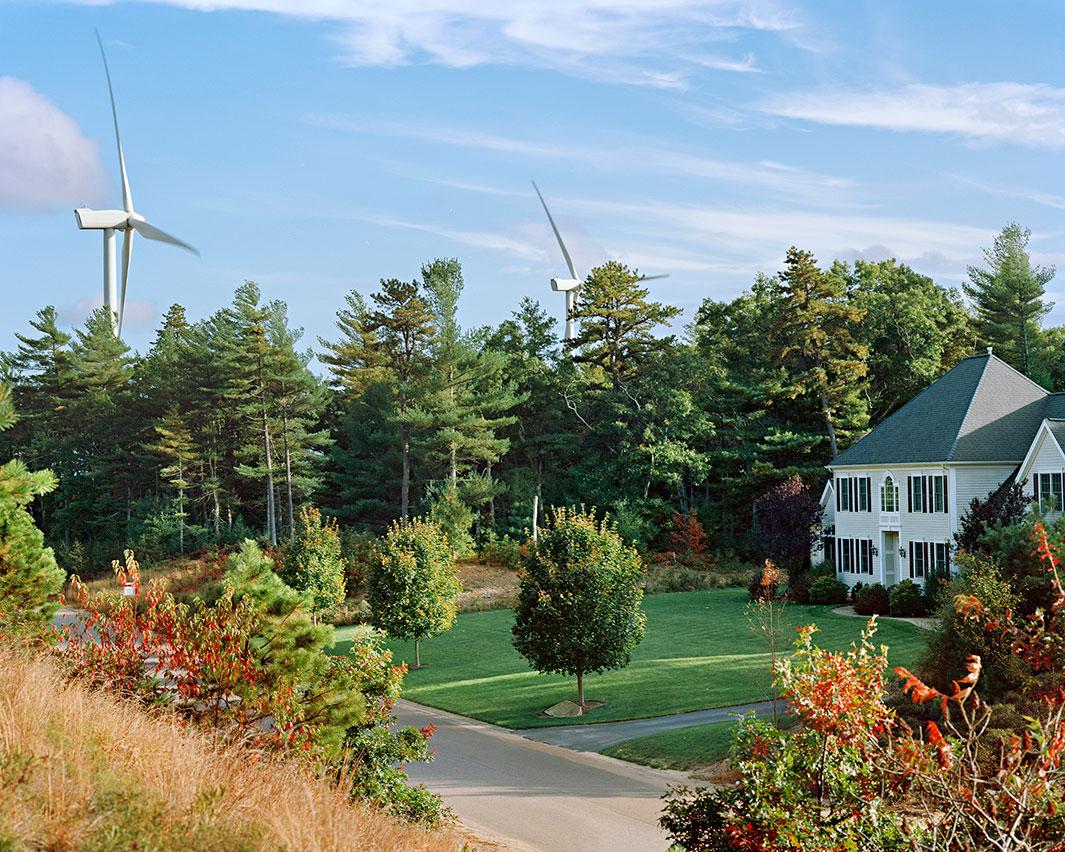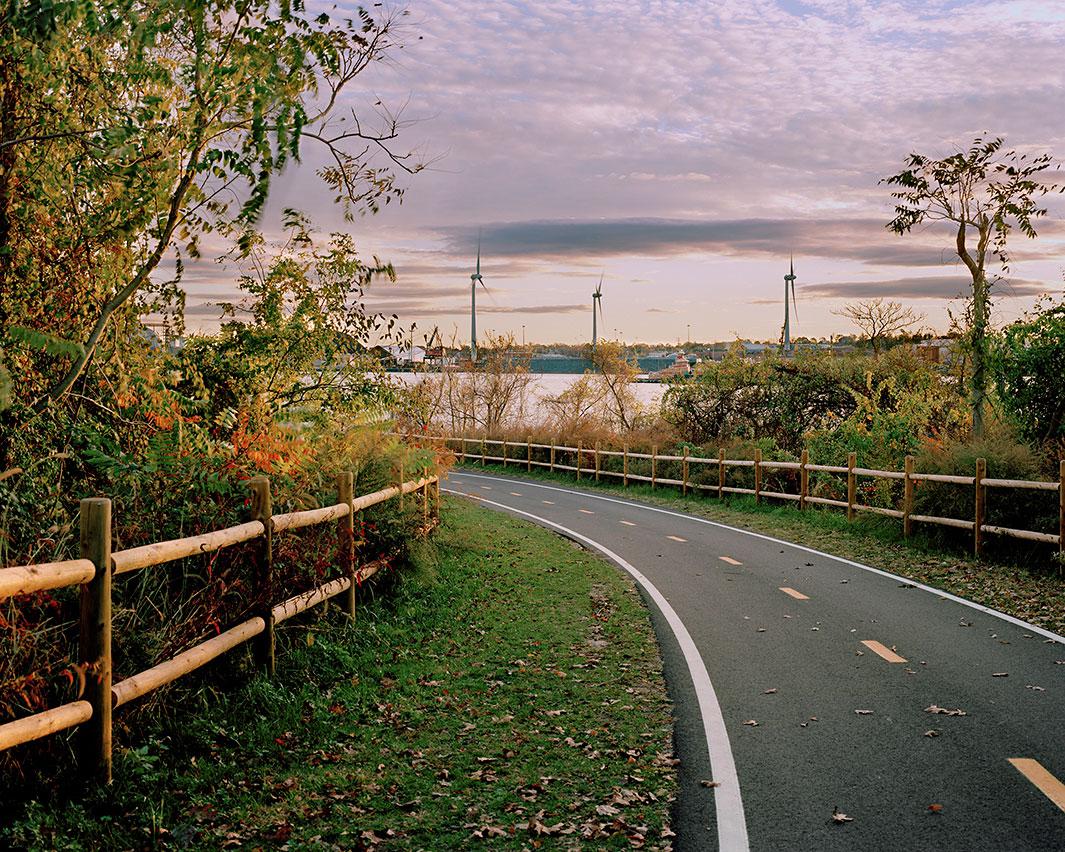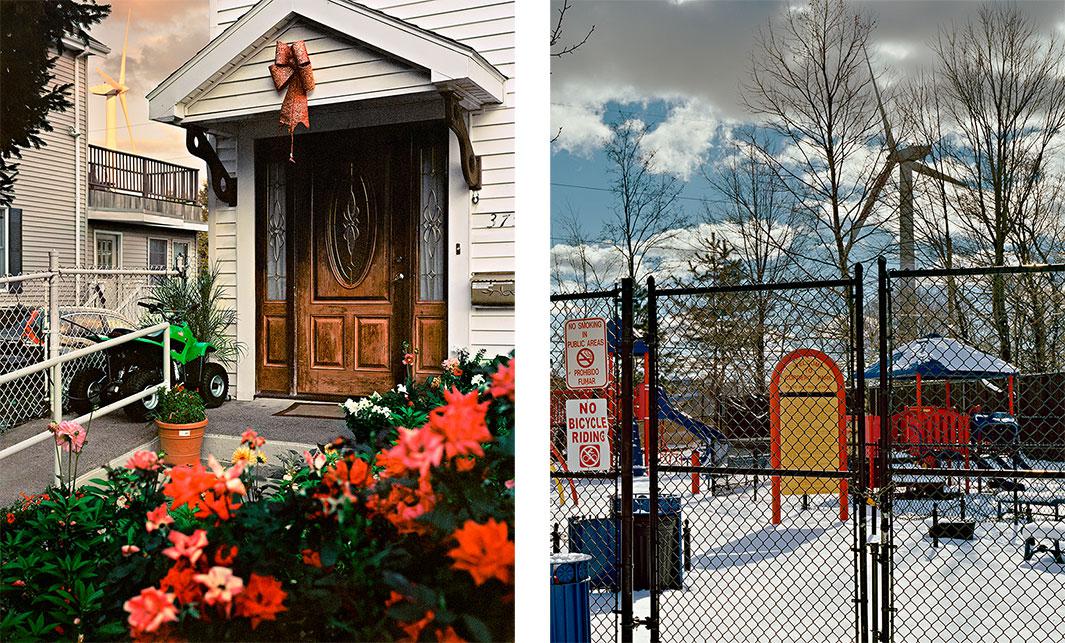 Muldowney said she was interested in the almost science-fiction feel the turbines create when placed into somewhat idyllic or traditional American settings, a theme she built upon when taking the photographs.  
"I was looking for these scenarios, not necessarily typically New England but something very American like a Sunday morning football game or a Walmart parking lot," she said. "And then all of the sudden there is this very present abruption in it … you're not thinking that it's going to be an image like this."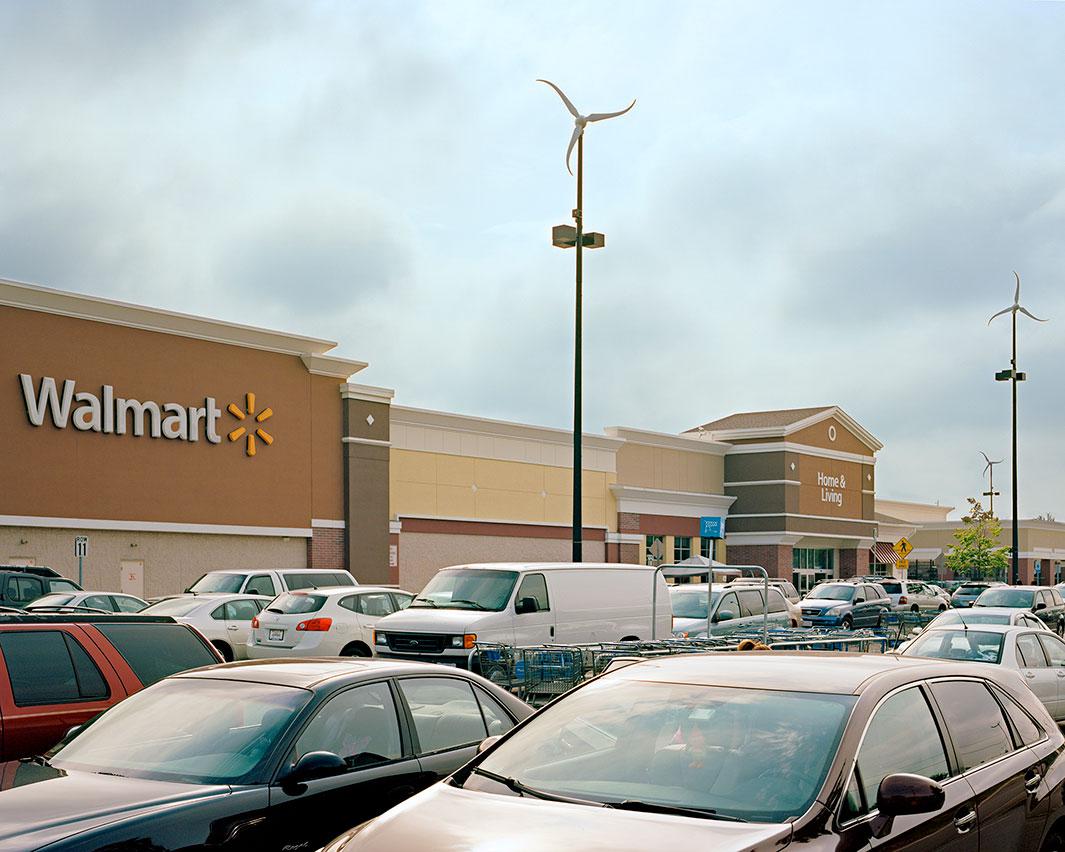 Shooting the photographs included in the series was tough work, primarily because finding the right angles—often in hilly locations—proved to be tricky. She wanted the images to be subtle but not too subtle.
"It's really about getting a good vantage point and having the turbine look interesting in the composition," she said. "I'm always trying to avoid the 'Where's Waldo' effect, but then it also becomes a game and I can't avoid that."
In college, Muldowney majored in political science and said she didn't discover photography until she look a photography 1 class; she ended up double majoring in studio art as well.
"I think it has been kind of a winding road to get here, but it's a merging of two interests," she said. "People underestimate how much policy can affect our environment and how we physically live and where we can afford to live. It's almost cliché but when you can visually describe it, people are more apt to do a little research or listen."
Muldowney's work will be on view in Massachusetts at Clark University through Jan. 20.