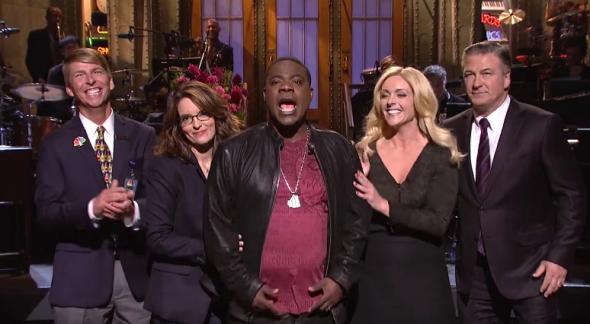 Since suffering a brain injury and the loss of a friend in a car accident last year, Tracy Morgan has been baby-stepping his way back into the public eye, giving his first interview in June, making his first stage appearance in September, and, over the weekend, returning with much fanfare to SNL, the show he called home for seven years.
Morgan's episode often played like the "greatest hits" of his career, with two moments in particular serving as shameless, deeply satisfying fan service. One was his touching opening monologue, which quickly segued into a 30 Rock reunion: Tina Fey, Jane Krakowski, Alec Baldwin, and Jack McBrayer all reprised their roles for a short sketch honoring the other time Morgan overcame a life-threatening injury—that unfortunate mishap in 2012, when he had sex with a box jellyfish.

The night's other throwback was the return of Morgan's most beloved SNL character, amateur zoologist Brian Fellow. This time around, Fellow's animal guests are a beaver and a camel, and Morgan admirably keeps in character as the latter goes rogue on set.

---