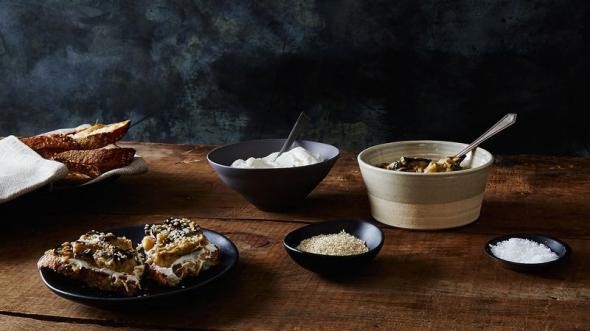 This post originally appeared on Food52.
When I consider that a piece of toast is just an edible spoon, everything in my life kind of falls into place. Peanut butter, which I'd planned to scoop straight from the jar, is instead slathered on a crispy slice of whole wheat. Avocado, usually halved, salted, peppered, and shoveled straight into my mouth, is smashed and more delicately spread onto a triangle of rye. Toast transforms hummus, chicken salad, Nutella, cheese — all things I would usually devour straight from their containers — into legitimate, acceptable meals.
It transforms me from a utensil-weilding scavenger into a real person. Who knew such power lay in a slice of bread and brownness dial set to six?
I understand the food-trend-averse among us may shy away from toast, having been burned by many a $17 brunch-time version, which I completely understand. If you want to spout toast-hate on social media and opt for eggs when you're out with friends, by all means, live your life.
But if in the back of your freezer you maybe want to stash a loaf of the good stuff for emergencies/late night snacks/when no one is looking, I promise not to tell. Everybody should be getting the toast treatment — it's worth the inner conflict.
This eggplant mix is no exception. While I would gladly eat the entire thing with a spoon from the mixing bowl — and almost did, while waiting for the toaster to pop — it is infinitely better above a creamy layer of Greek yogurt and under a sprinkling of sesame seeds, all piled on a thick slice of bread. 
Eggplant Miso Tahini Toast
Makes enough eggplant mix for about 6 pieces of toast
1 
medium-sized eggplant, cut into ½ to 1 inch-thick slabs lengthwise (mine resulted in 4 slabs)

Olive oil

1 
tablespoon tahini

½ 
tablespoon miso

2 
teaspoons maple syrup

6 
slices of your favorite bread, toasted

Greek yogurt

Sesame seeds

See the full recipe at Food52.
More from Food52:
Summer's Not Over Until I Stop Eating These Ice Pops
Would You Want a Raw Meat Delivery?
How Writing the Vegan Book Made Me a Better Cook
How to Peel an Apple in Three Seconds
The Best Vegan Egg Replacer for Baking
The Case for a Semi-Homemade Lunch
---