On Sept. 10, an audience of 27.4 million tuned into the opening game of the 2015–16 NFL season to watch Rob Gronkowski, the rhinoceros who masquerades as a New England Patriots tight end, trample the defensive secondary of the Pittsburgh Steelers. The game was broadcast by NBC, in a special Thursday edition of Sunday Night Football, the network's franchise sports broadcast, helmed by play-by-play man Al Michaels and analyst Cris Collinsworth. You could call Sunday Night Football the Gronkowski, the stampeding rhino, of televised sports. For the past four years, it has been the No. 1 program on prime-time TV. It's ranked first among adults ages 18–49 for five consecutive fall seasons. The show's dominance is such that its Nielsen numbers appear to have an inverse relationship to the quality of the games it broadcasts. The Fall 2014 season featured the most lopsided games in Sunday Night Football's nine-year history, with an average margin of victory of more than 18 points. The show still drew an average of 21.3 million viewers; nine of the top 10 individual broadcasts for Fall 2014 were Sunday Night Football games. (The one exception was Fox's coverage of the seventh game of the 2014 World Series.) Even SNF's pregame show is a juggernaut. Last year, Football Night in America placed fifth overall among the 18–49 demographic, earning better ratings than all but two nonsports shows, Empire and The Big Bang Theory.
So far this season, Sunday Night Football has tightened its stranglehold on the top spot, expanding its viewership by a full 10 percent while drawing an audience of nearly 26 million per broadcast. A few weeks back, SNF trounced the Emmy Awards ceremony in a head-to-head ratings showdown—a crushing victory for a Week 2 NFL game over "Television's Biggest Night."
One other thing worth mentioning about Sunday Night Football: It's the best show on TV. It's not just the top-rated program; it's not just the finest sports program. It's the most artful and exciting show, period—a feat of craftsmanship, imagination, and technical wizardry that makes nearly everything else on television look dim and flat-footed by comparison.
Such praise may strike you as eccentric. As any cultural literate in good standing will inform you, we are living in a "new golden age of TV": the era of Draper and Piper, of premium cable and prestige drama, everything first-class, top quality, Grade A. Even if you don't subscribe to every tenet of new golden age orthodoxy—The Sopranos is Shakespeare, The Wire is Dickens—there's no denying that there's an awful lot of good television out there. Each week, seemingly, brings a fresh onslaught of rapier-sharp sketch comedy shows, techno-dystopian dramas, post-post-post-modern cartoons—nearly all of it smarter, funnier, more complex, more entertaining than anything that reached the airwaves in benighted bygone days. Quality itself has become a crisis: Last month at the Television Critics Association press tour in Los Angeles, FX Networks CEO John Landgraf warned that we are approaching "peak TV in America," an unsustainable surplus of top-notch programming. "Welcome to the age of Glut TV," Rob Sheffield wrote recently in Rolling Stone. "Too much good stuff. Too much great stuff."
In fact, the only thing there may be more of these days than excellent TV are proclamations of TV's excellence. The cultural pedestal that was once the perch of novelists and film directors is now occupied by showrunners, who are showered with hosannas by the press and fawned over by Terry Gross. TV recaps have gone mainstream, migrating from the bohemian outposts of the blogosphere to the New York Times. This blanket coverage stands for a chattering class consensus that TV is the 21st century's "signature American art form," as Brett Martin wrote in Difficult Men, his best-selling paean to prestige dramas. What a change from previous generations, when cognoscenti deemed TV the "boob tube" and poured out scorn in apocalyptic tomes: Boxed In: The Culture of TV, Four Arguments for the Elimination of Television, Amusing Ourselves to Death.
Such anti-TV alarmism seems quaint in 2015. Yet our pro-TV zealotry is curiously narrowly cast. The television commentariat focuses almost exclusively on dramas, hip comedies, and those warhorses that date back to TV's first golden age, late night talk/variety shows. This leaves out much of television's bread and butter: news, most reality TV, game shows, daytime soaps and syndicated chat shows, children's programs. And sports.
The latter omission is especially odd. You'd imagine that those who write and think about TV for a living would take an interest in TV's most popular product. Industry analysts often point out that sports is the last bastion of appointment television—in an age of streaming media, live broadcasts of sporting events may be the only reason left to pay a king's ransom to have programming pumped into your home.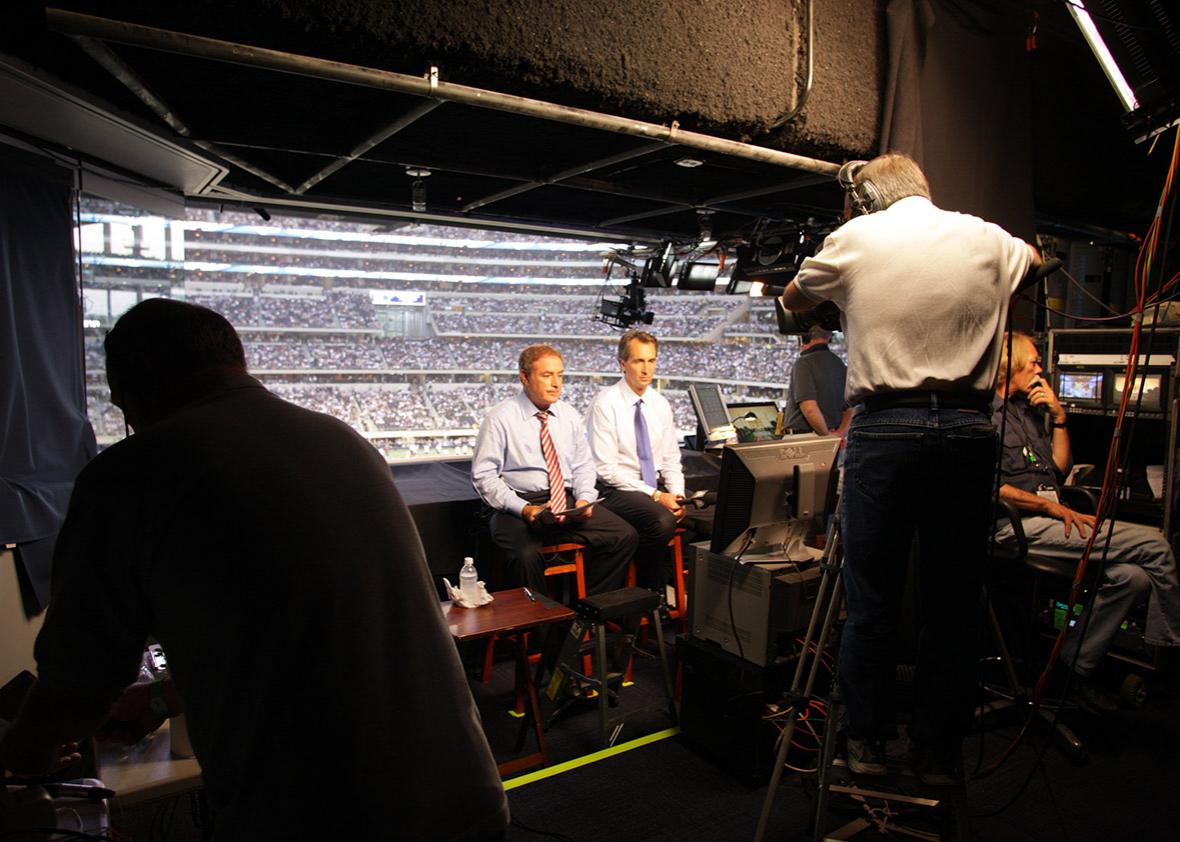 Of course, among new golden age aesthetes, sports TV has a lowly reputation: It's what you'll find flickering on the walls of the nation's man caves, where Neanderthals in Ben Roethlisberger jerseys sit gnawing on mastodon bones. Yet sports broadcasts are the most TV-ish of TV programs—the purest experience of television qua television. There is a deep dark secret behind our collective new golden age TV fanaticism: We don't really care much for TV, the medium. We're into serialized movies. The signal trend of prestige programming is cinematization: the infusion of movie-style writing and cinematography, the migration to TV of Hollywood talent on both sides of the camera. An episode of Transparent or The Jinx isn't much different than what you'd see in a screening room at Sundance. A live broadcast of a football game, on the other hand, is something unique: a drama unfolding in real time, captured by dozens of cameras, cut-and-pasted on the fly into a tension-packed narrative, bolstered with graphics and telestrated X's and O's and bombastic interstitial music. It's a magic trick native to TV—a thing that didn't exist in the world before the boob tube came along.
Which brings us whizzing back—like a Spidercam zip-lining above a stadium to track a kickoff return—to the subject of Sunday Night Football. The show, which began airing in 2006, can't be said to have revolutionized televised football; rather, it has perfected it, or at least come close. As John Koblin wrote in a shrewd Sunday Night Football appreciation on Deadspin: "There is no denying the overall crispness of the production, the way everything looks and sounds sharper, the way it seems to see more than the other broadcasts." Sunday Night Football excels at both the big and little things, pumping up the pomp—the swooping cameras, the strobe-lit schlock of Carrie Underwood's theme song—to make a Grand Occasion of even the most middling midseason game while nailing the wonky minutiae: the stats, the analysis, the exegesis that make a highly technical sport comprehensible to lay-viewers. Every SNF game feels, in the best way, like a Vegas extravaganza and a mind-widening graduate seminar.
Much of the credit goes to the on-air tandem of Michaels and Collinsworth. Michaels is as smart and suave a play-by-play man as any who's done the job, a narrator with an intuitive feel for the rhythms and drama of football and an admirable aversion to clichés. Collinsworth is an omniscient football nerd with a courtly manner; he delivers his analysis engagingly but unhistrionically. (I prefer Collinsworth's low-key vibe to the hopped-up babbling of the equally expert Monday Night Football color commentator, Jon Gruden.)
But the real force behind Sunday Night Football is its production truck wizard, coordinating producer Fred Gaudelli. It is Gaudelli who orchestrates the show's 30 cameras, catching the action unfolding on the gridiron in both its panoramic sweep and minute detail while filling out the tableau with subplots, human interest stories, and sideline close-ups of Andy Reid's dyspeptic walrus glower.
The degree of difficulty here is high. Gaudelli and his team are called upon to assemble a rapid-fire collage of motion picture images, in concert with the commentary of the announcers, for three hours straight. To further mix our metaphors: A Sunday Night Football broadcast is like a jazz symphony—a collective improvisation, with Gaudelli acting as maestro and Michaels and Collinsworth as featured soloists.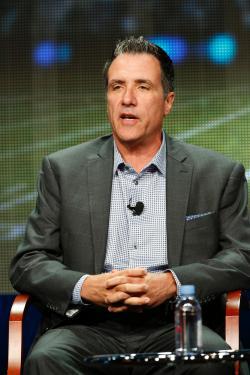 The SNF orchestra was in well-tempered form on this past Sunday night's broadcast. The matchup wasn't promising, pitting the desultory San Francisco 49ers against the just-OK New York Giants. But both teams played well, and the game built to a frenetic fourth quarter marked by whiplashing lead changes and a rising body count of injured players. It culminated in a winning drive by the Giants, and the SNF team dropped into its own hyperefficient two-minute drill. Michaels was cool and authoritative, Collinsworth eerily prescient. ("I would double-team [Giants' running back] Shane Vereen. I would make somebody else on that field beat me at this point," Collinsworth said at the outset of the Giants' drive. The 49ers maintained man-to-man coverage on Vereen—and, sure enough, he danced down the field.) Gaudelli's cameras were all-seeing, capturing the tumultuous on-field play while juicing the drama with telling details: Giants quarterback Eli Manning discreetly hand-signaling his receiving corps, a gesture that was mistaken by the referees for a timeout; hobbled Giants wide receiver Odell Beckham Jr. offering a "hamstring prayer" to the heavens; 49ers head coach Jim Tomsula, grimacing and flop-sweating beneath his headset like an air traffic controller who's just watched a 747 drop off a radar screen. It was the stuff that viewers have come to expect from Sunday Night Football: live audiovisual storytelling so deft and kinetic that it appeared to have been edited together in postproduction.
Almost all sports make good TV. The poetry of bodies moving through space, the pitched battles of skill and will unfolding against a ticking clock—these Aristotelian elements are in place whether the sport is NCAA basketball or Mexican Liga MX soccer or Olympic luge. If professional football stands out, it's because the NFL, following the money, has refined its product with television in mind, reshaping the game and its rules to make the most enthralling TV. Meanwhile, technology continues to accentuate televised football's beauty and visceral oomph. Goal-line scrums are spread across our hi-def widescreen TVs like murals, with tufts of turf flying and sinews straining in chiaroscuro slow motion. New developments in camera technology—drone-mounted cameras, "pylon cam"—promise to further enhance the spectacle, offering new vantage points above, and even inside, the action.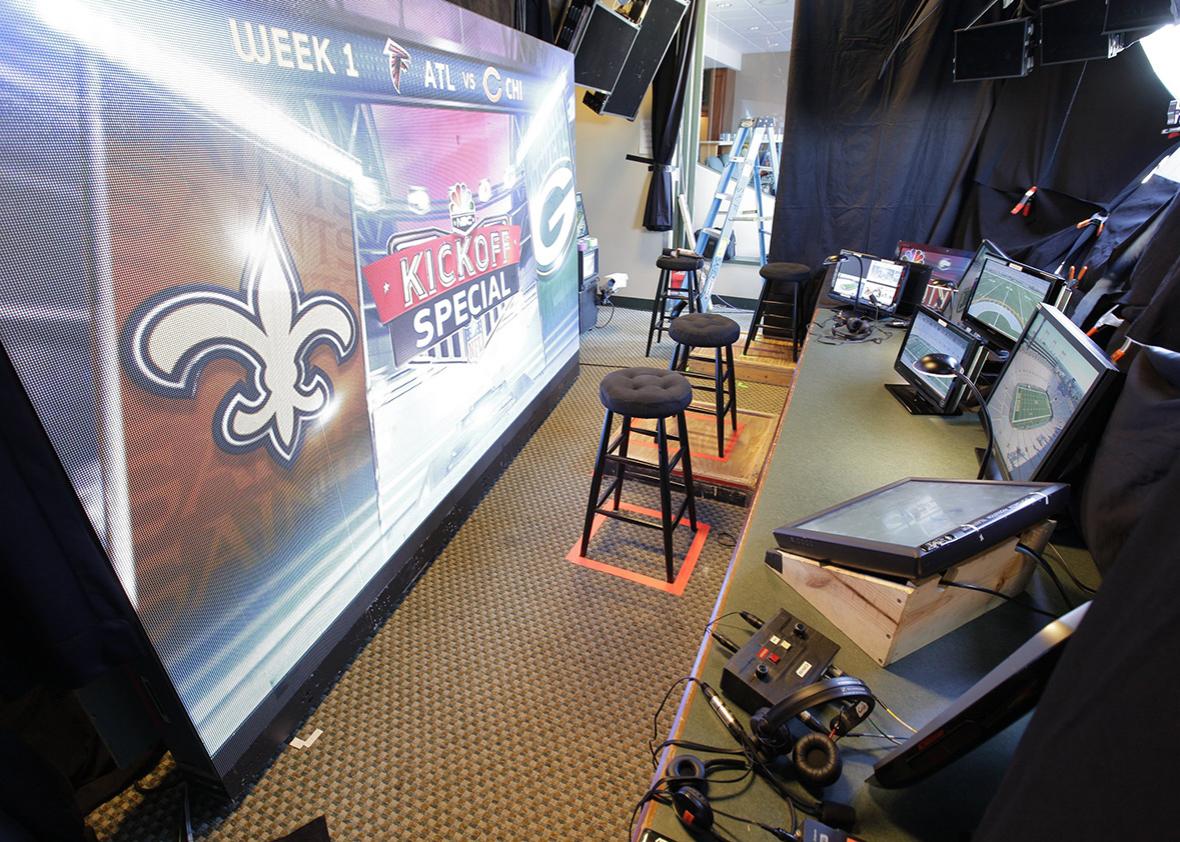 A few years ago, I tuned into Sunday Night Football with a visitor from the U.K. I'd been watching football my whole life, in the way that an American watches football—like a fan. (Actually it's worse than that: I'm a Jets fan.) I settled in to watch a game; the broadcast, per se, didn't interest me. But sitting next my London pal, I saw Sunday Night Football through fresh eyes. My friend didn't know enough about football to recognize a touchdown, let alone a zone blitz, but he was captivated by the TV show: by the gladiatorial violence and balletic athleticism, by the crunch of pads and helmets and the swaggering end zone celebrations, by the surging sound and motion of the game and the virtuosity with which NBC packaged and presented it. (He was particularly taken with the broadcast team's forensic analysis: the use of the telestrator to explicate formations and penalties, the close-ups of offensive linemen pulling to spring running backs on trap plays.) My friend recognized that a live football broadcast is, forsooth, a work of art—possibly the most widely beloved American art form that is never celebrated as such.
None of which is likely to turn an Orange Is the New Black recapper into a football analytics geek. But there is more overlap between Sunday Night Football and our ballyhooed prestige dramas than might first meet the eye. The marquee shows of new golden age TV are celebrated for their darkness and moral ambiguity. But consider the National Football League. Vampiric corporate overlords, labor exploitation, dubious racial politics, sexism, drugs, gambling, a chronic traumatic encephalopathy crisis, a cover-up of a chronic traumatic encephalopathy crisis—a veritable moral cesspool bubbles and boils beneath the green, green fields of Sunday. And let's not forget the likes of Roger Goodell and Bill Belichick, antiheroes whose malevolence would send a shiver up the spines of Tony Soprano and Walter White. Talk about Peak TV.