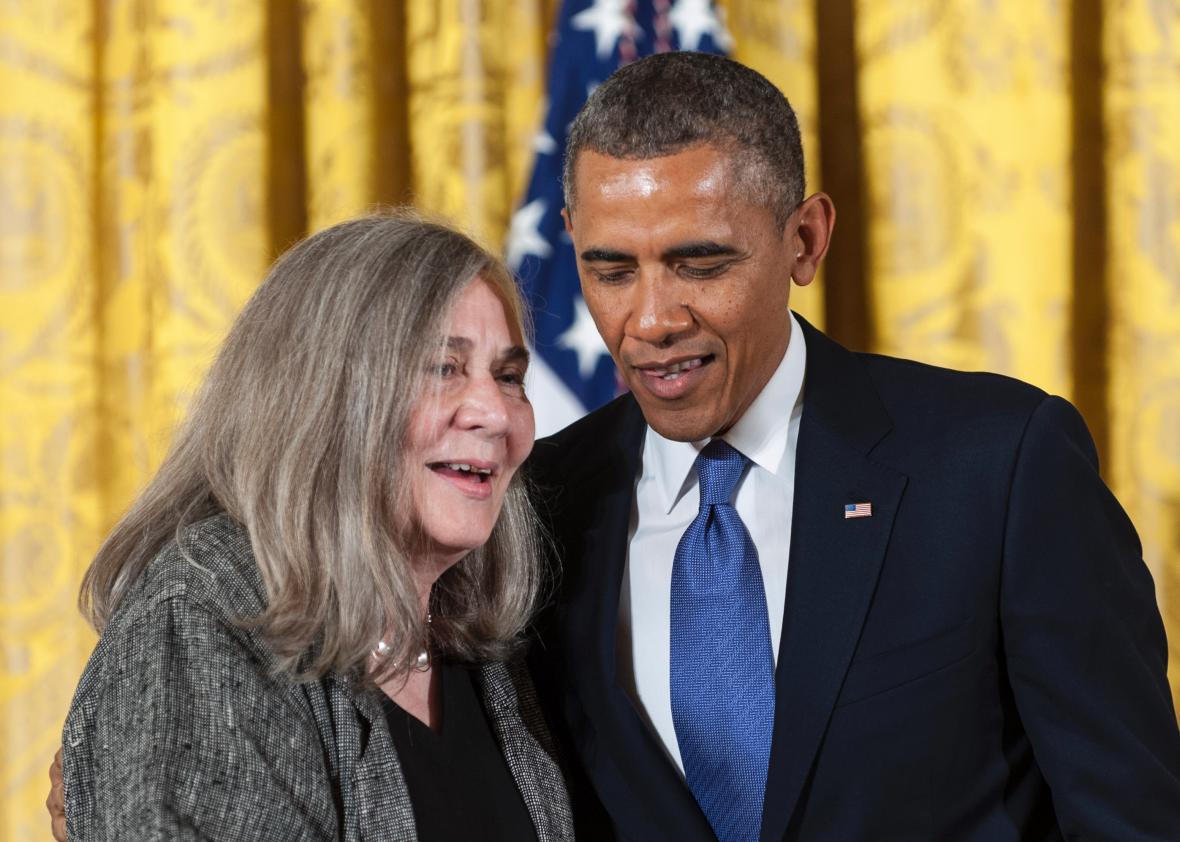 If President Obama has made inroads among the young and hip by appearing on Marc Maron's WTF podcast and Jon Stewart's Daily Show (RIP), he is tapping a slightly different demographic today, as the New York Review of Books publishes the first part of his conversation with Pulitzer Prize–winning author Marilynne Robinson. (The second part will run next week.) Obama met Robinson when he awarded her the National Humanities Medal in 2013, but he'd been a fan before that: Campaigning in Iowa in 2008, he soaked up Gilead, Robinson's tale of an elderly pastor reliving his past in letters to his 7-year-old son.
The NYRB dialogue wanders into "the challenges of Christianity and their shared sense of the values and virtues of small-town America," according to a press release. In the section released today, we encounter a lovely meshing of two like sensibilities: Obama, a creature of grassroots politicking, has a touch of Gilead protagonist Jonathan Ames' serenity, his preference for the simple and the true. "There's all this goodness and decency and common sense on the ground, and somehow it gets translated into rigid, dogmatic, often mean-spirited politics," he tells Robinson. She, meanwhile, in her musings on faith, channels a blend of idealism and realism that feels distinctly Obamian:
Christianity is profoundly counterintuitive—"Love thy neighbor as thyself"—which I think properly understood means your neighbor is as worthy of love as you are, not that you're actually going to be capable of this sort of superhuman feat. But you're supposed to run against the grain. It's supposed to be difficult. It's supposed to be a challenge.
For Robinson, democracy "is the logical, the inevitable consequence" of religious humanism—the belief that all people bear God's image and represent his divine handiwork. She expresses her frustration with "this incredibly inappropriate sort of in-group mentality when we really are from every end of the earth, just dealing with each other in good faith. And that's just a terrible darkening of the national outlook."
But Obama defends, if not America's tribalism, its ever-agitated skepticism and hunger for improvement. "What makes America wonderful, is we always had this nagging dissatisfaction that spurs us on," he says. The president continues,
That's how we ended up going west, that's how we—"I'm tired of all these people back east; if I go west, there's going to be my own land and I'm not going to have to put up with this nonsense, and I'm going to start my own thing, and I've got my homestead." … It is true, though, that that restlessness and that dissatisfaction which has helped us go to the moon and create the Internet and build the Transcontinental Railroad and build our land-grant colleges, that those things, born of dissatisfaction, we can very rapidly then take for granted and not tend to and not defend, and not understand how precious these things are.
To read more, go to the New York Review of Books website.
---