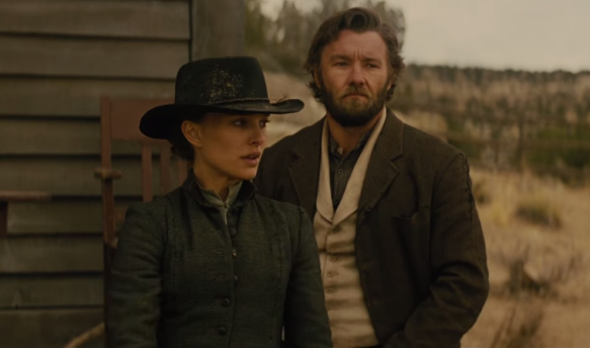 We know Natalie Portman is good with a blaster from her days as Padmé Amidala, but it turns out she's also a pro with a 12-gauge. In the first trailer for the long-awaited Jane Got a Gun, she coolly splits an ax handle with a shotgun and not-so-coolly brandishes a pistol at gang leader Colin McCann (Ewan McGregor) after he kidnaps her daughter. 
Portman plays the titular Jane Hammond, who asks her ex-fiancée (Joel Edgerton) for help when the Bishop Boys, a band of outlaws led by McCann, come after her husband (Noah Emmerich). The trailer sets up a classic Western standoff, with Portman and Edgerton (and Portman's useless, bullet-riddled husband) on one side, and the ruthless Bishop Boys on the other. But there seem to be some added twists, including Jane's faceoff with McCann and her ex's possible deal with law enforcement. 
As Indiewire explains, the film has been floating around since 2012, when Portman and director Lynne Ramsay signed onto the project. Ramsay left in 2013 in the midst of some lead-actor shuffling: Michael Fassbender was the original male lead, and Jude Law and Bradley Cooper were both involved at some point, but all dropped out due to conflicts. Finally McGregor was cast, Gavin O'Connor replaced Ramsay, and Jane Got a Gun was picked up by the Weinstein Company. The film opens Nov. 25 in France (hence the subtitles) and in the U.S. in February.
---