Romance novels have happy endings. The hero and heroine kiss and/or marry and/or ride into the sunset. They live happily ever after, or in the genre shorthand, HEA. "The romance novel declares, via the happy ending, that love is the most important thing," Maya Rodale writes in her study of the genre, Dangerous Books for Girls. And as Rodale explains, it also declares, for many mainstream critics, that the genre is not serious. Happiness is a frivolous dream; reality is harsh and serious, like The Road. As a skeptical Harper's article put it, "Bad Romance: One genre and a billion happy endings."
If happy endings define crappy romance for critics, then Jojo Moyes' 2012 best-seller Me Before You poses an interesting case. The novel is about the relationship between Will Traynor—a former high-powered executive put in a wheelchair by a motorcycle accident—and his caregiver, Louisa Clark. The two do fall in love, but they don't live happily ever after. Will, paralyzed from the neck down, is miserable, and even Louisa's love can't reconcile him to the limitations of his wheelchair. At the book's conclusion he goes to Dignitas, the assisted dying organization in Sweden, and ends his life, as Louisa, grief-stricken, looks on.
Not the upbeat, love-and-marriage ending you expect from a romance! And yet, putting the ending aside, Me Before You has almost all the characteristics of a romance novel. As with Christian in Fifty Shades of Grey (or for that matter, Darcy in Pride and Prejudice), the hero, Will, is wealthy, powerful, controlling, and emotionally distant. A good number of mainstream romances, for that matter, feature a lower-class heroine caring for a wealthy disabled hero. (Laura Kinsale's Flowers From the Storm is one well-known example.)
Even beyond the damaged hero, though, Me Before You functions as a romance because it's about two people falling in love, and becoming more complete, and more themselves, while doing so. Louisa at the start of the novel is a lower-middle-class woman afraid to dream beyond her small English town and bland, exercise-crazed boyfriend. Will, before his accident, was, in his own words, a self-centered "arse" and a callous womanizer; after his accident, he is consumed with bitterness. Over the course of the book, Will opens Louisa's horizons: to opera (shades of Pretty Woman), travel, and her own potential. Louisa, for her part, helps Will to overcome his self-centeredness, his bitterness, and even his depression. "I've watched you these six months becoming a whole different person," he tells Louisa, "someone who is only just beginning to see her possibilities. You have no idea how happy that has made me." Will wants to die not because he is sad, but because he won't accept the limited life he has, and the prospect of things getting worse. He even asks Louisa to help him die. "Give me the end I'm hoping for," he says.
The novel is heartbreaking because the HEA is right there, tantalizingly within reach. As you read the novel, you see how it could work and how they could be happy together. At Will's ex's wedding, they share a dance together, Louisa sitting on Will's lap in his motorized wheelchair, spinning together on the dance floor. Louisa, formerly a timid underachiever, transforms into a compulsive researcher who organizes a complicated last-minute trip to a seaside resort with Will. "I have learned so much, so much about how to make this work," she says, "so I can do that and just be with you."
But that's not enough. "This could be a good life," Will says, when Louisa declares her love. "But it's not my life." Louisa declares her love, in true romance novel fashion, and the hero not only rejects her, he decides to commit suicide. A more thorough refutation of the romance novel tropes is hard to imagine.
But, at the same time, the tropes are fulfilled. Because Will stays with her—in Louisa's memory of him, and in the changes she has made in herself: her determination to go to school, to leave her tiny hometown, and to live a larger life. At the book's end, as she reads his last words to her in a Paris café he asked her to visit for him, the two are together on the page. Which is, after all, where all romance novel happy endings live.
The unfulfilled romance of Me Before You prompted an outpouring of interest in Louisa's fate: "I have been asked daily about Lou and what she ended up doing with her life, " Moyes says in a note sent to press, "and increasingly I found myself wondering the same thing." Moyes has now written a sequel, After You. Louisa, struggling with her grief, tries to move on with her life in London, in part through a new relationship with Sam, a paramedic, and in part through a new job prospect in New York.
After You is a more conventional romance than Me Before You—which is to say, it has a happy ending. But just as the painful end of Me Before You is shadowed by the almost-happy conclusion, the happiness of After You is reached only after multiple suggested tragedies.
The first of these comes right at the beginning of the novel; Louisa accidentally falls off her roof and for a moment thinks she is paralyzed, like Will before her. The parallel is very direct; Louisa's accident is recounted in a foreword, just as Will's is. And Louisa herself asks the paramedic if she is paralyzed. After You explicitly toys with the idea that it is the same sad story as Me Before You—and explicitly rejects it.
After You offers other wrong turns and unhappy, or mixed, endings, though. In fact, in some ways, the whole novel is a failed HEA. "Man dies, everyone learns something, moves on, creates something wonderful out of his death," Louisa bitterly tells her grief-support group. "But that's just a fairy-tale ending, isn't it?" After You is about the way that the first book's version of a happy ending failed—not just in that Will died, but in the sense that Louisa didn't grow and change as Will, and the book's readers, thought she would. Will's death was supposed to leave her with a bigger life; instead, it turns out, it diminished her.
The HEA for After You is complicated, too. This is especially the case because the most resonant relationship in the novel, in many ways, is not Louisa and Sam, but Louisa and Will's troubled teenaged daughter, Lily. Lily, deeply unhappy, is desperately in need of love. Louisa needs her in return, both for herself and in order to stay true to Will. But caring for Lily interferes with both Louisa's job prospects and her new romance. Would caring for Lily be a sad ending? Or is being a foster mother a happy enough ending to count in a romance? "That's life," Sam tells her. "We don't know what will happen. Which is why we have to take our chances while we can. And … I think this might be yours."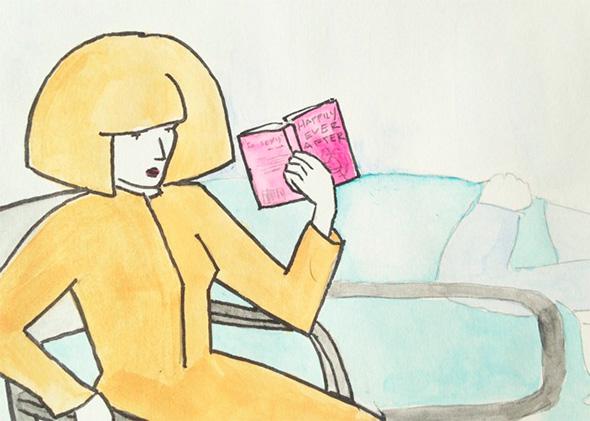 Which chance is Sam referring to there? Part of what's delightful, and pointed, about Moyes' novels is that until the end you're not sure. After You isn't as ruthless as Me Before You, but Moyes is a master of the wavering possibilities of good enough, and is always aware of the limits that sometimes make even good enough impossible. Her other books suggest that acute awareness of failure is linked to her sensitivity to class and working-class British life. Moyes' 2014 romance One Plus One is a harrowing record of the drip-drip-drip slow-motion desperation of poverty, a chronicle of how life at the bottom of the class ladder is a constant reiteration of "you can do neither." Happiness teeters over a precipice, and when it's snatched from the edge, it's almost a physical relief, not least because unhappiness is such a vividly presented option.
In Me Before You, and in her other romances, Moyes layers defeat over victory. But in that, she's not somehow subverting romance. That's what romance is.
Romance novels always have sad endings before their happy endings. There's always a moment, or a lot more than a moment, of despair—a recognition that things could go horribly wrong, and probably did, or would. Ian McEwan's Atonement is notorious for providing two endings, only one of them "real," and only one with a HEA for the couple at its center. That's supposed to make it tricky literary fiction. But really it just makes it an unusually meta romance. Everybody has imagined Romeo and Juliet happy; everyone who reads Pride and Prejudice gets through the bit where Elizabeth's refusal of Darcy stands. And to read Me Before You is to imagine a shadow fiction next to the real fiction, where Will, instead of saying, "It's not enough," says, "Yes, it's enough. I love you; let's live."
In fact, those happy endings and sad endings only have meaning because they exist together. The HEA (or even the happy for now) takes on moral and emotional force because it insists that happiness is deserved, in the full knowledge that it often isn't possible. And those sad endings are heartbreaking because happiness is fully imagined, and sometimes attainable. Moyes' novels, and romance novels in general, don't gloss over despair, or pain, or sadness. Rather, they take happiness seriously precisely because they know heartbreak is always a possibility when you turn the page.
—
After You by Jojo Moyes. Pamela Dorman Books.
See all the pieces in the Slate Book Review.
Sign up for the Slate Book Review monthly newsletter.