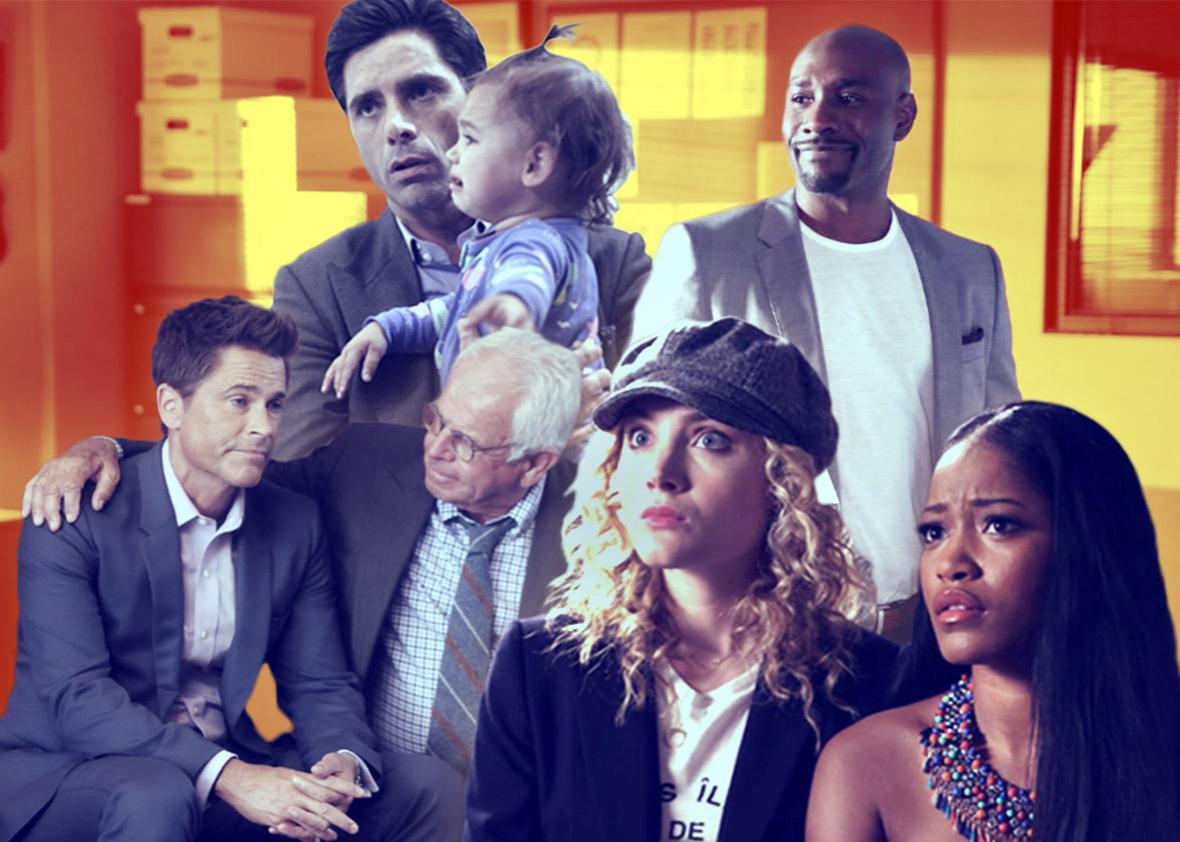 As fun as it to host a party, nearly as fun is the next-day debrief: Was it a good time? Who was there? What's the gossip? Every fall, the major networks stage the equivalent of a party, putting a score of new shows on and inviting every one in America to come by and have a great time. But rehashing this party is no fun: It was a bad time, only a few people showed, and there was no gossip except for that guy who fell asleep on the couch. The chips went uneaten, the drinks went unswilled, no one danced and almost everyone who came would have rather Netflixed and chilled. Instead of trading stories about a wild night well spent, you spend the morning after desperately trying to reassure the host that everyone really did have a good time, it wasn't embarrassing or awkward, and yes, of course they should do it again next year.
But you know what? They should not do it again next year. We're now four weeks into the network's fall TV season. By current standards it was not a catastrophe. By real standards, it was hardly a success. Fall TV, in which dozens of shows are introduced to audiences in a matter of weeks, was once an effective and fun way to serve audiences new television shows. It is now ineffective and no fun. For reasons of structure and inertia, having to do with the development process and the selling of advertisements, it probably won't change anytime soon. But just because it will continue to exist doesn't mean it should. So I'll say it: It's time to stop "fall TV."
Fall is not the only time to create a hit, but it is a great time to create a traffic jam. This fall Fox premiered four shows. NBC, CBS, and ABC will premiere five apiece. That's 19 shows (20 if you include The CW's Crazy Ex-Girlfriend) that audiences are theoretically expected to sort through—on top of the hundreds of other TV shows they could be watching. Empire, the biggest thing to happen to network television in years, premiered in very early January. That is not historically where networks place shows for which they have high expectations. Empire probably would have been a smash whenever it aired, but debuting at an off-peak time helped it. It wasn't competing with dozens of new shows for attention or competing with other shows on Fox for promotion.
Almost by accident, Fox gave Empire the space and attention that cable and streaming services give to all of their shows. The networks have much greater programming needs than these other providers. They air original content six nights a week. But why not steal a little showmanship from Netflix, who behaves as though even its garbage (ahem, Marco Polo) is event viewing? Yes, the networks actually have publicly disclosed ratings and so they can't pretend that their duds are smashes. But if they moved away from the cult of fall TV and celebrated instead the year-round release schedule that they already have, they could roll out a new show every two weeks, making it easier for audiences to find new shows while keeping themselves in the spotlight. (Not for nothing, rolling out a show every few weeks to as much fanfare as it can muster is where Netflix seems to be heading.)
The networks will always air broader material then cable providers, but they don't have to forsake the idea that they, too, are gatekeepers for quality. But that's exactly what the fall season does—by making them seem clueless and tasteless, someone whose job it is to make pasta, but who can only tell if the spaghetti's done by hurling it at the ceiling. This fall, Fox premiered four shows: Scream Queens, The Grinder, Grandfathered, and Rosewood. The first three shows, all airing on Tuesday, received a huge publicity push from the network. By the third week of the season, they are all averaging about 3 million viewers in the demo, with Scream Queens doing worse than the comedies. Meanwhile, the little-promoted Rosewood—which airs before Empire—has about 6 million. NBC premiered two high-concept procedurals starring men who had appeared in Strike Back this fall: Blindspot, the one about the lady with the tattoos, and The Player, the one with Wesley Snipes from the guys who make The Blacklist. Blindspot is one of the season's true successes and has been picked up for another season. It has almost double the ratings of The Player, which is just hanging on. ABC premiered two soap operas this year: Blood & Oil and Quantico. The former is a bomb; the latter is about bombs, but might turn out to be a hit.
The networks don't know what will work and what won't. They don't know what's good and what's bad. They only know what to do once they have a hit: copy the hell out of it. (The Empire spin-off is on its way!) The networks are asking audiences to binge-watch, but in a completely outdated way. Instead of chowing down on one show, the networks want audiences to binge at a buffet, tasting a little bit of a lot. That would be one thing if the shows tasted good, but, generally speaking, they don't. The reason they don't—surprise, surprise—has to do with the very structure of fall television. Each spring, the networks develop scores of pilots en masse, reading scripts for hundreds, filming dozens, and finally airing just a few—a rushed, inefficient process, all to make sure there's new stuff to air come fall. (Most mid-season shows are also selected via the same process.) Given the strictures of this routine, it's remarkable when anything as excellent as The Good Wife, Black-ish, or Fresh Off the Boat makes it to air: Imagine what the networks could do if they weren't just working for September.
Fall TV does have one thing going for it: audiences have been conditioned to expect it. Television comes in with school and the changing season. It's the time of year when viewers pick out some new sweaters and some new stories. But audiences can get stories year-round now. And with every passing fall, the gnarly, misshapen, and generally dull shows the networks are hawking do more to undermine excitement about this tradition than to foster it. It's too late for the networks to quit fall TV while they're still ahead: Maybe they can still quit while they're only pretty far behind. 
---