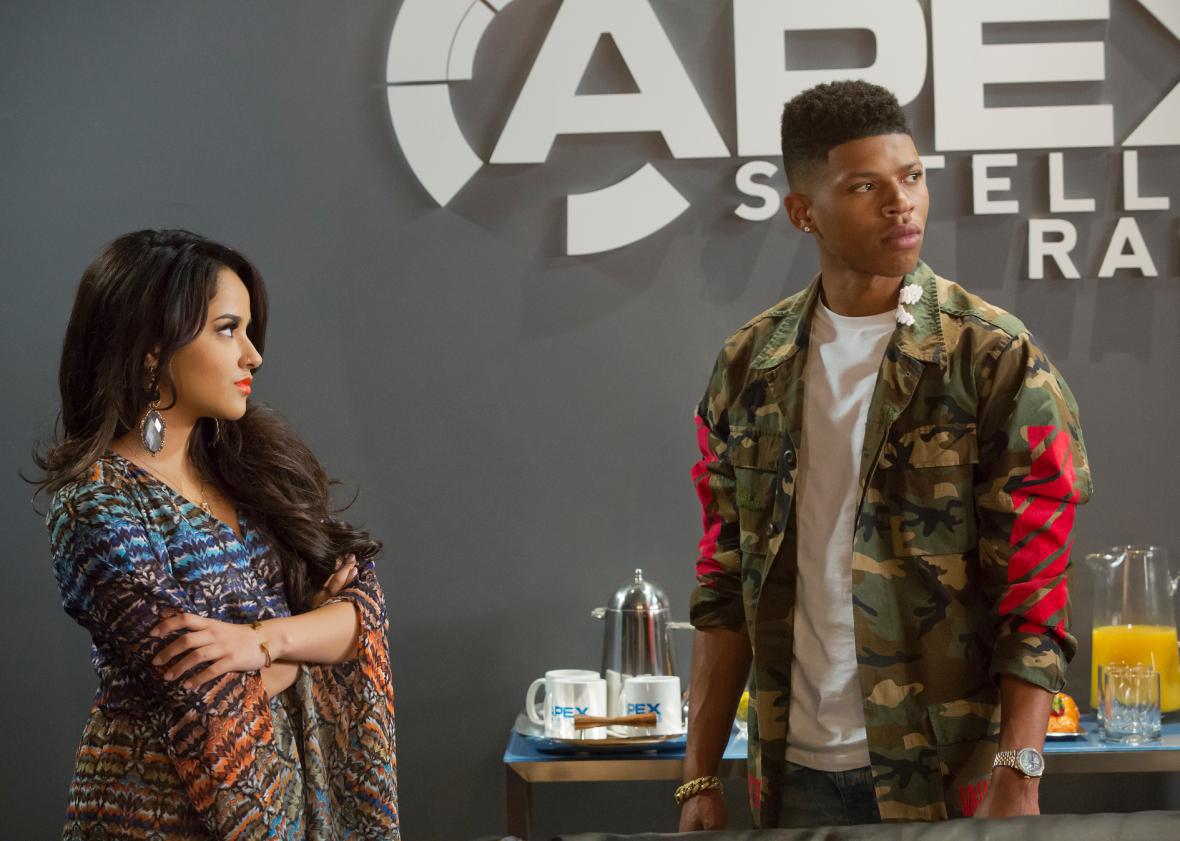 "Hey mom, I wanna start a girl group like Destiny's Child."
And with those few words, coming rather abruptly and randomly in last week's episode of Empire (as most things do on Empire), another weird plot line of Season 2 lurched into existence. Spoken by youngest Lyon cub Hakeem to Cookie, this line was ostensibly a way for him to demonstrate to his family and the rest of the world his evolving maturity as an artist and businessman—no matter that he's yet to even properly release an album or kickstart his own career as a solo artist.
The plot also provides Empire with new ways to be shamelessly politically incorrect, this time in the form of representing Latina characters. First, Hakeem has the brilliant idea to name his hypothetical girl group "Rainbow Sensation"—his sights are set on forming a trio with a black girl, white girl, and a Latina. One young woman he's especially impressed with during auditions, Valentina (Becky G), embodies her fair share of Latina stereotypes: head swivel, fast-talking, feisty attitude. At one point, Hakeem even calls her "Latina and feisty"—as if the two things unquestionably go together like Chris Brown and poor judgment. Of course, there's a J. Lo reference. (Or shall we say, dig?) And this week, Cookie launched a motherly fit when she discovered that Hakeem is now "livin' la vida loca," i.e, sleeping with Valentina, newly minted leader of what is now his all-Latina girl group. (Since Rainbow Sensation no longer works as some sort of silly double entendre given the lineup, the group now bears the curious title of "Mirage à Trois.")
It's probably an exaggeration to call this new plotline "offensive"—one of the things the show does incredibly well is to present the kind of filter-free, inappropriate people of color who exist in real life without any concern for respectability politics. And Valentina gets a bit of shading in her character when we learn that she can barely speak Spanish—suggesting she's playing up these stereotypes for her own benefit. But for some reason, the introduction of Mirage à Trois into the world of Empire doesn't quite feel right. Part of it is merely the nature of representation: Cookie's assistant Porsha is arguably the most one-dimensional, stereotypical recurring character on the show, but she's balanced out by the rest of the more complicated predominantly black cast. Thus far, Valentina has no such counterparts—I don't think her group mates have uttered a single line of dialogue in any of the scenes in which they've appeared.
More disappointingly, however, is the fact that the girl group storyline feels more like a forced retread from Season 1 than anything particularly new and interesting. Remember Tiana, the show's Rihanna stand-in who had a sizable storyline last season? (At least before she receded into the background in later episodes.) She, too, is a young, sexy female artist touting autotuned vocals, who knows what she wants (to be the biggest star possible) and isn't afraid to go after it. She's also slept with Hakeem. (But then, who hasn't?) And as we learned at the end of this week's episode, Valentina is more than willing to play the part of the pawn in Lucious and Cookie's never-ending game of Who's Artist Is This Anyway?—the reveal that she has signed with Empire behind Cookie and Hakeem's back is no different from Tiana's defection from Anika's management (back when she and Lucious were still lovers and colleagues) to Cookie's in Season 1.
Aside from the girl group angle, the only stark contrast between Tiana and Valentina is the fact that the latter is Latina. The show gets a bit of credit for acknowledging the girl band as the shrewd business move that it appears to be, with Andre convincing Hakeem that an all-Latina group is the way to go considering their potential appeal to the fastest growing untapped market. But if in future episodes Valentina doesn't get a juicier storyline—or if, like many other characters before her, she gets completely lost to the sands of time—it'll be a missed opportunity to combine that refreshingly un-PC Empire wit with some new, exciting twists and turns.
Read more in Slate:
---