Imagine you're an up-and-coming filmmaker working on your first feature, a rollicking genre flick brimming with violence, passion, and yet more violence. There's nothing "safe" about your script, in which a young couple goes on the run after the boyfriend's convenience store robbery with his drug-addled friend turns deadly, becoming tabloid celebrities in the process—and yet, you somehow convince a major studio to distribute the final product. A few months before its release, however, a film by another fairly new director, its visual cinematic style aligning quite similarly with yours, makes a splash on the festival scene and is instantly a critical darling. And then yet another film resembling yours arrives not soon after that one, and it, too is a hit.
When your film is finally released, all anyone can do is compare it to theirs, and you're viewed as a hack, "derivative"—biting off the style of two of the hottest directors around. Your career flounders, and Hollywood forgets you exist.
This is how C.M. "Carty" Talkington—whose 1994 film Love and a .45 had the misfortune of arriving just after Quentin Tarantino's Pulp Fiction and the Tarantino-conceived, Oliver Stone-directed Natural Born Killers—describes his own trajectory.
But in the decades since Love and a .45, if the world seems to have forgotten about C.M. Talkington, Tarantino has not. He's cited Talkington's work several times over the years during press junkets. In a 2009 Village Voice interview, he praised Talkington's "gift for really funny dialogue." And most recently, in a lengthy New York magazine interview, Tarantino cited Talkington as his "favorite imitator." I spoke with Talkington about Tarantino, his difficulties getting ahead in Hollywood, and what it's like to get repeatedly name-dropped by one of the most famous living filmmakers.
How does it feel to get named as Tarantino's "favorite imitator"?
Quentin has mentioned Love and a .45 like three or four times on every press junket for the last three movies. It's unbelievable to me.
You know, I have some funny things for you that I've never shown to the public, it's never been released … I have a handwritten, it's kind of a fan letter from Quentin, and I also have a really funny picture of me and him and I'm holding like my finger up to his head like it's a gun, and it's really hilarious.
So here's what happened: So basically when I went to the Stockholm Film Festival in 1994 I had no idea that he was going to be there. He was there for Pulp Fiction, I was there for Love and a .45.
I did the screening and all that and it all went fine and whatnot, and then went back to the hotel, and as I walked in—and like I said I had no idea that Quentin was there, and the [concierge] was like, "Mr. Talkington, I've got a letter for you from Mr. Tarantino. He wanted me to give it to you." So I'm like, Mr. Tarantino? You mean he's here? And they're like, yeah, he's been here for like a week. And I'm like whoa, cool. So I get the note and I still have the note, and it's like—I actually have a picture of it, I could send it to you and you could look at it—and it's just like, 'Hey CM, just finished watching Love and a .45, I dug it the most. I was talking to Rick Linklater about you,' and he said blah blah blah blah. 'Listen, there's a bar that's open until 4 o'clock in the morning. Do you want to get together with us and drink and talk all night?' you know, 'Hope to see you soon. Best, Quentin.' And what's even better is he drew a picture of himself, a cartoon of himself, wearing a Love and a .45 T-shirt on the thing.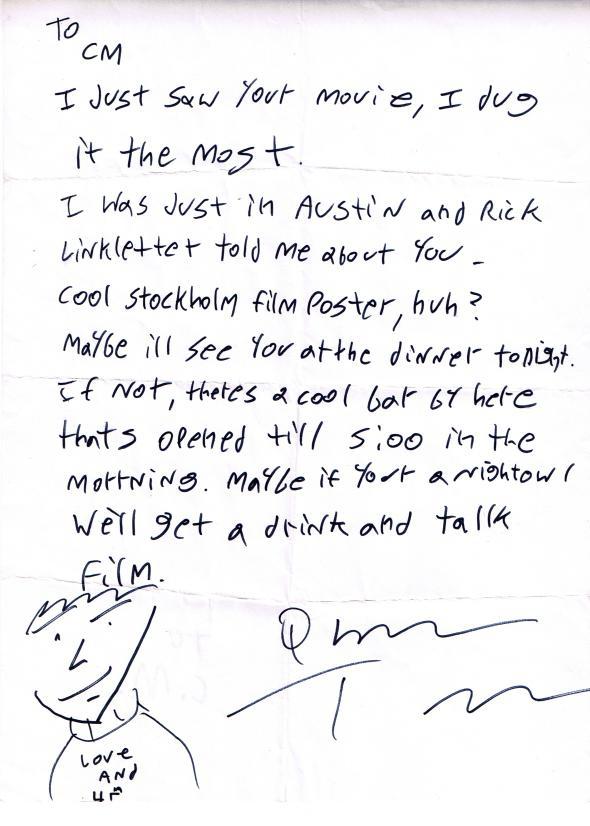 [If that New York magazine interview] was 10 years ago I would've felt not so good about it because as much as I appreciate—and I do so much—Quentin's support, I've never imitated Quentin at all because I wrote those screenplays when he was writing his, you know? And I remember, I remember after—I finished the first draft of Love and a .45 probably in 1990 or '91, somewhere in there, and then I finished the second draft in like, 1992.
I didn't know anyone when I went out to L.A., I didn't know a single person, I had a girlfriend out there and I just sort of started trying to figure out how to get my screenplays to people and I just kept trying and trying and slowly made progress, and people seemed to like the script. And then I started to hear around that town, "You know it really reminds us … [of] this new writer named Quentin Tarantino." And that was before he sort of blasted out, and then he blasted out.
My goal was to write a script that I could get somebody to let me direct—that was my only goal. You know, Oliver Stone was interested in buying [Love and a .45]. Instead he just ripped it off. Which is—that's funny, too because, you know I mean Quentin didn't rip me off, I didn't rip him off, but Oliver Stone definitely ripped me off.
What do you mean?
I want to make something really clear: I love Oliver Stone. I have a great amount of respect for him, and to be stolen from him is not so bad except for that it really hurt me bad for a while [career-wise], because people thought the reverse. So basically you know the guy that co-wrote Natural Born Killers with Oliver is a guy named, what's his name? Dave Veloz. It just so happens that, I think it was about six months to a year before he got that job, he was working at a production company and he was the first person to give coverage to review my script. And he did it for a director named Richard Donner, and so my buddy got it in there—we put a fake name on it because they knew who I was—to get coverage, and this guy Dave Veloz wrote [the best coverage I ever got]. He really got it. So then he goes on to write Natural Born Killers when he'd already read my script, right? And so, I didn't know any of this until later, much later, and so we get a call from Oliver Stone saying "We want to see Love and a .45," because clearly [Veloz] had said, "You should look at this script."
What specifically do you think they took from your movie?
[One] very obvious thing that I think that they added—that I know that they added—was the sort of, the blood-oath wedding proposal scene. I think in Natural Born Killers it was on a bridge or something where they sort of become blood brothers/sisters, they bond, they do a blood oath of their love. Well that was taken from my script.
If it hadn't been the double sword of "ripping off" Quentin and "ripping off "Oliver Stone when I didn't rip off either one of them and the opposite happened, then it wouldn't have bothered me that much. But I gotta be honest, I'm going to be totally honest with you, it was a brutal, brutal beating for me, I mean for over 10 years. I mean just so you know, I kept everything I had about Love and a .45 in a box. I never took anything out, I didn't take the letter from Quentin out, I didn't show anybody anything, I didn't have a poster hanging on my wall, nothing. [Not] until about a year ago did I break it out 'cause it was painful for me.
You've spoken before [in an issue of German magazine Aspekt-Ratio] about the follow-up scripts you worked on and how they didn't get off the ground.
I think I was not a very good game player, and I was way too honest with my feelings, and I got myself into trouble in Hollywood.
If you've met me, you might see that I've really calmed down, like I do yoga all the time now, I don't drink, and all these kinds of things, but I was much more, I think that I made people sometimes a little uncomfortable and they didn't know what to make of me.
And I think that Love and a .45 didn't do any business. It doesn't matter good or bad whatever, you gotta do some business.
So what's next for you?
Well, right now [I've got my band] Texas Radio—I think we're going to go on a national tour here sometime within probably the next six months to a year. Also, I just did a reading of my new screenplay 1977 at the Marfa Film Festival … and I've got another new screenplay called The Mexican Contract, I've got people looking at that. I also just finished my first feature documentary three months ago, and we're about to hopefully sell it, and it's called Mud, Mules, and Mountains. … The energy is flowing much better now.
If [Quentin] wants to think that I'm his greatest imitator, then I'm honored because that's a great compliment from him. The fact that he keeps talking about my film that I made 21 years ago in major interviews blows my mind! I mean would it blow your mind? I mean 20 years later to still remember it? I mean it blows my mind. And it means a lot to me.
This interview has been edited and condensed for clarity.