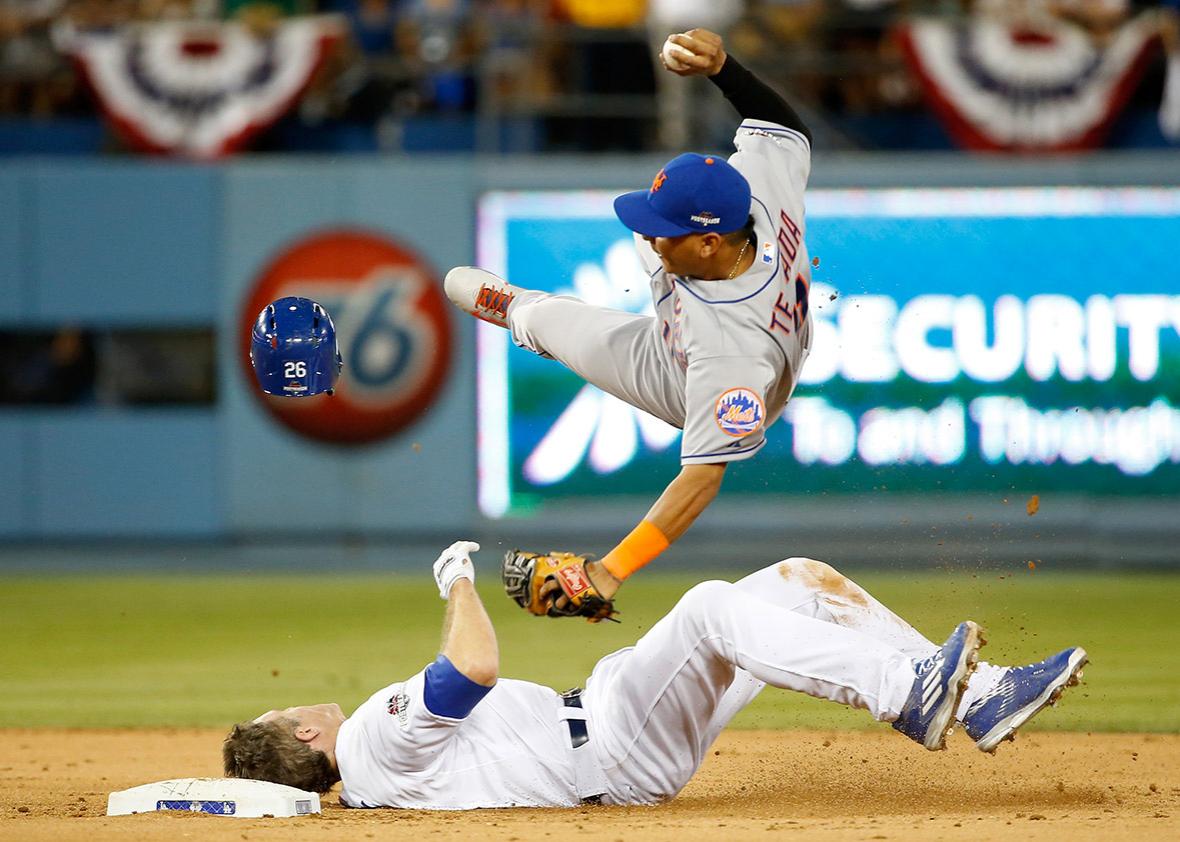 When Los Angeles Dodgers second baseman and hustle fetishist Chase Utley slid into second base during game two of the National League Division Series on Saturday night, everyone watching knew what was on his mind: Stop Mets shortstop Ruben Tejada from turning a double play, by any means necessary. Utley did break up the double play. He also broke Tejada's leg, inspiring torrents of outrage and earning himself a two-game suspension (on hold pending an appeal). The controversial slide prompted fears that Tuesday's game at Citi Field might bring retaliation if Utley were to play. It also renewed a debate over whether Major League Baseball should reconsider its rules on the legality of hard slides.
Before the extent of Tejada's injury was known, the umpires on the field ruled that Utley had done nothing wrong. Which raises the question: Did he? Or, to put it another way, if Tejada hadn't injured himself on the play, would we even be having this debate? Probably not. But should slides like Utley's be acceptable within the context of a baseball game? Definitely not. It's worth comparing Utley's slide to what passes for normal in the major leagues. Even examined within those mores, Utley crossed a line.
First, it's important to acknowledge that second base might be the most perilous spot on a baseball diamond. At the beginning of 2014, Major League Baseball debuted a new rule intended to minimize hard collisions at home plate between catchers and incoming base-runners. No such restrictions govern collisions at second base, though, and—unlike catchers—a second baseman or shortstop turning a double play isn't wearing any protective padding, and is generally in a more vulnerable stance than the catcher.
Baseball players have long been taught that it's the incoming base-runner's duty to try and disrupt the double play. Sometimes, players interpret this advice far too liberally. Take this play from 1996, in which temperamental Indians slugger and all-purpose antagonist Albert Belle momentarily forgot what sport he was playing and leveled Brewers second baseman Fernando Vina with a punishing forearm blow:
Belle drew a five-game suspension for the incident, which was clearly unsportsmanlike, because it happened so far away from the base. But most disputed slides happen closer to the bag, and this proximity can make it harder for the game's disciplinarians to tell right from wrong. Earlier this year, for instance, Oakland's Brett Lawrie slid hard into Kansas City Royals shortstop Alcides Escobar, spraining the shortstop's knee in the process. While the slide itself was justifiable as an attempt to beat the throw, Lawrie slid late and directly at Escobar in a situation where there was little chance that Escobar was going to actually turn the double play.
Though Lawrie was clearly going for Escobar, he was not suspended or otherwise disciplined by the league. (Kansas City pitchers Yordano Ventura and Kelvin Herrera weren't so lucky: They were fined and suspended, respectively, after throwing at Lawrie in subsequent games in apparent retaliation.) "Hope everyone knows I am playing this game hard […] I am never trying to hurt anyone in this type of situation," Lawrie wrote later on Twitter.
Chase Utley used much the same language after this weekend's incident, telling Fox Sports reporter Ken Rosenthal, "In no way shape or form was I trying to hurt Ruben. I slid in hard like I have for 12 years. I feel terrible about the outcome." But he maintained that the slide was legal. Here's some footage of Utley's play, in case you haven't seen it:
Utley had already reached second base and was still mostly upright by the time he began his slide, which was aimed directly at Tejada. The shortstop wasn't even on the bag and was in the middle of a spin move when Utley made contact. It's not unusual for Utley's slides to veer towards slide-tackle territory. But even for him, this one was different.
Compare the Tejada slide with this incident from 2011, in which Utley, then a member of the Philadelphia Phillies, sent Ryan Theriot flying.
Here, Utley was already out by the time he started his slide. Utley almost completely disregarded the base as he slid through the St. Louis second baseman. On the other hand, Utley's slide here was actually a slide, not a cut block. More relevant to explaining why the Tejada slide ended in a gut-wrenching injury and this one did not, perhaps, is that Theriot made his throw from a more stable stance.
The relative dirtiness of a slide has a lot to do with the mechanics of the slider. But whether it ends in tragedy or not has a lot to do with the positioning of the opposing player. On Sept. 17, for example, Chicago Cubs outfielder Chris Coghlan leveled Jung Ho Kang with a hard slide into second that injured Kang's knee and cost the star Pittsburgh Pirates second baseman the balance of his season. Speaking to the New York Times on Sunday, Coghlan defended his actions, saying "My slide's not the same as Chase's. I think anybody who watches the replay, you can put them side by side and see for yourself." Let's do it!
Coghlan's slide is certainly more technically adept than Utley's, and maybe that's partially why the league came down harder on one than the other. But Coghlan, like Utley, obviously intended to disrupt a double play by making contact with the fielder, sweeping his right leg into Kang's knee. Unlike Utley, though, Coghlan began his slide well before he reached second base, and looked to be on line with the base when he made contact with Kang. But whereas Tejada was positioned to the side of the base, Kang was right in front of it—so Coghlan didn't have to veer off course to take him out.
After that game, both Coghlan and Kang agreed that Coghlan's slide hadn't been dirty. Though Coghlan's intent was the same as Utley's—knock a player down and disrupt a potential double play—his deliberate leg-sweep slide and Kang's positioning in front of the base made that one "clean," by the current standards. Another slide by Coghlan was a lot iffier.
In 2009, while a member of the Marlins, Coghlan slid hard into Tampa Bay's Akinori Iwamura.
Though Coghlan's intent was the same here as his intent with Kang—to break up a double play—the execution makes it a dirty slide. Coghlan clearly veered toward Iwamura and away from the base, and barely started his slide until he was on top of him. No textbook leg-sweep here: Coghlan basically just dove into Iwamura. Iwamura tore his ACL during the play and missed the rest of the season. When he returned to the majors in 2010 at age 31, he was terrible; he hasn't played in the big leagues since then.
Not only did Coghlan evade punishment for his slide, some of Iwamura's teammates actually took his side in the matter. "From the marks that were by second base, if it were our player sliding, I'd high-five him," Tampa shortstop Jason Bartlett said later. "That's what you're taught to do: Break up the double play." Coghlan apologized multiple times to Iwamura, but showed no regret over the slide itself. "I hope he's OK," he told ESPN. "I was just playing the game the right way."
Ultimately, Utley's slide was only judged to be dirty because of the outcome and the playoff-game circumstances, moreso than because of the slide itself. Once a collision is initiated, whether or not a player gets injured seems mostly a matter of luck. That doesn't mean the game shouldn't adapt to take those odds and make them less about fate, and more about technique. It's hard to fault Coghlan and Utley for doing what they were was taught to do by their coaches. But it's also hard to understand why Major League Baseball hasn't yet stepped in to actually define "the right way" to slide into second base.
---