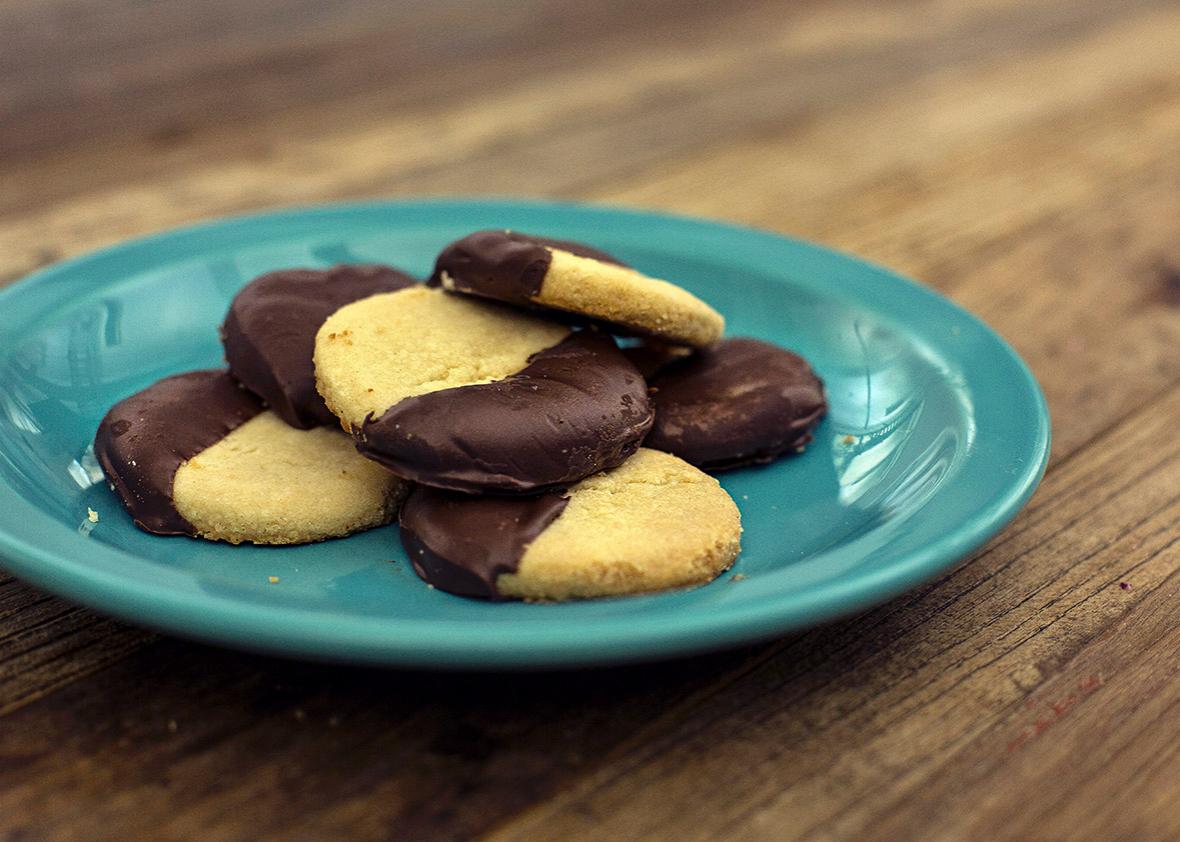 Sometimes, one person's act of generosity is another person's curse. For instance, a few years ago, a roommate left me with several boxes of mediocre bagged tea that she didn't want to take with her. To her, this was a kind gesture, but to me, an admitted tea snob, it was a curse. There I was, a waste-averse tea-litist with countless bags of tea that I didn't want to drink. The tea bags followed me through three moves to three different cities, until one night I decided enough was enough. If I couldn't drink the tea, I'd have to find some other way to use it. Then it occurred to me: Can you bake with tea?
As I found out, you not only can bake with tea, but you most definitely should. It's an easy way to spruce up all your favorite standbys—cookies, cakes, you name it. My favorite is shortbread, a traditional companion for tea. If you're trying to impress someone with your baking expertise, hand over a seemingly ordinary shortbread that smells and tastes like chai. I promise, it never disappoints.
There are two ways to impart the flavor of tea to your baked goods. The first might remind you of your undergrad days—simply add tea leaves to melting butter and steep. The other method is even simpler: Toss the dry tea into the batter or dough. (Bagged teas are often fine enough to add without further preparation, but coarser teas, or teas including whole ingredients, should be ground down before adding.) Each method has its appeal: Infused butter adds the flavor without any visible trace of tea. But adding dry tea to certain shortbreads can also add a nice visual element, depending on the tea. Few things look more inviting than brown sugar shortbread, flecked with ground chai tea.
The recipe below is for infused chai tea shortbread. For an even faster dessert, skip the butter infusion, grind up some chai, and mix it directly into your creamed butter and sugar.
Chocolate-Dipped Chai Shortbread
Yield: 12 cookies
Time: 2½ to 3 hours, largely unattended
¾ cup (1½ sticks) unsalted butter
2 tablespoons loose chai tea
⅓ cup sugar
1 cup all-purpose flour, plus more for rolling out the dough
⅛ teaspoon salt
1½ cups semi-sweet chocolate chips
1. Put the butter in a small saucepan over medium heat. When it melts, add the chai tea and cook, stirring occasionally, for 5 minutes. Remove from the heat and let sit for at another 10 to 15 minutes. Strain the butter into a heat-resistant container and discard the tea solids. Freeze the butter until it's solid but still soft, about 1 hour.
2. Beat ½ cup of the butter and the sugar with the paddle attachment of a stand mixer (or with a handheld mixer in a large bowl) until well combined. (Reserve the remaining butter for another use.) Add the flour and salt and beat on low until just combined. (The mixture will resemble small pebbles.) If the dough crumbles when you try to form it into a ball with your hands, add a few drops of cold water. Wrap the dough in foil or plastic wrap and refrigerate for 30 minutes.
3. Heat the oven to 350°F. Unwrap the dough and place it on a generously floured surface. Pat the dough into a ½-inch-thick disc with your hands, then sprinkle the dough with flour and gently roll the dough with a rolling pin to smooth the top. Cut into rounds with a 2-inch cookie cutter or glass and transfer to an ungreased baking sheet, leaving 1 inch between cookies. Bake until the cookies are firm and beginning to turn golden, about 10 minutes. Let cool for 5 minutes on the baking sheets, then transfer the cookies to wire racks or paper towels to finish cooling. 
4. Put chocolate chips in a small saucepan over low heat. Cook, stirring constantly, until the chocolate is melted and smooth. (Or put the chocolate in a microwave-safe bowl and microwave in 30-second intervals, stirring after each interval, until it melts.) Carefully dip each cookie halfway into the melted chocolate, then transfer it to wax paper to cool. Serve immediately, or store in an airtight container at room temperature for up to a few days.
---